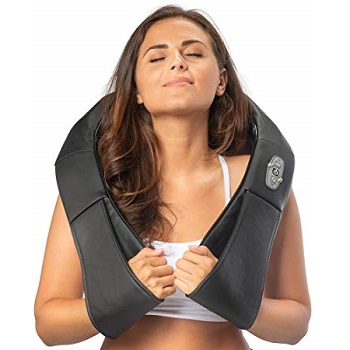 The Belmint massager incorporates many effective, convenient, and handy features for a device in its category. Despite being among the most feature-packed choices out there, you can still get it for a more than decent price.
Its user-friendly design is another thing to keep in mind, especially when comparing it to other products available for sale nowadays. Plus, it's made by one of the best-known brands in the industry, Belmint. Check our belmint neck and shoulder massager review to learn more.
Features and Benefits
The design of this product is one of the first things that are likely to catch your attention. It has a wide strap that incorporates the massage nodes, and the best aspect of it is that you can use it on virtually any body region.
The straps are comfortable and feel good to the touch, and the hand rests will enable you to utilize the device even when you are typing or performing hand movements, in general.
One area where the Belmint alternative really shines is versatility. You don't have to use it solely on your neck and shoulders, especially since it is outfitted with a wide strap that makes it suitable for your thighs or your upper and lower back. Also, you don't have to use it only when you are sitting in a chair. You can place the massager on the bed and lie on it with the most painful area in your back, for example.
Nodes
As the user manual of the unit points on, the model is equipped with as many as eight nodes, which should automatically give you a pointer as to whether it does a good job or not. The nodes are quite well-distributed across the strap. Their combined action has a relieving effect on tired or strained muscles. Additionally, they are capable of rotating both clockwise and counterclockwise. The rotation will change every minute when it's set on automated use.
Additionally, you'll be glad to know that this model comes with a heating function that will take your relaxation to a whole new level. Last, but not least, it's certainly reassuring that the unit comes with a 20-minute automatic shut-off feature since this means that it's incapable of overheating. On the one hand, this will allow the product to last over time, and on the other, it's not going to overstimulate your muscles in case you forget to turn it off.
Specifications
Weight: 4 lbs
Size: 14 x 5.2 x 6.8 inches
Voltage: 110 – 240V
Cordless: No
What to Expect From the Belmint Shiatsu Massager?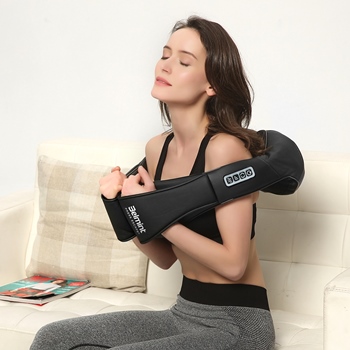 Most of the reviews that we have come across are favorable, and many customers praise the features of this product time and again. However, the massage balls can be a little hard, so there were some individuals who report feeling sore after several minutes. We found no information to date according to which the intensity can be customized.
If you feel unhappy with the decision you have made, you'll be happy to know that there's a 90-day return policy offered by the brand. Feel free to get in touch with its representatives should you find that this unit doesn't meet your expectations.
Pros
Easy to use even by people who aren't tech-savvy
Has a lightweight and portable design
Comes with a car adapter
Cons
Not being able to adjust the speed of the nodes can be considered a serious drawback.
Wrap Up
If you have used top-rated neck and shoulder massagers in the past and you don't generally have a hard time coping with a little more pressure, the Belmint choice should be right up your alley. It comes with most of the features you'd want in a massager, and it's very convenient and easy to use.