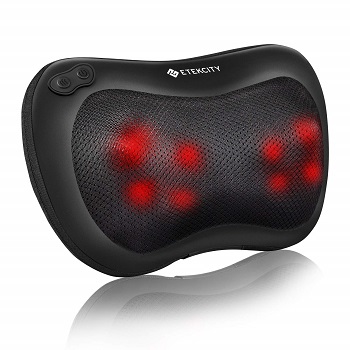 Even though it might not be designed similarly to the other models that we have showcased in our main guide, the Etekcity can massage your neck and shoulders, especially when you are lying down. During the rest of the time, however, you will find that this unit is most effective when it is used as a massager for your upper and lower back. It has more than enough helpful features to help you get rid of pain, so it is entirely worthy of your consideration. Check our detailed etekcity neck and shoulder massager review to find out more.
Features and Benefits
Despite being among the most affordable options that we were able to track down, the Etekcity alternative seems to be fully capable of doing what it's supposed to. It doesn't come in the same U-shaped design, but it can be effective in most of your body regions. You can even place it in-between your thighs and massage one side and then the other without even having to make an effort.
The model is equipped with as many as eight 3D massage nodes that come with deep-kneading, as well as Shiatsu. Shiatsu is excellent since it can effectively replace the moves that a real massage therapist would do if you were to go to a professional. Thanks to these functions, this device can provide some relief to your sore muscles, no matter in what region they might be.
As for adjustability, you'll be glad to know that you can choose between two adjustable speeds. This makes it possible for you to get the right amount of pressure to get rid of your muscle pain, without feeling like the nodes are putting too much strain on your body. You can check the user manual of the unit for details.
It's also worth noting that you have the ability to turn on and off the heating of this massager, and this is an area where other, similar models don't really shine. The nodes have two massage directions and they auto-reverse every minute so that the massage is even more effective.
As for the safety of this device, there's nothing to worry about in that respect. Like many other modern massagers, this one also comes with a 20-minute automatic shut-off feature. This means that you can rest assured that the unit isn't going to put an excessive amount of pressure on your body. Also, it ensures that the device doesn't experience overheating and therefore, it doesn't risk getting broken.
Specifications
Weight: 2.65 pounds
Size: 13.3 x 4.3 x 8.6 inches
FDA-Listed: Yes
Cordless: No
What to Expect From the Etekcity Neck Massager?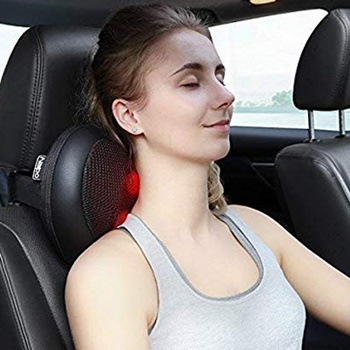 The public opinion on the Etekcity model differs largely from one user to the next. While some say that it is shockingly effective, others note that the massage nodes can cause them even more pain, especially depending on the body area where they use it. As you can expect, sometimes with these devices, getting one online can be a matter of trial and error.
In terms of durability, some consumers have reported that they have been using it for over two years now and it's still going strong.
Pros
Comes with most of the features you might need from a neck and shoulder massager
Portable design lets you use it on any body region
Backed by a two-year warranty
Includes a car adapter
Cons
The rotating balls aren't very comfortable
Wrap Up
The Etekcity model is a decent and capable massager that can be used on your neck, shoulders, but also on various other body parts. It's feature-packed, versatile, and convenient, and it's even accompanied by a car adapter. It can help you relax and get rid of some pain, without a doubt.