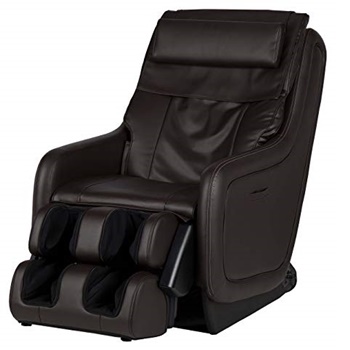 Even if you have taken a lot of time to browse through consumer reports and do your research, you might have noticed just how challenging it can be to get a top-rated zero-gravity massage chair these days.
Well, if you're looking for a model that offers great value for the money and that can relax you at the end of a hard day, you've ended up in the right place. We have put together an in-depth Human Touch Massage Chair Review which can inform you with regard to everything you should know about this product.
Features and Benefits
The Zero-Gravity 5.0 by Human Touch is undoubtedly capable of excellent performance since it represents the latest in a series of massage chairs developed by the brand. That's what the '5.0' part stands for, in fact, as there were 2.0 and 4.0 models available before it.
The difference between this unit and the older ones consists in a leg extension function which allows the chair to accommodate users who are as tall as 6'3". This upgrade addresses one of the significant weaknesses of the earlier models, and it also makes the 5.0 a lot more appealing to some types of users.
Another aspect that makes this unit stand out from the crowd is the addition of lumbar heat. The Human Touch model utilizes twin columns of heated air, and these can provide you with more penetrating heat, allowing you to reap all the benefits of the heating function.
The unit comes with seat massage, body height customization, and even foot vibration. You can customize the intensity of the massage in the neck and shoulder area, as well as in the upper and lower back regions.
As for the weight capacity of this zero-gravity massage chair, you might want to know that it can support up to 285 pounds.
The zero-gravity automatic rocking feature can be turned on with just a touch of a button and it will make you move to an optimized neutral posture position and then gently rocked for a soothing and refreshing experience.
Suggestions
Since this massage chair isn't like any others, you are going to need a little help from the instruction manual before you use it for the first time. Go to the manufacturing brand's website and look for it — the company has all the models' instruction manuals available on there.
There's even a user manual for the remote control if you can believe it, and that's because it comes with buttons for each and every body region.
Maintenance
The chair is covered in SoftHyde faux leather, a material that is a winner in terms of durability. It's also quite easy to clean, which means that you'll only need a damp cloth to wipe it once in a while.
If you think that you've become sweaty and some of the sweat has gotten on the chair, you can use disinfecting wipes or a sanitizing spray. Just make sure that these products are safe to use on faux leather and that they aren't going to stain it.
Specifications
Size: 43.7 x 27.9 x 31.9 inches
Weight: 160 pounds
Manual massage techniques: 4
Automatic massage techniques: 4
Heat: Yes
What to expect from the Human Touch Zero-Gravity Massage Chair?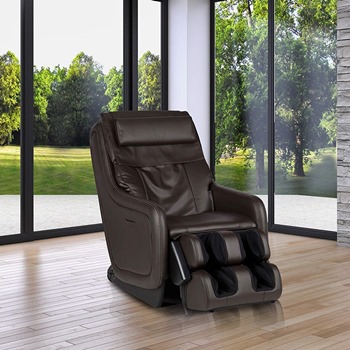 We came across some pretty mixed opinions with regard to this product. While there is an array of favorable reviews, there are also others that have reported issues with it. For example, the heating function is a bit too much for some people while others say that both the back and the leg sections are too hard for their liking.
In the end, ordering a zero-gravity massage chair online comes with these risks. However, if you do run into any such issues, be sure to get in touch with the brand's customer service as they are going to provide you with a replacement or refund.
Pros
Deep, penetrating heat
Excellent massage techniques
Can be used by everyone in your family
Highly customizable
Cons
The lack of MP3 support can be a drawback for some people
Wrap Up
As you might have been able to tell from this Human Touch Massage Chair Review, this unit is among the most complex and effective models in this line.
It's capable of doing its job and you can customize the experience as per your needs and preferences. The Zero-G feature relaxes you and gives you all the therapeutic benefits that you need.