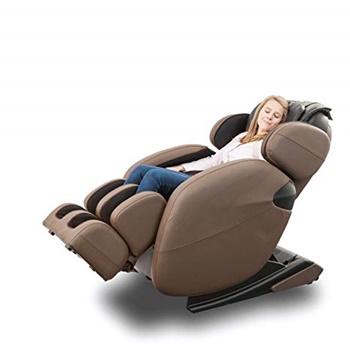 If you have done some research on zero-gravity massage chairs in the past and you couldn't find a model that best speaks to your requirements, it's a good thing you're reading this post. We've gone through hundreds of options available for sale nowadays.
We've also come across this one by Kahuna, which seems to be one of the most popular ones. If you would like to know whether this unit can meet and even exceed your expectations, be sure to check out our Kahuna Zero Gravity Massage Chair Review below.
Features and Benefits
This product is one of the most feature-rich alternatives currently available. Based on the feedback that it has received, it seems to offer great value for the money. But let's see what makes it so special.
You might find it hard to believe, but the Kahuna comes with anything from a hybrid L/S track design to zero-gravity seating, 3D body scanning, air massage, as well as back and calf heat. The zero gravity feature is one of the highest spoken of ones since this massage chair offers multiple seating positions.
As for the 3D scanning, this is an automated method that the unit uses to reposition the rollers so as to make sure that they hit all of your pressure points as accurately as possible. The chair effectively scans your body before the massage begins and then it makes all the necessary adjustments based on your body type and shape.
When it comes to the massage techniques boasted by this choice, you'll be more than happy to know that it has anything from kneading and tapping to rolling and Shiatsu massage.
Additionally, the unit has pre-programmed massage settings that focus on certain areas of your body such as your neck to your waist, your lower back to your waist, your neck to your glutes, mid-back to your glutes, and lower back, glutes, as well as thighs all into one.
On top of everything, the model is outfitted with heating in the back and calf areas. You can't control the heating elements independently, though, which might be a drawback for some people.
Suggestions
To make sure that you get the most out of this zero-gravity massage chair, it is a good idea to read its comprehensive user manual before using it for the first time. Try to start with the lowest setting possible to make sure that you don't risk injuring yourself.
In any case, you will be able to customize the massage thanks to the handy remote control that's included along with the main unit.
Maintenance
The best thing about this unit is that it is covered in a material that's very easy to clean. All you need for the task is a microfiber cloth. You are also allowed to utilize cleaning or sanitizing solutions so long as they are safe to use on faux leather.
Specifications
Size: 46 x 48 x 31 inches
Weight: 200 pounds
Auto programs: 6
Heating therapy: On the lower back and legs
What to expect from the Kahuna Zero Gravity Massage Chair?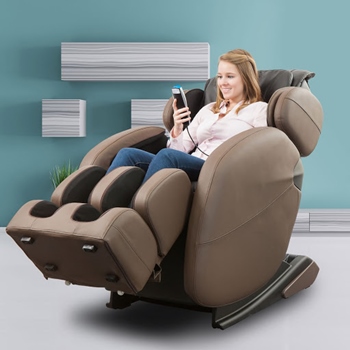 This is one of the most popular choices in this category, with most of the customers expressing favorable views on its performance. It is relatively pricey, however, so you will have to weigh in that drawback before making up your mind.
Besides the many features praised by users in their reviews, some have noted that the manufacturer's customer support is amazing, as well. Apparently, if you have any issues with the massage chair, you should get in touch with the brand's customer service as they will offer a replacement or repair the faulty part, no questions asked.
Pros
Multiple massage techniques
Six automatic programs
Heating in the back and leg area
3 stages of zero gravity
Compact design
Cons
Since this one doesn't come with a Bluetooth function, you aren't going to be able to connect it to your phone or tablet so that you listen to some music while getting the massage.
Wrap Up
We hope that our Kahuna Zero Gravity Massage Chair Review has informed you with regard to its most important features so that you now have a good picture of whether it's suitable for you. It's probably one of the most complex and effective models that we have found, but it does cost a pretty penny.