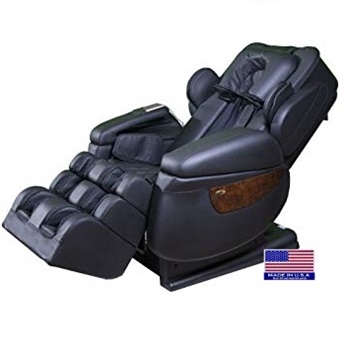 This is one of the most popular models that we have come across while doing our research for creating zero-gravity massage chair reviews currently available. But since it costs a pretty penny at most online marketplaces, you might want to get as informed as possible before giving it a try.
As such, we suggest that you take a bit of time to read our Luraco i7 Plus Review below.
Features and Benefits
Since it is loaded with helpful features and it boasts a broad range of therapeutic benefits, Luraco is one of the highest quality massage chairs in the line. It's built around a typical S-track frame, which means that the quad rollers are going to follow the natural curve of your spine.
Moreover, the Luraco model comes with 3D Body Scanning Technology, which effectively makes the unit take a scan of your body before every session starts. The product then makes several adjustments in accordance with your physical features.
However, you are more than free to make manual adjustments to the position of the rollers if you'd prefer them to be different. You can also change the width of the massage field.
As for the zero-gravity seating, this model is capable of reclining you to a position where your knees are above your heart. This makes it possible for you to benefit from the massage at the same time you're relaxing. Since gravity puts so much pressure on your body throughout the day, sitting in a zero-gravity chair can be very soothing.
When it comes to the massage options you have available, this chair comes with anything from rolling and tapping to kneading, Shiatsu, and Swedish massage. You can select the body region where you want the massage from your shoulders to your upper or lower back and your feet.
Suggestions
Given that the unit comes with as many as six different intensity settings, we suggest that you try the lowest one first. This will enable you to work your way up as per your specific needs and preferences, without automatically thinking that the massage is too rough. For more tips and general information, take the time to read the instruction manual provided by the manufacturing company.
Maintenance
As is the case with many other zero-gravity massage chairs that we have stumbled upon, this one can be cleaned easily and conveniently. It is covered in faux leather, so you are free to utilize a variety of sanitizing products from wipes to sprays. Just keep in mind that they have to be safe to use on this material.
You can also use a microfiber cloth to wipe the chair clean following every massage session. Since it comes with heating, you might sweat in it, so it's a good idea to wipe it.
Specifications
Automatic programs: 9
Deep tissue massage: Yes
Heating: Yes
Weight limit: 300 lbs
What to expect from the Luraco i7 Zero Gravity Massage Chair?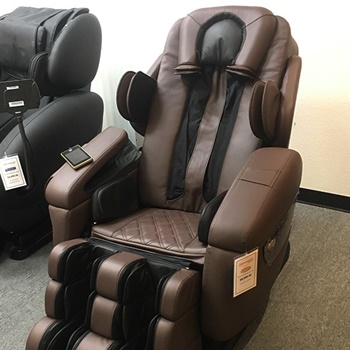 The majority of the reviews that we have analyzed when assessing the quality of this product speak highly of its performance and capabilities. Some customers praise the interface as the touch screen makes it easy to use by anyone, regardless of their technical skills.
If you are a frequent flyer or you tend to drive a lot for work, you might experience swelling in your legs. In this particular case, coming home to this zero-gravity chair can make a lot of difference when it comes to improving your quality of life and alleviating your discomfort.
Pros
Comes with an extendable ottoman
You get both your feet and your calves massaged
Comes with an adjustable timer
Offers MP3 support
Backed by a five-year warranty
Cons
The rollers in the back region can wear a hole in the back side of the back pad if you use the chair a lot. This apparently can happen around one to two years after the purchase.
Wrap Up
Hopefully, our Luraco i7 3D Zero Gravity Massage Chair Review was straightforward and detailed enough to help you make up your mind about whether you need this unit or not.
Despite its price, it's one of the most effective ones on the market today, so you should at least consider investing it at one point in the future. Plus, there's nothing stopping you from using it along with the rest of your family, and this way, everything's getting as much value from the chair as possible.