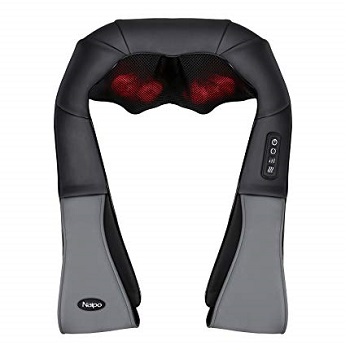 Naipo is a brand that specializes in comfortable, affordable, and reliable massage products. The company's use of modern technologies to support healthy lifestyles and concentrate on traditional, as well as contemporary therapy solutions, has made it one of the more popular manufacturers in the past years.
As you can understand from our Naipo Neck and Shoulder Massager Review, the unit is deemed to be quite effective, especially based on the reviews that it has gathered in this sense. Let's look at what makes it stand out from the crowd and the reasons you should consider it if you're looking for a great massager for your neck and shoulders.
Features and Benefits
The U-shape of the device is what makes it ergonomic and capable of doing its job properly. With a typical handheld model, you would have to constantly keep it in your hand to try and reach the areas that are actually painful. Needless to say, the design of the Naipo unit is a benefit in itself as you aren't going to have to go through a lot of trouble to get a nice massage.
Another aspect worth noting about this model is the fact that it comes with Shiatsu massage. Unlike other massage techniques, this one is capable of replicating the moves and pressure that a real massage therapist would apply on your skin and muscles at a salon. The goal of Shiatsu massage is to loosen up your muscles and reduce the negative effects of stress. Since this model uses this technique, it will do just that.
The straps of the model can be used either to manually customize the intensity of the massage in your neck and shoulder area or to do the same but in different body regions. For example, you could use the unit while massaging your hip or a leg.
Dozing Control
You'll be happy to know that you can rely on the benefits that the Naipo can offer you even if you feel like dozing off. After twenty minutes, the unit will shut itself off and it will do so for two reasons. One of them is to avoid overstimulation on your muscles so that you don't experience soreness in the morning. The other is simple — it prevents overheating and therefore, extends the life span of the massager.
Besides, the product is covered in high-quality and comfortable materials. This also makes it easy for you to sanitize it once in a while so that you prevent germs from being built up on its surface. The massager portion has a mesh cover that enables the nodes and heating to better penetrate your muscles.
Specifications
Weight: 3.53 pounds
Size: 15.8 x 7.3 x 7.1 inches
Cordless: No
Massage Nodes: 8
What to Expect From the Naipo Neck and Shoulder Massager?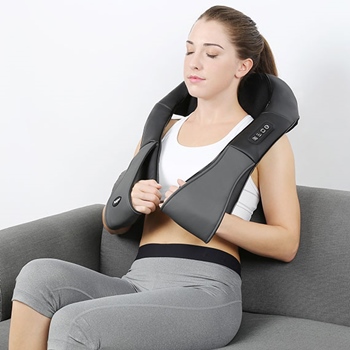 Versatility and flexibility are two benefits ensured by this product. On the one hand, its construction allows you to relieve tension in your neck and shoulders, but also in your upper and lower back and various leg muscles.
While it might be true that this model needs a power source in order to do its job, the fact is that its reliability also derives from that. You need an adapter to be able to use it in the car. Since it's easy to use and convenient, it seems like a rather decent option.
Pros
User-friendly design
Easy to clean and maintain
Automatic shut-off feature makes it safe
Cons
You can't use it with batteries
Wrap Up
If you spend your whole day working in front of the computer or, on the other hand, you put too much pressure on your neck and shoulder muscles when lifting heavy things, the Naipo massager is a good option for you. It works out tired muscles and provides you with an overall relaxing experience.