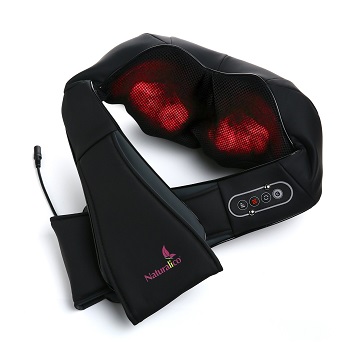 The Naturalico model is a lightweight and portable option that's versatile, convenient, and easy to use, no matter whether you are tech-savvy or not. It comes in the classic U-shaped design of most neck and shoulder massagers, but that doesn't mean that its use is restricted to one body area. You can use it to get a nice massage in various body regions. Let's see what makes it stand out from the crowd in our naturalico neck and shoulder massager review.
Features and Benefits
The Naturalico massager weighs in at just 4.2 pounds, which means that it is remarkably lightweight. Therefore, it's not going to be heavy on your neck and shoulders, and you will find it quite easy to control and move. Just feel free to move it up and down your back with as little effort as possible.
It's also worth noting that the handles that this model is equipped with allow you to apply more or less pressure on your pressure points, depending on your momentary needs. Additionally, you will be glad to know that the model comes with a heating function, which means that it can provide soothing warmth to your muscles and make them relax.
Heated Massage
Heated massage is also a winner when it comes to relieving pressure and tension. So, if you sit in front of the computer for many hours, this is a good feature to look for. The Naturalico model relies on four nodes to get its job done, so that means that it might be slightly less effective compared to some of the other models out there. However, thanks to the Shiatsu feature, you'll at least feel like a massage therapist is the one applying the pressure, not a machine.
Ease of use is an area where this unit is a winner, as well, since it comes with a handy control panel located on one of the handles it is outfitted with. The panel allows you to choose between the settings and select the right one for your requirements with a push of a button.
While it's not a feature in itself, we do feel compelled to note that this product is backed by a premium lifetime warranty. If you notice any issues with regard to its performance, feel free to get in touch with the brand's customer support representatives to get the model replaced or repaired.
Specifications
Weight: 4.2 pounds
Size: 16 x 8 x 7 inches
Cordless: No
Massage Nodes: 4
What to Expect From the Naturalico Shiatsu Massager?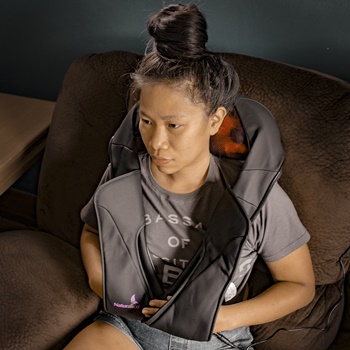 Most of those that have expressed their views on the way Naturalico does what it's supposed to say that it is capable of excellent performance. It gives deep massages and it has a quiet motor, and it's even accompanied by a car adapter. Some folks have had it for more than four years and it works as if it were brand new.
Pros
Doesn't cost a fortune
Highly durable since many customers have used it for years and it's still going strong
Very lightweight and easy to use
Cons
It's not cordless, and the power cord isn't exactly long.
Wrap Up
This convenient massager can help you say goodbye to neck and shoulder pain, but its design is so versatile that you can use it on various body parts and in different circumstances. It's budget-friendly and it provides a soothing and relaxing massage.