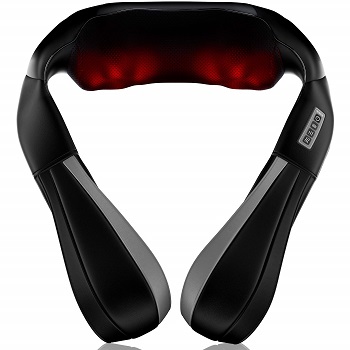 The Nursal Shiatsu massager is one of the most critically acclaimed units in its price range. Even though it's quite budget-friendly, the model incorporates some of the most effective features available nowadays. It even has a heating function and a hand massage feature, so it can definitely assist you in getting rid of the pesky neck and shoulder pain that's been bothering you.  Check our nursal neck and shoulder massager review to learn more.
Features and Benefits
One of the most significant things that you'll notice when looking at this model is its sizable design. This means that it's quite effective when it comes to massaging your neck and shoulder muscles, but there isn't anything stopping you from using it on various other body regions.
Since it is outfitted with hand vibration, the model allows you to place your hands inside the two pockets that are built into the handles of the unit. Therefore, you can even get your hands and arm massaged while using this device. This is certainly helpful for people suffering from arthritis, for example. You can learn more about this from the user manual download page of Nursal.
As you should expect from a good-quality alternative, this one comes with massage intensity adjustability. Therefore, you can customize the intensity as per your specific needs and preferences with just a push of a button. There is a considerable difference between the settings. Start with the lowest one and work your way up if you want more intensity.
Another aspect worth mentioning about this model is that it comes with a heating function. The massage nodes warm-up and the heat effectively penetrates your muscles. It goes without saying that this particular feature will help you relax even more.
The nodes of this device are fully capable of delivering a deep-tissue massage, and the neat thing about them is that they change their direction every minute. If you're wondering whether this unit is safe to use or not, you'll be glad to know that it comes with a 15-minute automatic shut-off feature. This prevents overheating and extends the life span of the product and it makes it safe to utilize.
Specifications
Massage nodes: 4
Heat function: yes
Voltage: 110V
Size: 15.9 x 7.7 x 11 inches
Weight: 3.8 lbs
What to Expect From the NURSAL Neck and Shoulder Massager?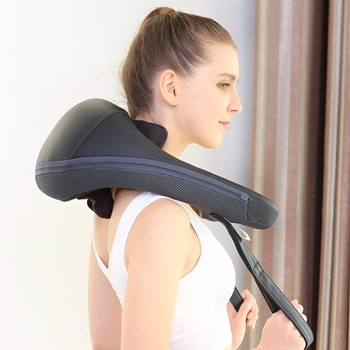 With its user-friendly design and heaps of favorable reviews that it has gathered over time, we say that this model is at least worthy of your consideration. It's lightweight and easy to use, no matter whether you are tech-savvy or not. Besides, it also takes the cake when it comes to portability, and there's even a car adapter included in the deal.
Avoid using a neck and shoulder massager while you drive since you might want to fiddle with the controls and you should always keep your eyes on the road. However, if you are a professional driver or just spend a lot of time in the car, you can safely use the Nursal model whenever you take a break from driving.
Pros
Offers great value for the money
Lots of adjustable features
Can be used on multiple body areas
Cons
It's quite bulky, so it doesn't address the needs of petite or slim people
It takes a while to warm up
Wrap Up
Despite its low price, the Nursal massager comes with plenty of helpful features, many of which you might fail to find in its more expensive competitors. It's easy to use, versatile, and highly customizable, and it can be utilized in many situations and on various body regions. It even works for people who have arthritis in their hands and arms. Since every device has its drawbacks, you might find that the heating function isn't necessarily worth writing home about.