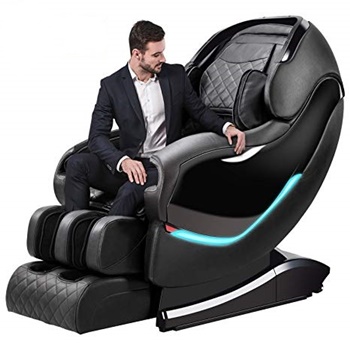 In your search for the perfect zero-gravity massage chair for your needs and preferences, you might have come across this OOTORI model. After all, it seems to be one of the most critically acclaimed ones available for sale nowadays.
To make it a little easier for you to understand whether this unit can meet your expectations, we suggest you go through our OOTORI Massage Chair Review. We've included information on the characteristics, pros, and cons of this unit so that you have all the details in the same place.
Features and Benefits
As is the case with some of the other high-end massage chairs that we stumbled upon, this one comes with the well-known SL-track technology. This means that its L-track makes it possible for the rollers to hit most of your back muscles and even go down to your glutes and piriformis muscles.
This feature enables you to benefit from a more thorough and relaxing massage. As for the zero-gravity feature, you'll be glad to know that this unit comes with a 30-degree tilt of the seat and a 120-degree angle between the seat and the chair back. Your knees are therefore positioned above your heart, allowing you to relax as best as possible.
Another aspect worth noting about this product is that it is adjustable, meaning that you can set the right shoulder width between the 1.57" and 8.27" limits (with three levels). Even the calves massage part can stretch to 4.72" to accommodate the bodies of taller users.
But what else can this massage chair offer you? Well, you'll be happy to know that it comes with as many as six automatic massages, as well as airbag massage. You can manually choose from three targeted massage areas, 3 speeds, and 3 levels of airbag massage intensity. Needless to say, this can give you a lot of freedom in terms of customizing the massage as per your needs.
Last, but not least, this chair comes with foot rollers, too.
Suggestions
Since the model comes with so many features, some of which allow you to benefit from as much adjustability as possible, it might be a good idea to start with the lowest intensity setting.
Some people are more sensitive and they might not appreciate getting a hard massage at the end of the day. On the contrary, others might feel that it's not effective if it's not vigorous enough. In any case, using the lowest intensity first is a good idea as it can allow you to move your way up as per your preferences.
Maintenance
This massage chair is covered in faux leather, so you don't have to worry about spending too much time caring for it. You can use a microfiber cloth to wipe it once in a while, and you can also utilize sanitizing solutions if they are marketed as being safe for faux leather.
Specifications
Size: 51.2 x 48.4 x 32.3 inches
Weight: 260 pounds
Auto body detection: Yes
Shoulder width adjustable: Yes
Number of auto massages: 6
What to expect from the OOTORI Thai Yoga Zero Gravity Massage Chair?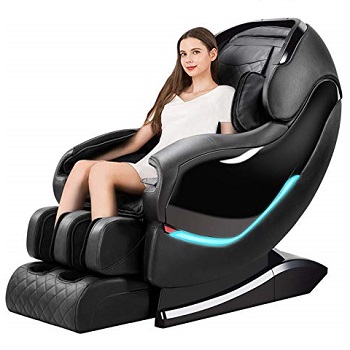 Based on the feedback that this model has received in the past year, it seems that it offers great value for the money. It has a sleek design and a lot of massage functions, and the control is quite easy to use, as well as intuitive. The material is soft to the touch and feels nice against your skin.
There are customers who have reported using it for their whole family and even their friends, who came around to visit, used it. Others speak highly of the chair's ability to relax and provide pain relief to seniors.
Pros
Generous number of massage options
Airbag massage
Highly adjustable
Comes with a wireless speaker system
Cons
Some users report that it's a bit too tight if you have very broad shoulders
The foot rollers and arm air bags can be too weak for some people
Wrap Up
As you might have noticed from this OOTORI Massage Chair Review, this one seems to be a model worthy of your consideration. It is convenient, effective, and capable of excellent performance, and it doesn't raise technical difficulties even to people who are less tech-savvy. In the end, it's a good zero-gravity massage chair.