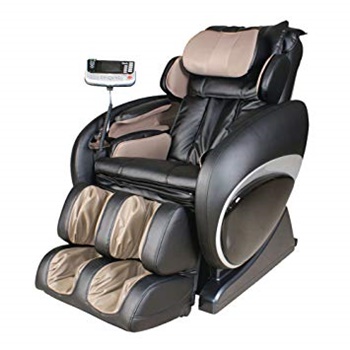 If you have heard that zero gravity massage chairs really make a difference when it comes to their relaxing and pain-alleviating properties, you might be interested in giving one a shot.
Well, for today's article, we have put together an Osaki OS-4000 Zero Gravity Massage Chair Review as this unit is among the most popular ones out there. Let's find out whether it is worth the hype or you should give another model a chance.
Features and Benefits
This unit has a wealth of features and plenty of luxurious options, as well as eye-catching aesthetics. The massage chair is ergonomically designed and it boasts an S-track system that provides the right contour and comfort to your spine.
Since the spine curvature widely varies from one particular individual to the next, the S-track system boasted by this zero gravity massage chair is in charge of controlling the rollers so that they move from your neck to your lower back region without lowering the pressure.
The system gives you the support that you need. What's cool about this model is that it comes with a great two-stage zero gravity function. The chair is capable of reclining your body into a perfectly neutral position with just one push of a button.
What makes the difference between the Osaki and the other products you will come across is the two-stage system.
In the first position, you'll achieve a limited recline whereas, in the second, your feet are going to be positioned above your heart, making it possible for your body to benefit from better circulation. It'll also allow you to relax a lot better.
Additionally, the chair is equipped with air massage technology, which means that you will get enough pressure without experiencing any pain. The chair has a reduced number of airbags that consume less power and also produce less noise compared to those that other models in this line are outfitted with.
Suggestions
Since the Osaki OS 4000 comes with as many as five levels of intensity and five different speeds, we suggest that you start with the lowest ones first. This will allow you to work your way up as per your specific requirements and preferences.
This bit of info is something that the user manual will suggest, as well. If you want to have complete control over your massage experience, feel free to choose the manual mode function.
By pressing a couple of buttons, you can dial in your perfect massage by choosing the right intensity, speed, style, and even the right body area that you want to have massaged.
Maintenance
What's worth noting is that the surface of the chair isn't waterproof. It is covered in faux leather, so it's highly recommended that you use cleaning products made for this material. You can use sanitizing spray or wipes or just wipe the chair clean following every use, especially if you have used heat therapy.
Specifications
Size: 46 x 32 x 47 inches
Weight: 250 pounds
Heat: Yes
Auto timer: Yes
Voltage: 110V-220V
What to expect from the Osaki OS-4000 Zero Gravity Massage Chair?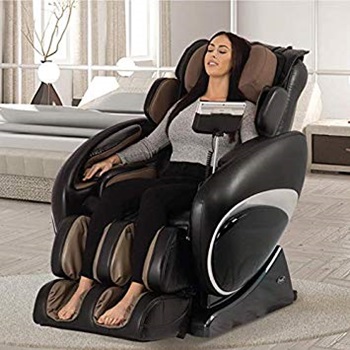 Most of those that have invested in the Osaki OS-4000 have nothing but favorable things to say about the way it works. Besides, it's quite comfortable and the selections are awesome, too. The zero-gravity feature adds a lot to the overall comfort and the calf, arm, foot, hip, and shoulder massage work well.
Also, the back massage is good and the heat therapy meets and even exceeds most users' expectations.
Pros
User-friendly remote control and a large LCD display screen
Has as many as eight different preset programs and six massage styles
Comes with two heating pads
Automatic leg scan feature adjusts the air chambers correctly
Cons
If you like a very firm massage, this chair might not be the right option for you.
Shipping can take almost two weeks, which is a significant drawback for some people.
Wrap Up
If you don't like rough massages and you're looking for a chair that can relax you and soothe your body at the end of a hard day, then you should definitely check this one out. It's capable of excellent performance and based on the feedback that it has received, it offers good value for the money.
As you might have noticed from this Osaki OS-4000 Review, it's one of the most feature-rich models in this category. It has a good chance of meeting your expectations.