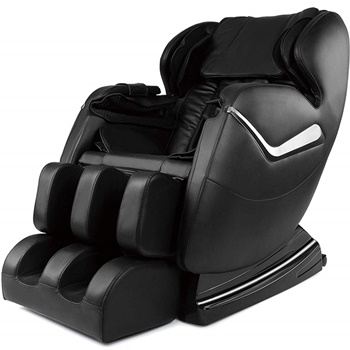 If you're on a budget but you still want to get a really good zero-gravity massage chair, it's a good thing you're reading this article. We did a lot of research and we stumbled upon this model by Real Relax. Based on the feedback that it has received, it seems to be more than decent.
Find out as much as you can about this unit's performance by reading the Real Relax Massage Chair Review that we put together below.
Features and Benefits
This massage chair comes with as many as four predefined massage programs, 50 airbags that are able to provide you with an immersive experience, as well as a zero-gravity feature. You do have to put it together by yourself when you get it delivered, but it seems that the setup process takes less than a quarter of an hour.
Additionally, the unit has as many as eight built-in massage points in the back area. These work alongside the airbags to provide you with a deep and soothing massage.
The built-in heating system is another thing worth writing home about as it can allow you to benefit from a comfortable massage experience in your lower back region. The heat feature can increase your metabolism and boost your local blood flow.
As for the zero-gravity function, it basically reclines the chair and lifts your legs so that they are a bit above your heart. This position can reduce the amount of pressure that gravity inevitably puts on your back and legs throughout a normal day.
What's also worth noting with regard to this option is that it comes with a foot massage feature. The chair relies on a foot roller for the task, which means that it is a bit more effective than it would be if it had to use airbags. You can use the remote to access the foot massage feature independently from the rest.
A massage session usually lasts for fifteen to thirty minutes.
Suggestions
Be sure to choose from the predefined programs so as to find the one that best suits your needs. Unfortunately, with this model, you aren't able to change the massage intensity or speed. You can select between the many massage modes boasted by the model.
One of the neatest things about this model is that it comes with Bluetooth, which means that you can use connectivity to make the most of it. Feel free to sit back and relax and listen to your favorite tunes on your smartphone.
Maintenance
Cleaning this particular unit is done with ease since it is covered in faux leather. You can use sanitizing sprays or wipes if you tend to sweat on account of the heated massage feature. Generally, though, you will only need a microfiber cloth to wipe it and make it look as if it's brand new.
Specifications
Size: 49 x 22 x 53 inches
Weight: 136.6 lbs
Voltage: 120V
Bluetooth: Yes
What to expect from the Real Relax Zero Gravity Massage Chair?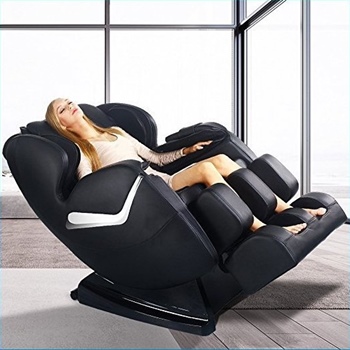 Based on the reviews that we have analyzed when trying to assess whether this unit's worth investing in, it seems to offer excellent value. It's also easy to assemble and it looks stylish, although it is a little bulky like pretty much any other decent massage chairs out there.
Some customers note that this chair is so popular in their household that they have had to create a schedule for each person using it at different times.
Pros
Extremely affordable, especially compared to other models
Easy to control thanks to the remote
Comes with Bluetooth, so you can listen to your favorite music
Plenty of massage options
Cons
The massage points are fixed, so they don't cover your entire back
The chair works for people who aren't taller than 6'1"
Wrap Up
If you're in the market for a zero-gravity massage chair that doesn't cost a fortune and yet manages to bring you all the benefits, this one's worth considering. It does exactly what it is supposed to and it has received a wide degree of appreciation from past buyers.
We hope that our Real Relax Massage Chair Review was straightforward and comprehensive and that you now know whether you should give it a try.