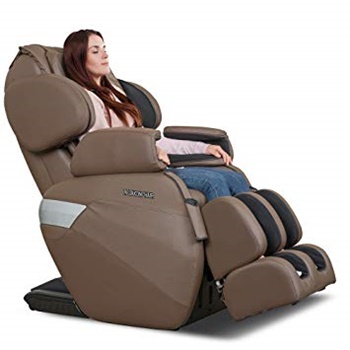 Getting the right kind of zero-gravity massage chair nowadays can be a little tricky. But we have decided to give you a hand by putting together a detailed report of one of the most popular options out there.
The RELAXONCHAIR Mk-ii Review that we have showcased below can let you know everything you ought to be aware of in terms of its pros, cons, as well as any specifications.
Features and Benefits
There are three track design types available on this model — L-Track, S-Track, and Hybrid Track. The latter combines the features of the first two, which means that it makes it possible for the chair's quad rollers to follow your body's natural curvature.
It also extends the massage track down to your glutes and thighs, so it almost gives you a full-body massage. However, the extended track doesn't go very far. So, while it will let the rollers reach the top portion of the backs of your thighs and your glutes, it's not going to go beyond that.
Another aspect worth noting about this unit is that it comes with 3D Body Scanning. This means that, before the massage begins, the chair effectively scans your back and performs adjustments to the position of the rollers so that they can hit all your pressure points.
The Zero-G seating boasted by the option is another thing worth writing home about. It reclines the user so that the knees are positioned above their heart, and from this position, their body weight is pressing down on the rollers. As such, you get a deeper and more penetrating massage.
If you tend to suffer from chronic back pain, it's a good thing that this chair comes with a pretty strong massage. In any case, the best thing about it is that you can adjust the intensity as per your needs.
Suggestions
Since we came across several consumer reports according to which the intensity of the massage can be a bit too much, we suggest starting with the lowest setting. Before utilizing the massage chair for the first time, it might be a good idea to read its comprehensive user manual, which is available on the manufacturing company's website.
Maintenance
Since the zero-gravity massage chair is covered in soft grained synthetic leather, you will be able to clean it with minimal effort. All you have to use for the task is a damp cloth or even sanitizing solutions or sprays.
However, keep in mind that you should use safe cleaning products so that you don't damage the leather over time.
Specifications
Size: 65 x 30 x 40 inches
Heating: Yes
Air Massage: Yes
Number of zero gravity positions: 3
Remote control: Yes
What to expect from the RELAXONCHAIR MK-II Plus Zero Gravity Massage Chair?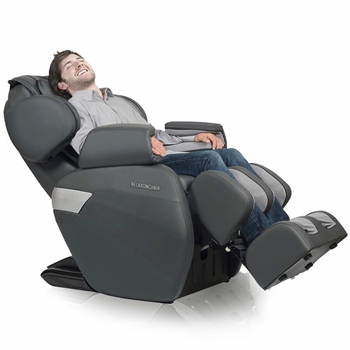 Many of those that have invested in this chair seem to have nothing but good things to say about it. It works exactly how it is supposed to and is moderately quiet, so it can be used in the same room you watch your favorite TV show, for example.
Other buyers have spoken highly about the lumbar back heating feature. They say that it has largely improved their back pain and has made their life considerably easier. The two heating pads are placed in the lumbar area, so they relax your aching muscles and relieve a lot of tension.
Pros
Plenty of massage options
Easy to use even for people who aren't tech-savvy
Comes with a convenient and user-friendly remote control
Air massage technology applies acupressure to your arms, hips, shoulders, calves, and feet
Cons
It doesn't come with Shiatsu massage
Wrap Up
Even though it doesn't come with as many massage functions as some of its competitors, this model is definitely worth keeping in mind. Besides, it's more affordable and easier to use compared to others that we have come across and it does include as many as five manual specifically targeted massages.
Hopefully, our RELAXONCHAIR MK-ii Plus Review told you everything you wanted to know about the performance and features of this chair.