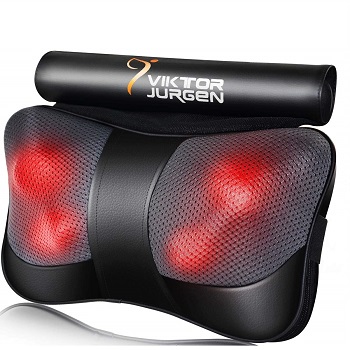 If you are scouring the market for a great back massager and you've come across dozens and dozens of models, you've ended up in the perfect place. For today's article, we have prepared a Viktor Jurgen Back Massage Pillow Review that you should definitely check out to get more informed.
Below you will find all the info that you need with respect to this device's pros, cons, and features. Keep on reading to find out whether you should consider investing in it or not.
Features and Benefits
There is a lot of variation in terms of the design of back massagers. This particular one is actually a massage pillow, which automatically sets it apart from the rest, especially when it comes to versatility. There's nothing stopping you from using the device on other body regions, not just your back.
The model is outfitted with powerful rotating massage nodes which effectively replace the movements that a real massage therapist would use when giving you a nice massage. The pillow is ergonomically designed and fits just right between your body and any surfaces.
You can use it to massage your lower back as you work in front of the computer, for example, but you can do the same for your neck, as well. Additionally, the model comes with a removable cover that can be cleaned separately.
The mesh sections of the cover ensure breathability, making it more difficult for you to sweat. However, that can still happen if you rely on the heating function of the device. By the way, the heating function is optional and can be turned on or turned off as per your needs. In general, though, it's said that heated massage better stimulates and soothes your tired muscles.
On top of everything, we'd like to note that this unit is one of the few ones that we have come across that have been approved by the FDA. This particular one is even equipped with overheat protection, which is a reassuring addition to keep in mind.
Suggestions
Since the massage can be a little too firm, we would like to suggest that you place a towel between your own body and the device itself. This will enable you to feel a little less intense massage. Make sure to read the user manual before you utilize the device for the first time, just to be on the safe side of things.
Maintenance
It's a good thing that the cover that this product comes with can be removed and cleaned separately. Since it is made from several different materials, however, we'd like to suggest gently hand washing it instead of throwing it in the washer along with the rest of your laundry. For frequent use, just use a damp cloth to wipe the cover after every massage session.
Specifications
Size: 17 x 5 x 14 inches
Weight: 3.25 pounds
Heating: Yes
Cordless: No
What to expect from the VIKTOR JURGEN Back Massage Pillow?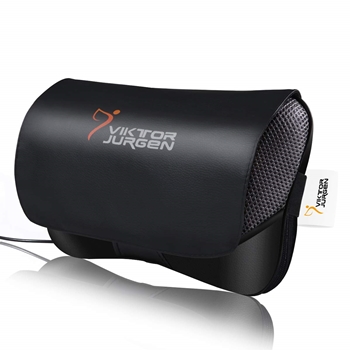 From what we have gathered by going through the reviews that some users wrote with regard to this product, it definitely seems to be worth investing in. It is convenient, user-friendly, portable, and actually effective, so it will assist you in saying goodbye to the pain that you've been experiencing.
We even came across consumer reports from people who had sustained injuries and who considerably benefited from using this model. It also seems to make a difference with individuals who work long hours. It has garnered positive reviews from people who work 12 to 14-hour shifts.
Pros
Comes with an AC adapter and a car adapter
The strap is adjustable so it fits any chair
Small, convenient, and versatile
Cons
As with other massagers, there were people who have complained that the massage can be too powerful for their liking
Wrap Up
As you might have been able to tell from this Viktor Jurgen Back Massage Pillow Review, this is a highly convenient and user-friendly choice. Granted, it is a little smaller than some of its competitors, but there's nothing stopping you from using it on different body regions. All in all, it's a good massage pillow.