Massages are amazing because they help you relax and can even relieve various types of pain in your body. But head massages are different – aside from offering relaxation and soreness relief, their goal is to improve hair growth when you're dealing with hair loss. They are massaging the scalp, and thus boost blood circulation. But should you use a head massager for this task or is it risky?
Why Are People Turning to Head Massagers?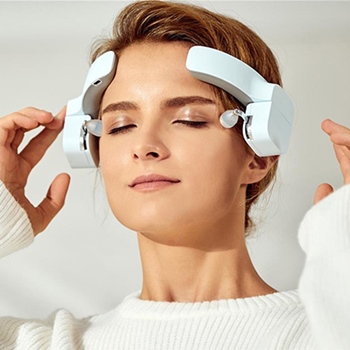 Now, you might be wondering why people use head massagers instead of going to a therapist.
Well, to begin with, these massagers can provide great stress relief by relaxing your head muscles. In fact, stress is one of the causes of hair loss, and whether you're a man or a woman, losing your hair will always be unpleasant and probably lead to even more stress.
Head massagers will apply a gentle massage on your scalp, improving blood circulation and boosting hair growth as a result. They will also relax you and help you unwind after a long day. So, considering how stressed people are in today's world, an electric head massager seems like a great investment.
How Does an Electric Head Massager Work?
To put it simply, an electric head massager is a portable device that you can use to perform massages on your head. Basically, it will have a rubber or foam massaging pad, which contains a ball-shaped headrest. After being attached to your head with a strap that runs across your back, the pad will then start massaging multiple sides of the head – including your neck on both sides and the back.
So, it's not that different from a normal massage. The difference is that this one is powered by a battery or can come with a cord that allows you to plug it in. Conversely, it is extremely easy to use without requiring any expert skills.
What Are the Benefits of an Electric Head Massager?
Electric head massagers have a lot of benefits, and in ensuring whether these units are safe or not, it's essential to know the pros. Here's what an electric head massager can do:
1. Depression and Stress Reduction
As mentioned earlier in the article, electric head massagers can do a great job of reducing stress. However, they can help with depression as well. Because the oxygen in the blood is the one responsible for neuronal cell combustion, the head massager will improve oxygenation and cellular combustion, thus promoting lucidity. In return, you will deal with less anxiety or depression and feel much happier.
2. Can Help Fight Back Pain and Headaches
Headaches can be annoying, and they tend to happen at the worst moments. They can become quite intense and affect your ability to work, focus, etc. But with an electric head massager, the pain can be relieved, and you can start enjoying life again.
If you're someone who sits for many hours in the same position or you're constantly dealing with headaches, then purchasing a head massager might improve your life.
With their abilities, these devices will stimulate the microcirculatory system, which will improve cell functions in return. As a result, they will help against upper back pain and headaches.
3. Hair Growth Boost
As previously mentioned, because of poor blood circulation, you can deal with hair loss – something that everyone dreads. Since blood is the one that brings nutrients and oxygen to the scalp cells, it's very important for it to circulate evenly and properly throughout the body. This is why an electric head massager can be so beneficial – it will improve blood circulation and make sure your hair doesn't fall. In fact, it can boost its growth.
4. Can Improve Memory
Mental tension can worsen your memory functions and capabilities and it will be harder for you to perform daily tasks. An electric head massager will release the tension and improve your memory as a result.
How Can One Pick a Suitable Head Massager?
If you want a good and reliable head massager, you will have to consider the:
1. Power Source
Do you want a device powered by batteries or electricity? You have to pick a model depending on how often you use it and where you're using it.
2. Durability
Look whether the manufacturers mention what the device is made of and whether it's sturdy or not. The period of continued use should also be specified. These factors will tell you how durable the unit is.
3. Way of Use
Some head massagers have more configurations than others. Look for certain features depending on the massage quality and intensity you need.
Are Electric Head Massagers Safe to Use?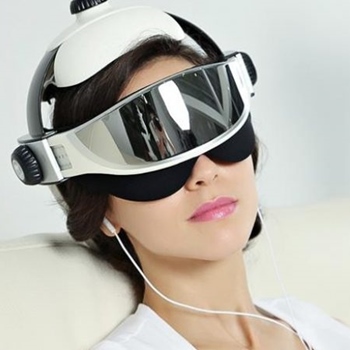 Yes, electric head massagers can be safe to use, as long as you follow the instructions offered by the manufacturer and you don't misuse it. You need to make sure that your massager is indeed designed for your head and not for other parts of the body because devices that use vibrational or percussive movements and massages can be harmful.
Moreover, in the case of massagers that are plugged in, it can be dangerous to use them in damp conditions. You shouldn't use a device like this with wet hands, in the shower, when you're taking a bath or when you're washing your hair – needless to say, in such situations, it can become a life-threatening problem.
The Bottom Line
Electric head massagers are amazing and can be very safe as long as you know how to use them. Make sure you check the manual before using one, and that you stay away from water if you have a plugged-in device.