There are many benefits to using the best head massager, and they range from decreased stress and migraine frequency to an improvement of lymphatic drainage and local blood flow. Head massages also increase the nourishment and oxygen that your scalp and hair follicles receive, making them a great addition to any routine for healthy, voluptuous hair.
But which model is the perfect one for you? To make it easier for you to choose a quality head massager, we've showcased some of the most critically acclaimed ones below. Check out our head massager reviews to gain the proper knowledge.
See The Quick Comparison Chart
Do Head Massagers Really Work?
It's only natural for you to ask yourself whether these devices are capable of making a difference when it comes to your comfort and health. Most of the individuals that were skeptical with regard to head massagers later found that they are surprised with the results they get. Many users actually say that head massagers meet and even exceed their expectations.
Some studies found that about 3 (or more) out of 5 migraines are caused by muscle tension in your head. Given that such a device is capable of stimulating your muscles and relieving them of the tension that they accumulate over the course of a day, they are considered effective in combating the symptoms of headaches.
Various consumers have also reported that they've noticed that their hair growth has improved since they started using a head massager. Since such a unit is capable of stimulating your local blood circulation, your hair will effectively receive more nutrients, as well as more oxygen. Besides, you will finally be able to relax at the end of a hard day's work.
Benefits of Head Massagers
Why should you even consider getting a head massager, whether manual or electric? Read through the benefits we've showcased below if you're still having second thoughts about giving a shot to this type of device.
1. They Decrease Stress and Boost Your Mood
Many studies have found that stress prevents the human body from functioning properly. Scalp massages effectively increase the production of serotonin, which is a hormone in your body that's capable of improving your mood.
Using a head massager regularly can lower your stress levels. Other aspects of your life are thus improved, as well. You might notice that you experience fewer moments filled with anxiety once you start using such a device. Even your productivity can be improved thanks to this practice.
2. They Stimulate Blood Flow To and From The Skin
Head massages are capable of improving local blood circulation. This increases oxygen supply improves the suppleness of the skin, and it also aids in lymphatic drainage. If you want to use a massager along with a scalp mask, we suggest reading the ingredient list and making sure that it contains a small amount of menthol and peppermint essential oils.
3. They Improve Your Sleep
Health and beauty specialists recommend getting a head massage every single day, for about five to ten minutes. You can enhance the effects of the massage by taking deep breaths, as this will increase the oxygen flow throughout your body. Your body cells and tissues can function properly if they benefit from a superior oxygen flow.
Do this before you go to sleep if you want to get some relief from your insomnia problems. Since a head massager can help you wind down before you go to bed, it can consistently improve your sleep patterns. It does have to be used regularly for the best effects, though.
4. They Reduce Migraine Symptoms
As we might have mentioned, about three out of every five migraines are caused by muscle tension. Getting a head massage can relax your muscles and also decrease tension, therefore reducing the effects of headaches. Utilizing your head massager on a regular basis also reduces the frequency of your migraines.
5. They Help You Get Rid of Dandruff
Most people who have dandruff don't know that it's actually not caused by an excess amount of oils in your scalp or hair. In fact, dandruff is caused by a dry scalp. A head massager can spread your scalp's natural oils across your hair follicles and moisturize your hair and scalp in a natural manner.
Best Head Massagers Comparison Chart
PRODUCT
DETAILS

LATME Electric Scalp Massager

Price: $$$
Customer Rating: 4.6
Design: Handheld Electric
Weight: 1.4 pounds
Power Source: Rechargeable Battery
Waterproof: Yes

View On Amazon

KESITIS Scalp Massager Electric Head Massager

Price: $$$
Customer Rating: 4.3
Design: Handheld Electric
Weight: 0.9 pounds
Power Source: Rechargeable Battery
Waterproof: Yes

View On Amazon

MARNUR Scalp Massager Shampoo Brush Electric Massage

Price: $$
Customer Rating: 4.0
Design: Handheld Electric
Weight: 0.75 pounds
Power Source: AA Batteries
Waterproof: Yes

View On Amazon

TOUCHBeauty Scalp Massager New Generation

Price: $$
Customer Rating: 4.1
Design: Handheld Electric
Weight: 1 pound
Power Source: AA Batteries
Waterproof: Yes

View On Amazon

Ikeepi Scalp Massager Vibration for Stress Relaxation

Price: $$
Customer Rating: 4.1
Design: Handheld Electric
Weight: 0.5 pounds
Power Source: AAA Batteries
Waterproof: No

View On Amazon

Tezam Head Massager Electronic Vibration

Price: $$
Customer Rating: 3.8
Design: Handheld Electric
Weight: 0.1 pounds
Power Source: AAA Batteries
Waterproof: No

View On Amazon

Heeta Hair Scalp Massager Shampoo Brush with Soft Silicon Brush Head

Price: $
Customer Rating: 4.6
Design: Manual Silicon Brush
Weight: 0.2 pounds
Power Source: No Power Needed
Waterproof: Yes

View On Amazon
Best Head Massager Reviews
1. LATME Electric Scalp Massager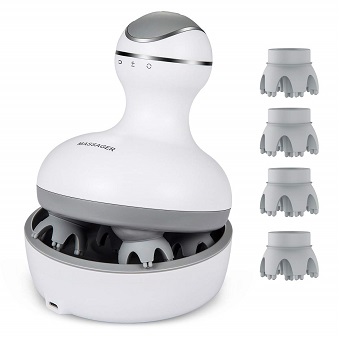 This handheld alternative is a convenient little massager that you can use under a variety of circumstances. It comes with as many as 28 individual nodes, as well as 3D kneading, making it the perfect fit for massaging your scalp. Since it comes with several attachments, there shouldn't be anything stopping you from using it on other parts of your body, not just your head.
Thanks to the benefits ensured by this design, you'll be able to say goodbye to mild pain, migraines, muscle tension, and a variety of other issues. This device can also stimulate hair growth and help you get rid of dandruff. The best thing about it is that it is IPX7 waterproof, which means that while you can't submerge it in water, you are allowed to use it in the shower.
It has as many as four tension modes, so you can pick the one that best suits your personal preferences. Plus, it's cordless, as well as rechargeable, so you can simply take it with you even when you go out of town.
Pros
Waterproof to IPX7 standards
4 tension modes
28 individual nodes
3D kneading massage
Cordless and compact design
Cons
The rubber feet can get stuck in your hair
Read More: Latme head massager
2. KESITIS Scalp Massager Electric Head Massager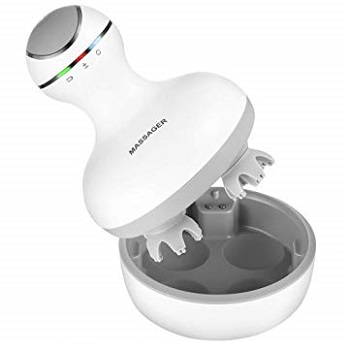 The KESITIS alternative is another electric head massager that's portable and convenient. It comes with as many as 21 individual nodes which are each made from eco-friendly silicone that's soft to the touch. This material makes it possible for your hair to remain in one place, so it won't pull it or even tangle it.
It's also worth noting that this is a very lightweight device. Even if you hate carrying heavy things and you're worried about this detail, you will be able to handle this unit. It comes with a built-in rechargeable Li-ion battery, so it doesn't call for disposable ones. There are four mode settings that you can choose from depending on your personal preferences.
We recommend starting with the low-speed setting to avoid giving yourself a too harsh head massage. Another aspect worth noting about this product is that it's waterproof, so it can be used in the shower. The charging base is not waterproof, though, so only charge the device when it's completely dry.
Pros
Waterproof design
Comes with a rechargeable Lithium-Ion battery
21 individual nodes
Weighs in at just 14.1 ounces
Cons
Some customers don't like the sound that this model makes
Read More: Kesitis head massager
3. MARNUR Scalp Massager Shampoo Brush Electric Massage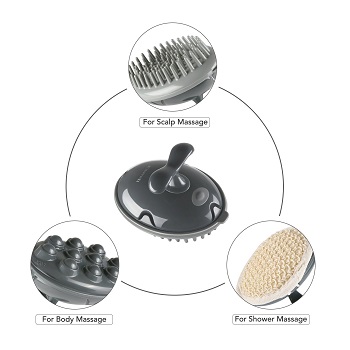 This little handheld model is another that you should bear in mind. It is a 3-in-1 massage brush that comes with as many as three different attachments – a shower loofah pad, a mini full body massager, as well as a hairbrush for your scalp. Needless to say, you can use this device on any body part with little to no effort.
The shampoo massage brush that this model comes equipped with is fully capable of stimulating hair growth. It makes the correct choice for any type of hair, no matter if it is thin or thick. We might even go as far as to say that you can use it when you're washing your dog's or cat's coat.
As for the power source, this massager can be used with two AA batteries. While it does come with two in the box, you'll probably have to get several separately or at least buy two that are rechargeable. You can control this handheld model with ease since it comes with a user-friendly button.
Pros
Can be used anywhere
Works with AA batteries
Comes with three attachments
Can be used in the shower
Ergonomic design and vibration function
Cons
Not as powerful as some customers might have wanted it to be
Read More: Marnur head massager
4. TOUCHBeauty Scalp Massager New Generation
Compared to some of the other models that we have showcased here, this is a sonic vibrating scalp massager. It comes with as many as three different massage attachments. One is made of silicone and another is plated. The different heads provide you with different massage experiences. The sonic vibration makes it a good choice if you also want to utilize it on your face.
What's neat about this unit is that it comes with adjustable vibration intensity. You can pick the right one with ease, and as per usual, we advise you to start with the lowest one. Based on the info that we came across, this head massager is able to promote local blood circulation and relieve your migraines.
It can also relax your scalp, make you wind down, and significantly reduce muscle tension. Last, but not least, it even comes with a facial cleansing brush head, so you can make use of it if you need something to clean your face with on a daily basis.
Pros
Works with AA batteries (not included)
Comes with 3 massage attachments
Facial brush can be used to clean your face
Customizable vibration settings
Cons
The device gets louder as the speed/intensity is turned up higher
Read More: TOUCHBeauty head massager
5. Ikeepi Scalp Massager Vibration for Stress Relaxation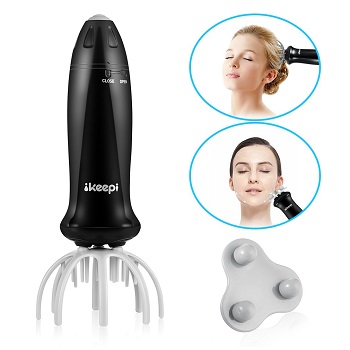 Even though the Ikeepi model is one of the most affordable units that we have found nowadays, it's perfectly capable of doing what it is supposed to. It comes with two massage heads. The finger gripper claw attachment is made for scalp massage, and it can help improve your local blood flow, as well as provide you with some much-needed stress relief.
The 3-point round massage head, the other attachment, can be used to massage other body regions, including your face. The vibration function boasted by this unit is one of the features worth writing home about. It's capable of increasing skin absorption, a reason for which your moisturizer or oil is going to better penetrate the scalp or your face skin.
This particular model works with 3 AAA batteries, and it can do so for as many as 3 hours. The portable, compact, and easy-to-use design that this one comes with makes it worth taking into account. It's also small enough to fit into your handbag.
Pros
Comes with two massage heads
Works with 3 AAA batteries
Compact, easy-to-use, and portable design
Can be used on other parts of your body
Cons
Some people say that the massage isn't powerful enough
Read More: Ikeepi head massager
6. Tezam Head Massager Electronic Vibration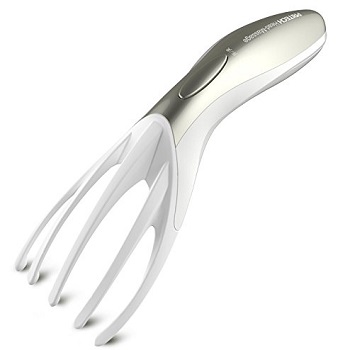 You might not expect this unit to be capable of doing its job properly, especially since it is extremely budget-friendly. Well, you're going to be in for a surprise if that's what you expect. This unit comes with both tapping and shaking, so it can deliver a pretty effective massage. It sends out about 8,500 micro-vibrations for every minute that goes by.
You can make use of this device to get rid of the impurities or product buildup in your hair right before you go and take a shower. After you're done, you can use the same device to give yourself a scalp massage.
Thanks to the convenient design boasted by this choice, you are going to be able to use it pretty much anywhere. It works with three AAA batteries, so it is portable, easy to use, as well as lightweight. It measures 2.79 by 8.34 by 1.46 inches, so it won't even take up too much space in your handbag, backpack, or purse.
Pros
Delivers 8,500 micro-vibrations per minute
Works with AAA batteries
It's lightweight and compact
It helps you relax and it stimulates hair growth
Cons
It's not waterproof, so you can't use it in the shower
Read More: Tezam head massager
7. Heeta Hair Scalp Massager Shampoo Brush with Soft Silicon Brush Head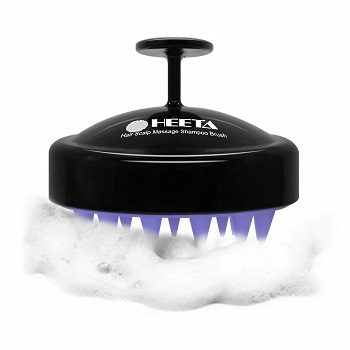 If your budget isn't what it used to be, or you're feeling unsure about whether you should try out an electric option, check out the specs of this manual one. Naturally, manual head massagers come with both advantages and disadvantages. Since this is a handheld and compact choice and it requires no batteries, you can use it anywhere in the world.
The product is also designed to be waterproof, so you can take it with you in the shower. Use it to massage your scalp and get rid of itchiness, dandruff, and promote your local blood circulation. Benefit from a relaxing massage at home each time you wash your hair.
It's also worth adding that this product comes with a compact and lightweight design, which is also ergonomic. As such, the device fits perfectly in your palm, so you can hold it with little to no effort. It weighs in at just 1.8 ounces, so it is among the lightest options currently available. Plus, thanks to its design, it doesn't even damage your manicure as you wash your hair.
Pros
Weighs in at just 1.8 ounces
It doesn't use any batteries
It's completely waterproof
You can take it with you in the shower
Ergonomic design
Cons
You'll have to do the massaging yourself since this is not an electric device
Read More: Heeta head massager
What Exactly Is a Head Massager?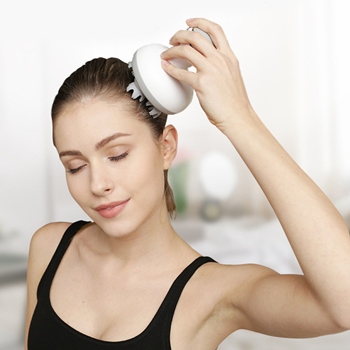 A head massager is a device that's uniquely made to stimulate your head muscles, as well as your scalp. These units can have a special design that resembles a helmet, but there are also handheld alternatives currently available.
Many head massagers are manufactured to perform a massage to the muscles in your head without having to pull on your hair. That's why they look completely different compared to the variety of handheld devices out there. Most will call for the use of a massage attachment made out of silicone or rubber so that they are incapable of charging your hair with static electricity.
Most of the models you will come across are typically cordless, which means that they are very portable. As such, you can take them with you when you travel and get a head massage even if you are out of town frequently.
They are also versatile and lightweight, and you can utilize them wherever you like. While some use regular batteries, others come with rechargeable ones. As you can expect, there are many variations in terms of how they look. There are even manual options that are cheaper compared to their electric counterparts.
Head Massager Types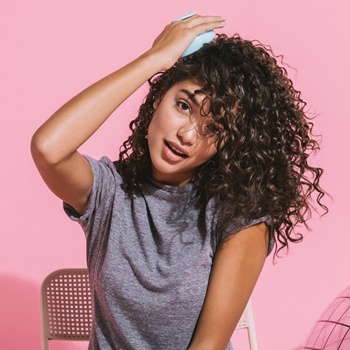 These units come in many shapes and sizes. What this means is that different designs can do different things, and should also be used differently. We've listed some of the most common head massager types below. Check them out if you're having trouble understanding which one you need.
1. Manual Models
Manual scalp massagers come in several forms and sizes. Some can be made to be used in the shower for treating actual scalp issues or just for stimulating it. Since they don't need any electricity to do their job, you can rely on them anytime and anywhere.
Miniature choices look like spiders. The drawback of this design is that it can be used for just one fraction of your scalp at a time. As such, with them, it's harder to get the thorough and consistent massage you'd benefit from while using an electric unit.
In other words, manual head massagers have less coverage and can offer you just a few options in terms of convenience.
2. Shower Head Massagers
Showerhead massagers are designed to be used in situations that involve a lot of moisture. They are usually waterproof, and they are often made with silicone nodes and have been sealed with rubber. They can be either electric or manual, with the latter being a lot more affordable compared to the first.
Waterproof massagers can be used both when you take a shower and when you don't. In any case, it's reassuring to know that they aren't going to get damaged when used in the bathroom.
3. Plastic Brushes with Rolling Beads
This type of design is a little different compared to the one boasted by a spider massager. Such a product typically looks like a brush that is equipped with rolling balls on its tips. As you can expect, a brush doesn't cover as much surface as an electric model that resembles a helmet, so that's a drawback. Most models are manual, so you have to put in some effort into using them.
4. Electric Head Massagers
Even though they are less budget-friendly compared to their manual counterparts, electric models are extremely effective. Most aren't designed to be used in the shower, and that's because they typically have to be connected to an outlet. However, some are cordless, and if you want to use them in any situation, just make sure that they are waterproof.
One of the most important advantages of choosing an electric alternative is that it comes with plenty of attachments right out of the box. This means that you will be able to possibly use the device on other parts of your body, especially if it is handheld. For example, with such a model, you could get a foot massage, as well, or you could use it to massage your neck and shoulders.
The other design, which looks like a helmet, is both convenient and at the same time, it also has a drawback. Since it's made to fit your head, you can't use it on other parts of your body. On the other hand, it's going to stay on your head for the entire duration of the massage session, therefore requiring little to no effort on your behalf. These are the models that we decided to focus on when presenting some of the most effective ones in our selection.
Do Head Massagers Stimulate Hair Growth?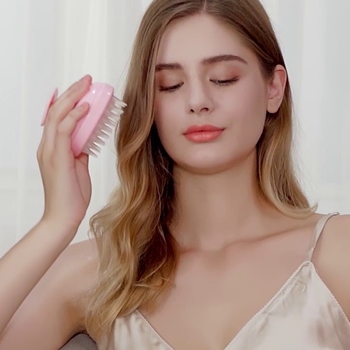 The short and simple answer to this question is yes. The scalp is the place where your hair starts to grow, and if it is laden with dead skin cells and even hair product buildup, it can't do its job properly. People who have scalp issues might notice that their hair can't thrive and grow properly. So, what can head massagers do for your hair?
1. They Thicken Your Hair
A head massage helps your skin to benefit from an increase in essential nutrients and oxygen, and these are all capable of penetrating and feeding the hair follicles. When your hair gets the nutrients it needs, it grows faster and easier, and it also starts to acquire a certain shine.
2. They Make Your Hair Easier To Clean
Many people use products such as dry shampoo, and they do it once or twice a week if they have no time at their disposal. Some also use styling hair products, such as mousse or hair spray. All of these can build up in your hair and on your scalp, making it challenging for you to remove them when you take a shower. Using a head massager before you clean your hair can make it easier for you to get rid of this product buildup.
3. They Stimulate Hair Growth Thanks to Better Local Circulation
Whenever you use a head massager, your head muscles are adequately stimulated, and they also warm up. This means that there will be an increase in oxygen and nutrients delivered to your scalp. Improving your local blood flow is also important because it helps you get rid of toxins. If you use such a device regularly, you'll come to see that your hair will start being stronger and healthier looking.
4. They Spread Your Natural Scalp Oils
You don't have to buy expensive hair products such as oils or conditioners to make sure that your hair is properly hydrated and nourished. You have plenty of oil in and on your scalp. However, the biggest problem is that most people leave the oil be, and it can build up and affect the hair follicles.
On the other hand, there could be parts of your scalp where more oil is produced, and others where it is needed, yet absent. That's why people who have dandruff usually don't have it everywhere on the scalp. Thanks to their features, head massagers can better spread your scalp oil and make it penetrate your hair, too. This leads to stronger, shinier, and thicker hair in the long run.
Head Massager Buying Guide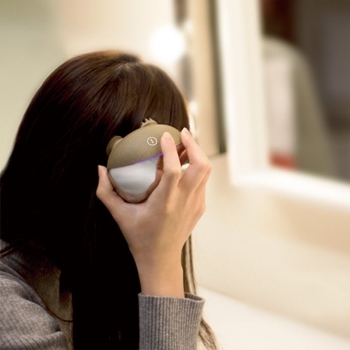 If you are thinking of getting a device for head massages, you might be feeling a little baffled as to which one you should pick. There are many options available for sale these days. If you have the time, we suggest you check out the guide that we have created and showcased below. It contains all of the aspects you should bear in mind when you're in the market for a new head massager.
1. Design
We aren't going to dive deep into the many types of head massagers you might be able to stumble upon, and that's because we have a separate section on this topic. However, to summarize it, you have the option of choosing between a manual or an electric head massager.
Also, electric models can be either handheld or can look like a helmet, in which case you wouldn't have to run the massaging head over your scalp. You aren't going to get the same benefit if you go for a manual, non-electric alternative.
2. Power Source
The power source of the unit can affect its durability, portability, as well as its ease of use.
Some models come with a built-in battery, which is typically rechargeable. You can simply connect the device to a power outlet to get the battery to charge, or you might be able to use the USB port of a computer or even a car adapter. Models that come with rechargeable batteries are cost-effective and convenient, and some are even waterproof.
There are also options that have a so-called mixed power source. This means that you can use them both when they are plugged in and when you don't have access to a power outlet. Most of those that come with this feature is generally used with disposable batteries.
With other products, however, you have to keep them plugged in at all times, which has a negative impact on their portability. You don't have to worry about charging such a model, but then again, you can't benefit from excellent portability, either. Keeping that in mind, choose the one that best suits your expectations.
3. Heat Therapy
Heat therapy is a feature that's popular with most types of massagers, but you aren't going to find it in many models designed for giving you a head massage. Some scalp massagers do have heat therapy, and that's a good thing since it is quite effective when it comes to relaxing your muscles.
Given that it can be a little riskier compared to the other types of therapies available in such a device, we recommend using the feature for limited amounts of time only. If possible, don't go over the 5-minute threshold.
4. Massage Techniques
Kneading massage is the most common one you'll find in devices designed for your head. That happens because it is less stressful, but it's capable of compressing your tissues against one another or against the bones underneath them. It can relieve muscle tension and aid with pain relief.
Percussion massage consists of a series of rapid sequences of movements that hit your muscles. As you can expect, it's less common in head massagers, but it is nevertheless very effective when it comes to stimulating your muscles and your scalp. It doesn't have to be too powerful, though, for safety reasons.
Tapping movements are capable of increasing your local body temperature and stimulating your muscles. They are highly recommended for people who experience muscle tension and lots of tension-related headaches.
Vibration can most often be found in the models that look like helmets. This is a quiet relaxing massage technique that also promotes muscle relaxation and increases your local blood flow. It can be rather invigorating, so you might want to use your vibrating head massager in the morning.
5. Massage Attachments
If you have decided to choose an electric alternative, you'll notice that many of the models currently available also include massage attachments. Some have changeable massage heads whereas others come with a fixed one and that's all. Let's look at some of the most common accessories you'll get along with your purchase.
4-massage attachment design
This is quite effective design. It's versatile and it comes with four attachments, and although they might look like they aren't capable of doing too much, that's not true. Every massage attachment is equipped with seven massage nodes, and each of these ends up in four different points.
Interchangeable scrub brushes are also a common attachment which you might find in some models. The best thing about these is that they take the convenience of the unit to a whole new level. You'll be able to scrub your whole body with the device if you use this attachment. The brush is capable of removing the dead skin cells from the surface of your skin.
The hairbrush design is another that you should consider. This shows up mostly in units that can be utilized in the shower. The most significant benefit of this type of attachment is that it makes it very easy for you to clean your hair, and you're also applying a nice massage to your scalp, at the same time. It increases the local blood flow, as well, and this translates to more oxygen and nutrients delivered to your hair follicles.
6. Adjustable Settings
It's one thing to be able to switch between massage techniques, but it's another to choose the right speed or the correct intensity. Your head massager should always give you some room in terms of customization because everyone is different.
One person might not be able to take the powerful vibration of a device while another might think that it's not powerful enough. Always make sure that the unit comes with as many adjustable functions as possible.
7. Fit For Your Health Condition
People can suffer from a variety of conditions from hair loss or psoriasis to migraines, insomnia, dandruff, or anything else. It would be ideal if you were to purchase a model that's specifically made to treat your health condition. At least check some reviews to find out whether the unit you're considering can be used for your needs.
How To Use a Head Massager Properly?
Start By Reading The Manual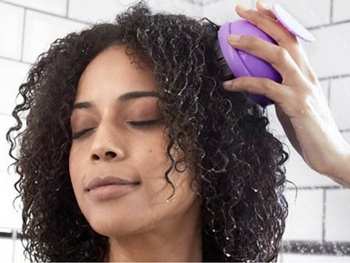 The instruction manual can provide useful information, and also info regarding safety procedures. This is especially true in the case of electric head massagers, which you do not have to use in the shower if they aren't waterproof. They can pose a real threat to your health and even your life if you use them incorrectly. That's why this is the first piece of advice that we'd like to give you.
Begin With The Lowest Intensity
You'll notice that there are many reviews out there from people who say that their devices are just too powerful for their liking. While this might be true in some cases, the fact is that many people enthusiastically start with a too high setting right off the bat. It's only natural to get a little scared when noticing that the unit has so much power. That's why it is advised for you to begin with the lowest intensity setting first.
Sit Somewhere Where You Feel At Ease
No matter if you want to go for a manual or electric alternative, the place where you get your head massage matters quite a bit. Avoid using the device in stressful situations or in areas of your house that doesn't make you feel well. Plus, electric devices can make a little noise, so try to improve your mood by using other means. Light a candle nearby, wear something you feel comfortable in, and sit in your favorite armchair, if you have one.
Use The Device For A Limited Time
While it might be true that head massages offer more than enough benefits, if you overdo it, you might even get a headache. Your head is far more sensitive compared to your other body regions. That's why it's better to use a head massager for five to ten minutes at most, rather than to do the same for as many as thirty minutes.
Use Massage Products
This might not apply in the case of some electric alternatives. However, with most manual head massagers, you can use hair oil, shampoo, or conditioner and get all the benefits of the product and the device, as well. Just make sure that you apply the product as close to your hair roots as possible.
Take It In The Shower
Using your head massager in the shower is great for a number of reasons. You get to save time, but you also get to clean your hair properly and spread your scalp oils throughout the length of your hair. Nevertheless, consider that not all such devices are made to be used in wet environments for safety concerns. Make sure you own a waterproof head massager if you want to take it with you in the shower.
Try To Cover Your Entire Scalp
If you haven't purchased a model that looks like a helmet, you need to make sure that you run the massaging head over your whole scalp. Otherwise, you aren't going to get the benefits it can provide you on the entire scalp area. This is, in fact, one of the reasons why people choose helmet-like electric options as they are more convenient and get the job done without any effort on your part.
FAQs About Head Massagers
1. How long should I use the device for?
Since head massages can get quite intense compared to those that you'd perform on other body regions, we recommend massaging your scalp for two to five minutes. If you want to do it for longer, it might be a good idea to organize two 5-minute daily sessions, for example.
2. How to make a head massager at home?
You can use a whisk if you'd like to try your luck at making a DIY head massager. Cut the whisk prongs using pliers, bend them apart so as to space the rods, cover the sharp ends with glue, and then seal them with nail varnish. However, a spider massager is very affordable, so if you can't be bothered with making a DIY project, you might as well buy one.
3. Does using a head massager cause hair loss?
The hairs that you'll notice falling out are usually dead already, and the head massager just makes you get rid of them faster. To avoid causing hair loss, however, we suggest limiting the amount of time that you use your head massager daily.
4. Is it good to use your head massager every day?
Some hair specialists recommend using this type of device on a day-to-day basis while others say that it might be better to utilize it two or three times a week. If you are feeling concerned about causing any hair loss, try to use it once every couple of days.
5. Can I use oil with any head massager?
Not any head massager is compatible with hair products, and this is especially true when it comes to electric models. Some might have grooves and structures that are very hard to clean. Others might come with manuals that prohibit the use of hair products along with them right off the bat. Whatever the case, make sure you stick to the manufacturer's instructions.
Wrap-Up
Now that you know what you should look for in the best head massager, you can simply select the model that best suits your personal needs and preferences. We hope that our head massager reviews have assisted you in separating the wheat from the chaff.
No matter the type of design you end up selecting, remember that getting head massages regularly is healthy and offers amazing benefits overall.
See also: back massager reviews