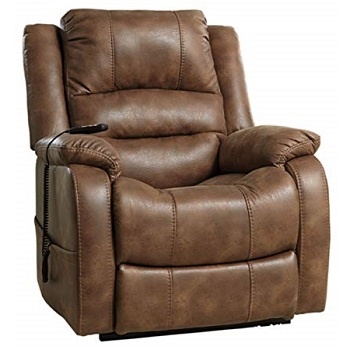 If you've been scouring the Internet in search of a quality recliner and you haven't found something that actually suits your needs and preferences, it's a good thing you're reading this post. We came across this model by Ashley Furniture and noticed that it's among the most popular ones out there.
But is it truly worth investing in or not? If you're curious and you want to find out the answer to this question, read this Ashley Furniture Recliner Review.
Features and Benefits
This model is equipped with two motors. Out of these, one is designed to control the recline motion of the back and footrest while the other one is designed to tackle the lift function.
There is an easy-to-use remote control attached to the recliner, and it enables you to control the functions independently. You can, therefore, enjoy a variety of possible seating positions since the footrest and the seatback can be controlled separately.
What's worth noting about the unit is that it is upholstered in bonded leather. This makes it both eye-catching and at the same time, durable. What we would like to note in this respect, however, is that it does call for some amount of care, unlike PU leather and other kinds of materials. It might wear out a little faster compared to other options.
The model comes with a pair of sizable pockets that you can use for storing your TV remote, a book, your tablet or e-reader or anything else that you might want to have on hand.
Additionally, there is a battery backup system included in this product, which is definitely not a feature that you would find in other budget-friendly recliners. If the power goes out, you can still use it.
There is some assembly required on the part of the user, but most of this recliner comes pre-assembled. You have to hook up the battery system, though, plug it into an outlet, and also decide on which side you wish to connect the wired remote.
Suggestions
We advise you to avoid using this recliner for more than half an hour because it is not the most breathable alternative on the market. This means that things are bound to get a little sweaty, so you, unfortunately, can't use it for sleeping during the night, for example.
For more information on putting the unit together, safety considerations, and anything else you might need to be aware of, check out the instruction manual.
Maintenance
The fabric that this recliner is covered in is rather durable, but it is highly recommended that you use only water-based cleaning agents and soap to get it clean. Light scrubbing is allowed, but you should try to be as gentle as possible so as to avoid getting it damaged.
The manufacturing brand actually recommends checking the recliner for any spots following each use.
Specifications
Dimensions: 35 x 40 x 42.5 inches
Seat height: 20 inches
Seat width: 19 inches
Seat depth: 21 inches
Total weight: 121 pounds
User weight capacity: 300 pounds
What to expect from the Ashley Furniture Power Lift Recliner?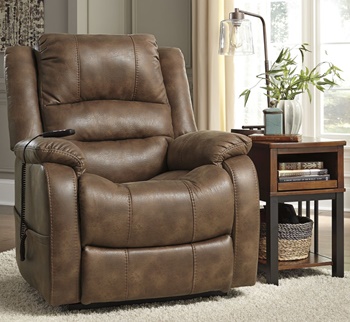 Most of the reviews we have come across with regard to this product are favorable. People describe it as being easy to assemble, good quality, and affordable. They also speak highly of the leg rest included in the main unit. Even those who aren't fans of recliners, in general, have learned to love this one.
Pros
Amazing aesthetics — this recliner feels and looks good
Made with quality materials
Offers excellent value for the money
Comes with a battery backup system
Cons
It would have been nice if this recliner came with a couple of preset seating positions available on the remote control
You have to take good care of the leather so that it doesn't get damaged fast
Wrap Up
As you might have noticed from this Ashley Furniture Recliner Review, this is a rather critically acclaimed model that can meet and even exceed your expectations. Its price is actually surprising for the number of great features it comes with and the quality of its materials.
The recliner is comfortable and easy to assemble, and if you have any issues with it, be sure to get in touch with the company's customer service. They'll swiftly solve any problem.