Did you know that some of the most comfortable recliners make up for about eight percent of all furniture store sales in the United States? That makes them one of the most popular pieces of furniture currently available for sale. People are becoming more and more interested in them because they can offer heaps of health benefits, and are simply so comfy.
What's better than sitting in a nice recliner at the end of a hard day? If you're considering getting one yourself, maybe you'd like to have a look at some of the recliner reviews that we have showcased below. All of the following models have garnered a lot of appreciation on the part of those that have given them a try.
See The Quick Comparison Chart
Health Benefits of Comfortable Recliners
1. They Relieve Back Pain
There are many people who experience back pain at one point in their lives. The pain is acute for most people, but it can become chronic for many. Pains and aches occur because the back muscles constantly work in balancing the lower and the upper part of the body. By reclining the body, you effectively take the pressure off your spine. You also let your core muscles to heal and rest, which makes them stronger in the process. A reclined sleeping position is a lot better than an upright one or even better than when you lie down.
2. They Reduce The Risk of Respiratory Problems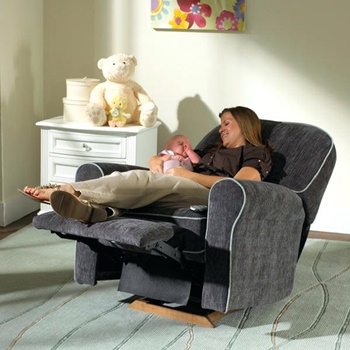 Sleep apnea can be defined as a hitch in breathing as you sleep. It basically happens when the tongue falls back, therefore blocking the windpipe. Many sleep-related and respiratory problems can be helped by changing sleep positions. Keeping your head elevated can result in a more comfortable sleep, and even a semi-reclined position can help you breathe better.
3. They Enhance Circulation
Sitting or standing for too long can hurt your health. In fact, sitting can even affect your cardiac health. It raises the risk of you developing heart disease and high blood pressure, and some studies have even suggested that it increases the risk of a stroke. Sitting for a long time can also lead to the development of edema, blood clots, as well as muscle cramping. By resting in a recliner, you elevate your lower legs and let your blood circulation function correctly.
4. They Aid Pregnant Women Feel Comfortable
While lower back massages might be a no-go because it's widely known that they can cause premature labor, using a recliner is extremely helpful for a pregnant woman. Expecting mothers can experience an increase in discomfort and back pain because of the weight of the unborn child. This can make it more difficult for them to get a good night's sleep or even to get comfortable in bed. There are special support pillows made for sleeping and they can prevent tossing and turning, but recliners are far better at helping pregnant ladies relax.
5. They Help With Surgical Healing
Sleeping in an inclined position is highly recommended after some surgical procedures. This is true for individuals who have had shoulder surgery. These patients have to sleep in an inclined position for as many as six weeks. Even though they can prop themselves up on a pillow, for example, using a recliner, instead, is far better.
6. They Help You Get Rid of Stress
No matter the type of model that you will end up choosing, it goes without saying that resting in a recliner is extremely relaxing. It can help you wind down at the end of a hard and agitated day, where you've had to deal with multiple problems. If the recliner comes with massage or heating, it's even better since you can relax even more.
7. Great For Insomniacs
Although some say that sleeping in a recliner isn't a good idea, we couldn't help noticing that many people do and they have experienced no issue just yet. Since the position is a lot more comfortable, especially for insomniacs who also experience back pain, a recliner can help them get a good sleep.
Most Comfortable Recliners Comparison Chart
PRODUCT
DETAILS

Ashley Furniture Signature Design – Yandel Power Lift Recliner

Price: $$
Customer Rating: 4.3
Size: 40 x 35 x 42.5 inches
Weight: 121 pounds
Massage: No
Heating: No

View On Amazon

Mac Motion Chairs Collection Mandal Top Grain Leather Recliner

Price: $$$
Customer Rating: 4.0
Size: 34.5 x 22.8 x 30 inches
Weight: 84 pounds
Massage: No
Heating: No

View On Amazon

Homall Single Recliner Chair Padded Seat PU Leather

Price: $
Customer Rating: 4.3
Size: 29.2 x 20.7 x 27.7 inches
Weight: 61 pounds
Massage: No
Heating: No

View On Amazon

MAGIC UNION Power Lift Massage Recliner Faux Leather

Price: $$
Customer Rating: 4.0
Size: 31 x 33.5 x 41.3 inches
Weight: 115 pounds
Massage: Yes
Heating: Yes

View On Amazon

Roundhill Furniture Brandan Bonded Leather Dual Rocker Recliner

Price: $$
Customer Rating: 3.1
Size: 39 x 39 x 41 inches
Weight: 100 pounds
Massage: No
Heating: No

View On Amazon

Christopher Knight Home 296597 Lloyd Black Leather Recliner Chair

Price: $
Customer Rating: 3.8
Size: 40.5 x 35.5 x 28 inches
Weight: 71 pounds
Massage: No
Heating: No

View On Amazon

Barcalounger Relax & Restore Recliner, Black

Price: $
Customer Rating: 3.9
Size: 35 x 36.5 x 40 inches
Weight: 78 pounds
Massage: No
Heating: No

View On Amazon
Best Comfortable Recliner Reviews
1. Ashley Furniture Signature Design – Yandel Power Lift Recliner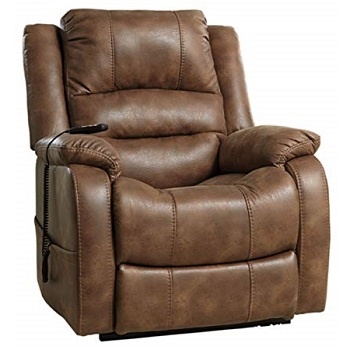 This power lift recliner is our first choice, and that's because it looks and feels great as you rest in it. It combines style and functionality, so it can tie any room together. It does have a somewhat classic design, so we would recommend keeping it in your office or library if you have one.
The unit is made for superior comfort and support. It is equipped with a high back, a faux leather upholstery, and it's got thick cushions on which you can prop your body. It's also worth noting that the model comes with a rugged corner-blocked frame, as well as a seat reinforced with metal. Therefore, in terms of durability, this one can easily be seen as a winner.
The recliner measures 35 inches in width, 40 inches in depth, and 42.5 inches in height. The seat has a height of 20 inches and the length of the unit fully reclined is 69 inches. As such, it makes a good fit for most types of bodies.
Pros
Can be assembled with ease
Faux leather makes it easy to clean and maintain
Pillow-top armrests keep you comfortable
The sizable design fits bigger people
The leg rest can be lifted individually
Cons
It's a little narrower in the seat areas compared to other choices.
Read More: Ashley Furniture Recliner
2. Mac Motion Chairs Collection Mandal Top Grain Leather Recliner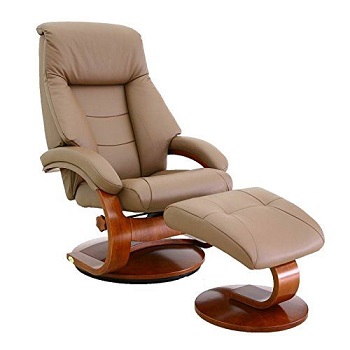 If you are prepared to make an investment to get a really comfortable recliner, you should definitely check out this particular model. It is capable of offering you plenty of features. It reclines, it swivels, and it offers plenty of lumbar support. The quality top grain leather on the surface is another reason to consider it.
Based on the information provided by the manufacturer and some of the reviews acquired by this unit, the upholstery is quite durable. The therapeutic designed ottoman is a great choice since you aren't going to get a footplate with this model.
The recliner measures 30 inches in height, 43 inches in width, and 29.75 inches in length. The seat height is 18.5 inches. Since the recliner weighs in at 84 pounds, it can be rather hefty and challenging to move around, especially for someone who doesn't appreciate lifting overly heavy things. The recliner and the foot stand can be bolted together.
Pros
The footplate comes separately
You can use this recliner as an office chair or a wall hugger
Great for smaller spaces
Can be assembled by one person in less than an hour
Cons
The upholstery seems to wear out rather quickly
Read More: Mac Motion Recliner
3. Homall Single Recliner Chair Padded Seat PU Leather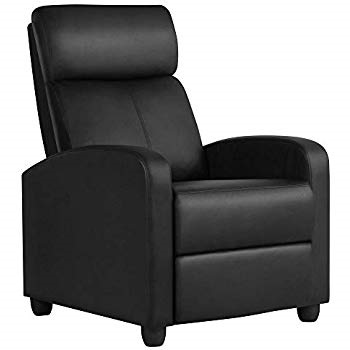 If you're on a tight budget, but you still want to purchase a recliner that allows you to relax at the end of a hard day and even take a nap in it, this one should fit the bill. One thing we have to note about this model right off the bat is that its weight capacity is estimated at 265 lbs, so it can't accommodate heavier people.
What's neat about this option is that it comes with a highly durable frame made out of steel. Therefore, it has a really good chance of standing the test of time, despite being so affordable that it has some individuals in complete shock.
Although you might have never heard of this particular manufacturing brand, you'll be happy to know that you can return the product should you not be satisfied with it. Just make sure that you do so within one month after getting it delivered. The brand also ensures free exchanges if there are any missing parts or damage.
Pros
Large-sized seat cushion
Thick recliner back
Wide armrests
The footrest is adjustable
Cons
The weight capacity can be rather limiting.
Read More: Homall Single Recliner Chair
4. MAGIC UNION Power Lift Massage Recliner Faux Leather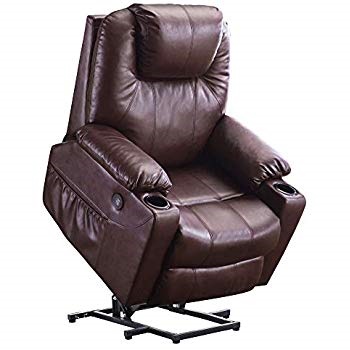 Compared to some of the other models that we have described in our selection, this one is a lift recliner. This means that it can be particularly comfortable and helpful for people who are either disabled or just older. These social categories might have a hard time getting up and out of a chair. That doesn't happen if they are resting in this recliner.
The power lift function that this product is outfitted with can push the whole chair up from its base. This means that the person sitting in it will be able to stand up as easily and conveniently as possible.
This unit comes with as many as four areas of massage focus. It also features five different modes you can choose from depending on your momentary needs or preferences. Reclining the chair can be done with as little effort as possible. Moreover, you can assemble it with ease.
Pros
Massages your legs, thighs, lumbar area, and back
Has 5 modes — wave, normal, auto, press, and pulse
Solid wooden frame
Faux leather upholstery
Two cup holders and pockets
Cons
The massage function can make a bit of click noise.
Read More: MAGIC UNION Recliner
5. Roundhill Furniture Brandan Bonded Leather Dual Rocker Recliner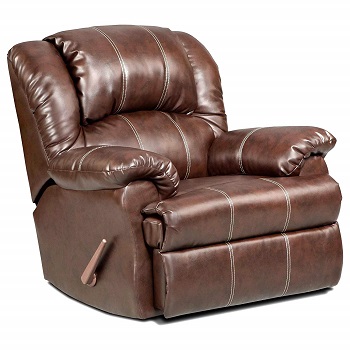 This one is another unit that you ought to keep in mind, even though it is slightly pricier when compared to the others we have showcased here. It is built to last, which is a net advantage since recliners can be quite expensive. The size of the recliner is 39 by 39 by 41 inches.
What's cool about this unit is that it comes with a hardwood frame and a rocker base made out of steel. There are springs that are made of steel, as well, and they are specifically designed to ensure that you get the most strength, durability, and comfort over time. What's lacking in this product is any heating or massage function, which could have been added given its cost.
Even though the hardware instructions are provided in the box, some assembly is necessary for this recliner to be usable. If you are not particularly tech-savvy, maybe ask someone to give you a hand.
Pros
Durable and comfortable
Very resilient seat outfitted with a thick layer of foam
The bonded leather material makes it look and feel great
Plush seat and footrest
Cons
There are no massage functions available with this product.
Read More: Roundhill Furniture Brandan Rocker Recliner
6. Christopher Knight Home 296597 Lloyd Black Leather Recliner Chair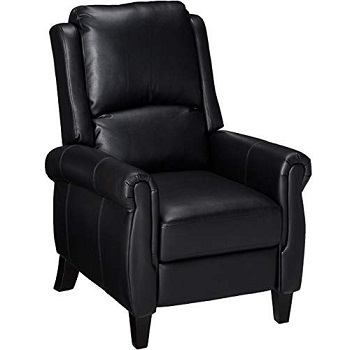 Once again we're showcasing a product that's a little more affordable compared to many of the others you might stumble upon. What's really cool about this unit is that it is very easy to assemble and even easier to operate. If you want to come back home from work and simply rest in the recliner, you can do that in any position both conveniently and easily.
The style of this piece of furniture is also something worth writing home about. This recliner looks and feels good, especially since its upholstery is made of faux leather. The birch construction is another aspect to take into account since this one looks far better in real life than it does in pictures.
Although the brand offers several color combinations and upholstery variations, the one we've picked for you is in black and has an espresso finish. It's shiny, comfortable, and as relaxing as possible. Why not give it a shot?
Pros
Upholstered in beautiful PU leather
Wooden frame makes it look classy
Designed with a simple feel and classy lines in mind
Matches any decor
Great for smaller rooms
Cons
The seat is a little longer, which forces smaller individuals to sit forward.
Read More: Christopher Knight Recliner Chair
7. Barcalounger Relax & Restore Recliner, Black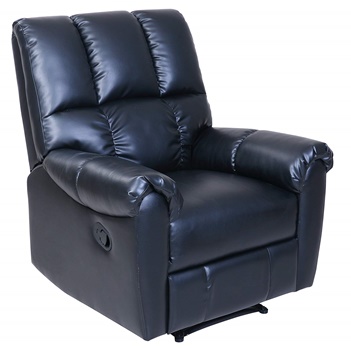 The BarcaLounger alternative is a great relaxing option for most types of people, given that it is sizable enough to fit all sorts of bodies. The generous seating area that it boasts is a benefit in itself, and the fact that it also comes with deep plush body cushions ensures a soothing and stress-free sitting experience.
The model is upholstered in faux leather, which has been shown to be easy to clean, as well as durable. In fact, many of those that have given this product a shot praise its ability to stand the test of time. This, as you know, is not the same with many other recliners in the category, many of which experience upholstery damage after a limited amount of time.
The drawback, of course, is the fact that this one doesn't come with any heating or any massage functions. In our experience, these features are mostly common in recliners who look like chairs, not those that look like cushiony armchairs.
Pros
A simple and easy-to-reach handle
Plush and pillowed seat and back
Easy to clean and maintain
Wide seat lets anyone in your family enjoy the recliner
Cons
The footrest can be too small for people taller than 5'6"
Read More: Barcalounger Relax And Restore Recliner
What Is a Recliner Chair?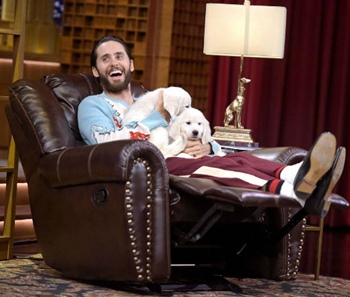 Recliners can have several names. They're called lift chairs, medical recliners, as well as recliner chairs. There are several types available on the market. So, what makes the difference between a regular chair and a recliner?
First of all, a recliner looks more like an armchair than a traditional chair. It has lots of cushioning, which ensures that you remain comfortable for the entire duration of you sitting in it. Some can come with extra features, such as massage or heating, but the most important characteristic of a recliner is its ability to recline.
You might have guessed it, but unlike traditional seats, it can allow you to sit back and relax, to the point where you actually feel tempted to take a nap in it. Most recliners come with three degrees of recline. One of them is for napping, the second can be used for watching a TV show, reading a book, or other relaxing activities, and the third puts the recliner in a perpendicular position to the ground, where you use it as a chair.
Types of Recliner Chairs
There are several variations in terms of the design and what you need from a recliner. We took the time to go through each one of them so that you get your info right with ease.
1. Push-Back Recliners
These are comfortable, large, and steady. The footrest can pop up as you recline. Most people think that this type of model is great, and since it's completely manual, it also tends to cost less compared to a power recliner. The only drawback to getting this option would be that it does tend to take up much more space compared to other, more modern alternatives.
2. Rocker Recliners
Rocking recliners are rocking chairs that can also recline. They are the best choice for parents out there since they can be the perfect way to lull a baby to sleep. They're not just for relaxing children, though. Often when the parents rock their little ones to sleep, they end up taking a nap, as well.
3. Two-Position Recliners
This is the traditional type of recliner that can shift between only two positions. You can either rest in such a recliner upright or you can use the fully reclined position. Most of the models in this category are outfitted with a lever with the help of which you will operate them. These units don't come with too many additional features or reclining positions. They are budget-friendly and they offer great results for people who like the idea of having a basic, non-electric option.
4. Riser Recliners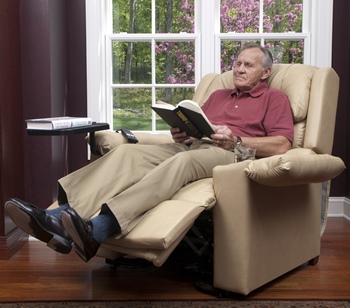 A riser recliner also goes by the name of a lift recliner or a lift chair. It's basically a reclining unit that can lift upward and only then recline. It's a great option for seniors as it allows them to stand back up with little to no effort. They can be more or less expensive, but they are extremely useful for people who have a hard time moving or who have disabilities.
5. Wall Huggers
Wall huggers are engineered to offer the same comfort of a traditional recliner but in a somewhat limited space. With this type of model, the seat doesn't push back to get the unit fully reclined. In fact, it pushes forward. As their name suggests, what this means for you is that you can place the recliner a lot closer to a wall than you would be able to do with a typical model.
6. Zero-Gravity Recliners
These models aren't as heavily padded as traditional recliners. They do have excellent ergonomic construction, however, and it's great for alleviating pressure points and giving you a rather relaxing experience. While some of the products in this line are marketed as outdoor furniture, you can also come across some amazing indoor zero gravity recliners, as well.
7. Motorized Recliners
Being more expensive than their manual counterparts, motorized recliners make for great choices for disabled individuals or older people. With these, all that you have to do to get into the right position is to push and hold a button. Unfortunately, these models are also more expensive than manual versions, but many people say that they are worth the expense.
Comfortable Recliner Buying Guide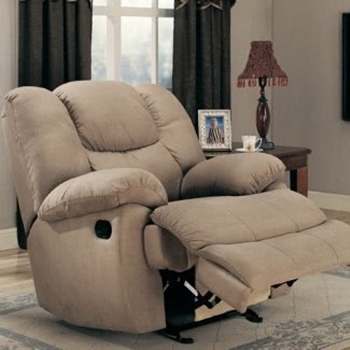 What features are the most important ones you should keep in mind when you're shopping for a brand new recliner? Since this type of product can be quite a bit of an investment, we suggest you have a look at the comprehensive guide below. It can definitely assist you in separating the wheat from the chaff.
1. Things to Consider
1.1. Your Body Size
The user's physical attributes matter a lot when it comes to picking the perfect model. If you choose a recliner that's too small, you aren't going to fit in it or you're constantly going to feel like you're uncomfortable. It's actually better to get a bigger one, in this regard, although it's not going to allow you to feel like you're being cushioned from all sides. Have a look at the dimensions of the product and then see whether they are a match for your body features.
1.2. Room Size
The size of the unit is extremely important. Some people live in small apartments, for example, so they might not be able to own and comfortably utilize a large recliner. In this case, they should consider getting a wall hugger model. If you have plenty of room available in your house, you shouldn't bother with this detail.
2. Features
2.1. Heating
Not all recliners come with a heating feature. As you might have guessed, the ones that are manual can't have any heating. You could come up with an idea, such as using a heated cushion or pad and place it in your lumbar region, for example. But the models that do come with heating are always electric. Some have heating in the lower back region, and others can take it a step further and give you this feature in your upper back, and also in your calves.
2.2. Massage
The most comfortable recliner chairs typically offer one type of massage or the other. You can choose from vibration massages to Shiatsu techniques, depending on what the model is capable of providing. Some of the more sophisticated models are even equipped with airbags or rollers, and these can even imitate the movements of a real massage therapist.
When selecting a recliner that comes with massage, be sure to look at the areas where it is available, and also the modes that you can pick from. Always start with the lowest setting available.
2.3. Swiveling
Heavier models rarely have swiveling rotation built-in. This can be a nice feature on occasion, but many individuals can find it to be an annoyance. It all depends on the model and how it was constructed, after all. You might end up finding it difficult to get up from a recliner if it starts swiveling. It's not for everyone, but it can be a good option for those that want to benefit from excellent freedom of movement.
2.4. Rocking
As we might have mentioned, the rocking feature can be particularly helpful for people who have babies. Most recliners are made to be stationary, though, so this is not a feature as common as you might think. But if you have recently had a baby, it is definitely something worth looking into, as it can help him or her fall asleep easily.
3. Materials
There are three basic materials you can choose from when it comes to comfortable recliners. Not all are good, of course, but some really do take the cake when it comes to durability and convenience.
3.1. Microfiber
Cheaper recliners can have microfiber on their surface. There's nothing wrong with it, of course, but it's significantly less popular among customers. It can get stained somewhat more easily compared to other materials, so you have to be cautious if you also want to have a drink like tea or coffee while you are resting in your recliner.
3.2. Genuine Leather
Real leather can get quite expensive, and many people aren't willing to spend that much money on a recliner. It's also rather complicated in terms of cleaning and maintenance, and if you don't take proper care of it, it can get damaged with ease. Generally, pricey models are made with genuine leather. It is becoming a less popular material nowadays due to its cost and its maintenance.
3.3. PU Leather
Polyurethane leather is a man-made material that feels like leather and it even looks like it. The durability of PU leather can't be compared to that of genuine leather. However, if you treat your PU leather recliner with the utmost care, you will expand its lifespan. Obviously, the most important reason to consider this type of material is that it's significantly more affordable compared to real leather.
4. Adjustability
Whether you go for a manual or an electric alternative, you need to be able to adjust the position as easily and conveniently as possible. How many buttons does the unit come with? Is the operation complicated or straightforward? Is it recommended for disabled individuals or seniors? Find out the answers to all of these questions by going through some reviews of comfortable recliners. Make sure to read the specs of the product as carefully as possible.
5. Pockets
If you intend to watch your favorite TV show as you rest in the recliner, you should consider a model that comes with at least one side pocket. It needs to be sizable enough for you to keep the remote control there, but it shouldn't be too deep. Otherwise, you're going to have to look for the remote in it and wonder where it is. Basically, try to get a unit with a pocket big enough for your remote and a bottle of water.
6. Extras
Recliners nowadays can come with lots of additional features, and we can't tackle all of them in this post. However, we couldn't help noticing that one of the most helpful extras that some manufacturing companies now include is a built-in charger. Whether that means you get a real power outlet in your recliner or just a USB one, it would certainly come in handy. You could keep scrolling on social media on your phone without worrying about whether its battery is going to run low or not.
Manual vs. Electric Recliners
1. Manual
If you'd like to get a good massage, you might want to avoid purchasing a manual recliner as it doesn't come with any massage function. As you might have guessed, compared to its electric counterpart, a manual recliner doesn't use electricity. So, on the one hand, your power bill isn't going to get too high. However, that also means that you are not going to get any various settings and features besides the obvious recline one.
When it comes to the cost, manual recliners are significantly more affordable compared to electric ones. In terms of maintenance, it's also easier to take care of a manual model since it doesn't have as many parts as its electric counterpart. A manual unit is somewhat straightforward, and it usually calls for little maintenance. Besides taking care of the surface and the mechanical parts that ensure the recline, you don't have to pay attention to anything else.
You might also want to consider that a manual recliner is not nearly as versatile and comfortable as an electric one. However, in terms of longevity, a manual model can be a winner, since it isn't going to suffer from any electrical mishaps.
2. Electric
An electric recliner needs the power to function. This means that the mechanical parts are connected to the wiring, and that electricity is what allows you to adjust the unit as per your specific needs.
Unfortunately, one of the drawbacks of such a model is that it does tend to cost a pretty penny. On the other hand, you get multiple benefits since it comes with plenty of features and settings, many of which are entirely customizable. In this respect, electric recliners can be compared to some zero-gravity chairs, since they are feature-packed.
The longevity is a matter of debate. If you take the time to read our entire article, you'll see that we've included some info on taking care of your recliner below. This process includes keeping the leather in top shape, caring for the fabrics, and also the mechanical parts. But with an electric alternative, you also have to make sure that the power outlet is completely safe, and that you don't overuse the model so as to avoid overheating and damage.
An electric option is a net winner when it comes to versatility. This type of model is best suited for people who want a product designed for anyone in their household. While you might like the heating function, others in your family might want to use the lower back massage one without any heating.
How To Use a Recliner Properly
As you might have imagined, operating a manual recliner is different compared to operating a power recliner. Let's look at some tips for both.
1. Operating a Manual Recliner
A manual recliner usually comes with three typical positions. The closed one is the standard one, where you just sit in the recliner as if it were a normal chair. To move from the closed position to the relaxed one, first make sure that you are sitting back as much as possible. Release the handle or the catch to then raise the footrest.
The relaxed position is when the footrest is extended and your back is semi-upright. To reach the fully reclined position, all you have to do is to push gently on the arms and then move your back backward until the unit is fully open.
The fully reclined position involves the entire footrest being fully extended and your back being fully reclined. You can close the recline by simply leaning forward and allowing the back to return to its original position. You do have to apply some downward pressure to the footrest using your legs until it finally reaches the closed position.
Naturally, the recline function can differ from one model to the next, and that's why we suggest that you take the time to read the instruction manual provided by the manufacturing company.
2. Operating a Power Recliner
With a power recliner, the unit will basically adjust itself depending on your preferences. You aren't going to have to push your back or use your feet to adjust the footrest. Most electric recliners come with 2 buttons for single action and 4 buttons for an action where the user moves the back and footrest independently.
When the standard dual button is pressed and held, the footplate is brought up and so is the backrest. You can use the buttons separately for the footplate and the backrest.
With a standard four-button, you can control several features. The top one raises the footplate, the bottom one lowers it, and the back top and bottom one usually control the backrest. Once again, these controls can be different depending on the model that you will purchase.
How To Maintain a Recliner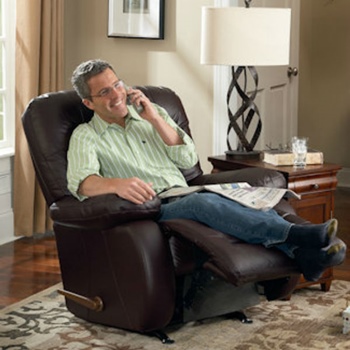 Since recliners aren't the cheapest thing ever to have been invented, it goes without saying that you want to protect your investment. Expanding the lifespan of the product can allow you to make the most of it, enabling you to get the most value out of it. Here are some tips on taking care of your recliner.
1. Maintain The Leather
Keeping the leather of any product in top shape can be a challenging task. There are many consumers that would rather leave the job in the hands of professionals, no matter how much the service would cost. But for those of you who might want to clean and maintain the leather yourselves, you'll be glad to know that there is a way.
Avoid water at all costs. Any type of liquid can leave stains on leather. A steam cleaner is probably the best alternative, but as you can expect, it also costs some money. It's worth it in the long run, though. A steam cleaner can remove the dust, but it can also get rid of any bad smells that might have accumulated.
Using saddle soap is another option you have available. This one can remove the dirt, and it is also safe enough to make sure that the leather doesn't develop any cracks.
2. Caring For The Fabrics
Cleaning the fabric part is not nearly as challenging as maintaining the leather. However, this doesn't mean that you should completely ignore it. Vacuum cleaning can be a good choice, but extreme care is necessary. After all, a recliner chair's fabrics can be rather delicate and sensitive. It's advised to have a soft brush to do the work.
Baby wipes can be extremely helpful when cleaning the seat. They're the best when it comes to taking care of small spots with dirt. You might also want to consider getting a microfiber cloth since it can do an excellent job of cleaning when combined with a fabric cleaner. The fabric might not be as sensitive to liquids as leather is, but it would be a good idea to avoid spilling water on it anyway.
3. Taking Care of The Mechanical Part
The main difference between a typical seat and a recliner consists of the mechanical part. Oiling the mechanical section is absolutely necessary. Keep in mind that this could be a task that the elderly might not be capable of handling. So, if you're getting the recliner for your parents or grandparents, make sure that you make them a visit once in a while and oil the mechanical parts of the unit.
What's important to note here is that the recliner shouldn't get to that point where it begins to creak. In this case, any movement could be jeopardized, and the person resting in it could be in danger, as well. Since it's better to be safe than sorry, you should oil the recliner before this happens.
4. Preventing Damage to Your Recliner
While the tips above can give you a helping hand when it comes to properly maintain your recliner, just keep a proactive attitude. The leather can start to fade out and crack quite rapidly, especially when exposed to a warm and dry environment. Make sure to change the loose cushions as often as possible as this process can prevent wear and tear. Often and concentrated use can accelerate the damage of a recliner.
FAQs About Comfortable Recliners
1. Should I sleep in my recliner?
If you have a recliner already and you find it more comfortable to take a nap in it than in your bed, you might want to know that this is, in fact, a rather common thing. Recliners maintain your spine in a correct position, they ensure that your body benefits from good blood circulation, and their recline also ensures heart health.
The opinions on whether it's safe and healthy to sleep in a recliner are different. Some people argue that power recliners are somewhat unsafe. It's usually not a good idea to sleep in something that can malfunction and possibly endanger your health. However, from what we have noticed, none of the units that we have described have any such issues. Therefore, if your power outlet is in top shape and your recliner is brand new and of good quality, you can take a nap in your recliner.
2. What kind of warranty can be offered on a recliner?
It depends on the manufacturing company and the quality of the product. Needless to say, some of the cheapest versions can be backed by a warranty that lasts for a year. In fact, there are some that are not backed by any warranty at all, which means that you have to be careful when reading the product description. Besides, the country where the recliner is designed and constructed is another indication of its quality.
Most reputable companies back their recliner frames for repairs for at least a couple of years. Even if you damage the upholstery, you can at least know that the construction will be repaired at no cost.
3. What is the difference between a medical recliner and a lift chair?
There's practically no difference between these two. Lift chairs go by many names, including power lift recliners, medical recliners, as well as lifting chairs. It goes without saying that some can be recommended by physicians, which obviously adds to their being medical devices. However, you can purchase a recliner without first going to your doctor's office.
4. What parts of a recliner are usually heated?
The lumbar region is the most commonly heated part of a recliner. This aspect is due to the fact that many people experience pain in their lower back, either because they stand all day, or because they work in front of the computer and bend their backs unnaturally. Some of the higher-end alternatives in this line will have heating pads in other areas, such as the arms and the legs.
Generally, the body regions where you won't get any heat while sitting in a recliner are your head and your feet. For that, you'd have to get a top-rated foot massager or a top-rated head massager, depending on what's more important for you.
5. How can you clean a recliner if something is spilled on it?
Since accidents do tend to happen, especially in a household where several people live, most recliners are easy to clean. Just wipe the drink that you've spilled and make sure to clean the upholstery right away. Since some models come with textile upholstery, the spill could leave a stain. That's why leather (including faux ones) alternatives are to be preferred as they won't stain unless you spill concentrated solutions on their surface.
Wrap-Up
Now that we've gone through some of the most important factors that you ought to keep in mind when shopping for the most comfortable recliners, we'll leave you with a last piece of advice. Since such a product can cost a lot of hard-earned cash, we suggest investing as much time as you can in doing proper research.
Read as many recliner reviews as you can, look at the specs of the product, and even go to a store and try sitting in the model that you're thinking of investing in. After all, when you're shopping online, you can't estimate how comfortable a unit really is.