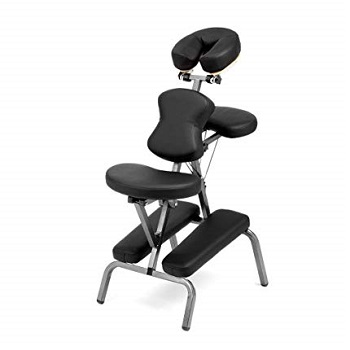 Finding a suitable portable massage chair can be quite a tricky endeavor, especially since you have to invest a lot of time in doing proper research. If you have come across this Ataraxia model before, you might have asked yourself whether it is worth the money or not.
Well, luckily for you, we have put together this Ataraxia Deluxe Portable Massage Chair Review. It can let you know everything you should be aware of in terms of its pros and cons and a variety of other things.
Features and Benefits
The first benefit that you should consider when making the difference between this unit and some of the others is its cost. It's super affordable, which means that you aren't going to have to spend an arm and a leg to get a portable massage chair. However, since you always get what you pay for, it's less convenient and durable compared to other choices.
The chair has a small footprint, which means that it is the ideal option for massage therapists or students who are just starting out. Space can be quite limited in a lot of situations, especially if you are going to give massages in an office or a room in your home.
The weight of the unit can work against you to a certain degree, which means that it is significantly less portable when putting side by side with other options. The padding of the chair is enough for the client to feel comfortable and at ease, but we've seen better in other models.
As for adjustability, fortunately, you don't have to worry about anything in this respect. The height and angle of the face rest can be adjusted, and so can the height of the seat, the chest pad, and the armrest. The more you change the settings of the chair, the faster the knobs are going to wear out.
This product comes with a zippered, duffel-style carrying case, so at least you have the means of taking it on the road.
Suggestions
While with other models, you can be a little rough as they are likely to put up with a lot of abuse over time, we would suggest being careful with this one. It's not going to have any issues in terms of stability, but you should take care of it so that it lasts for as long as possible.
The main issue that we came across when researching this product is that it doesn't have a working weight capacity advertised. We did go through some of the reviews that it has acquired, and many people seem to think that it works for people who aren't heavier than 250 lbs.
Maintenance
Luckily, the model has an oil-resistant and waterproof synthetic leather covering, which is why for cleaning it, you will only require a damp cloth. You can use a variety of sanitizing products so long as they are marketed for use on synthetic leather. Read the user manual to learn how to put this chair together.
Specifications
Size: 20.5×10.2×39 inches
Weight: 17 lbs
Weight capacity: 300 lbs
Material: Synthetic Leather
What to expect from the Ataraxia Deluxe Portable Massage Chair?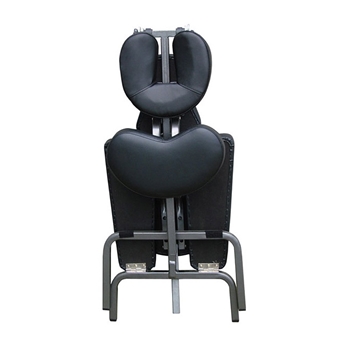 Massage has multiple benefits, and that's something that many massage therapists are aware of. If you are just starting out and you're feeling unprepared to spend a fortune on a massage chair, this one might be a good option.
There have been reviews from individuals saying that this product isn't the most durable one, however. It is easy to put together and it provides a lot of freedom in terms of adjustability. Nevertheless, it can't be used with heavy people for fear of it breaking down.
Pros
Extremely affordable
Adjustable face pillow, chest pad, and armrest
Waterproof and oil-resistant synthetic leather
Easy to put together
Cons
It does tend to weigh a bit, which is why this chair is less portable compared to others
There have been some problems reported with regard to the item's durability
Wrap Up
As you might have noticed from this Ataraxia Deluxe Portable Massage Chair Review, this isn't a model that's capable of excellent performance. However, it is cheap, convenient, and easy to assemble and disassemble, and if you don't have heavy clients, you might want to consider it.