Investing in the best portable massage chair is no small feat. Corporate massage is now becoming more and more popular, with companies willing to offer their employees a massage session per workday. A study performed by the American Massage Therapy Association found that blood pressure and cortisol levels were considerably reduced after just ten to fifteen minutes of chair massage.
So, what are you waiting for? No matter if you're a businessman, or you spend your day on the court, having the option do decompress at home is godly. A proper massage routine can get you all sorts of benefits, including better sleep quality, energy levels throughout the day, and many more. Now, without further ado, let's see what portable massage chairs are all about!
See The Quick Comparison Chart
Who Should Have a Portable Massage Chair?
The simplest answer to this question is that someone who studies massage therapy should be the first person interested in purchasing a portable massage chair. Some models are quite lightweight, which means that you can take them with you if you ever do a home visit to one of your clients. In fact, that's the whole purpose of such a product. It needs to be easily transportable so that it can be utilized virtually anywhere.
The other type of massage chair that we have written about in the previous section is the electric alternative. This one can be used by anyone, no matter their experience, schooling, or schedule. The best thing about these is that they can be used anytime, so you can just sit down and relax whenever you feel like it. You can even get one for the office if you work sitting in front of the computer for many hours.
Therefore, there are two types of ideal end-users for portable massage chairs. Massage therapists and regular people.
Benefits of Portable Massage Chairs
Massage therapy can alleviate stress symptoms, relax and loosen muscles, improve blood flow, boost a person's immune system, mobilize their lymphatic circulation, alleviate pain and headaches, and even improve posture and decompress and improve spine alignment. Massage therapists know this from experience, but this statement has been validated time and again by many studies. But what are the benefits that portable massage chairs can offer you compared to a table, for example?
1. More Comfort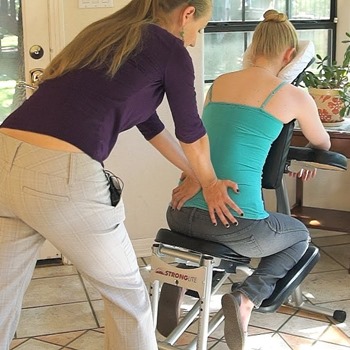 The vast majority of the units that we have come across are outfitted with cushions that offer plenty of support and comfort to the person sitting in the massage chair. This means that as you will apply pressure to the client's back, for example, their face, stomach, chest, and every other part of their front body will feel good. It's true that massage tables also come with cushions or foam, but the padding is usually thicker and more comfortable in massage chairs.
2. Safety
You might have noticed if you have taken the time to browse through some of our recommended choices, that most massage chairs are built using very durable materials such as iron, steel, or in any case, metal. This makes them particularly stable, so you aren't going to have to worry about endangering your client's health if you use such a product.
Plus, their design also makes it practically impossible for them to break under the weight of a person. With a table, on the other hand, that's very likely to happen, especially when the client gets on it by first sitting in a single place (usually in its center).
3. They're Easily Transportable
Portable massage chairs are made to be carried with ease. Whether that means actually transporting it in your hands or not, the fact is that one of the most significant benefits of such a model is that you can take it anywhere. You might even want to massage a person in the middle of the woods. That's not such a bad idea given the fresh air and nice nature sounds in the environment, which will further contribute to the client's relaxation.
4. They're Easy To Assemble
Since you will want to use the chair either at the salon or at a client's house, you need to know that it can be put together in as little time as possible. Fortunately, we've found that most portable massage chairs currently available can be assembled in less than 15 minutes.
5. They're Rugged
Last, but not least, most massage chairs in this particular category are made to last for as long as possible. If you are purchasing one for your massage practice, you need to know that it's going to stand the test of time. Due to the materials used in their construction, even portable massage chairs can last for a minimum of three to five years.
Best Portable Massage Chairs Comparison Chart
PRODUCT
DETAILS

Master Massage Professional Portable Massage Chair

Price: $$
Customer Rating: 4.2
Size: 11 x 20 x 43 inches
Weight: 15.2 pounds
Weight Capacity: 650 pounds
Top Material: PU Leather

View On Amazon

EARTHLITE Portable Massage Chair Package VORTEX

Price: $$$
Customer Rating: 4.3
Size: 29 x 19 x 51 inches
Weight: 15 pounds
Weight Capacity: 300 pounds
Top Material: PU Leather

View On Amazon

STRONGLITE Portable Massage Chair Ergo Pro II

Price: $$$
Customer Rating: 4.2
Size: 32 x 19 x 45 inches
Weight: 24 pounds
Weight Capacity: 600 pounds
Top Material: PU Leather

View On Amazon

BestMassage Portable Therapy Massage Chair 4 Inches

Price: $
Customer Rating: 4.0
Size: 29 x 48 x 18 inches
Weight: 23 pounds
Weight Capacity: 300 pounds
Top Material: PU Leather

View On Amazon

Ataraxia Deluxe Portable Folding Massage Chair

Price: $$
Customer Rating: 4.2
Size: 20.5 x 10.2 x 39 inches
Weight: 17 pounds
Weight Capacity: 300 pounds
Top Material: Synthetic Leather

View On Amazon

EARTHLITE Avila II Portable Massage Chair Package

Price: $$
Customer Rating: 3.4
Size: 49 x 20 x 35 inches
Weight: 22 pounds
Weight Capacity: 350 pounds
Top Material: PU Leather

View On Amazon

NRG Grasshopper Portable Massage Chair – Fully Adjustable

Price: $$
Customer Rating: 3.6
Size: 39 x 11 x 20 inches
Weight: 18 pounds
Weight Capacity: 300 pounds
Top Material: Levante Vinyl

View On Amazon
Best Portable Massage Chair Reviews
1. Master Massage Professional Portable Massage Chair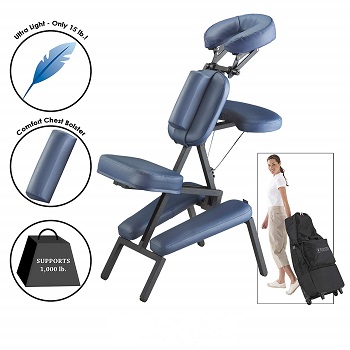 This unit offers a great combination of excellent features and good value. It's the perfect choice for the therapist who works at occasional events or in the corporate environment. The chair is light, but also durable, and it can last for a good deal of time. It offers a nice balance between durability and comfort, and it doesn't even cost a fortune.
We did find some reports according to which this one is not recommended to massage therapists who do a lot of work, or who work with many tall clients. The 2 inches of cushion ensures comfort for the person sitting in the chair, and the fact that the upholstery is PU is another benefit, as well. PU is a material that's both oil and water-resistant.
As for the frame, you'll be happy to know that it's made of airgrade-quality aluminum. This renders the model strong and lightweight, and in case you were wondering just how much it weighs, we'll tell you — just 15.2 lbs.
Pros
650-lbs working capacity
Weighs in at just 15.2 pounds
Comes with a storage pouch for glasses and several other items for the client
Large and thick cushions
Easy to put together and disassemble
Cons
Not the best choice for tall clients
Read More: Master Massage Professional massage chair
2. EARTHLITE Portable Massage Chair Package VORTEX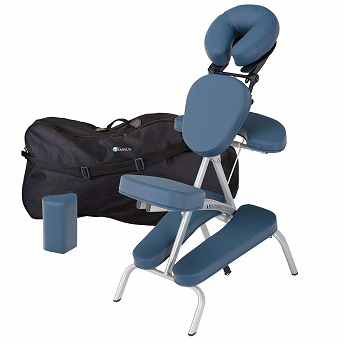 This is one of the highest-rated choices that we have come across. It is designed by one of the oldest and most reputable names in the industry of manufacturing massage chairs. Some reviewers argue that this is the perfect option for a therapist who gets around a lot. It has a lightweight construction, which means that it's easily transportable.
It's also versatile, convenient, durable, as well as attractive. Moreover, the best thing about it is that it can accommodate any kind of body. It does cost a pretty penny, which can be a drawback for someone who is not a professional massage therapist.
The working weight of this unit is estimated at 300 pounds, which should be enough for the client's body and the pressure that you are going to apply while performing the massage. It's easy to put together and adjust, and it can be disassembled with as little effort as possible.
Pros
It weighs in at just 15 lbs
Has a maximum working weight of 300 pounds
Can be assembled and disassembled with ease
Works for both short and tall clients
Backed by a lifetime limited warranty
Adjustable chest pad, seat, face rest, and armrest
Cons
Doesn't come with replaceable pads
Read More: EARTHLITE portable massage chair
3. STRONGLITE Portable Massage Chair Ergo Pro II
This is another model that you should keep in mind, especially since it's actually a package. This one, as well, has garnered some of the highest ratings at many online retailers. Apparently, it's an excellent portable massage chair for a therapist who works with heavier clients or people who have sustained injuries.
The unit can be rolled on a flat surface with ease, so it can make a good option even for indoor floors or paved areas. Since it is a little heavier compared to some of the other products in our selection, it's not a good choice for therapists working outdoors.
What's truly impressive about this alternative is that it has a maximum working weight of 600 pounds. Therefore, it is compatible with all sorts of bodies. The ergonomic design is another aspect worth writing home about since it makes it possible for the client to be comfortable at all times.
Pros
600-pound working weight capacity
Can be assembled and disassembled with ease
Durable T6 aluminum alloy frame
Adjustable seat, face cradle, and chest pad
Removable knee rests
Cons
It weighs in at a whopping 26 lbs, so it's not as portable as other massage chairs.
Read More: STRONGLITE portable massage chair
4. BestMassage Portable Therapy Massage Chair 4 Inches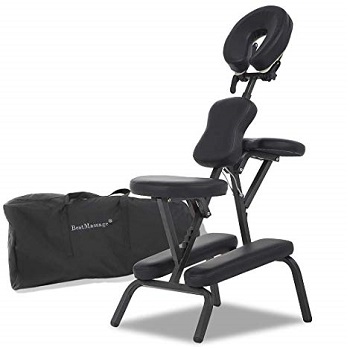 This unit is significantly more budget-friendly compared to some of its competitors. As you can expect, this translates into a number of limited options, especially in terms of adjustability. However, the model does come with a heavy-duty metal frame which allows it to stand the test of time.
It has a working weight capacity of 300 pounds. The high-density foam layer feels good to the touch, and it's thick enough for the client to avoid feeling the frame underneath it. The contact surface is made from PU leather, so it's water and oil-resistant. Plus, the BestMassage choice is compact and foldable, and it's even accompanied by a durable nylon carry case.
While the manufacturing brand might argue that this is among the lightest options currently available, the fact is that it weighs in at 23 pounds. Therefore, it's a little heavier compared to our favorite choices in the selection. It comes in three colors.
Pros
300-lbs working weight capacity
PU leather surface that's oil and water-resistant
Ergonomic and foldable design
Can be assembled and disassembled quickly
Heavy-duty metal frame
Cons
Since it weighs in at 23 pounds, it's not the lightest in the line.
Read More: BestMassage portable massage chair
5. Ataraxia Deluxe Portable Folding Massage Chair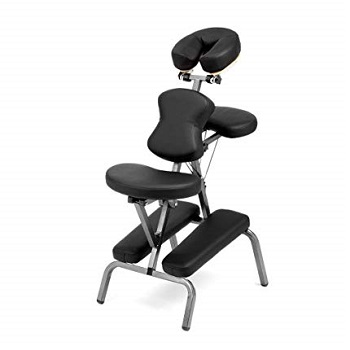 If you are in the market for a budget-friendly massage chair, but you also want it to last for as long as possible, check out the specs of this Ataxia model. It is versatile, eye-catching, and well-made, and it allows you to change the positions depending on the client's body type. It has excellent performance, strength, and stability, and it's also equipped with a quick-release lock system, as well as slip-free footing.
You'll be happy to know that a carry case is included in the purchase, which eliminates the need for you to order it separately. The chair is foldable and reasonably lightweight, and it comes with a solid and noise-free frame. Plus, since the frame is made of steel, you have nothing to worry about in terms of durability.
Some customers have reported that they experienced issues, but the products that broke down were replaced by the manufacturer or the retailer selling these models.
Pros
Tool-free assembly
Adjustable face cradle, chest pad, armrest, and seat
The high-density foam ensures comfort
Oil-resistant and waterproof synthetic leather
Weighs in at 17 pounds
Cons
You might have to replace the screws for the knee support after some time
Read More: Ataraxia Deluxe portable massage chair
6. EARTHLITE Avila II Portable Massage Chair Package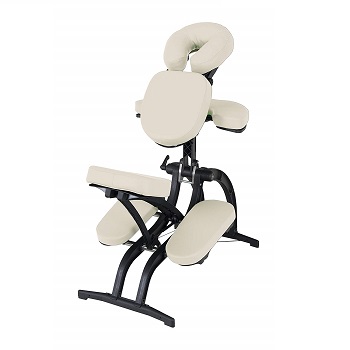 This model is best suited for someone who plans to set it up and utilize it often in just one location. It's very well-made and offers the client plenty of comfort, but there are some drawbacks, as well. It is not as easily adjustable as some of the other models that we have found. Besides, it's significantly heavier than some of its competitors since it weighs in at 22 lbs.
The advantages definitely outweigh the cons, though. For example, this chair can be used with clients whose heights range from 4'6" to 6'6". The working weight of this unit is estimated at 350 pounds, making it fully capable of handling different types of client bodies.
It's also worth noting that it comes with a carrying case equipped with a handle and wheels, so that improves the portability matter at least a bit. As for adjustability, this one's a net winner. You can adjust the chest pad, armrest, as well as the face cradle.
Pros
350-lbs working weight capacity
Can accommodate clients with heights between 4'6" and 6'6"
Plenty of adjustable parts
Comes with a nylon carry case
Boasts removable and replaceable pads
Foldable design for easy storage
Cons
It weighs in at 22 lbs, so it's not exactly lightweight.
Read More: EARTHLITE Avila II portable massage chair
7. NRG Grasshopper Portable Massage Chair – Fully Adjustable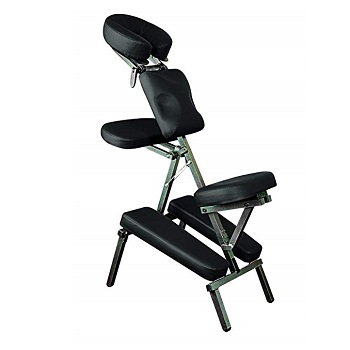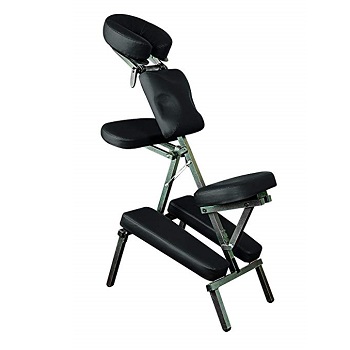 Marketed as one of the sturdiest massage chairs in this weight category, this one is a mid-range alternative that features a simple, yet elegant design. It offers good value for the money, especially since it is well-reviewed. The area where this one is a winner is versatility. It's portable enough to be used in any place.
On the other hand, since this is a less known brand, you won't be able to benefit from a lifetime limited warranty, for example. The chair does have its advantages, however. For example, it has a maximum working weight of 350 pounds, which is impressive since it weighs in at just 18 pounds.
Boasting an aircraft-grade aluminum frame, this unit is durable and also lightweight enough to be portable. Plus, it's worth noting that the NRG Grasshopper can accommodate both short and tall clients without any problem whatsoever. It's backed by a one-year warranty.
Pros
350-pound working weight capacity
Weighs in at just 18 lbs
Can be assembled and disassembled easily
Comes with a carry case
Adjustable arm supports, chest pad, and seat
Resistant vinyl upholstery
Cons
Assembling it takes a little time to get used to.
Read More: NRG Grasshopper portable massage chair
What Is a Portable Massage Chair?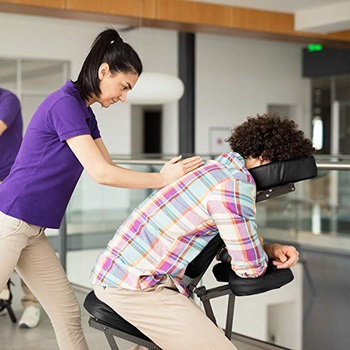 A portable massage chair can be defined as a chair-shaped insert that can lay over a regular chair, a car seat, or a section of a couch. It can also be a massage chair used in massage salons. Such models are equipped with a headrest where you can position your face as the massage therapist is doing their job. You'll get a nice back massage if you do so.
There are also portable massage chairs that are electric, and they look like actual chairs, in that you can't use them while sitting on your stomach. They come with many features, most of which can help you benefit from a relaxing experience at the end of a hard day. However, usually, when people refer to massage chairs as being portable, they typically talk about the massage chairs you'd encounter at a salon.
Portable Massage Chair Buying Guide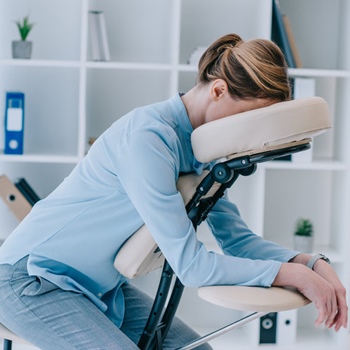 What features make a portable massage chair the right one for you? Surely you need to match your specific requirements with the characteristics of a model before you decide to spend your hard-earned cash for it. To give you a helping hand, we've created a guide where we listed some of the most important aspects when it comes to choosing the perfect portable massage chair. Check it out below.
1. Size and Weight
The size and the weight of the chair are equally important because they both affect the portability of the model and the way the client will feel while resting on it. We've actually noticed that the weight is less important since you are likely to transport the massage chair in your car when you perform a house call.
The size, however, is essential. If the chair is too small, the client isn't going to feel too comfortable. If it's too big, you aren't going to find it easy to move it from the trunk of your car to where the massage is going to happen. Since it can be rather difficult to tell what the ideal size and weight are if you intend to shop for your massage chair online, we suggest you take the time to read as many consumer reports as possible. Surely other customers will note whether the unit you are considering is too hefty and cumbersome to manipulate.
2. Durability
You should look at two things if you're looking to invest in a durable massage chair. One of them is the basic structure, which is like the skeleton of the product. It needs to be made of durable materials, preferably metal. Avoid massage chairs that come with too many parts made out of plastic, since this is the least durable option of all.
The next thing you should look at is the type of surface the softer parts of the chair are outfitted with. If it's textile, you might have a little trouble cleaning and sanitizing it. If it's leather, it can be easy to clean, but it might crack over time if you don't lubricate it regularly. Keep that in mind whenever shopping for a good portable massage chair.
3. Comfort
How does the massage chair feel against your client's body? Once again, it's rather difficult to tell that if you intend to purchase the unit online. We advise you to look at the padding, but also make sure that the chair is tall enough to accommodate all sorts of bodies. The width can also matter in this sense, as well, since some people are bigger than others.
4. Adjustability
Whichever kind of massage chair you will end up choosing, you need to know that it comes with plenty of adjustable features. Basic adjustments are needed for sessions that can last between five and ten minutes, but for longer chair massage sessions, you will require a model with more adjustability.
Some of the adjustable features you can get in a massage chair are the following:
Face cradle angle
Knee rest height
Chest pad height
Seat height
Armrest height
Just remember that pretty much all massage chairs come with some basic components, such as the seat, knee rests, armrests, a chest pad, and a face cradle, but all of these can be customized to an extent or another.
5. Ease of Use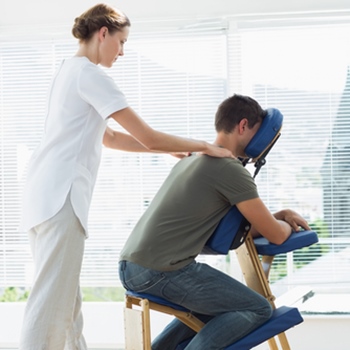 How difficult is the model to assemble and disassemble? How long does it take you to perform the required adjustments? These are two essential questions that you need to ask yourself before buying a particular unit. The weight also has an impact on the usability, and that's because there are massage therapists that, despite what people might think, could hate manipulating heavy things. If you're one of them, make sure you don't order a too heavy massage chair.
Generally, simplistic design is to be preferred if you don't want to fiddle with too many parts while putting the chair together. However, we couldn't help noticing that the simple models we stumbled upon aren't winners in terms of adjustability, so you will have to sacrifice that.
6. Cushioning
Foam is the typical kind of cushioning currently used in the design of most portable massage chairs. As you can expect, it can vary in terms of how it's made, but also the size of the layer. Usually, the more padding, the better, but you also have to consider the foam density, as well. If it's too dense, the client is going to feel like their body is resting against a rock.
If it's not dense enough, the client's body is going to feel the frame underneath it, and it will affect the overall comfort of the experience. You don't want to cause pain, as a massage therapist — you want to provide pain relief.
7. Cost and Warranty
How much are you prepared to invest in a portable massage chair? You need to ask yourself this question before beginning to browse through some of the popular options out there. This is necessary because there is a wide range of prices. You can either spend under a hundred dollars or several hundred. It all boils down to your budget.
Getting the highest-priced model might not make that much sense if you intend to get one for home use. If your spouse or a family member is going to be doing the massage, just make sure you get a model that's comfortable for you. You don't need it to be too adjustable if you're going to be the only person using it.
A cheaper massage chair usually comes with thin cushions, and also less adjustability. If you are a professional massage therapist, you might want to avoid such models. They can get damaged in a short amount of time, and they can also feel less comfortable for longer massage sessions. It's also quite likely that such a model isn't covered by any type of warranty.
Now that we have touched upon this topic, we might as well tell you what your warranty expectations should be. Great portable massage chairs are usually backed by a lifetime limited warranty on the frame. This means that you'd simply have to repair the cushions if they ever got damaged. Otherwise, if the frame breaks down, the manufacturer is going to replace or repair it. Cheaper models are generally backed by a 1-year warranty or no warranty at all.
How To Use Portable Massage Chairs?
1. Getting Started
Once you have your chair and your client in the right spot, you just want to make sure that they're in a comfortable position and that their spine is nice and long. The shoulders have to be relaxed, and the neck has to be long, as well.
2. Focus on The Shoulders
Once you see that the client is comfortable, you want to get your posture so that your body is upright and not hunched over the chair. In this position, you've got a good angle to work on the shoulders, and you can even utilize the forearms to get some nice pressure on them. Find the edge of the shoulder blade and then use the elbow to give some pressure point work. This is excellent for releasing tension.
You work down the spine of the shoulder blade, and then you can come back around the shoulder. Rub and squeeze the shoulders, and then you can take the palms of your hands and walk down on either side of the spine, making sure to stay off of the spine itself. You can walk back up and then return to the shoulders.
3. Neck Massages
On a massage chair, it's great to come to the neck holding the top of the chair for extra support, work on the neck, and then work at the base of the skull. You can even come around to the top of the chair and using your fingertips at the base of the skull, apply pressure — which also relieves tension. You can work on the head, as well as the scalp, and you can even press down on the shoulders from the position of being in front of the chair (where your client's head is).
You can do some kneading down the arm from the side of the chair and then go and do the other side.
FAQs About Portable Massage Chairs
1. Are portable massage chairs safe to use?
It's generally acknowledged that massage chairs don't come with parts or components that can be a hazard to an adult or even a child. There are no sharp edges, and if the unit isn't even connected to a power source, it's pretty much harmless. However, some portable massage chairs can be rather hefty, which means that if they fall over a little one, they could harm him or her. We advise you to keep the massage chair out of the room where your kid sleeps or plays, in case you have a young child.
2. How much time should you use a portable massage chair for?
Massage sessions, no matter if they're done with a massage cushion or even on a top-rated portable massage table, should never last more than an hour. Since some portable massage chairs use electricity to do their job, it's a good idea to start slow and gradually increase the time that you use them for. For instance, when you get the unit delivered at your doorstep, you might be a little too enthusiastic and you might start with the highest setting and try to use it for more than half an hour.
We suggest using the massage chair for 5 to 10 minutes at first, and if you think that you can handle more, you can increase the amount of time over the next few days. It's actually better to use the unit several times per day in short 10-minute sessions than to use it for a whole hour at a time.
3. Can you use a portable massage chair as a recliner?
Absolutely not. Most portable massage chairs aren't made to be used otherwise than what's specified in the instruction manual. There are very few models out there that are actually recliners and that have massage functions, but they're clearly marketed as such. If you get a portable massage chair, it's quite likely that you aren't going to be able to utilize it as a recliner.
Massage chairs are typically equipped with a back that's just a hollow space within a rectangular frame. The rollers of some models can move to the bottom in the rest position. This means that there isn't anything supporting your back.
4. Can you use a portable massage chair if you are pregnant?
There is no particular evidence that massage chairs could cause premature labor, but that is a concern that has been mentioned by some manufacturing brands. Pregnant ladies experience a lot of backaches given the changes in their physical attributes. From our understanding, it seems that you can use a portable massage chair if you're pregnant, but you should always do it on the lowest possible setting. In this case, it might actually be a better idea for you to go to a massage therapist, a chiropractor, or just have a talk with your physician before doing anything in this sense.
5. How good is a portable massage chair compared to a session at a human massage therapist?
Electric massage chairs nowadays can offer you a similar experience to that provided by a real massage therapist. They come with so many features and so many types of massage techniques that one could argue that they're even better than their human counterparts. Plus, they can basically do their job non-stop, although it's not recommended for you to do that.
Wrap-Up
We hope that our article has helped you get the best portable massage chair for your needs. As you might have noticed, there are so many models available for sale these days that it might take a while for you to choose the perfect one. If you have some time, we suggest reading as many portable massage chair reviews as you can, since other users can let you know just what's right and wrong about the product they've purchased.
See also: top-rated knee pillows