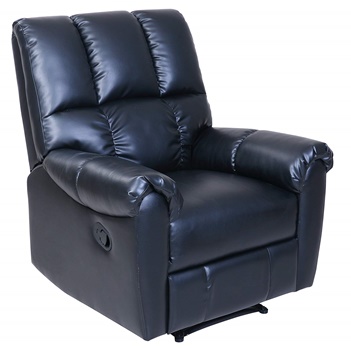 If you have spent countless hours doing research on what good recliners are currently available, you might have stumbled upon this model by Barcalounger. That might have happened because as of now, it is among the most popular ones that we came across, as well, and we made sure to look at hundreds of units.
But is it worth the money and should you consider it? To find out everything you should be aware of in terms of its performance, characteristics, as well as pros and cons, take the time to read our  Barcalounger Recliner Review.
Features and Benefits
If you are not feeling prepared to spend a fortune on a recliner, even though people tend to think that pricier is usually better, it's a good thing that you're looking at this one. It's one of the most affordable yet comfortable models that we have found to date.
This is a manual recliner, which means that it doesn't come with the fancy features boasted by electric alternatives. While this means that you aren't going to get things like heat and massage, it also means that the likelihood of the unit malfunctioning over time is really low.
Every part of this model is soft and plush – since both the armrests and the footrest are cushioned. You'll be happy to know that the Barcalounger alternative is upholstered with durable material that is easy to clean and maintain.
As for ease of use, you don't have to worry about anything in this respect. The unit is outfitted with a side handle with the help of which you can make it recline back and also lift the footrest. The handle is very easy to reach no matter if you're a child or a tall adult.
Additionally, the recliner takes the cake when it comes to its design. It is quite eye-catching and capable of integrating into any type of interior design, whether you intend to place it in your living room or any other room in your home.
Suggestions
If you are worried about the assembly process, you'll be relieved to know that most of the people who have invested their money in this product say that it's very easy. The top part of the backrests against the separate part from the bottom. There is a bar that you simply slide the top into the bottom. You're all done.
For more information on how to put this unit together and if you run into any kind of issues whatsoever, be sure to get in touch with the brand's customer service. Check out the company's official website for more information.
Maintenance
You can clean the recliner with as little effort as possible since its PU leather upholstery can be wiped with ease. You are free to use sanitizing sprays, solutions, or wipes, so long as they are safe to be utilized on faux leather. You can remove the dust once in a while with a microfiber cloth.
Specifications
Size: 35 x 36.5 x 40 inches
Weight: 78 pounds
Type: Manual
Material: PU Leather
What to expect from the Barcalounger Relax & Restore Recliner?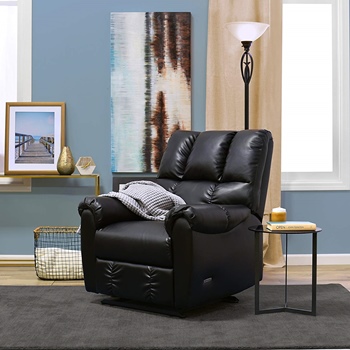 It seems that this recliner is more suitable for people who aren't very tall as there have been complaints from this category of customers. The chair can seem to be too small and their feet might hang off the edge. It's also pretty basic in comparison to some of the other models out there, but most consumers seem to appreciate the simplistic design.
Pros
Easy to assemble even if you aren't tech-savvy
Doesn't cost a fortune
PU leather is easy to clean and maintain
The recliner mechanism functions properly
The eye-catching design allows you to place it in any room
Cons
If you are 6 feet tall this is not the right recliner for your needs
Wrap Up
We hope that our Barcalounger Relax & Restore Recliner Review was straightforward enough to allow you to tell whether this unit addresses your requirements.
In our opinion, it's worth considering if you want to get a budget-friendly option that gets the job done no fuss, no muss. However, it's not designed for tall individuals, so do keep that in mind.