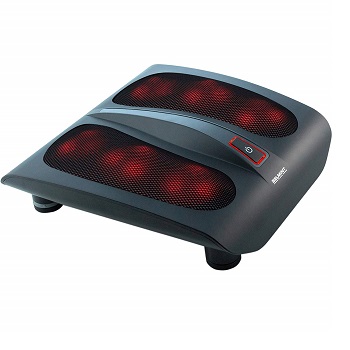 If you are in the market for a convenient foot massager and you can't tell which one you need in your life, you should take the time to read this Belmint Foot Massager Review. We did our best at highlighting the features and benefits that this device can provide for people who want to relax or want to get rid of their foot pain.
Features and Benefits
One of the neatest things about this model is that it is outfitted with as many as six massage heads and deep kneading nodes. This means that, in terms of performance, it is a winner and it can definitely meet your expectations. It can be more or less challenging for you to get a foot massage at the end of a hard day at work, but if you use this model, you will be able to do just that.
As for the health problems whose symptoms the Belmint model can alleviate, we'll mention that this model has received favorable reviews from individuals who have plantar fasciitis. The foot massager machine acts like a personal therapist in relieving chronic foot pain, whether from your nerves or from actual plantar fasciitis. If you're on your feet all day long, this product can make a difference for you.
Heated Massage
Another aspect worth noting about the Belmint alternative is that it comes with a heated massage. This feature isn't as common as you might think since there are many foot massagers currently available that don't include it. With just the touch of a button, you can enjoy a deep-kneading heated foot massage.
The heating function makes it possible for your local tissue to benefit from better blood circulation. Besides, it can mean the world for someone who always seems to have cold feet.
As the user manual suggests, you should start with the lowest setting possible. This will enable you to get used to the functions of the device. We'd also like to note that the model comes with an automatic shut-off timer which lasts for 20 minutes. Most massage experts do not recommend massage sessions that last for longer than 15 minutes, at least not on the same body part.
The auto shut-off function also prevents the unit from overheating. Therefore, it extends the life of the device.
Ease Of Use
What about ease of use? Well, the best thing about this model is that it has a switch in an easily accessible area, and you will be able to turn it on and off using your toes. There's no need for you to bend down to start or stop the massage experience or customize it as per your specific needs. Just hit the flat and wide button with your toes — that's everything you need to do.
Since every user is different, it's good to know that this model comes with adjustable legs. You can, therefore, set the right height depending on the armchair or recliner you're sitting in.
Specifications
Size: 13.5 x 14.2 x 5 inches
Weight: 7.9 pounds
Voltage: 110V
Material on the nodes: Mesh
What to expect from the Belmint Shiatsu Foot Massager?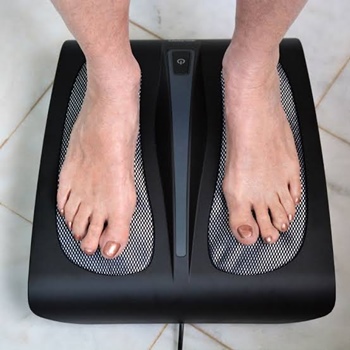 Based on the reviews that we have come across, it seems that the Belmint model is one that you should definitely consider if you experience foot pain often. There have been individuals who have bought it for their grandparents and they were extremely pleased with the capabilities of the device.
Although it might not be the most budget-friendly choice in this category, the Belmint massager is easy to use, convenient, and actually makes a difference when it comes to alleviating the symptoms of foot pathologies. It can be quite loud when operating, though, so keep that in mind.
Pros
Offers great value for the price
Works great for plantar fasciitis and foot pain, in general
Very easy to use
Cons
You can't tilt the massager so as to use it on other body regions, such as your back.
Wrap Up
With its user-friendly design, heated massage, and deep-kneading nodes, this Belmint alternative should definitely be jotted down on your list. It's actually pretty effective for people who constantly experience foot pain, and best of all, it can be used by everyone in the household. We hope that our Belmint Foot Massager Review has assisted you in telling whether it's the right one for you.