If you have no time to go to a professional masseuse, you might need the best foot massager you can find. About eight out of ten Americans have experienced foot pain, and those that experience chronic foot pain are more likely to have other achy parts of their body. So, to alleviate the stress your feet endure every day, the solution might be closer than you expected.
Getting your feet massaged once in a while can help prevent complications and also allow you to benefit from pain relief. If you're in the market for one and don't know which you should choose, check out the foot massager reviews showcased below. Now, let's see what makes foot massagers so good!
See The Quick Comparison Chart
Benefits of Foot Massage
1. Pain Relief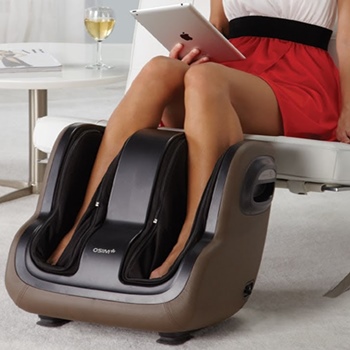 Foot pain can be caused by a variety of factors. Athletes are among the most affected by this issue. However, there are also people who just stand on their feet all day when they work, and there are others that have bunions or suffer from arthritis.
No matter if it is chronic or not, inflammation of the joints can have a negative impact on your lifestyle, making you want to avoid getting involved in physical activities. Some studies suggest that having your feet massaged regularly can help prevent headaches.
2. Relaxation
No matter the type of foot massager that you will end up choosing, one of the most significant benefits you will get is relaxation. A foot massager can help relax your local muscles, whether you spend a lot of time standing or sitting. Using it before you go to sleep can help you rest properly, and also fall asleep a lot easier and faster. You will wake up in the morning feeling refreshed and ready to tackle a new day's challenges.
3. Nerve Stimulation
There are many problems that can affect our local nerves. They range from lesions in your spinal cord to the pressure that you put on your feet when you stand for a long time or when you run for long distances. Nerve damage can happen easily and without you even realizing it has occurred. Since foot massagers can help stimulate the nerves in your feet, they can eliminate tightness and numbness, thereby preventing neuropathy.
4. Warming Your Feet
Heated massage isn't present in all of the models that we have showcased in our selection or that are available for sale these days. However, it is one of the most helpful characteristics that we have found. Nothing beats getting a warm foot massage, especially in the cold winter months. It can help you wind down like no other technique.
5. Improved Blood Circulation
Many people suffer from poor blood circulation. It can be caused by a myriad of health conditions, or it can simply be the result of poor life choices. Poor blood circulation is often experienced by individuals who spend a lot of time sitting, such as those that work in front of the computer for a whole day.
Using a foot massager can help improve your foot blood circulation, especially if it comes with heated massage. Besides, your local muscles will be activated, and more blood will penetrate the tissues in your feet. More blood means more nutrients and oxygen delivered to your foot muscles. People who typically have cold feet, especially in the winter, will notice that upon starting to use a foot massager, it won't happen as often.
6. Improved Mood
Both reflexology and foot massage helps fighting depression. There are certain points on the feet that can alleviate the symptoms of this medical condition, and massaging them for a few minutes twice or three times a day can assist with doing just that. Plus, since your ankles and heels are going to feel a lot healthier, you'll have the feeling that you can tackle anything. You'll also benefit from improved mobility.
7. Alleviates Swelling
Regular foot massage, especially in the last months of a woman's pregnancy, can assist with reducing the effects of edema. An expecting mother's feet and ankles swell due to fluid retention, particularly in the last trimester. This means that the fluid has to be somehow dispersed so that it doesn't put as much pressure on your feet. As you might have guessed, foot massagers do just that.
What Else Are Foot Massagers Good For?
1. Raynaud Syndrome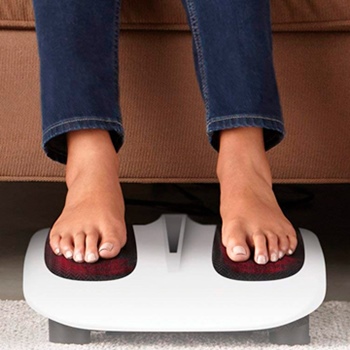 Raynaud's phenomenon causes blood to stop flowing adequately to the outer parts of the body. This occurs especially when you get cold, but it can also happen under stressful circumstances. The disease most commonly affects the fingers and toes, but it can also affect the nose, lips, or ears.
Raynaud syndrome can be linked with several other medical conditions, out of which scleroderma is the most likely one. It also happens in lupus cases, albeit being rarer. Heated foot massagers can help prevent this issue and improve its symptoms once it has developed.
Keeping your core temperature warm, especially your hands and feet is of utmost importance, and using such a device can help you achieve that. Plus, with the massage, you'll also improve your local blood circulation, which matters a lot in cases of Raynaud syndrome.
2. Neuropathy
We might have mentioned that stimulating your foot nerves is crucial when it comes to preventing neuropathy. But did you know that people who have chronic diseases such as arthritis or diabetes are likely to develop this medical condition anyway? Foot massagers improve neuropathy symptoms by stimulating the nerves in your feet and reducing nerve pain.
For the best results, we also advise taking B complex vitamins (B1, B6, and B12). These play a fundamental role in the nervous system, both on a structural level, and when it comes to maintaining correct nervous system functions.
3. Diabetes
You should be getting a foot massager if you have recently been diagnosed with Type 2 diabetes. One of the biggest challenges of this medical condition is managing the impact that it has on the circulatory system.
Diabetic individuals often have dysfunctional circulation, and their blood doesn't properly reach their extremities. That's why coagulation issues are harder to treat in diabetics — since they have lower circulation levels.
Foot massagers increase your local circulation. With increased circulation comes superior oxygen transport capabilities and a better potential for improved insulin uptake. When it is combined with exercise and diet changes, foot massage can even start to reverse the damage that Type 2 diabetes can cause.
4. Arthritis
Defined as the inflammation of the joints, arthritis can be acute or chronic. It can often lead to fluid retention in the limbs, and therefore, swollen feet. Many studies suggest that massage offers excellent benefits on people who have osteoarthritis caused by gout-related joint changes in their big toe, ankles, or feet. Massage therapy helps alleviate both gout and arthritis symptoms.
5. Plantar Fasciitis
This is a somewhat common foot condition that occurs when the tissue on the bottom of either one or both feet becomes inflamed. People who have plantar fasciitis go through a lot of trouble trying to treat it and manage it as best as possible. If they do nothing about it, they could end up changing their walking position or posture over time.
As you will see in the following section, using a foot massager can also help alleviate the symptoms of this disease. Check out more information below.
How Can a Foot Massager Help For Plantar Fasciitis?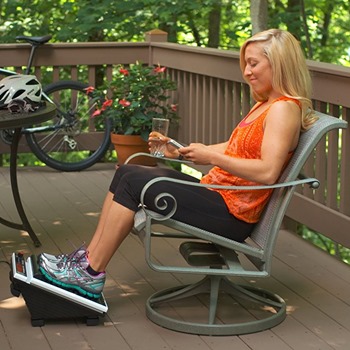 Plantar fasciitis can be quite frustrating to treat, but using a foot massage is one of the best choices you have available. It doesn't come with any side effects, especially when compared to medications. Plus, it is easy to use, convenient, as well as effective. Let's have a look at just how using a foot massager can help alleviate this medical condition's symptoms.
1. Decreased Discomfort and Soreness
The best piece of advice we can give you if you're looking to manage your plantar fasciitis as best as possible is to combine the use of a foot massager every day with several strengthening exercises. The road to recovery is considerably speeded up if you do this. Some side effects of injuries and this medical condition are muscle soreness and discomfort. Thanks to the relaxing effect that a foot massage can have locally, you will be able to say goodbye to both.
2. Promoting Recovery Through Increased Circulation
Some studies have showcased the efficiency of massage therapy when trying to cope with plantar fasciitis. Getting a foot massage, whether from someone or by using a special device, can improve your circulation and regulate your local blood flow. Blood circulation is typically lower in your extremities, such as your feet. Using a foot massager can optimize blood circulation and allow your tissues to recover faster.
3. Less Pain Overall
While there is a wide array of products on the market, most of which target the whole foot, what you should know is that plantar fasciitis mostly affects the foot arch and heel. For the best results and to get the most pain relief, we recommend choosing a model that's specifically designed for this problem and for these particular foot areas.
Best Foot Massagers Comparison Chart
PRODUCT
DETAILS

Miko Shiatsu Foot Massager with Deep-Kneading

Price: $$
Customer Rating: 4.3
Size: 17 x 17 x 9.5 inches
Weight: 11.95 pounds
Design: Closed
Heat: Yes

View On Amazon

Homedics Triple Action Shiatsu Foot Massager with Heat

Price: $
Customer Rating: 3.9
Size: 14.5 x 13.5 x 4.5 inches
Weight: 6.8 pounds
Design: Open
Heat: Yes

View On Amazon

RENPHO Shiatsu Foot Massager Machine with Heat, Deep Kneading

Price: $$
Customer Rating: 4.4
Size: 16.8 x 15.3 x 9.8 inches
Weight: 11 pounds
Design: Closed
Heat: Yes

View On Amazon

Belmint Shiatsu Foot Massager for Plantar Fasciitis

Price: $$
Customer Rating: 4.2
Size: 13.5 x 14.2 x 5 inches
Weight: 7.9 pounds
Design: Open
Heat: Yes

View On Amazon

CloudMassage Foot Massage Machine for Tired Feet

Price: $$$
Customer Rating: 4.5
Size: 22 x 11 x 17.7 inches
Weight: 22 pounds
Design: Open
Heat: Yes

View On Amazon

MedMassager MMF06 11 Speed Foot Massager

Price: $$$
Customer Rating: 4.4
Size: 16 x 12 x 9.5 inches
Weight: 11 pounds
Design: Open
Heat: No

View On Amazon

Nekteck Foot Massager with Soothing Heat

Price: $
Customer Rating: 4.4
Size: 15.8 x 14.2 x 3.2 inches
Weight: 7.63 pounds
Design: Open
Heat: Yes

View On Amazon
Best Foot Massager Reviews
1. Miko Shiatsu Foot Massager with Deep-Kneading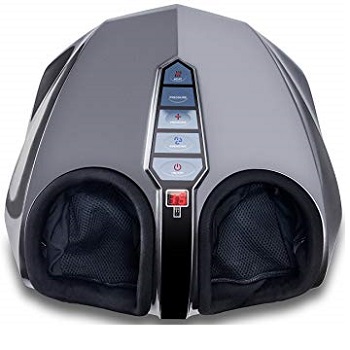 If you suffer from plantar fasciitis, diabetes, or neuropathy, or you just experience chronic pain in your feet, this Miko alternative might be the right one for you. You can use it under any circumstances, whether you are watching TV, working in front of the computer, or relaxing. Thanks to its features, it allows you to benefit from a soothing massage with as little effort on your behalf as possible.
The unit is capable of improving your local blood flow given that it comes with heat functions, deep kneading, as well as Shiatsu rolling. The latter comes with two independent chambers and as many as five air pressure settings.
When discussing usability, this model is a net winner as it even comes with not one, but two wireless remote controls. This means that all you have to do is sit back and relax and you can customize the massage without bending over.
Pros
Closed design keeps your feet massaged properly
Deep kneading and heat functions
Shiatsu rolling with 2 independent foot chambers
5 air pressure settings
Comes with 2 wireless remote controls
Cons
This unit does not massage your heels and ankles, just the soles
Read More: Miko Shiatsu Foot Massager
2. Homedics Triple Action Shiatsu Foot Massager with Heat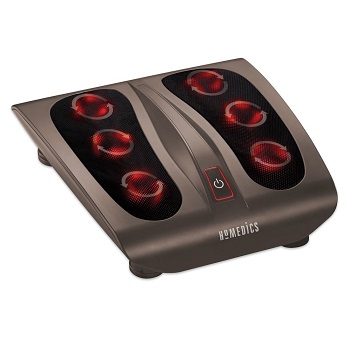 This option is wide and low, and it's also quite stable during the massage session. This will enable you to use the massager even on shiny floor surfaces, and you won't have to worry about it slipping or sliding. An advantage of utilizing this particular unit is that it is outfitted with as many as eighteen massage nodes.
These work the soles of your feet properly. The unit is quite straightforward as it is equipped with just one control button that moves you between 3 settings: off, on without heat, and on with heat. There are 2 foot-shaped areas and each one includes 3 kneading Shiatsu rollers.
As for versatility, this product takes the cake since it can be used on alternative parts of your feet and even other parts of your body. It is compact, easy to use, as well as easy to store. Various buyers who have plantar fasciitis have reported that using this massager before going to bed helps them experience less pain in the morning.
Pros
You can use your toe for the controls
Comes with optional heat
Deep kneading Shiatsu massage
Comes with triple rotational heads
Cons
You can't change the rotation of the nodes
Read More: Homedics Triple Action
3. RENPHO Shiatsu Foot Massager Machine with Heat, Deep Kneading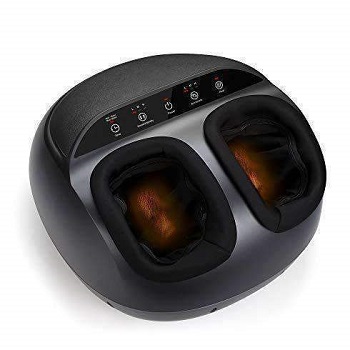 One of the main reasons to consider this option is that it is quite adjustable. It comes with 3 air pressure levels, as well as 3 kneading intensities, and you're free to choose whichever you prefer. The touch panel that the unit is outfitted with is easy to control using your foot. The foot chambers have removable and washable cloth, so you can sanitize it with ease.
Another aspect worth taking into account when you're browsing through foot massagers is their size. This particular one is large enough to fit up to men's size 12. Plus, both for your safety and to avoid causing damage to the unit, the RENPHO model is outfitted with two timers. You can set it to work for 15 minutes or 30 minutes.
Last, but not least, although it's rather affordable, this model comes with heating, air compression, kneading, as well as Shiatsu. The only thing it's lacking is tapping.
Pros
Soothing heat therapy
Adjustable air compression intensity
Washable cloth cover
Comes with a 15 or 30-minute timer
Easy-to-use touch buttons
Cons
It might take up to 10 minutes to get properly heated
Read More: RENPHO Shiatsu Foot Massager
4. Belmint Shiatsu Foot Massager for Plantar Fasciitis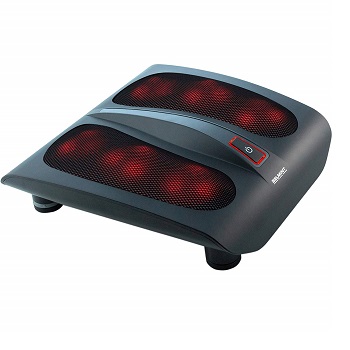 The open design of this model gives you a little more freedom, but it won't massage the upper sides of your feet or your heel. It does a good job when it comes to relieving pain, however. It is outfitted with as many as 18 deep-kneading nodes. They target acupuncture points on your feet, which stimulates blood flow, reduces edema, and relieves stress.
What stands out about this option is that it comes with an automatic shut-off feature. Since it isn't advised to massage any part of your body for longer than half an hour, you'll be glad to know that this unit shuts off on its own after 20 minutes of being in use.
It's also worth noting that the Belmint model comes with an in-built infrared heat function. This feature shuts off after 15 minutes, both to prevent damage on the model and to make sure that your feet aren't overheated.
Pros
The compact design makes it easy to store
Comes with breathable fabric on the pads
Lightweight and portable
Shuts off after 20 minutes of use
Comes with adjustable legs
Cons
This model doesn't feature a timer
No vibration mode available
Read More: Belmint Shiatsu Foot Massager
5. CloudMassage Foot Massage Machine for Tired Feet
If you want to invest in a foot massager that really takes the cake when it comes to performance, feel free to check out the features of this one. It's true that it might cost a pretty penny compared to many others. However, it is medical grade, so it can provide relief for plantar fasciitis, neuropathy, diabetics, and people who have tired feet. It also increases blood circulation since it comes with heat.
The model is outfitted with an easily adjustable bar. It comes with many settings for air compression pressure, heat, and vibration, so you can pick the one you prefer. The calf area measures 5 inches in width and it is 11 inches long open-toed and with the air pressure cuffs deflated.
Since the highest massage setting is very intense, we suggest starting with the lowest to avoid hurting yourself. Some of the mentions we have found about this unit revolve around it being a little loud.
Pros
Works the heels, foot, and calf
Selectable heat function
Adjustable settings for the air compression massage and rolling ball massagers
Easy-to-use controls
Cons
It doesn't heat up very much
Read More: CloudMassage Foot Massage
6. MedMassager MMF06 11 Speed Foot Massager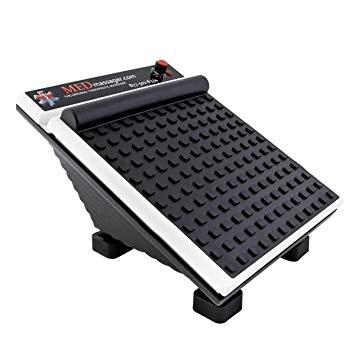 This unit has as many as 11 speeds that go up to 3700 rpm. It is designed for clinical and therapeutic use, and it's one of the few that doctors actually recommend. Plus, it is FDA-approved and engineered to the highest safety standards. As you know, this can't be said about other units.
With this option, you can adjust the angles and the height for maximum comfort. The oscillating pad comes with pressure points that massage both the feet, as well as the calves. This means that it does a good job when it comes to treating diabetes, neuropathy, muscle degeneration, circulatory issues, or plantar fasciitis.
As for durability, you have nothing to worry about in this respect. The MedMassager model features solid construction and it can effectively be utilized for years before you notice a decline in its performance. The only drawback is that this particular unit doesn't come with a heat setting.
Pros
11 adjustable settings
FDA-certified
Capable of fitting large foot sizes
Clinical strength massage
Powerful vibration that even stimulates your legs
Cons
It doesn't have a heat option
Read More: MedMassager MMF06 11 Speed
7. Nekteck Foot Massager with Soothing Heat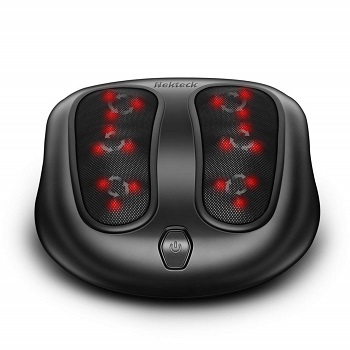 This Nekteck massager comes with built-in infrared heat which helps with soothing your feet, especially after standing for a whole day. It includes as many as 6 massage heads, which equals a total of 18 massage nodes. They cover the bottoms of your feet for a relaxing and thorough massage.
As you can tell from its looks, this unit boasts an open design. Therefore, it's not going to massage the sides of your feet or the upper parts of your heels. Nevertheless, it is easy to use and comfortable and it works for people who have foot sole pain. Besides, it comes with an adjustable height to 3 levels.
You might also want to know that this model comes with a carrying handle, as well as a compact design. As such, you can take it with you everywhere you go. The only downside in this respect is that, like many others, it's not cordless.
Pros
Easy to use
Comes with an adjustable height
Includes a heat function
Outfitted with a carrying handle for portability
Compact and lightweight
Cons
It doesn't massage the sides of your feet
Read More: Nekteck Foot Massager
Foot Massager Types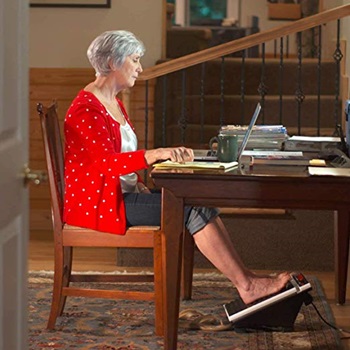 As you can expect, the variety of foot massagers that are currently available for sale is very broad. Each one comes with different features, and they can help with different things. Let's have a look at some of the most common types that you will come across nowadays.
1. Infrared Massagers
These models take the cake when it comes to massaging your feet, as well as your calves. They use infrared energy to do their job. Infrared heat can penetrate and massage below the surface of your skin. It is often used to treat bursitis, aches, neuralgia, muscle pain, as well as arthritis. That's why it can be the right option for seniors, for example, or people who stand on their feet all day at work.
2. Water Massagers
Water massagers have a lot of advantages compared to their counterparts. They can be non-electric or electric. With the second, you get to benefit from features such as oxygen bubbles and massage waves. Your feet will feel like they're in a miniature jacuzzi.
The most important benefit of this design consists of you being allowed to add things to your foot bath. You can use chamomile tea, tea tree oil, rosemary or lemon juice, lavender or peppermint oil, or even Listerine and vinegar. Epsom salt can also assist with restoring hydration to cracked heels. Even though they are pretty basic, especially when compared to other kinds of massagers, water ones can really help you relax at the end of a hard day.
3. Electric Models
No matter their specific design, electric massagers rely on a motor that vibrates either using rolling heads or oscillation. Some come with extra features and different types of massages. No matter the specific one you choose, you should know that electric massagers usually require a lot of power to do their job. That's why they can't typically be used with batteries, so they have to be connected to an outlet at all times.
4. Manual Units
Although they go by this name, manual foot massagers aren't really manual, since you aren't going to use your hands to use them. In fact, they come with just one ball or several, and all you have to do is roll your feet over them. Some are equipped with multiple rollers which can even cover the entire foot bottom. Manual models are generally affordable, so if you are on a tight budget, they might be the right ones for you.
5. Shiatsu Massagers
Shiatsu massage is capable of imitating the movements of a human masseuse's hands. That's why Shiatsu models are among the most complex ones that currently exist on the market. They use rotating heads, vibrators, as well as heating elements to simulate a Japanese kneading method.
6. Other Types
There are several other variations when it comes to foot massagers. Some come with oscillating massage, allowing you to benefit from improved local blood circulation. Others have air pressure massage, which can be very relaxing.
Kneading massage is another type that's popular among these devices. Last, but not least, heated massage is another feature you might encounter in some models. Thanks to the warmth being spread across your soles, you'll feel comfortable and relaxed. Use a foot massager with heat in the cold season to start feeling cozy and ready for bed.
Foot Massager Buying Guide
To make it a little easier for you to separate the wheat from the chaff, we have created a comprehensive guide about the essential factors that you should consider. Whenever you're in the market for such a device, you should always try to correlate your specific needs with the features boasted by the unit. Without further ado, here is what you should bear in mind.
1. Purpose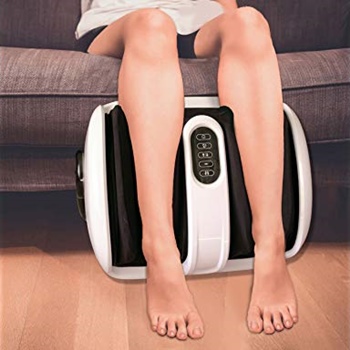 What do you want to get the foot massager for? If you know that you are suffering from a medical condition, you need to search for specific characteristics, which can help alleviate its symptoms.
If you're only looking to get a unit for relaxation at the end of the day, you can basically select any type of model. Knowing the purpose of the massager can dictate the factors that are deal-breakers. Also, consider whether you will be the only person using the device or if you're going to share it with the rest of your family. If that's the case, you should choose one that can be sanitized with ease.
2. Massage Functions
Once you are aware of your goals, you can start looking at if and how a foot massager can help with achieving them. Massagers can come with many different features, as well as intensity settings. Sometimes they can be more than you might require.
To avoid getting a little overwhelmed, we suggest making a list of the essential things you need in such a device. Do you want it to come with an air compression massage? Do you need heat, and if so, does the unit come with the ability to customize it? Some of the most common types of massage techniques present in these models nowadays are the following.
Oscillating massage
Air pressure massage
Kneading massage
Shiatsu massage
Water massagers are another option to consider, especially if you experience cracked heels and generally have a hard time moisturizing or hydrating your feet.
3. Design
The design of the model can impact your user experience on the whole. There are roughly two types of designs available for sale nowadays.
Open design is very common. These units are lightweight, as well as portable, so you can take them with you if you travel a lot. They are also silent, so they don't bother other people or interfere with any activity that involves you listening to something.
Foot massagers that come with the open design are comfortable to use and are typically outfitted with non-slip feet. As for what they can do, they are capable of massaging your feet, but they might not be able to work your calves or ankles. On the flip side, they are incapable of massaging your foot arches and only a few are able to massage your heels. Generally, this category of foot massagers is easy to clean and maintain.
Closed design is less common, but also popular. Most of the units that we've come across can work your heels, soles, and sides of your feet. Plus, many come with several intensity settings and different massage techniques. The drawback is that they are harder to clean and maintain compared to their open design counterparts.
4. Controls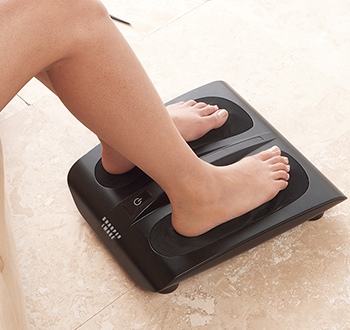 Manual models come with no controls since they don't have different massage techniques or various features you can choose from. However, electric alternatives do come with controls. Some boast LCD screens where you can see the settings, therefore knowing whether you have to change them.
Others are accompanied by remote controls, so you can just sit back and relax and adjust the device without even bending over. There are also foot massagers that come with rotary dials, and these might be a good option for seniors or less tech-savvy individuals.
5. Durability
A good foot massager is made of durable materials and it has a stable build. It can be more or less challenging to tell whether the unit is capable of standing the test of time just by looking at it. We suggest browsing through some reviews. Always check whether the unit is backed by a warranty or not, especially when buying from a rather unknown brand.
Mishaps such as the device overheating or even conking out after a couple of uses will be reported by other customers. That's why feedback matters when you're shopping for a foot massager online.
6. Size and Weight
While the weight of the unit influences its portability, the size is important for several other reasons. On the one hand, you wouldn't want a foot massager that's so large that you can't store it anywhere. On the other hand, it needs to match the size of your feet. If your feet are larger than a size 10 or smaller than a size 7, you should definitely pay attention to this factor.
Most models are capable of accommodating feet up to a size 10. Open design ones can work up to a size 14. The bigger your feet, the fewer options you have available. If your feet are too small, you are going to feel disappointed in an average-sized model since it's designed with nodes and pressure points programmed for bigger foot sizes.
As for the weight, most of the options that we stumbled upon weigh in the range of 8 to 15 pounds. Portable models are outfitted with wheels or handles, for example, so look for these features if you want to move the product around as you wish.
7. Cost
Manual massagers usually cost less than fifty dollars. Electric and Shiatsu ones can get rather expensive, but they are typically priced within the range of one hundred to five hundred dollars. The more features and the more massage techniques boasted by the device, the pricier it's going to be. Consider that when you start shopping for a brand new foot massager.
8. Safety
Although it might be the last factor on our list, safety is extremely important when considering a model and when using it, later on. Fortunately, most manufacturing brands nowadays have to meet strict standards to keep their products on the market. Electric models can pose a threat to the user if you don't utilize them properly. Never allow the power outlet to come in contact with any water if you're getting a water massager.
Also, to prevent injuries, we recommend choosing a unit that comes with non-slip feet or a non-slip base. Even if you make a sudden movement you aren't going to hurt yourself if you go for such an option.
FAQ About Foot Massagers
1. Do foot massagers help circulation?
Of course, they do. In fact, this is one of the most important benefits that you will get upon starting to use a foot massager. It can also stimulate your local muscles, reduce local tension, as well as ease pain.
2. How long should you use a foot massager?
Since these devices are made for massaging just one part of your body, and we do not mean your neck and shoulders or the rest of your body, as you would with a handheld unit, it is a good idea to use them for short 15-minute sessions at a time. That doesn't mean that you are not allowed to use them several times a day. However, to avoid putting too much strain on your feet, it's better to use them in the morning and evening, for example, instead of doing the same for as many as 30 minutes continuously. This piece of advice actually works for any type of massager, not just one for your feet.
3. Do foot massagers help neuropathy?
Neuropathy is a common adverse effect of diabetes. It can often be relieved through the use of foot massagers. Massaging your feet assists with stimulating your blood flow, and it also promotes better circulation, especially when your feet are feeling numb or sore. Electric massagers or oscillating footpads are capable of improving the clinical signs associated with neuropathy.
4. Is it OK to massage diabetic feet?
According to many sources, massage has been shown to drop glucose levels. In case you didn't know, diabetes is a medical condition where the person has too much blood sugar in their blood. Hyperglycemia can cause a variety of health issues from kidney failure and neuropathy to cardiovascular disease and eye damage. Having your feet massaged with the help of such a product can help prevent hyperglycemia and improve circulation, which is poor in diabetics.
5. Can I use a foot massager while pregnant?
What's interesting about these devices is that they can sometimes induce labor. It is not advised for you to use such a unit if you are in the first months of your pregnancy. However, for women who are already overdue, using a foot massager can help them relax and could also induce labor. Even those that are in their last trimester can use it, since it reduces edema.
6. What kind of foot massage is best for relieving migraines?
Based on the information that we have found about them, it seems that Shiatsu massagers are the best when it comes to relieving pain related to headaches. There are many reports from people who have used such models for many years and thanks to the massage, they started feeling better and better. To get the best results, we recommend using the foot massager every morning. In this way, you'll prevent headaches throughout the day.
Wrap-Up
As you can see, getting the best foot massager can be a little tricky, since you need to consider lots of features. Since safety is the most important aspect, in this case, we suggest buying one from a reputable brand. Always make sure to read as many foot massager reviews as your time allows you to. This practice can let you know if the unit is prone to malfunctioning or if it is good for treating specific foot pathologies.
See also: top-rated foot spas