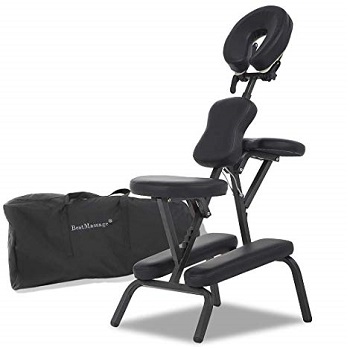 If you have been scouring the Internet in search of an affordable, yet good-quality portable massage chair, then it's a good thing that you are reading this post. We've gone through hundreds of models and we've come across this one by BestMassage, which has received quite a bit of appreciative consumer reports.
If you would like to know whether the unit is truly worthy of your consideration, it might be a good idea for you to read the BestMassage Portable Massage Chair Review below.
Features and Benefits
Since this is a very budget-friendly option, you might be wary of its construction. Well, it is sturdy and well-made, but it doesn't have that huge of a weight capacity. While the working weight is advertised as being 300 lbs, we found some reports from consumers according to which it's actually around 250 lbs. Make sure that you read the user manual before you utilize it for the first time.
The model comes with a heavy-duty metal frame, but it's not overly heavy. It does weigh in at 23 lbs, which means that it is slightly cumbersome when compared to some of the other choices out there. However, this also ensures its durability over time and its ability to keep patients safe.
Moreover, the high-density foam used in the build of the model makes it comfortable. The faux PU leather that's been used for the covering is both waterproof and oilproof, which means that you don't always have to be careful to avoid spilling water or massage gels on it.
It's also worth noting that the massage chair is accompanied by a nylon carrying case. Based on some of the reviews that it has received, it can be both assembled and disassembled conveniently. Since it's so compact, it can be stored conveniently. Apparently, it takes just three minutes for you to install or uninstall it.
Suggestions
Even though the contact surface of the chair can put up with a lot of abuse as it is oil-proof and waterproof, we suggest avoiding spilling hot liquids onto it. Some massages involve the use of hot oils, but these can stain the chair. If you know that you are going to utilize any of such products, try to cover the most exposed surfaces with one or several towels.
Maintenance
Cleaning the massage chair can be done with ease since it has a metal frame and PU leather covering which you can both wipe clean. For the purpose, you can use either a damp cloth and a sanitizing solution, or sanitizing wipes. Many people prefer the latter as they are convenient and effective and will get the job done in a timely fashion.
Specifications
Size: 29x48x18 inches
Weight: 23 lbs
Weight capacity: 300 lbs
Material: PU Leather
What to expect from the BestMassage Portable Massage Chair?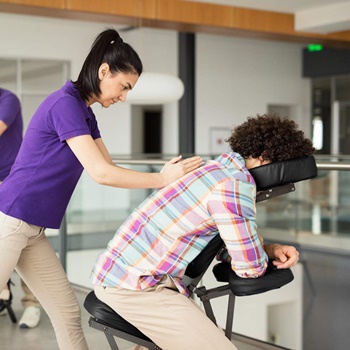 This is a good learning chair, which means that it addresses the needs of students that travel with it and assemble it in less than 10 minutes. If you were to go to a high-profile client's house or a corporate client, it might be a better idea to invest in something that's more expensive.
However, it does seem to be a pretty decent alternative for people who don't give massages outside of their salon too often.
Pros
Compact, lightweight, and easy to put together
Waterproof and oil-proof covering
Rugged frame
Postures are adjustable and the headrest is flexible
Cons
This chair doesn't feel as sturdy as some of the more expensive options out there
Wrap Up
If you've taken the time to read our BestMassage Portable Massage Chair Review, you might have been able to tell whether this unit addresses your requirements or not. It is a very budget-friendly option, especially when put side by side with most of its competitors. It has both pros and cons, as is the case with any other product in this line.
If you're a student looking to get their degree in massage therapy, this model might be worth considering. If you're a massage therapist with many years of experience, you might have to invest in a higher-end choice.