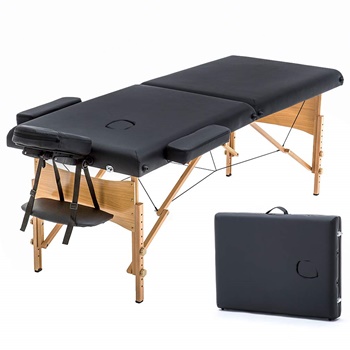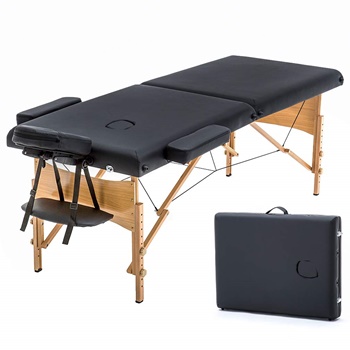 Getting a good portable massage table nowadays can be very tricky, especially if you intend to order it online. Many of the models that are cheap aren't going to meet your expectations, particularly in terms of durability.
However, we managed to come across one product that has met and even exceeded the expectations of those that have invested in it. And believe it or not, it doesn't cost an arm and a leg, either. For more info, check out our BestMassage Portable Massage Table Review below.
Features and Benefits
One of the areas where this model can be considered a winner is its construction. It is made with a 2-inch layer of thick sponge, which means that the person resting on its surface will be comfortable. The surface is soft to the touch and feels nice against the patient's skin, which is a nice bonus.
Additionally, the table is constructed with high-quality beech and it also boasts reinforced hardwood corner blocks so that it stands the test of time. Its weight capacity is estimated at 450 lbs, so it can accommodate a variety of body sizes.
Ease of use is paramount when choosing between one portable massage table and another as many massage therapists go to their clients' homes. The massage bed in question doesn't call for the use of any tools. All that you need to do is to unfold the massage table right from the middle and you'll notice that its legs naturally fall into place. The quick and convenient installation saves a lot of time.
Another aspect worth noting about this product is that it is height adjustable. You can set the height within the 24" to 33" thresholds. You will be happy to know that customizing the height is very easy thanks to the height-adjustable knobs boasted by the model.
Since the weight of a massage table always matters, we'd like to note that this one weighs in at 28 pounds. It is a bit lighter when compared to some of the other units that we have stumbled upon, so that means that it is also portable.
Suggestions
What is extremely important when it comes to portable massage tables, in general, is that you should never exceed the weight capacity advertised by the manufacturing company. This is what the user manual of this product will inform you, as well, so make sure you keep that in mind at all times.
The side arms are removable and if you aren't going to use them, you can simply store them underneath the table. You have to get rid of them anyway when you close the table.
Maintenance
Since the framework is made out of wood and the contact surface is made out of vinyl, cleaning the massage table can be done with minimal effort. You need some disinfectant wipes, a damp cloth, and some sanitizing spray and you'll get this table disinfected and looking as if it were brand new.
Specifications
Size: 73" x 28"
Weight: 37.5 pounds
Weight Capacity: 450 lbs
Accessories: Face cradle
What to expect from the BestMassage Portable Table?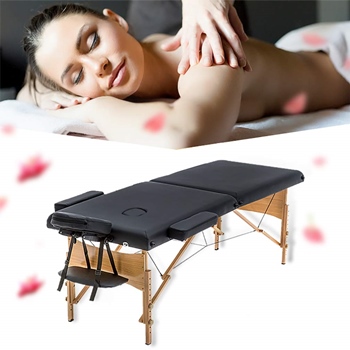 While most of those that have invested in this unit say that it performs as expected, there have been some complaints from people saying that it can't be used for clients who weigh more than 250 pounds. This has happened when the weight of the client was concentrated in the center (and weakest) point of the table.
To make sure that this problem isn't something you have to deal with, make sure that the weight of your client is distributed as evenly as possible on the massage table. This one seems to be perfect for occasional use based on the feedback that it has received.
Pros
Widened metal hinges
Comes with a flexible headrest and a humanized hand pallet
Comes with a carrying bag
Can be installed and uninstalled quickly and easily
Cons
You can't really get your knees or legs under the table so as to get up close enough
Wrap Up
If you are in the market for a massage table that doesn't break the bank, you might have to consider this model. It might be a little less durable than others and it should also be used on lighter customers, but it does offer good value for the money. We hope that our BestMassage Portable Massage Table Review has told you everything you might ever want to know about it.