If you plan on working as a massage therapist, you want to purchase the best portable massage table you can afford, especially if you plan on traveling to your clients' homes. A portable massage table can be an investment for anyone who's interested in going into the massage therapy field.  Designed to be folded so that you can carry it, most units are lightweight and equipped with handles or come with a carrying case.
Since it's crucial to get a better perspective (and a reference point in general), check out the portable massage table reviews in the sections below. After all, you are not buying a massage table often, right?
See The Quick Comparison Chart
Types And Uses Of Massage Tables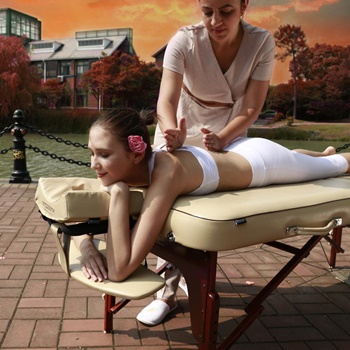 Even though our article mostly addresses portable massage tables, there are many other kinds that you might want to consider. We've made sure to describe all of them in the section below.
1. Portable Massage Tables
It's always good to benefit from a portable/folding massage table, even if you have some clients that come for therapy at your establishment. At some point or the other, you might have to do a house call, so owning a portable table is definitely helpful.
Portable models can come with handles or just a carrying case. They can be folded down with as little effort as possible. Their drawback, however, is that they are not as stable or sturdy as their stationary counterparts.
2. Stationary Massage Tables
As their name suggests, stationary massage tables aren't made to be moved around. Of course, you can lift them up, but you'll have to be assisted by someone else. They are heavy, but they also come with the benefit of having a better weight capacity. They make a good option for someone who operates out of a specific area at work or at home. If your clients are going to come to you, feel free to consider this type of design.
3. Hydraulic Massage Tables
Massage tables that come with hydraulics are extremely effective since they can be adjusted with as little effort as possible. You don't even have to tell your client to change their body position. You just engage the hydraulics to lower or lift some areas of the massage table, and the patient will move along with the bed without even making a move.
4. Electric Massage Tables
The most significant benefit offered by an electric model is that you can tilt the massage table with the push of a button or two. There are also units that can include pads that can perform part of the massage, but these can be useless for a professional massage therapist.
5. Professional Massage Tables
If you want to become a massage therapist and you're actually considering it as a career option, you need to spend a little more to find the perfect massage table. Consider your clients first. Do they have nothing against coming into your office or would they prefer it for you to go see them at home?
Professional massage tables can cost a lot more compared to portable ones, and that's because they are made of highly durable materials and they can also support a lot of weight. The best in this category is usually not portable.
Best Portable Massage Tables Comparison Chart
PRODUCT
DETAILS

BestMassage Portable Massage Bed 73"x 28" Adjustable

Price: $
Customer Rating: 4.5
Size: 73 x 28 inches
Weight: 28 pounds
Weight Capacity: 450 pounds
Top Material: PVC Leather

View On Amazon

Sierra Comfort All-Inclusive Portable Massage Table

Price: $$
Customer Rating: 4.6
Size: 73 x 28 inches
Weight: 31 pounds
Weight Capacity: 400 pounds
Top Material: PU Leather

View On Amazon

Saloniture Professional Portable Massage Table with Carrying Case

Price: $$
Customer Rating: 4.5
Size: 84 x 37 inches
Weight: 37 pounds
Weight Capacity: 450 pounds
Top Material: PU Leather

View On Amazon

Uenjoy Folding Massage Table 84" with Head & Armrest

Price: $
Customer Rating: 4.5
Size: 84 x 23.6 inches
Weight: 35 pounds
Weight Capacity: 500 pounds
Top Material: PVC Leather

View On Amazon

EARTHLITE Portable Massage Table HARMONY DX

Price: $$$
Customer Rating: 4.5
Size: 73 x 30 inches
Weight: 33 pounds
Weight Capacity: 600 pounds
Top Material: Natursoft Fabric

View On Amazon

Saloniture Professional Portable Massage Table with Backrest

Price: $$
Customer Rating: 4.6
Size: 84 x 37 inches
Weight: 35 pounds
Weight Capacity: 450 pounds
Top Material: PU Leather

View On Amazon

Master Massage 30" Laguna Stationary Massage Table

Price: $$$$$
Customer Rating: 4.4
Size: 88 x 30 inches
Weight: 79 pounds
Weight Capacity: 1000 pounds
Top Material: PU Leather

View On Amazon
Best Portable Massage Table Reviews
1. BestMassage Portable Massage Bed 73"x 28" Adjustable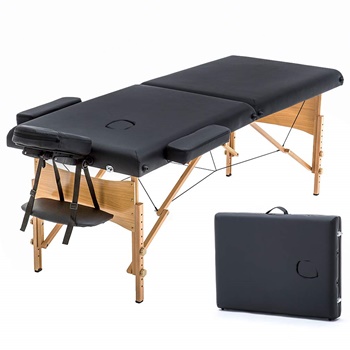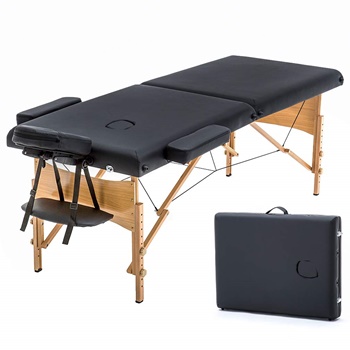 Weighing in at just 28 lbs, this massage bed should definitely be jotted down your list. It's quite strong and it is capable of holding up to 450 lbs, which should be enough for your client's body and the pressure that you will apply. The table is made from high-quality materials (beech), and it also has reinforced hardwood corner blocks to add to the overall strength.
Each of the feet is outfitted with height-adjustable knobs that can be set. Therefore, you can customize the massage table height as per your needs. The limits to which the height can be adjusted are 24 to 33 inches. The knob adjustments are convenient since you aren't going to waste too much time upon getting to the client's location.
As for the contact surface, you'll be glad to know that this unit comes with PVC leather that's soft, durable, as well as easy to clean. There's no nasty smell that you should remove, and you'll notice this right after taking it out of the box.
Pros
450 lbs weight capacity
Easy tool-free installation
Height-adjustable knobs (24" to 33")
Weighs in at just 28 lbs
PVC leather surface
2-inch sponge layer
Cons
The headrest is not as sturdy as the rest of the table
Read More: BestMassage Portable Massage Bed
2. Sierra Comfort All-Inclusive Portable Massage Table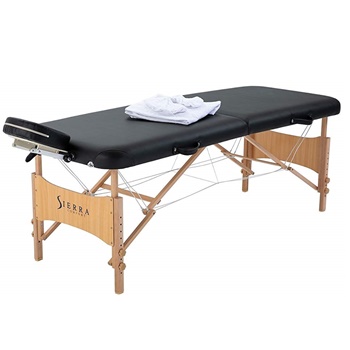 Although it is slightly less budget-friendly than some of the other options that we have come across, this is a high-quality alternative that you might want to consider. It has a water and oil-resistant PU leather upholstery and the high-density foam deck measures 2 inches. There are multiple frame support cables for ensuring it remains stable, and it also includes a threaded support bar.
The beech hardwood frame is a reassuring aspect since it guarantees that this unit is not going to break down ahead of time. The tabletop measures 73 inches by 28 inches. When it is folded, this massage table measures 37 by 28 by 7 inches.
As for the working weight capacity, you'll be happy to know that this one can hold up to 400 lbs. The product weighs in at 31 lbs, which might mean that it's a little heavier compared to others, but it's still portable enough. Best of all, the offer includes a face cradle, a carry bag, a face cushion, and a sheet set.
Pros
Several frame support cables
2-inch high-density foam deck
PU leather that's water and oil resistant
Height adjustable
Comes with many accessories, including a threaded support bar
Cons
The armrests are slightly flimsy
Read More: Sierra Comfort All-Inclusive
3. Saloniture Professional Portable Massage Table with Carrying Case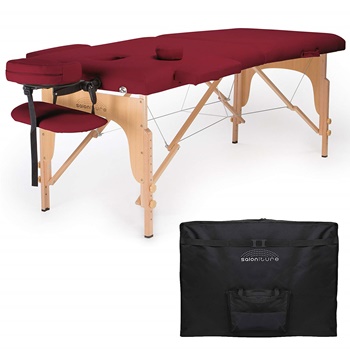 This wooden massage table is another you should bear in mind, especially if you are in the market for a particularly sturdy one. It's fully capable of standing the test of time since it is made with premium-grade materials. The hardwood frame, as well as the rugged steel support cables,  make it possible for this product to have a maximum weight capacity of up to 450 lbs.
There is an adjustable headrest that comes with a premium composite support that's resistant to warping and bending. As for the legs, they are non-slip and secure, so they won't slide as you focus on the massage.
This unit is a little heavier than some of its competitors as it weighs in at 37 pounds. It does have two professional chrome clasps, as well as double handles for easy carrying. Plus, it even includes a nylon carrying case that's equipped with an adjustable shoulder strap, as well as a side pocket for keeping your oils. The foam layer is 2 inches and the face pillow has a 3-inch foam layer.
Pros
450-pound working weight capacity
Oil and waterproof PU synthetic leather top
The 2-inch layer of high-density foam
Non-slip and non-marring feet
Can be carried with ease
Cons
It can be bulky, so if you're petite you might not find it easy to carry
Read More: Saloniture Professional
4. Uenjoy Folding Massage Table 84" with Head & Armrest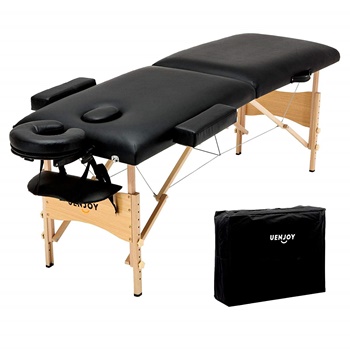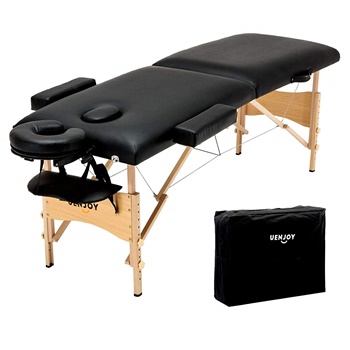 The best thing about this model is its weight capacity. It can accommodate up to 500 lbs of weight, which means that it's more than enough for the client's body and for the pressure that you will apply as you perform the massage. The 23.6-inch width is another benefit since it will make the person on the table feel comfortable and at ease.
Another thing that's worth noting about this product is that it's made of quality materials. It has waterproof and oil-proof PVC covering, and it has been filled with high-density foam, a layer measuring 1.57 inches.
Furthermore, this unit is quite easy to put together. You do not need any tools for the installation. In fact, you will just open and unfold it from the middle, and its legs will automatically fall into place. The headrest and armrests are easy to add or remove as per your needs. The model includes an adjustable face cradle.
Pros
PVC covering
1.57 inches of high-density foam
Easily adjustable in every way
Adjustable height within the 22.8" to 33.5" limits
500-pound weight capacity
Cons
There could be a little more padding as per the reviews garnered by this choice.
Read More: Uenjoy Folding Massage Table
5. EARTHLITE Portable Massage Table HARMONY DX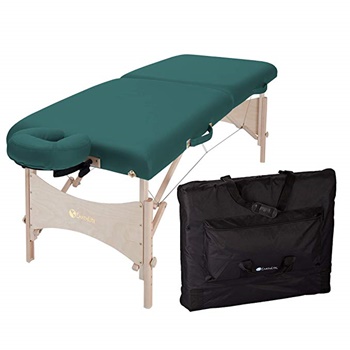 This model can be easily considered a professional alternative since it comes with most of the features you might want from such a product. It weighs in at 38 lbs, so it's rather easy to carry, especially if you're strong enough. The table can fold easily and can be transported just as easily thanks to the nylon case that accompanies the unit.
The full-sized design measures 30" by 73" and it fits most average-sized individuals. The height range is adjustable within the 23" to 33" limits. What's interesting about this product is that it doesn't come with a PU or PVC top. It has a Natursoft fabric that's both durable, but also supple and soft to the touch. We suggest using good covers and sheets to expand the life of the surface and to avoid getting it stained.
The package includes an adjustable headrest with a Cloudfill poly-gel face cradle cushion so that your client remains comfortable and sits in the right position. This table also comes with sure-grip knobs and non-slip (and stable) feet. Best of all, it's backed by a lifetime limited warranty.
Pros
Comfortable face cradle cushion
Height adjustable from 23" to 33"
Measures 73" by 30"
Non-slip feet and sure-grip knobs
Backed by a lifetime limited warranty
Cons
The carrying bag seems less durable than advertised.
Read More: EARTHLITE Portable Massage Table
6. Saloniture Professional Portable Massage Table with Backrest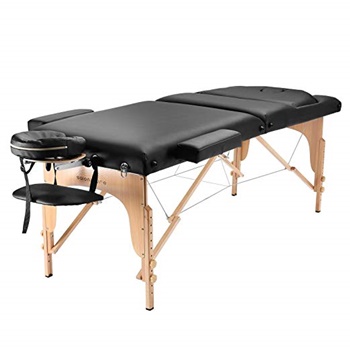 This is a convenient portable unit that boasts a lightweight, yet fully resistant construction that's easy to put together and disassemble. It weighs just a little over 35 pounds, which means that it can be carried by most massage therapists. It can be locked securely with the help of its two chrome clasps, and it also comes with two handles for simplified traveling.
The table comes with excellent cushioning. Both the armrest wings and the top are composed of a plush 2 and a half-inch layer of high-density foam. The face pillow comes with a 3-inch layer of foam, and it even has a removable cover for convenient cleaning. As for the weight capacity of this product, that's one less thing to worry about. It can hold up to 450 pounds.
The table cover is draped in PU synthetic leather which is durable, vegan-friendly, as well as soft to the touch. It's also rather easy to clean, and it doesn't even smell nasty when you take it out of the box. It doesn't stain from oil, and it's also waterproof.
Pros
450-pound weight capacity
The 2.5-inch high-density foam layer
Waterproof and oil-proof PU synthetic leather cover
Weighs in at just over 35 pounds
Comes with a tilting backrest
Cons
The cover is a little slippery so the client has to be careful when getting on or off.
Read More: Saloniture Portable With Backrest
7. Master Massage 30" Laguna Stationary Massage Table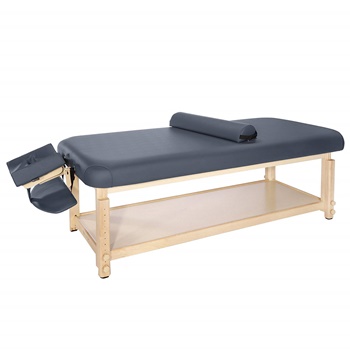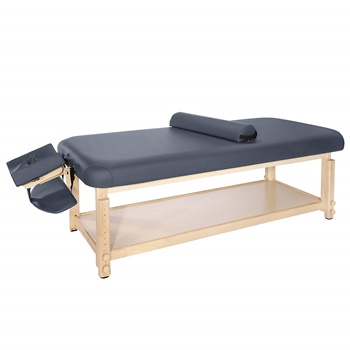 If you are in the market for a really professional massage table, this should be the first one that you ought to take into account. It is less portable than the others since it weighs in at a whopping 79 pounds, but it can be carried from one room to the other with ease. It measures 30 inches in width and 88 inches in length, so it can accommodate most body types.
The height of this unit can be adjusted within the 25-in to 35-in limits. The way this product looks is something to write home about as it boasts natural birch hardwood legs and a hi-gloss dura-seal protected finish. This makes it look rather luxurious, so it will definitely impress your clients.
Best of all, the working weight of this product is 1,000 pounds, which is unheard of in its portable competitors. Some of the accessories included the range from a neck bolster and an armrest to a 75-pack of disposable face covers. It even has a stabilizer bar.
Pros
1,000-pound working weight capacity
Height adjustable from 25 inches to 35 inches
Measures 88 by 33 inches
Spectacular look thanks to its hardwood legs and frame and hi-gloss finish
Storage shelf for towels and linens
Cons
It weighs in at 79 pounds, so it's less portable compared to others
Read More: Master Massage Stationary
Wood vs. Aluminum Massage Tables
While some massage tables can be made out of aluminum, others can be manufactured from wood. But what are the advantages and disadvantages of each, and why should you consider one over the other? Find out by reading the section below.
Just remember that you should choose your portable massage table depending on your practice, as well as your preferences. In the professional range, it doesn't really matter whether you go for a wooden or aluminum model.
1. Wood Massage Tables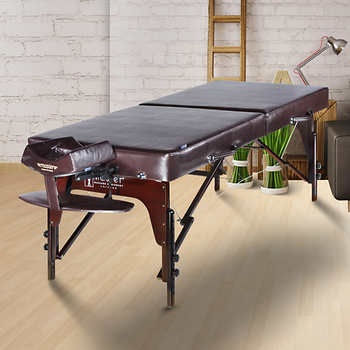 In the past decade or so, wooden massage tables have become quite popular. They are esthetically pleasing, they're steady, and they are the type that's most recommended by massage instructors.
However, the reason for this is that back in the day, massage tables in schools used to be made of iron. Iron would rust and would both look bad and be hard to clean. That's why massage teachers usually recommend wooden units instead of aluminum ones — because they think that aluminum offers the same drawbacks as iron. That couldn't be further from the truth.
As for the rest of the benefits offered by wooden tables, they have a classic design, they are durable, as well as stable. The cons, however, is that they are a lot harder to fold, unfold, and adjust compared to their aluminum counterparts. They're also heavier, and they can sometimes squeak, which could bother your client.
2. Aluminum Massage Tables
Even though aluminum tables are a somewhat recent addition to the market, many therapists are now choosing them for their increased strength and reduced weight, and some have a lower cost compared to wooden tables. Aluminum options are easy to set up and adjust, they're decently durable and versatile, and they're also quite stable.
Their drawbacks are that they can groan, so the sound could end up bothering your client. They are also less visually appealing compared to their wooden counterparts. Plus, the rugged ones can cost a pretty penny.
Portable Massage Table Buying Guide
It can be more or less challenging to get the right kind of massage table, especially if this is the first one you're considering purchasing. Read our guide below to find out what the essential factors that you should bear in mind really are.
1. Table Weight
There are two types of weights you need to look at when you are in the market for such a product. The first is the working weight and the second is represented by the static weight. Let's look at what each one means.
1.1 Static weight
This is not a particularly useful aspect. If you browse through some of the popular portable massage tables available at various online retailers and you notice that the manufacturing company has tested its product for a 1,000 lbs weight capacity, you need to know that it has been distributed evenly across its whole surface. Plus, that weight was most likely placed on the table using a crane, so that can't be helpful.
When you give a massage to a client, the table will both have to support their weight, but also part of your own as you will apply lots of pressure on some specific areas, and even bend over and support part of your body weight on one of the table's sides. This is why the working weight is far more important.
1.2 Working weight
The working weight consists of the one that the table can hold on the whole, so that includes both the patient's weight and that of your own. If a table comes with a working weight capacity of 300 pounds, your client should be around 200-220 pounds heavy so that you can rest assured that you can apply an amount of pressure, as well.
2. Table Size
When it comes to the size of the unit, you'll have to look both at its width and at its length. Let's see what options you have available in this sense, and which advantages and disadvantages each comes with.
2.1 Table length
These models can be heavy, so they are less portable. 2 or 3 additional inches might not make that much of a difference, but in terms of the table construction, they can definitely add to the overall weight. If you know that your clients are tall, such a model can be worth considering. If their height is average, a standard unit can do.
The models that have a length of under 73" aren't worth taking into account if you do not intend to invest in a face cradle, as well. If you do, you can extend the length of the product up to 77", and that would make the unit compatible with most body sizes. A shorter table is usually cheaper than a longer one, and if you already own a face cradle, you should consider it.
73" represents the best compromise between portability and capacity. Once again, in this case, as well, if you get a face cradle you can extend the length of the table up to 82 inches.
2.2 Table width
Wider models are excellent if your clients tend to be on the bigger side. The issue is that getting a wider unit can be counterproductive as it is also heavier, and as such, harder to take from one point to the other. Since elderly people have slightly larger bodies than younger ones, if you have many senior clients, you should consider a table that's wider than 28 inches.
These are the least convenient massage tables currently available. You do have the option of attaching winged armrests to them in an attempt to make them wider. Even so, your clients could find them cumbersome when turning from one side to the other. The upside is that they do tend to weigh less than their wider counterparts.
This standard size is sufficiently wide to accommodate the bodies of most people. It's average in terms of portability, meaning it's neither too heavy, nor too lightweight. To this type of table, as well, you can attach winged armrests.
3. Type of Frame
We've already discussed the types of frames that are currently available in most portable massage tables available for sale. They can be made of wood or aluminum, but there are some steel models available, as well.
3.1 Wooden models
Such tables are durable, stable, and visually pleasing. They are heavier than tables with aluminum frames, though. That can be a disadvantage for massage therapists who aren't exactly keen on the idea of carrying hefty things.
Plus, wooden frames produce some noise as you massage your client's body, and the squeaking can be quite unnerving. This can happen when you perform a back massage or give a neck and shoulder massage. In both of these cases, you are likely to use more pressure than when performing a foot massage.
3.2 Aluminum models
These are lightweight, relatively strong, as well as easily adjustable. Many aluminum units have the same working weight as their wooden counterparts, but they don't weigh as much, so they are easily transportable. The drawback is that high-quality aluminum massage tables can cost a pretty penny, and the cheaper ones you don't want in your life because they can be poorly made. They could have plastic joints or plastic cables, and that would affect their durability over time.
3.3 Steel tables
Nothing beats steel when it comes to durability. Therefore, if you are looking to purchase your massage table for a lifetime, you should consider steel models. However, this type comes with two major drawbacks. One of them is that it is not exactly lightweight, and the other is that it can be very pricey.
4. Upholstery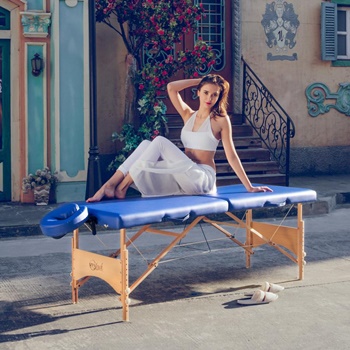 You have two options when it comes to your portable massage table's upholstery — PU leather and PVC vinyl leather. Let's look at the pros and cons of each.
4.1 PU leather
This is a good substitute if you'd be interested in purchasing a leather massage table, but you don't have the money for it. It's soft to the touch and it feels great against the client's skin. Plus, it's capable of standing the test of time. Unfortunately, the biggest drawback of choosing this option is that it's merely resistant to oil or water, instead of being waterproof or oilproof. This means that, if you drop oil on it time and again, it will stain.
4.2 PVC vinyl leather
This is a great option for massage therapists who can't be bothered with the cleaning and maintenance of a massage table — if they don't want to be too thorough and waste too much time on this. PVC can be cleaned easily with warm water and mild detergent. It's waterproof and oilproof, it can last for a decent amount of time, and it also looks good. It's pretty thick, though, and some argue that it feels less good to the touch.
5. Foam Thickness
The thickness of the foam affects the way it will look after several years or months of use. It can also provide your client with support and comfort as you do the massage. While it is generally considered that thicker foam is better, the truth is that if it's hard to the touch, it's going to feel like a rock against your client's body. As you can expect, this can cause more pain than relaxation.
Low-density foam changes its shape after several months of use, in which case the patient is going to feel the frame and get sore muscles during the massage session. High-density foam is better, but it has to be soft and springy so that it can come back to its original form time and again.
Small cell foam is comfortable for the client and it also holds its shape over time. It's a high-density alternative, but the bottom layer is stable and the upper layer is soft enough to provide a relaxing experience.
As for the actual thickness, the standard one is 2 inches. Some manufacturing companies use thicker foam, which can measure 2.5 inches or even 2.75 inches. In theory, the thicker the foam, the more it's going to last.
6. Foam Type
The foam that the massage table comes with the needs to meet your requirements in terms of longevity and density. Density isn't synonymous with the foam thickness, it rather relates to the resistance that the top can give you, not the feeling you get when you first touch the vinyl. If the foam is too firm, your clients will end up feeling like they are lying on pure concrete.
Therefore, the foam needs to be soft enough for the client to be comfortable, but it should also hold up enough so that you can push down firmly on your client's body without having them bottom out to the point that they can feel the frame under them.
As for longevity, some foams can be great for a year or two, but then they start to lose their resistance and their elasticity. When you push on them, they become incapable of pushing back against the weight of the client, so he/she begins to feel the frame. Any foam has limited longevity, so you should know that at one point, you will have to replace it.
7. Height Adjustability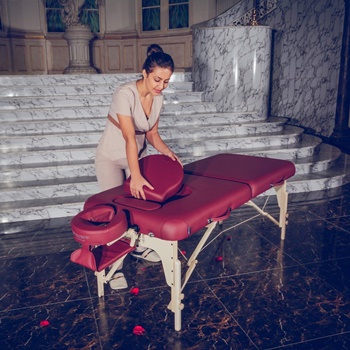 Most massage tables should come with an adjustable height. Their legs ought to boast several holes that you can utilize so as to set the right height. When it comes to adjustability, height is the most important factor as it directly affects how comfortable you will be while performing the massage.
Some people prefer a taller table because they find it easier to move their hands. Others have nothing against bending down, especially massage therapists that have to use a lot of pressure. No matter which one of these you are, the product should be easily adjustable in terms of its height and that should take you no longer than 2-3 minutes. Most tables we've come across can be adjusted to 3 heights or more. Some models can come with twist knobs.
8. Cable System
Cables can be made of high-quality aluminum or steel so that they increase the overall stability and strength of the massage table. The cables have the purpose of preventing the table from moving back and forth or sideways as you massage your client. Naturally, some models have a design where cables aren't needed, but they usually have a plastic system instead of one crafted from steel. Try to avoid getting a massage table that is outfitted with any plastic component, as it is likely to break down at some point.
9. Accessories
Accessories can make it easy for you to do your job. Some of the models currently available can come with anything from oil pouches to fitted cotton sheets. Therefore, you wouldn't have to purchase these items separately. Additional protective covers and sheets can come in handy at any time, so don't underestimate their importance. Plus, if your massage table comes with any of these, you will be able to use it right after it is delivered.
10. Ease of Cleaning
You will have to clean the table after every massage session, even if you use a cover or a towel as you perform it. We recommend utilizing a microfiber cloth and some gentle cleaning solution or disinfectant. The cleaning can affect the durability of the vinyl, though. PU is considered the better choice when it comes to massage therapy applications as it offers better resistance to scratches, punctures, and abrasion, and it has better longevity overall.
The other aspect with regard to cleaning refers to the frame. As you can expect, aluminum frames are far easier to clean than wooden ones. You just wipe their surface and that's it. With wood, you will have to use special substances that don't affect them in the long run. Plus, some cleaning solutions can stain the wood, which doesn't really happen with aluminum.
How to Choose The Best Massage Table for Your Practice?
1. Thai Massage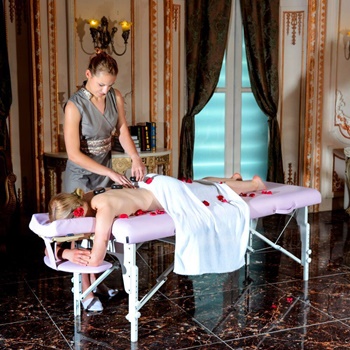 Individuals who specialize in this type of massage would much rather practice on a mat rather than on a table. Even so, if you are looking to buy a massage table that's a good fit for Thai massage, make sure that it has one of the highest working weights you can afford.
2. Reflexology Massage
Average sized (in terms of the length and width) massage tables can be used for reflexology for many types of customers. Once again, if you practice reflexology massage, you might find that you don't even have to invest in such a product, as it would have to come with a heavy working weight.
3. Sports Massage
Look for the best working weight you can afford if you specialize in sports massage. It is generally acknowledged that athletes and professional sports players are anything but slim and short. As such, you might be better investing in a product that's both long and wide, and has plenty of working weight, as well.
4. Shiatsu Massage
The working weight of the portable massage table is also crucial if you specialize in Shiatsu massage, as well. To make sure that you get to massage as much of the client's body, you might have to place some of your body weight on one of the sides of the table. Therefore, the unit will have to support not just the client's weight, but also a part of yours.
5. Aromatherapy Massage
Both high-density and small cell foam massage tables can make good choices if you practice aromatherapy massage. The client has to be extremely comfortable while resting on it, so make sure you browse through some reviews to see whether the product you are considering is well padded and feels good.
6. Deep Tissue Massage
Average sized massage tables are good enough for deep tissue massage, but since you are going to apply plenty of pressure, they also have to come with decent weight capacities.
7. Reiki
Reiki involves longer treatment sessions because it could take some time to harness the energy. Therefore, you might end up standing for a long time, and if you get tired, you might grab a chair to get close to the client you are treating. You might also want to place your knees on the massage table, as well.
A Reiki massage table differs from a standard one. There are panels for practitioners where they can place their knees. You wouldn't find the same panels on a standard unit. Plus, they have many adjustability options, which once again you might fail to find in a traditional massage table.
FAQs About Portable Massage Tables
1. How much weight does a portable massage table hold?
It would be great if your massage table could hold at least 250 pounds. As you know, some people are heavier than others. Choosing a product with a better weight capacity will ensure that it can be used by any type of individual, no matter how much they weigh. Keep in mind that the legs and other structural parts of the massage table are also considered in the total weight capacity.
There are models out there that are advertised as being capable of holding 350 pounds and even 500 pounds. The thing is that the more weight capacity of the unit, the more it is likely to also weigh more by itself since the construction needs to be really rugged.
2. What is the best width for a massage table?
The standard width of a portable massage table is 29 to 30 inches. If a table is narrower than 29 inches, your clients' arms or shoulders might hang off the sides of the table. As you can expect, this can make the whole massage experience rather uncomfortable.
If the product is wider than 30 inches, it might be too tall to carry when it's folded into its carrying position. Besides, the wider your massage table, the more likely it is to use more foam, steel, or any other materials for the frame, so that would make it heavy and cumbersome to carry.
3. What's the difference between working weight and static weight in massage tables?
The working weight of such a product is the weight that the table can hold in addition to the added weight, pressure, as well as the side load of a massage therapist giving the massage. Since a good massage therapist typically applies pressure on all of the points and even sideways, the real working weight of a portable massage table can be less than its static weight.
The static weight is how much it can hold with the weight remaining stationary. Placing too much weight in a specific point of the table can make it crack. Ideally, the weight should be spread out since any table, regardless of whether it's designed for massages or not, is strongest in the center, as well as on the four corners.
4. Can portable massage tables pose a threat to someone's health?
As you might have noticed, the matter of how the weight is distributed on the massage table is very important. If you don't supervise your client as he or she gets up on the table, he might both produce damage to the table and also endanger his/her health. Models that are extremely light can always tip over if the client decides to place their whole weight on one of the sides.
This matter is especially concerning with senior clients. Due to bone fragility, if they fall from the table, they could easily break one (or even more) of their bones. This would mean that they could be hospitalized, and the last thing you want is to be sued for something like this. Even having to pay for someone's hospitalization can be expensive and a hassle that you can do without.
Therefore, we suggest that you stand next to your client as they attempt to get on the table. Help them as best as possible while keeping in mind that they should be safe at all times.
5. What kind of warranty can you expect when buying a portable massage table?
From what we've gathered while doing our research, there are two types of warranties that are offered by manufacturers. Lifetime warranties (especially for the frame) are included by well-known brands since they use good-quality materials. Plus, in case something happens with the frame, you can at least rest assured that they'll repair it or replace it for free.
A 1-year warranty is another common type, and you'll find that it's included with less durable models. If you intend to invest in a better massage table in a year's time, this could be a good option for the short term. Otherwise, you can't expect it to last for a decade or so.
Wrap-Up
We hope that our comprehensive guide has helped you understand what some of the most essential features of the best portable massage table can be for you. Just make sure that you always match your requirements and expectations to the characteristics of every unit you look at during your research.
A final piece of advice from us would be to read as many portable massage table reviews as you can. Other customers can let you know just what might not be good with the product. They can also tell you what it has helped them with.
See also: knee pillow reviews