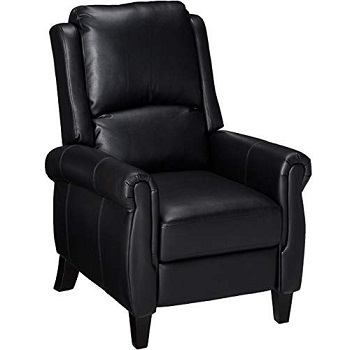 If you're on a budget and you don't know which type of recliner you should pick from the myriad available out there, it's a good thing you're reading this post. While doing our research, we came across this model by Christopher Knight Home, especially since it is one of those that have gotten plenty of exposure.
But as is the case with any other product that you might be interested in purchasing online, it's always a good idea to be as informed as possible before placing your order. We suggest you have a look at our Christopher Knight Home Recliner Review.
Features and Benefits
While the variety of other recliners that you might have stumbled upon are extremely bulky, so that's why you might end up placing them in a room where no one sees them, that is not the case with this one.
The Christopher Knight Home alternative is very comfortable, warm, as well as inviting, and it looks like a regular armchair. It will allow you to reposition your body and mind and help you relax at the end of a particularly hard day at work. It doesn't cost a fortune, which is a net bonus, especially since most other recliners tend to cost a pretty penny.
The traditional design boasted by this choice allows you to keep it in your living room and enjoy it when you watch your favorite TV show, enjoy a cup of coffee, or just have a nap.
Another aspect that makes the difference between this unit and many of the others out there is its ease of use. Even if you intend to buy it for someone who has little to no technical skills, you'll be happy to know that this model is quite easy to operate and it gets into the right recline position in a matter of less than one second.
The reclining chair is sizable enough to fit most people from children to seniors. The frame is made of wood, which guarantees durability, and the upholstery is faux leather. There is some amount of assembly that you will have to tackle when you get the unit delivered.
Suggestions
Since there have been customers who have expressed some questions with regard to how this recliner functions, we suggest that you take the time to get in touch with the manufacturing brand's representatives.
Use the official Christopher Knight Home website for the purpose and you'll be able to talk to customer service and find out what you need. The same applies to cases in which you'd like to report an issue.
Maintenance
Given that the chair is covered in faux leather, it is rather easy to clean. If you tend to get too hot in recliners of this kind during the warm season, we suggest that you utilize a sanitizing spray or wipes to remove any sweat that might have accumulated on its surface.
Most people tend to use the same recliner along with other members of their family. For regular maintenance, you can simply wipe the PU leather with a microfiber cloth.
Specifications
Size: 28 x 35.5 x 39.5 inches
Weight: 71 pounds
Material: PU leather
Frame: Wood
What to expect from the Christopher Knight Home Recliner?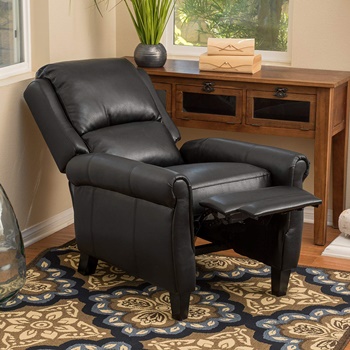 Based on the feedback that we analyzed with regard to this product, it seems to offer excellent value for the money. It's quite easy to assemble and it has been reported to be very comfortable. Many people say that it is one of the best choices if you have smaller rooms.
Pros
It looks great and integrates into most types of interior designs
Very comfortable, soft, and well-padded
PU leather upholstery makes it easy to clean and maintain
Seems to have exceeded most of the customers' expectations
Cons
Unlike some of the other models out there, this one doesn't not rock front, which means that it is not designed for people who have mobility issues that make it hard for them to get up from a chair.
Wrap Up
Hopefully, our Christopher Knight Home Recliner Review was comprehensive enough for you to tell whether this unit addresses your needs and preferences or you can do without it.
If you're on a tight budget, you may have to consider this model as it definitely offers plenty of value for every cent spent and it works precisely how it is supposed to.