Foot massagers can mean the world to someone who spends a whole day on their feet or someone who suffers from any foot pathology, from plantar fasciitis to chronic pain. Most of the devices that you will come across in this category are easy to use and can do their job in 15 to 30 minutes, leaving you painless and relaxed for a decent amount of time.
Read this CloudMassage Foot Massager Review if you would like to find out everything there is to know about the features and benefits that this model can offer you. Don't worry, we've included some information on some of the drawbacks of this unit, as well.
Features and Benefits
This particular model is outfitted with heating elements that will keep both your feet and a part of your calves warm as you are using the massager. The heating function is designed to warm up your tight and sore muscles, local tissues, and tendons making the massage session a lot more effective and relaxing.
The nice thing about this setting is that you can customize the heat level by utilizing the buttons available on the massager. This detail can be a very handy feature since some people might appreciate hotter massages compared to others. A warmer setting can be utilized to boost your local blood circulation, allowing the tissues and muscles in your feet to get more oxygen and nutrients.
Vibration
While it might take a little time getting used to, this massage also comes with a vibration function. Luckily for you, the vibration will release your tight muscles and also smooth out any of the tension that might have accumulated in your feet throughout the day.
Another aspect that seems to make the difference between the CloudMassage model and some of the others available out there is that it features a unique air compression system. This system inflates the pillows around your feet, and the pressure feels great against your achy limbs. The compression feature makes this massager a lot more comfortable and user-friendly compared to others.
Besides, you get to benefit from some amount of space where you put your feet and part of your calves. The air compression is an inherent part of the massage experience as it kneads and squeezes your feet.
Probably the most important feature that's worth writing home about when it comes to the CloudMassage Foot Massager is the fact that it can be positioned differently depending on your momentary needs. For example, if you would like to get your calves massaged, you can simply lay it vertically to the ground and use it like that. Even your heels will be massaged in this position, which can be helpful if you're having a hard time managing Achilles Tendonitis symptoms.
Specifications
Size: 22 x 11 x 17.7 inches
Weight: 22 pounds
Cordless: No
Size of calf area: 5 inches
Size of open toe area: 11 inches
What to expect from the CloudMassage Foot Massage Machine?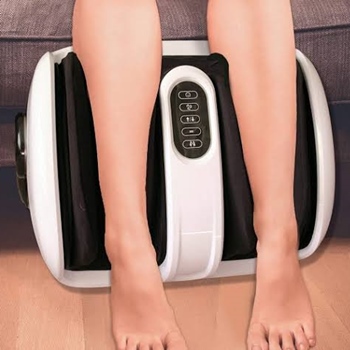 One of the things that has been mentioned time and again in the reviews that we came across while analyzing this model is that anyone can use it. It's extremely user-friendly and it doesn't even raise technical difficulties to people who aren't tech-savvy. It's highly recommended to older people, individuals who have medical problems, or those that stand or sit all day long.
As the user guide suggests, it is a good idea to start with the lowest intensity setting, both in terms of the massage itself and in terms of the heating function. You can work your way up to a higher intensity afterwards.
Pros
Can be used to massage your calves and Achilles tendon
More comfortable compared to other massagers
Very easy to use and convenient
Cons
It's on the bigger and heavier side of things, so it's not the most portable foot massager in this line
Wrap Up
If you are in the market for a foot and calf massager that actually gets the job done, this one by CloudMassage might be a good bet. It seems to come with lots of features that customers love, and using it every day for fifteen to thirty minutes can help you get rid of pain and improve your foot circulation.
In the end, we hope that our CloudMassage Foot Massager Review has assisted you in telling whether you could benefit from its features.