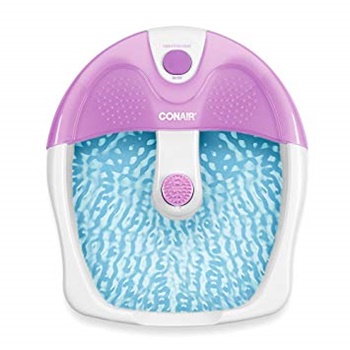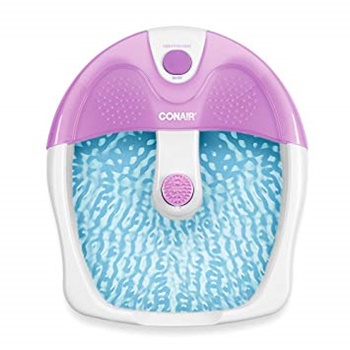 Conair's Foot Spa makes it possible for you to care for your feet, get a nice pedicure, or just enjoy a soothing massage right in the comfort of your own home. The foot basin takes care of your feet and helps you get rid of the tension that might have accumulated in your muscles throughout the day. Read our Conair Foot Spa Review to find out more.
Features and Benefits
One of the first things to take into account, especially when it comes to the design of this alternative is the fact that it is truly sizable. It is deep and wide enough to accommodate the needs of people who have small or large feet – it doesn't matter which.
You can simply place the soles of your feet on the bottom of the unit without having to worry about slipping since there is non-slip material on the surface.
The unique construction boasted by this model makes it capable of keeping the water hot or warm for around fifteen to twenty minutes. Since it doesn't come with a heating element, you will have to heat up the water by yourself and then wait for it to cool down a little before you use the machine.
It's also worth noting that the product comes with as many as six removable rollers so that you can control the intensity of the massage just by pushing against them. There is an attachment, as well as a splash guard, that makes it possible for you to benefit from getting a deep massage without making a mess.
Additionally, this is a rather lightweight foot spa, which means that you are not going to overexert yourself when you're done with the foot massage session or your pedicure. The machine does have to be emptied, so you will have to lift it up, but since it is not too heavy, you will be able to do this conveniently.
As for portability, it certainly matters for many people. Naturally, this machine works with a power outlet, so it does not function with batteries. For more information on how you are supposed to utilize this particular device, check out the instruction manual provided by the manufacturing company.
While this might seem like a drawback for some people, it's worth adding that it does come with a power cable measuring 6 feet. This means that you can sit down at a certain distance from the outlet and use the foot spa there.
Specifications
Size: 7.5 x 14.6 x 16.6 inches
Weight: 1.8 pounds
Voltage: 110V
Pinpoint massage attachment: Yes
What to expect from Conair's Foot Spa?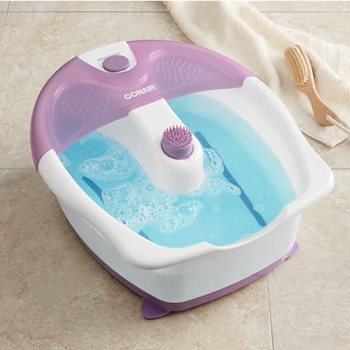 The most important thing to take into account if you are thinking of purchasing this model is that it does not come with a heating element. This means that it is virtually incapable of heating up water on its own. It does include a vibration function, but you will have to be the one who heats the water beforehand. The basin will merely do a good job of maintaining the water temperature for at least fifteen minutes.
There have been some customers who have expressed their discontent in this respect, but it's important to note that the walls of the machine aren't capable of heating up water if you pour cold one into it. Other than that, it seems like a good (although a little basic) option.
Pros
User-friendly touch control for activating the massage vibration
The depth and width allow all types of users to make the most of the machine
Rollers can be removed and cleaned separately
Cons
Some consumers have reported that this model can't keep the water warm for more than a quarter of an hour, especially if it's cold in the room where you use it.
Wrap Up
If you need a simple and easy-to-use alternative that comes with soothing vibration, toe-touch controls, and a deep water reservoir, Conair's model might be the right one for you. We hope that this Conair Foot Spa review has given you some pointers as to whether it's good to invest in or not.