to achieve the absolute best foot care, employing the best foot spa that suits you is paramount! Nobody likes the feeling of coming home with aching feet causing discomfort. It's not okay to take feet for granted – wearing socks and standing for long hours during work time stuffing them in shoes and heels. So, why not treat your feet?
A good foot spa enhances blood circulation, helps relieve stress and pain from feet, and leaves you in a relaxed refreshing state, which encourages good sleep. Hence, all your feet ache, discomfort and soreness will go away with just one long soak at home. There are tons of foot spa products on the markets make sure to check the foot spa reviews to get the perspective on things. Let's go!
See The Quick Comparison Chart
Benefits of Foot Spa
One of the principal benefits that Foot Spa provides us with is relaxation and painless feet. But we have discussed that. What are other major benefits that a foot spa can provide us? To find out, carry on reading.
1. Improvement In Blood Circulation
Most of us students, sportspersons, or office workers tend to wear shoes that cause poor blood circulation in our feet. On top of that, we usually have to walk from one place to another during the day and this aggravates the ache.
A Foot Spa has vibrators and rollers that massage various pressure points of our feet which tend to reduce our aches and promote better blood circulation to our feet. It allows the oxygen and blood to travel effectively through our veins. This will help us stay fresh and on top of our game.
2. Alleviates Edema and Arthritis Pain
Edema is the swelling of your feet due to the retention of water in your tissues. It usually occurs in pregnant women or people with underlying diseases. And it is very painful.
Arthritis is the painful swelling of joints. It is usually seen in people that are 60 years old or more. Though, it can also be seen in younger individuals as well.
A foot spa can help to soothe the pain caused by both of these diseases. The warmness of the water and the rollers of the device play a major role in alleviating the pain.
3. Detoxifying Your Body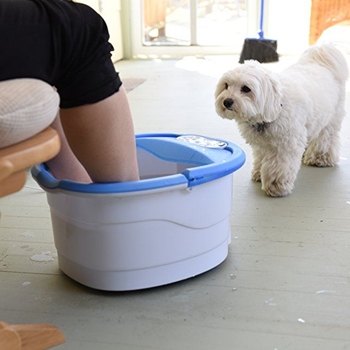 Getting a foot spa regulates the blood flow around your feet and hence, around the body. The stimulation from the vibration of the device kneads the stiffness out of your feet. Since a foot spa is a method of reflexology; it is believed that a foot spa can stimulate many vital organs to eliminate toxins and chemicals from your body.
Furthermore, putting Epsom salt or other bath salts in the water has been claimed to extract toxins from your feet.
4. Relieving Stress and Anxiety
Our feet have certain pressure points that are believed by the scientist to reduce stress, depression, and any type of anxiety we might be feeling. A foot spa massages these points and relieves any sort of emotional stress you might be experiencing.
5. Reduces High Blood Pressure
If you are someone who suffers from high blood pressure, a foot spa might be the remedy to keep it on the deck.  Scientists believe that a foot spa can calm your Sympathetic Nervous System which is responsible for the blood pressure. A relaxed Sympathetic Nervous System will keep your emotions in check and thus will lower your blood pressure.
6. A Good Night's Sleep
A warm foot bath with all the essential oils and salts can prove to be therapeutic. A foot bath before sleep will calm your nerves and mitigate any type of mental pressure you might be in. Furthermore, we all know, a relaxed mind helps you sleep like a baby at night. If you are suffering from insomnia, a foot spa might help you conquer the problem.
Best Foot Spas Comparison Chart
PRODUCT
DETAILS

Ivation Foot Spa – Heated Bath with Adjustable Temperature

Price: $$$
Customer Rating: 3.9
Size: 16.5 x 14.9 x 9.2 inches
Weight: 6.7 pounds
Temperature Range: 95 – 122 ̊F
Capacity: 6L

View On Amazon

MaxKare Foot Spa/Bath with Heat Bubbles

Price: $$
Customer Rating: 4.2
Size: 16.8 x 14.8 x 8.5 inches
Weight: 5.2 pounds
Temperature Range: 95℉-180℉
Capacity: 3L

View On Amazon

HoMedics Compact Pro Spa Collapsible Footbath with Heat

Price: $
Customer Rating: 3.9
Size: 17.1 x 15.6 x 3.7 inches
Weight: 4.4 pounds
Temperature Range: Maintain 98 degrees
Capacity: 3.5L

View On Amazon

Conair Foot Spa – Deep pedicure with soothing vibrations

Price: $
Customer Rating: 3.4
Size: 7.5 x 14.6 x 16.6 inches
Weight: 1.8 pounds
Temperature Range: No heating element
Capacity: 7.5L

View On Amazon

Dr. Scholl's Foot Spa – Invigorating Pedicure

Price: $$
Customer Rating: 3.8
Size: 13.9 x 16.4 x 7.7 inches
Weight: 4.1 pounds
Temperature Range: 95-110°F
Capacity: 3.5L

View On Amazon

PowMax Foot Spa Multifunction Heat Infrared Vibrating

Price: $$$
Customer Rating: 4.6
Size: 42x37x28 cm
Weight: 7.9 pounds
Temperature Range: 50 ̊C
Capacity: 10L

View On Amazon

HoMedics Bubble Therapy Foot Spa with Heat Boost Power

Price: $$
Customer Rating: 3.6
Size: 9 x 5.1 x 7.1 inches
Weight: 4.03 pounds
Temperature Range: 98 ̊C
Capacity: 3.5L

View On Amazon
Best Foot Spa Reviews
1. Ivation Foot Spa – Heated Bath with Adjustable Temperature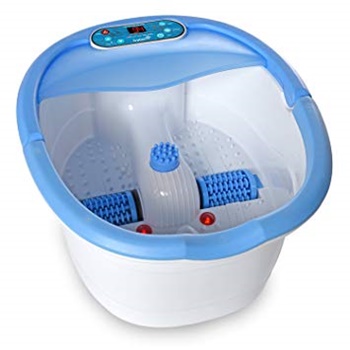 Are you tired of finding an impeccable foot spa? Ivation foot spa is the bright lining to the cloud for you as it is designed to offer a calming massage to your tired ankles and feet. The unit uses two motorized rollers to provide massage for your feet and it is not nearly as expensive as you might think. It combines various prevalent features to offer you a great home foot spa.
Another great thing about the Ivation foot spa is that it's super easy to use. There are no complex processes. You most likely won't even have to read the manual and still sort out how to initiate each feature of the unit.
Moreover, its control panel is very easy to understand. The LCD display on it shows you the current temperature of the water and all the changes as you make them. A small red light illuminates every activated function, hence,  you would know at all times which particular feature is working and which is not.
Pros
User-friendly
All the programs are clearly marked on the unit's display.
Users can see all the changes they make on a quite large display.
Having Motorized Rollers is definitely a great advantage.
Just push start and you're good to go.
Cons
Accessories should be better.
Unlike other foot spas, this one contains fewer bubbles.
Read More: Ivation Foot Spa
2. MaxKare Foot Spa/Bath with Heat Bubbles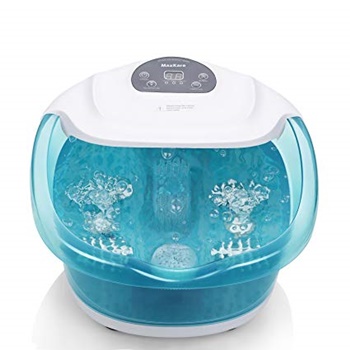 The Maxkare foot spa provides relief from all forms of feet discomfort by offering 3 in 1 feature modes; heating, vibration, and bubble. To provide you with a home spa treatment, it also features 4 removable massage rollers and their raised nodes stimulate and massage the acupressure points connected to the brain. Be ready to have a professional and relaxing pedicure at home, the vibration function relaxes your feet and alleviates fatigue.  Moreover, a warm foot spa is offered with the heat function to reduce pressure and soreness. The gentle bubbles particularly target the acupressure points on soles consistently for optimal spa effect. Furthermore, you can use all three functions at once or individually.
Extremely easy to operate, this foot spa also has the intelligent temperature control and maintain feature. You can select your desired temperature between 95F-118F and an LCD screen displays the set temperature and working modes. Hence, you can easily enjoy different foot spa experiences with spa materials like essentials oil, salts, and soap. Talking about the design, this professional foot spa generally mimics the massage technique like compressing, rolling, pushing, kneading, etc. while, the transparent, trendy and ergonomic design is loved by everyone. Water splashing is also prevented by the front curve outline design. Moreover, the rubber foot stands are non-slippery that maintains stability. Overall, this Maxkare foot spa will give your feet a relaxing and soothing experience.
Pros
Temperature control
Ergonomic design with removable rollers
FDA approved
Spa material small compartment
Cons
Read More: MaxKare Foot Spa
3. HoMedics Compact Pro Spa Collapsible Footbath with Heat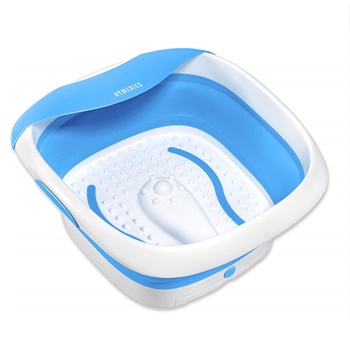 As the name suggests, this HoMedics foot spa is for all those people who need a compact and light-weight spa to relax their feet. With a collapsible control lever, the tub stores conveniently in small places. The tub surface has small, raised massaging nodes that help eliminate all the pain and pressure from your feet.
This compact foot spa features a vibrational message function leaving your feet relaxed.  Moreover, the tired feet also require warm heated water soak for soothing them. Hence, all you need to do is to fill the tub with heated water. The heat maintenance technology keeps water at the perfect temperature throughout your massage. However, there is no temperature control feature and requires to heat the water on your own. Some users also complain about this foot spa being too noisy. Overall, the design is simple with an integrated splash guard that helps prevent spills and splashing. Also, the HoMedics Compact Pro Spa is budget-friendly.
Pros
Collapsible and compact for easy storage
Small massaging nodes
Vibration massage
Cons
No temperature control
Loud and strong vibration
Read More: HoMedics Compact Pro
4. Conair Foot Spa – Deep pedicure with soothing vibrations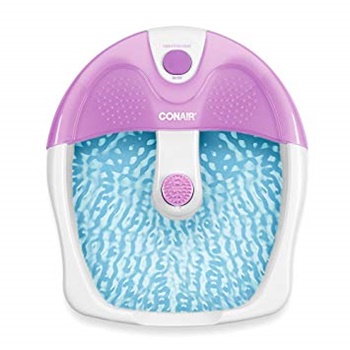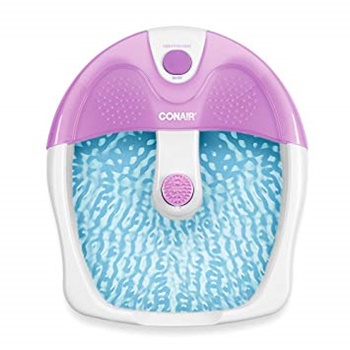 Back from an exhausting workday? We've brought you an innovative solution to refresh your mood and soothe your foot aches. Conair renders you a robust experience of massage, through its feature of deep spa basin in which you can fully immerse your feet and get more satisfaction. However, the problem of switching and controlling with hands is now solved as Conair has a defined toe-touch control, which saves your hustle of bending and unnecessary massage interruptions. It can save you the hustle and expenditure of going to a center to get a foot spa, and it's a thorough relaxing therapy that you can have daily.
This foot spa brings you a transformative feature of splashguard nodes that cleanse and soothe your whole feet and not just one side. Furthermore, its extra-deep basin, coverage of the entire foot and controllable vibrations make it outshine all the others. Some people are fascinated with lesser-heated massages and some like the intensity, so it offers you autonomy to adjust to whatever suffices your desire. The removable rollers also add to its ambiance and these features altogether make it worth every penny.
Pros
Adjustable features
Innovative features
Exquisite design
Extra deep basin for a better coverage
Splash gauge nods to sooth the whole foot
Toe touch control feature
Cons
Read More: Conair Foot Spa
5. Dr. Scholl's Foot Spa – Invigorating Pedicure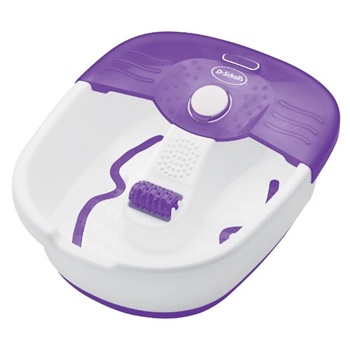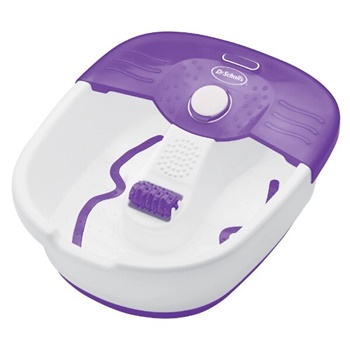 Are you tired of scrubbing your cracked heels every day? We can understand how hard it is and how the pedicure spas evaporate the money in your wallet. We present to you some stepped-up technology in the foot care field, your pedicure spa. This machine not only exfoliates your feet skin with smart heat soothing massage with bubbles but also soothes your constricted foot muscles.
We all adore soft heels and thus, buy expensive lotions and scrubs to rectify that, but Dr. Scoll's has brought you an even more convenient tool. The removable pumice stone feature softens your heels and relaxes your foot muscles simultaneously.
Its innovative features include a roller massager, which is a complete remedy for your strained feet. It also revives the freshness of your skin with a smart heating feature that maintains the temperature of the water. Moreover, it comes in an exquisite combination of lavender and white color with five fixable pieces. All these distinctive characteristics make it win among the others in the market.
Pros
Futuristic features
A complete spa package
Smart heat/ adjustable
Pumice stone that softens your feet
Roller massage to relax your feet inside out
Cons
You have to fill the unit with warm water
Limited color range
Read More: Dr. Scholl's Foot Spa
6. PowMax Foot Spa Multifunction Heat Infrared Vibrating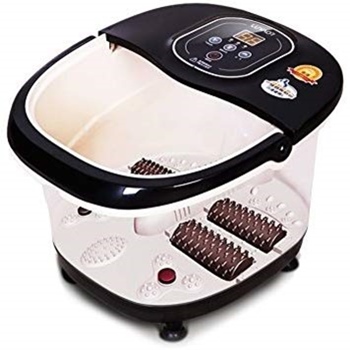 The PowMax foot spa is a multifunction massage unit that soothes your feet. To relieve fatigue and pressure from your feet, a heated warm spa is created and maintained by the use of infrared heating and insulation. Moreover, the safety design prevents overheating and allows reaching a maximum of 122F. Those who prefer manual shiatsu massage, this feature 4 massage rollers rolling down your feet with air bubble oxygen increases blood circulation and metabolism.
Also, the high-frequency vibration massage is no less! This all-in-one professional spa comes in a very stylish design made of high-grade plastic, a non-skid matt, handle, seal cover and universal caster for easy carrying and moving. PowMax foot spa is easy to use with just one touch start and the settings are monitored by an LED digital screen. The only drawback is that there is no water drainage tube.
Pros
Digital LED screen
4 massage rollers
Infrared heating
Easy to operate
Cons
Manual massage rollers
No tube for water drainage
Read More: PowMax Foot Spa
7. HoMedics Bubble Therapy Foot Spa with Heat Boost Power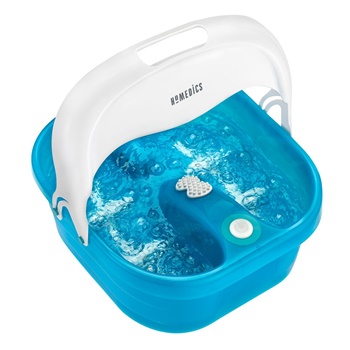 HoMedics Bubble Therapy Foot Spa features a plain yet effective design with 4 node manual rollers for a soothing foot kneading massage. The tub basin surface has small raised bumps called acu-nodes that stimulate blood circulation even when gliding feet on massage rollers. However, the basin is not deep but large enough for all foot sizes and comes with a toe-touch control that allows a hand-free operation and let feet handle the on/off.
The bubbles stream is very helpful for feet relaxation. Enjoy the benefits of bath salts and essential oils by adding in the spa material compartment. Moreover, to give you a more professional level pedicure, it comes with accessories like cleaning brush and pumice stone. Though the heating element works well to warm water to a favorable temperature, there is no thermostat.
Pros
Controls with Toe-touch
4 node rollers for a soothing foot kneading massage
Bubble massage
2-year limited warranty
Cons
No thermostat; temperature control
Read More: HoMedics Bubble Therapy
What Is a Foot Spa?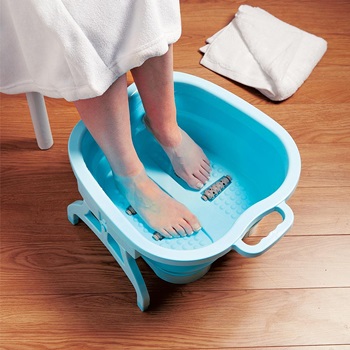 A Foot Spa is a device that functions to soothe your aching feet. It is a tube-shaped device that is filled with lukewarm water and various essential oils and bath salts of your choice. You submerge your feet in this mixture and let the device work wonders on the tensed muscles.
The unit massages your feet and gives you a spa-like foot treatment without you leaving your house to go to a spa. Not only does it relax your painful muscles, but it also tends to reduce all sorts of stress or uneasiness you might be holding onto. It gives your feet the attention and appreciation that they deserve.
Moreover, the device consists of different type of rollers and vibration features which give you deep tissue massage. Soaking your feet in water also tends to soften your feet which makes removing cuticles and dead skin very easy and painless!
Our feet require a certain amount of care that most of us forget to provide them with because of our busy routines. This device makes taking care of our feet much easier. It requires no hassle and does not take much of your time. Just soak your feet in the bubbling water all the while working on an assignment.
If you are someone that has to be on their feet for the majority of the day, a foot spa is going to save you from saying "My feet are killing me".  It is an easy and manageable solution for painful feet.
Foot Spa Buying Guide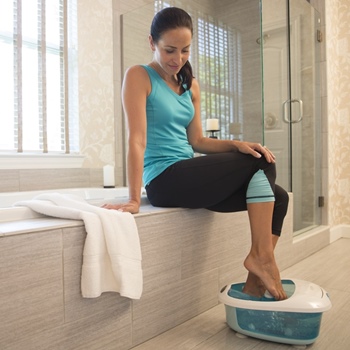 A foot spa can help you fight against many health issues. Therefore, finding one that befits your needs is important.
You should not buy the first item that you find on a site. It is always better to research as much as you can before settling for a single device. Even then, it is preferable that you read through reviews so that you can see all of its plus points as well as its negative points. For ease of use, you can make a checklist of the type of unit you want and buy the one that ticks most of the boxes off your list.
But this seems too much of a hassle! Having to go through multiple sites and articles is exhausting so we won't let you suffer. To help you make a checklist, we have researched extensively and came up with a list of all the features and factors you need to take into consideration before buying a Foot Spa unit for your use.
1. Features To Add To Your Checklist
1.1 Temperature Control
A good Foot Spa unit will help you choose different levels of temperature for your massage. It will not constrict you to two or three distinct settings. Hence, try looking out for a device that allows a variety of water temperatures so you can choose the level that best suits you.
Furthermore, the warmth of the water adversely affects the relaxation you will feel during your treatment. The problem with fixed levels is that the temperature can either scorch your feet or the warmth is not enough for an effective treatment.
1.2 Massagers
Try looking through the specifications of a particular device and see if it has massagers. Massagers include rollers and vibration function. These knead all the pressure points of your foot and dissolve the tension knots you might have.
A good foot massage should not only relax you, but it should also make you feel better and reduce depression. It elevates your mood and helps you get a nice sleep at night where you will dream of rainbows and candies and unicorns.
1.3 Oxygen bubbles
We have discussed above how heels and joggers can hinder the circulation of blood in our feet. We need a device that helps relax all the tense knots and encourages better blood circulation.
Oxygen boosts the blood flow in our veins and regulates a normal flow. Oxygen bubbles in a foot spa can help you with a better circulation through veins. This will not only help you stay fresh, but it will also provide you with many health benefits like eliminating toxins from the body and lower blood pressure.
1.4 Pedicure tools
Some Foot Spa units provide you with additional features like a pumice stone, manicure brush or a filer that helps to keep your feet clean and soft.
When we put our feet in water for a long time, the dead skin and cuticles on our feet soften up. This is a great time to remove the dead skin that covers your heels or the cuticles around your nails. A device that offers such add-ons should be considered since they stop you from spending money on the tools and they have everything that you need for a spa-like treatment.
1.5 Digital Display
A digital display will assist you in quick and easy operation. It will save you time. Even though devices that have a digital display are a bit expensive, buy one with the digital display as it will simplify the use of the device.
1.6 SafeGuard
A safeguard is an integral part of a foot spa. It prevents the water from spilling over. If your device has jets and bubbles, a safeguard is a crucial necessity since the chances of water splashes increase.
1.7 Drain Hose
You would have to drain the water that you use in the foot spa. For that, several units come with a drain hose that lets you easily drain the water without picking it up and tilting it. Therefore, a drain hose will probably cause less of a mess and drain the water more efficiently.
2. Factors to Consider While Buying a Foot Spa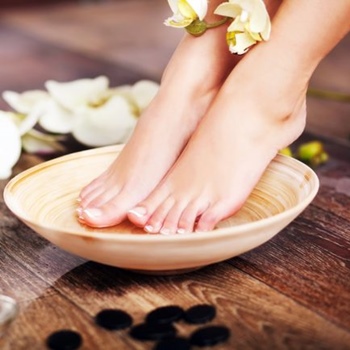 We have discussed various features that will aid in your therapeutic experience. Now we will discuss certain factors you should give a thought to before buying a specific device.
2.1 Ease of Use
This one does not need an explanation. You need a device that is easy to operate and does not confuse you with its display. A device with a simplified operating system will let you easily navigate the unit according to your preference.
Furthermore, it will save up a lot of your time. Who does not want that?
2.2 The Size
Foot Spas come in different sizes so check out its dimensions and find a size that will satisfy you the most. Different sizes of the unit can store different amounts of water and also, they have different depths. Therefore, you should find a device that is suitable for your personal use.
2.3 Durability
We all want to invest in a device that lasts for years and not merely weeks. So, go through the product details to check out its life span. Most commonly, plastic units last much shorter than other compact models.
2.4 Portability
You need a device that is easy to transfer from one place to another. A large, hefty device would be difficult to store as compared to a small one.
While some units have caster wheels for portability, others have bucket handles.
2.5 Noise level of the Motor
You want a device that gives you silent operation. A device that has a loud operation will not provide you with the relaxation you so desperately want. It will irritate you and cause you even more distress.
Try looking for a device that has minimal motor noise so that you do not even notice it when it is working.
2.6 Use of Bath Salts and Essential Oils
While some devices work perfectly well with the infusion of these minerals, other devices can stop working. Therefore, before settling for a particular device, check if it functions perfectly well even when you use different salts.
Even though it is not necessary to add Epsom salt or lavender oil in your water, they can help you relax. Thus, if you like different fragrances and extra care, check out your selected products user manual to see if it works flawlessly with these additions.
How to Use a Foot Spa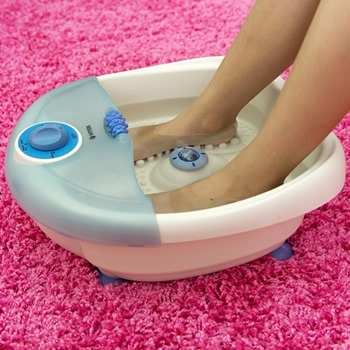 It is very easy to use a Foot Spa. Most foot spas these days have digital displays and easy-to-understand functions that users learn within the first few minutes of using the device.
Let's begin with a brief guide on how to use a foot spa.
1. Create A Soothing Environment
The first thing you need to do is find a place that instantly relaxes you. It can be your living room, your kitchen, or your bedroom. Find a place that is comfortable so you do not feel uneasy when your device is functioning. You can put on some relaxing music or even read a book.
2. Fill Your Device With Water
Fill the device up to the mark on it and make sure you do not overflow the tub. You can add room temperature water since most devices heat the water up.
3. Add Essential Oils Or Salt (Not Essential)
Essential oils and bath salts are not necessarily required but adding them into your water will give you a relaxing, spa-like treatment. Oils provide you with fragrance and give you aromatic therapy. Lemongrass, tea tree oil, and lavender are good options. On the other hand, Epsom salt and Apple cider vinegar are claimed to rid your body of toxins. However, this is a personal choice! You do not have to add these if you do not want to.
4. Turn The Device On Using The Display Or Remote Control
Foot Spa devices have a display system on the top where you can choose various features.  Turn your device on by pressing the designated button. Some devices also give you a remote control through which you can turn the power on or off.
5. Use The Temperature Controls On The Device
The display system has two buttons that help you customize the temperature you want your water to be warmed to.  Hence, adjust the temperature according to your preference.
6. Put Your Feet Inside The Tub And Relax For 10-15 Minutes
Now, that you have done all the hard work, put your feet into the tub, and relax. You can close your eyes, listen to music, and just let the worries of today seep away from your body and into the water.
7. Exfoliate Your Feet
After you have had a thorough massage using the device, your feet will be as soft as a baby's skin. Thus, this is a perfect time to use a pumice stone or a filer to get rid of the dead skin.
8. Drain the Water
Most foot spas have a drain hose that helps you to drain the water easily. Hence, after getting squeaky clean feet, drain the water from the device into a bucket and throw it away.
9. Use a Moisturizer for Soft Skin
Always remember to use a foot cream or a moisturizer after your treatment. They will assist in keeping your feet soft.
10. Cut Up Cuticles
If you've come this far, you might as well get rid of cuticles around your toenails. Clean your nails with nail polish remover to remove excess oils. Last but not least, if you like painted toenails, start applying your favorite nail polish!
Foot Spa Maintenance and Cleaning
The foot spa works wonders. It makes us thank mankind for being smart enough to create a machine that takes care of our feet and relieves them from aching muscles.
To ensure the hygiene and longevity of our beloved device, we need to take some extra measures to keep it shining in all its glory. We have described below the most basic and essential care tips that you should follow.
1. Drain the Water After Each Treatment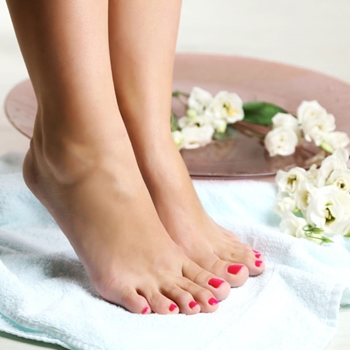 You must drain the dirty water in the unit after the application. Most devices have a drain hose that helps in easy drainage of the water. Even if your device does not come with an additional hose, discharge the water manually.
After draining, use a paper towel or washcloth to clean the interior of the unit. This will remove any type of debris that might be present in the tub. Furthermore, you should always change the water before every application. Using the same water for multiple treatments is unhygienic and can cause various infections.
2. Clean Your Unit with Soap or Detergent
Wiping a clean towel on the interior walls is not enough, therefore, the next step is to use a detergent or a soap to clean the walls completely. This will make your unit spotless.
3.  Use a Disinfectant
We have discussed how foot spas can rid our body of various toxins. Furthermore, different kinds of pathogens and microorganisms reside on the interior walls. We might have a shiny, polished foot spa machine but that does not ensure if it is free from different types of microbes.
Thus, a disinfectant is necessary so that it prevents any type of bacterial infection or virus from attacking you.
It is recommended that you leave the disinfectant on the surface for ten minutes and then rinse your tub with water.
4. Take Out the Removable Parts
Some foot spas have parts like the jets, filter screen, etc. that can easily be removed. Hence, detach these parts and thoroughly clean them every once in a while.
5. Properly Store the Device
Do not leave your device in the bathroom or any place you usually use it in. Most foot spa devices have built-in caster wheels or handles that help you move it from one place to another. Therefore, after use, put your unit into a storeroom so that it does not get in your way. Storing your device properly also reduces the chance of it meeting any type of accidents that might hinder its functionality.
6. Be Safe
Electric appliances need extra precaution since they can be dangerous. Remember to unplug your device and let it cool before rinsing it. Moreover, read the "user manual" to find the proper ways to clean your device. Do not use any type of unconventional methods described on the internet to clean your device. Stick to the conventional, properly tried methods of cleaning.
FAQ About Foot Spas
1. How often should I use the foot spa?
You can use a foot spa as often as possible. It is a device that is made solely for the purpose to provide its users with relaxation and painless feet at the end of the day. Therefore, there is no harm in its frequent use.
However, it has been suggested that using a foot spa once a day is enough.  Just remember to moisturize your feet after each treatment for softer, healthier skin.
2. Is a foot spa treatment with bath salts different from the one infused with essential oils?
No, there is no major difference between the two types of treatments. You can add salt as well as an essential oil in the water. Both types function to relax your aching muscles. It puts an end to your restlessness. They remove dead skin, different odors, and sores from your feet.
But be mindful! Do not over-saturate your water with different oils and salts since they can end up drying your feet. Hence, always keep a balance between the two.
3. Can diabetic patients use a foot spa?
Yes, they can use a foot spa but they would have to take extra care of themselves to avoid any complications. It is recommended that you talk to your doctor before using a foot spa, especially one with Epsom salt. Epsom salt treatment can elevate the foot damage that most diabetic patients have.
Wrap Up
We all know that a busy schedule hurts feet and the quickest way to relax is a foot spa. Treat your feet with care, they are important. A foot spa and warm soak are what you need to get your tiredness drowned after a long hectic day. Owning a foot spa has many benefits; not only it provides a massage and relaxes your feet, but it also improves your mental and overall health.
You can see from our foot spa reviews that each foot spa has its distinctive features and specifications and yet various familiarities as well. We hope that it is now easy to choose the best foot spa which is perfect in terms of function, effectiveness, and usage.
Bonus guide: facial steamer reviews