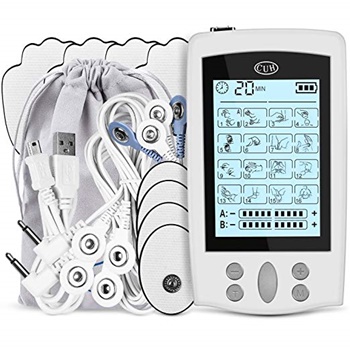 It can be very challenging to get a decent TENS unit in this day and age, and part of that comes from the fact that the market is overflowing with models. If you have come across this one before, you might have asked yourself whether it's worth spending your hard-earned cash on.
To give you a helping hand, we've put together a CUH TENS Unit Review, which you can check out below. We looked at the strong and weak points of the product to make sure that we analyze its performance as best as possible.
Features and Benefits
One of the coolest things about this model is that it comes with as many as sixteen pre-programmed massage modes for muscle-soothing and pain relief. The TENS unit is accompanied by 8 pieces of pain relief pads that do a great job when it comes to alleviating the symptoms of arthritis, backaches, and any types of chronic pain, in the end.
What's also worth noting about this product is that it comes with dual-channel modes. This means that you can select channel A or B or even both of them. You are free to adjust the modes and intensity levels individually. What this means for you is that you can get a more powerful stimulation on your lower back, for instance, but less stimulation on your shoulders, if that's what you prefer.
The compact design boasted by the option is another aspect worth writing home about. Believe it or not, it's so small that it can be kept in your pocket, so you can even use it while working in front of the computer from the office. The TENS unit is accompanied by a flannelette bag which you can utilize to expand the lifespan of the product.
As for the battery boasted by this device, you will be glad to know that it is rechargeable. Based on the claims of the manufacturing brand, it can charge in as little as one hour and it gives you a runtime of 6 hours.
Suggestions
It is not a good idea to use this massager on your head, above the neck, on your throat, over your mouth, or near your heart as the intensity of the vibrations could put your health in danger. Putting the electrodes of a TENS unit on your neck can lower your blood pressure or cause spasms. Pregnant women are not allowed to use this TENS unit, either, unless they talk to their physician beforehand.
If you have a history of cardiac health problems or if you're using a pacemaker, you should avoid utilizing this device, as well.
Maintenance
If you intend to use this TENS unit along with the rest of your family, it's a good idea to use a sanitizing solution and a microfiber cloth to clean the electrode pads after each session. Otherwise, you might risk causing dermatological problems to other people.
Specifications
Weight: 12 ounces
Intensity: 20 levels
Modes: 16
AC Adapter: 110-240V
What to expect from the CUH Dual Channel TENS Unit?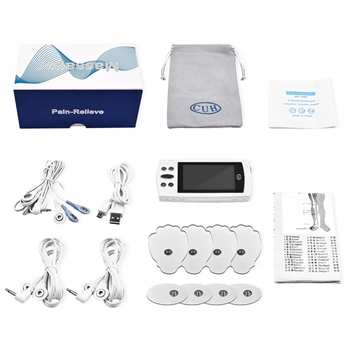 From what we have gathered by going through the reviews acquired by this model, it seems to meet and even exceed the expectations of most consumers. It's effective and inexpensive and the charging time and runtime are up to par. Many individuals report taking it easy with their pain pills after starting to use this device.
The user-friendly interface has been praised in some of the consumer reports, as well, as it seems that even less tech-savvy individuals can make the most of it.
Pros
Easy-to-use, versatile, and effective
Doesn't cost a fortune
The dual-channel design allows you to adjust the intensity separately for both pairs of electrode pads
Rechargeable battery renders it portable
Cons
The instruction booklet is said to be a bit confusing, so it might take you some time to figure out how to use the product.
Wrap Up
As you might have guessed from this CUH TENS Unit Review, this model is worth bearing in mind, especially if you are looking for a device that gets the job done and that doesn't break the bank. After all, it comes with all the right features, plenty of modes, and adjustable intensity.