TENS units send painless electrical signals through their pads to the nerves located under your skin, and having the best TENS unit to match your needs and requirements is a good start. These machines are excellent when it comes to relieving pain, whether it is acute or chronic.
In the following article, we will look at everything: health benefits, how it works, and how you're supposed to use it, and a lot more. Also, feel free to take a look at the TENS unit reviews below to get a better overview of things. Let's begin!
See The Quick Comparison Chart
TENS Unit Benefits
There are three main benefits to getting and using a TENS unit. Let's look at each.
1. Easy and Convenient Pain Relief
This is the first benefit that's worth noting. TENS units can provide you with much-needed pain relief. This therapy is non-invasive and doesn't cause the same adverse effects (in terms of number and intensity) like pharmaceutical medication. TENS units also call for no prescription, which means that you can order one without needing to go to a doctor. This can be particularly helpful for someone who doesn't have medical insurance.
Another difference between some types of drugs and using a TENS unit is that the latter doesn't cause addiction. You can simply use it whenever you feel pain or whenever you want to prevent it. It also doesn't hurt your skin and it doesn't leave any marks. It's safe, clean, and almost risk-free provided that you use the safety precautions.
2. Discreet and Portable Design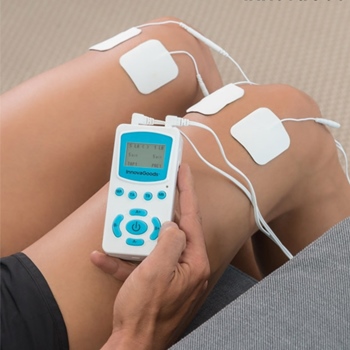 There are multiple types of products that can offer you some degree of pain relief, but many of them can be bulky and cumbersome. While that might not be the case of using a handheld massager, even a foot massager or a massage chair can take up a lot of space. They can also be more or less complicated to use.
TENS units are small and portable. The pads that they come with don't stick to any clothes. Plus, they are silent, so you can even use them in the presence of other people. We might even go as far as saying that you can use a TENS unit while you're at work, even with co-workers being near you.
3. Accessible to Most Consumers
In terms of design, TENS units are winners. They typically have a user-friendly interface, they can be easily used by anyone, whether they are tech-savvy or not, and they can be customized conveniently. Many of the ones that we have come across have a somewhat low starting price. You can get these without having to break your budget. Many people who suffer from chronic pain might not afford expensive equipment, so this is a benefit to keep in mind.
Best TENS Units Comparison Chart
PRODUCT
DETAILS

NURSAL TENS Unit Rechargeable Muscle Stimulator

Price: $
Customer Rating: 4.6
Electrodes Included: 8
Weight: 0.7 pounds
EMS: No
Battery: Rechargeable Lithium Battery

View On Amazon

TENS 7000 2nd Edition Digital TENS Unit with Accessories

Price: $
Customer Rating: 4.5
Electrodes Included: 4
Weight: 1.2 pounds
EMS: No
Battery: 9V Rechargeable Battery

View On Amazon

Healthmateforever FDA Cleared OTC YK15AB TENS Unit

Price: $
Customer Rating: 4.4
Electrodes Included: 4
Weight: 0.81 pounds
EMS: No
Battery: 3 AAA Batteries

View On Amazon

TechCare Massager Tens Unit Plus 24 [Lifetime Warranty]

Price: $
Customer Rating: 4.5
Electrodes Included: 6
Weight: 0.8 pounds
EMS: Yes
Battery: Rechargeable Lithium Battery

View On Amazon

Easy@Home Rechargeable TENS Unit + EMS Muscle Stimulator

Price: $
Customer Rating: 4.3
Electrodes Included: 4
Weight: 1.1 pounds
EMS: Yes
Battery: Rechargeable Battery

View On Amazon

CUH Dual Channels TENS Unit Muscle Stimulator

Price: $
Customer Rating: 4.4
Electrodes Included: 8
Weight: 0.75 pounds
EMS: No
Battery: Rechargeable Lithium Battery

View On Amazon

iReliev FDA Cleared TENS Unit + EMS 14 Therapy Modes

Price: $$$$
Customer Rating: 4.4
Electrodes Included: 6
Weight: 2.08 ounces
EMS: Yes
Battery: Rechargeable Lithium Battery

View On Amazon
Best TENS Units Reviews
1. NURSAL TENS Unit Rechargeable Muscle Stimulator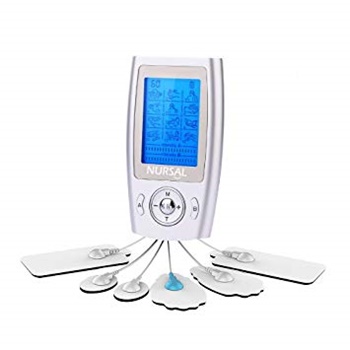 Even though it doesn't come with a somewhat standard setup, this unit is particularly good at what it's supposed to do. It comes with two different channels, one that can be attached to two different electrodes, and another that can manage as many as four. Therefore, you can make use of as many as 6 electrodes at the same time.
Furthermore, you will get two extra-large pads included in the package, which is an excellent bonus. A user-friendly and convenient carrying bag is part of the deal, as well. The unit is small and compact, so you needn't worry about it not being portable enough.
The most significant drawback that we have identified with regard to this product is that it tends to cost a pretty penny. This statement is even truer if you go through some of its competitors and look at their cost. Also, some customers have reported that if you drop the unit on the floor, it can break easily.
Pros
It can be charged easily from a USB port
Excellent battery life
Comes with plenty of extras
Allows you to use six electrodes
Cons
The quality of the sticky pads could have been better.
Read More: NURSAL TENS Unit Rechargeable
2. TENS 7000 2nd Edition Digital TENS Unit with Accessories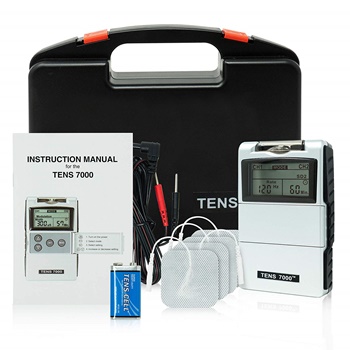 This is a really popular alternative, given that the manufacturing brand reports having sold over one million models. What's so special about it? First of all, the entire system weighs in at just 1.2 pounds, so it is quite lightweight. Even if you are interested in taking it with you everywhere you go, you aren't going to feel like it weighs you down.
Secondly, this is a dual-channel TENS unit, which means that you get not one, not two, but as many as four electrodes for targeted pain relief. Thanks to this model, you'll be able to say goodbye to the pesky pain that has been bothering you.
Whether you experience shoulder, elbow, knee, leg, or foot pain, or you have arthritis or neck pain, this model can be a little helper. While you can use just four electrode pads at the same time, there are ten included in the box. A hard carry case is included, as well.
Pros
Can operate as an individual channel or dual-channel
Several therapy modes
Set the intensity that you feel comfortable with
FDA-registered
Portable design
Cons
The instructions could be a little clearer.
Read More: TENS 7000
3. Healthmateforever FDA Cleared OTC YK15AB TENS Unit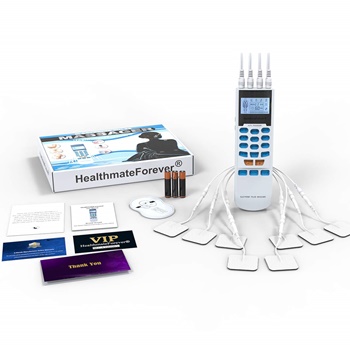 If you are in the market for an affordable choice, you might as well check out the specs of this one since it definitely fits the bill. It's adjustable and convenient, and many of those that have purchased it over time have reported that it is also easy to utilize.
The model comes with two different channels and it allows you to use as many as eight pads at the same time. This means that you will be able to get pain relief in several different parts of your body, or larger ones at once. The pads are a little on the smaller side of things, so you may want to replace them in the future.
What's rather neat about this alternative is that it comes with as many as 20 intensity levels. Therefore, it goes without saying that you can pick the one that best suits your needs and preferences. All in all, this product seems to offer great value.
Pros
Comes with 15 modes
You can use it with AAA batteries
Has 2 independent channels
Weighs in at just 13 ounces
Cons
It can take a little time getting used to.
Read More: Healthmateforever FDA Cleared
4. TechCare Massager Tens Unit Plus 24 [Lifetime Warranty]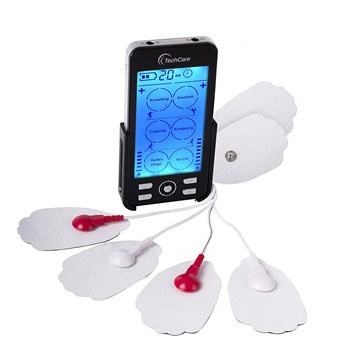 If you are a tech-savvy individual and you appreciate the design of some of the most modern devices out there, this one is definitely for you. It effectively looks like a smartphone, and it is outfitted with an easy-to-use and a rather nifty touchscreen. The controls are clearly labeled, which takes the guesswork out of its operation.
You can choose between any of the several modes boasted by this option. There are several intensity levels, as well, so you can basically customize the TENS unit as per your own personal needs. Based on the feedback acquired by this product, it seems that its battery tends to last for a decent amount of time even when it's used on the highest setting.
When it comes to charging the device, you will be glad to know that you can do so using any USB-powered electronics, whether it's a laptop or an outlet accessory per se.
Pros
Comes with six pads
Highly adjustable – it has 24 intensity modes
It is timer adjustable from 10 to 60 minutes
Powered by a rechargeable Lithium battery
Cons
This model isn't backed by a written warranty.
Read More: TechCare Massager Tens Unit Plus 24
5. Easy@Home Rechargeable TENS Unit + EMS Muscle Stimulator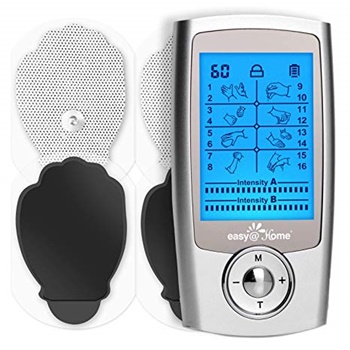 If you regularly experience muscle tension and pain, this model should be the first one on your list. It's a TENS unit and an EMS stimulator all into one, so you will be able to get both pain relief and muscle stimulation. The portable design boasted by this option is another benefit in itself, since you are going to be able to carry it everywhere with you.
It weighs in at just 1.1 pounds, so it can be considered reasonably lightweight. Since it is outfitted with a rechargeable battery, you don't have to worry about not having a power outlet nearby. As usual, we have to note that this type of unit is not recommended to people which cardiac health issues, such as those who have a pacemaker.
If you are pregnant, suffer from epilepsy, or have various metal medical devices or screws implanted in different areas of your body, this one is not for you. The manufacturing brand doesn't recommend using this unit while you exercise.
Pros
Features a rechargeable battery
Comes with 20 intensity levels
Has 16 modes
Offers both TENS and EMS
8 massage types and 2 independent channels
Cons
Some customers wish that the intensity was a little stronger.
Read More: Easy@Home Rechargeable TENS Unit + EMS
6. CUH Dual Channels TENS Unit Muscle Stimulator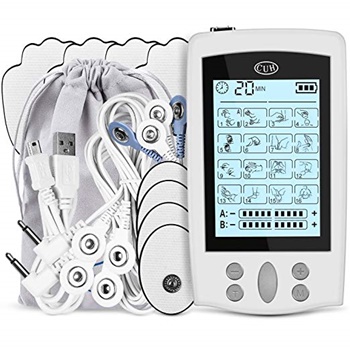 Excellent adjustability is what you will get if you decide to go for this option. It comes with more than enough modes, intensity levels, as well as electrodes. The controls can be used conveniently and easily, as well, and it usually doesn't raise any technical difficulties to seniors or people less accustomed to technology.
Some of those that have taken the time to express their views on this product say that it does lack a bit in terms of intensity and power. If you need to handle a lot more pain, this one might not be for you. However, for folks that experience occasional pain in different areas of their bodies, this can be a little helper.
A highly functional travel case is included in the deal, so you can take this unit with you without worrying about getting it damaged. Similarly to some of the other products in our selection, this one boasts a rechargeable battery.
Pros
Comes with dual-channel modes
Small, compact design
The battery can last for as many as 6 hours
16 programs
20 intensity levels
Cons
It does not include an A/C adapter. It just comes with a USB cord.
Read More: CUH Dual Channels TENS Unit
7. iReliev FDA Cleared TENS Unit + EMS 14 Therapy Modes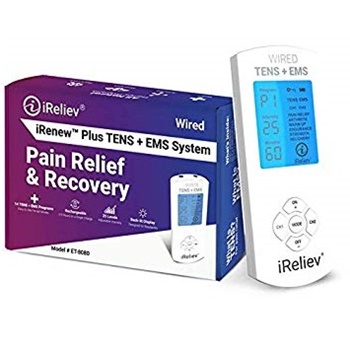 The best thing about this product is that it offers you both TENS and EMS. The first can allow you to deal with pain management as best as possible whereas the second can promote muscle recovery. In terms of portability, you'll be glad to know that this product is compact, as well as lightweight and that it is powered using 3 AAA batteries or its own. This means that you can get batteries almost anywhere in the world.
The unit comes with a timer and you can customize the length of the sessions from five to sixty minutes. The only real drawback that we have identified with respect to this device is that it doesn't come with any particular programs. It has fourteen massage modes, but no programs.
The size of the LCD screen is 2.20 inches, which means that most people can utilize it without any difficulties. It's one of the largest screens available in TENS units that don't look like smartphones. Plus, it's backlit.
Pros
6 muscle conditioning modes, 1 arthritis mode, and 7 pain relief modes
The battery lasts for 2-3 hours after every charge
It weighs in at just 2.08 ounces
Can be used with disposable batteries and a rechargeable one
Cons
Some customers report that the rechargeable battery lasts for just one hour.
Read More: iReliev FDA Cleared TENS Unit
What is a TENS Unit?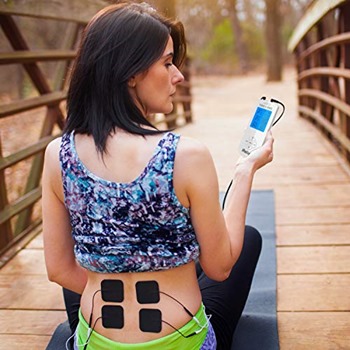 TENS (Transcutaneous Electrical Nerve Stimulation) is a therapy technique that is used for relieving pain. It uses current, voltage, as well as the pulse width of an electrical signal. The signal that's produced by the device is then transmitted to the patient's skin via the electrodes included.
Since human bodies are different, most TENS units come with generous customization features, so that everyone can set the intensity, as well as the duration of the session. The difference between TENS therapy and using pharmaceutical drugs to get rid of the pain or alleviate it consists of the fact that the first has no side effects.
What is an EMS Device?
Electrical Muscle Stimulation (EMS) is a therapy that's specifically designed to provide muscle stimulation and prevent muscle atrophy. If you don't use your muscles for a long time, which can happen in situations such as a person being bedridden, they gradually lose their tone, and they also weaken. If a bedridden patient gets healthy again, they aren't going to be able to walk properly or perform their usual movements because their muscles aren't going to be able to maintain their body position. They would be too weak to perform this task.
EMS devices are particularly helpful under these circumstances as they send out electrical impulses into the user's muscles. With regular and adequate stimulation, the muscles are able to receive more blood, and therefore, more oxygen and nutrients. In a nutshell, EMS devices can be used to improve muscle flexibility, increase muscle strength, as well as reduce muscle pain.
TENS units vs. EMS Devices
As we have mentioned, EMS devices are great for stimulating muscles.
TENS units, on the other hand, are specifically made to alleviate chronic pain conditions or nerve-related pain. TENS units don't stimulate the muscles per se, but they do stimulate various nerve groups, depending on where the electrodes are positioned. The electrical impulse is sent through the nerve strands, which stimulates your body to produce more endorphins (natural painkillers) and also makes it harder for the pain signals to reach your brain. In this post, we'll focus on TENS units.
How Does a TENS Unit Work?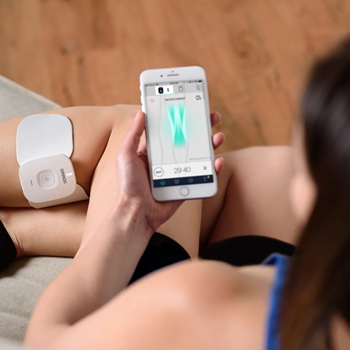 The electricity produced by a TENS unit travels through the conductive sticky pads that you will apply to your skin. The nerve endings in that area will be stimulated. There's this theory according to which stimulating nerves to the point that they go on overload makes it impossible for them to receive additional electrical impulses, including those that are transmitted from the brain. Therefore, you basically feel less pain by tricking your body.
According to the other theory, the stimulation to your nerves makes your brain produce more endorphins. Known as an antidepressant and natural analgesic, endorphin is a hormone can make you feel great, similarly to how you'd feel when getting a great massage.
In the end, it's very likely that a TENS unit causes both of these effects. Whatever might be the case, the truth is that TENS units use electricity to offer you pain relief, and they seem to do their job quite efficiently.
TENS Unit Buying Guide
Finding the right TENS unit can be more or less challenging. There are so many different options available for sale nowadays that you might end up feeling a little baffled as to which one to pick. Luckily for you, we have created a comprehensive guide on how you can select the perfect model. Check it out below.
1. Channels
The majority of TENS units can offer one or two channels, but some can use four. If you have a one-channel unit, the intensity levels of the electrodes are adjusted using one dial. For the models that have two channels, half of them can work on one intensity level, while the other can work on another intensity, all at the same time. You can treat two separate areas at the same time.
TENS units that have four channels can be used to treat four different body areas at the same time or treat one or two people simultaneously. A unit with more channels is a little more complicated to work with, but it's always a good idea to have more rather than just one.
2. Programs or Modes
The programs of the device shouldn't be confused with the intensity levels. Programs can have different pauses between pulses or different lengths of the electrical pulse. Some of the modes can be particularly helpful for relieving different types of pain.
With some models, this becomes even easier. You can select the body area that you are looking to get treatment for, and the unit will automatically select the right electrical pulse length and the correct time for the pause. This will make the entire experience a lot more enjoyable and easier for you.
3. Timer
Since it's highly advised to use your TENS unit in sessions that last for no more than 15 minutes at a time, you need to have a timer to set the device as per your needs. The timer can both protect the lifespan of the model in the long run, and it can also make sure that you don't overuse it and hurt your body. Don't forget that utilizing a TENS unit for a long amount of time can cause bruising and additional pain.
4. Intensity Levels
Adjustability matters a lot. Every user needs to customize the intensity of the nerve stimulation as per his or her specific needs. Low intensity works great if you have severe pain and you can't handle too much stimulation in that area. Higher intensities are great if you position the electrodes around the area that's painful so that the nerve stimulation is indirect and it doesn't affect the body region directly.
Needless to say, many TENS units nowadays come with different intensity levels. But the more you have available, the more you might notice that there can't seem to be a difference between one and the other. Make sure that the model you invest your hard-earned money in comes with at least 3 intensity settings (low, medium, and high).
5. EMS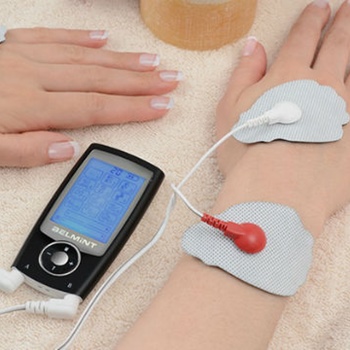 There are TENS units that also come with an EMS feature, but many don't. If you also want to get muscle stimulation besides pain relief, this could be a characteristic that you should consider. Some models have special programs for EMS, while others can produce EMS instead of TENS depending on how you customize the settings.
Generally, the devices that have both of these functions are considered to be more versatile. You get the best of both worlds. They might cost a little more compared to their regular TENS counterparts, though, so keep that in mind.
6. User Interface
If you intend to shop for a TENS unit online, it can be somewhat difficult for you to tell how easy it is to use. Some social categories, mostly represented by the elderly or people who hate using technology, can have a hard time using a TENS unit. For more information on how user-friendly the interface of the device is, be sure to read some of the reviews that consumers have put together of it.
7. Screen
The screen of a TENS unit can be backlit or not. It's better to get a backlit one since you are going to be able to look at the settings at all times, no matter if the sun is shining directly on the display or not.
The other consideration when it comes to the screen is its size. Sure, smaller means more portable, but it's also going to be more difficult for you to see the adjustments you need to make or the settings you have chosen. Larger ones are easier to use and more convenient, especially for people who aren't really tech-savvy or have poorer eyesight (such as seniors, for example).
8. Battery
There are two options you should consider. The first is to get a rechargeable TENS unit, which would naturally provide you with portability. You'd be able to take it with you everywhere you go, including at work. The second is getting a model that needs to stay plugged into an outlet for you to be able to use it.
Models that boast rechargeable batteries have low operating costs. Whenever it runs out, you can connect it to an outlet or a USB-compatible device and get it charged once again. Some TENS units can be powered using AA or AAA batteries, which can also be convenient since they are usually inexpensive and they can be found in pretty much any store.
A small number of units can be powered using 9V batteries. They do last longer compared to their AA and AAA counterparts, but they are harder to find. They also cost more. In the end, if portability isn't that important for you or you always have access to an outlet wherever you go, you should get a corded unit. It's more reliable overall.
9. Extras
Every TENS unit is accompanied by two very important accessories. Along with the main component, you will also get lead wires, as well as electrode pads. Both of these can have a say when it comes to the user's experience.
Electrode pads can be large, medium-sized, or small. The small ones can offer pain relief if you tend to suffer from joint pain or muscle knots. Unfortunately, they are incapable of covering a large surface of your body. If you want to massage your whole body using them, it's going to take a lot of time. However, if you experience pain in a small and specific area, they can be quite useful.
Medium pads are good as they can offer pain relief to a decently-sized bodily area. Large ones definitely speak to the needs of potential users who have no time and patience. These are the only electrodes that are capable of massaging large areas such as a leg at a time, your chest muscles, or a good part of your back.
The lead wires have to be as long as possible. If they are short, they aren't going to offer you the freedom you need in terms of positioning yourself a little further from the main unit.
10. Size and Weight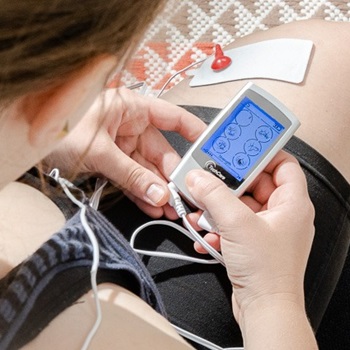 Both the size and the weight of the product affect its portability. Some might argue that smaller options are better, but that's not exactly the case. The design of the unit plays a significant part when it comes to portability, as well as usability. With a small screen, you'll perhaps have a hard time reading the info displayed. Tiny buttons are complicated to work with, as you risk pressing two at the same time.
For these reasons, a medium-sized model can most likely give you the best of both worlds. Also, if you intend on sharing the unit with a family member or a friend, it might be a good idea to get one with more electrode pads or channels.
11. Warranty
The warranty offered by the manufacturing brand can be a great indication of whether it's going to last or not. While some companies back their products with a lifetime warranty, especially on the main unit (maybe not the electrodes, since they're constantly subject to damage), there are others that don't offer any warranty at all.
In most cases, however, you will get a 30-day guarantee option where you are able to return the product should you not be satisfied with it during that time span. Usually, you get either a refund or another product if the one you have received has arrived damaged.
12. FDA Approval
Each device that directly offers health benefits or can be helpful in monitoring your body function should come with an FDA approval. However, that doesn't happen with many models, particularly those that are manufactured in different parts of the world.
Given that they aren't considered dangerous machines, TENS units can be sold without having received an FDA approval. In any case, getting an FDA-approved alternative can allow you to rest assured that it is completely safe to use. The administration's tests have made sure of this.
How To Use a TENS Unit?
Using a TENS unit isn't too difficult, but there are some things that you should definitely be aware of. You first have to clean your skin and make sure it's dry. Do that before you apply the electrode pads. Don't use any gels or creams. You can clean your skin with water and soap or using alcohol.
You should then place the pads on the skin and make sure that they are stuck to it. Plug the pad wires into the unit, then start with the lowest intensity level. You can go up from this setting if you feel that you're not getting enough stimulation. Once ten or fifteen minutes have gone by, turn off the TENS unit, unplug the electrodes from it, and then remove them from your skin.
If you have a rechargeable model, make sure that it is charged enough before you use it. Before charging it again, it is highly recommended that you completely deplete the battery. This way, you can extend the battery life.
FAQs About TENS Units
1. Under what conditions should you not use TENS units?
First of all, you should never place the electrodes that the TENS unit comes with on your head or other highly sensitive bodily areas. You should also avoid placing them near your carotid artery, on numb areas, varicose veins, or on irritated skin. If you are suffering from some chronic medical conditions, you should not utilize a TENS unit as you might put your health in danger. These include a heart condition, poor circulation, any type of malignancy whatsoever, as well as epilepsy.
2. Are there any side effects of TENS therapy?
The electrical impulses that such a device produces can cause prickling, buzzing, or tingling sensation. Many people will find this to be uncomfortable. Furthermore, some individuals could be allergic to the adhesive pads that the machine is accompanied by and that you should use to actually get the therapy. Placing the pads on your neck can cause spasms or lower your blood pressure. It's forbidden to place them on your eyes as they can increase pressure to the point that they cause a severe injury.
3. Is using a TENS unit while pregnant safe?
It's generally acknowledged that you should avoid using a TENS unit if you are pregnant. Pregnant ladies shouldn't be exposed to any risk while utilizing electrotherapy, but that doesn't mean that the electrical impulses can't affect the fetus.
If you are pregnant already or you're planning to have a baby, you ought to have a talk with your physician and OB-GYN before you decide to use a TENS unit. If your doctor does allow you to utilize one, we would suggest placing the electrodes well above your uterus.
4. Can you overuse a TENS unit?
Of course. We've already discussed some of the side effects that you might experience. It also comes down to causing irreparable damage to the device. If it overheats, it's very likely that some of the wirings might get damaged, which means that it would become unusable.
5. How long does TENS pain relief last?
Some studies have suggested that the post-stimulation analgesic effects of TENS therapy can last anywhere from five minutes to eighteen hours. The pain levels of some patients don't return to those that they experienced before the therapy even after a whole day. It all depends on your body, how many times you use the device (in short sessions), and whether you suffer from chronic pain or not.
6. Can you use two TENS units at a time?
Since some TENS units can cost a pretty penny, if you want to get as many pads as possible, we would recommend investing in a model that comes with four instead of two. The cheaper options are often equipped with just two pads. Single-channel machines can't be added any more channels or pads to.
7. How long should you use a TENS unit?
Ideally, you should start with one 10 to 15-minute therapy session. If necessary, you can repeat it for another quarter of an hour. In any case, it is a good idea to avoid using the model for more than two or three times per day. Rate your pain before each therapy session from 1 to 10. Try to gauge the reduction of pain as best as possible.
Wrap-Up
We hope that all of the information that we have included in this article has helped you understand what the best TENS unit can be for you. As you might have noticed, the health benefits of utilizing such a device are many, especially for people who experience a lot of pain.
As usual, we'll end our post by suggesting that you take the time to read as many TENS unit reviews as you can. Other users can let you know a lot of things in terms of how the model you're eyeing functions, whether there are any problems with it, and whether it's really good at what it's supposed to do.
Bonus guide: portable massage table reviews