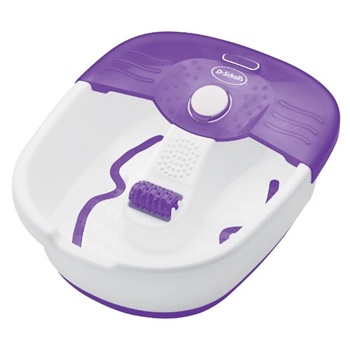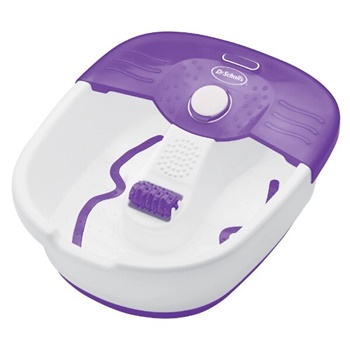 Dr. Scholl's foot spa is a great foot bath that you should consider if you're looking for great value for a reasonable price. This brand has an excellent reputation since it was created by an orthopedic specialist. The unit is easy to use and convenient and it will allow you to get a nice and soothing foot massage at the end of a hard day. Read our Dr. Scholl Foot Spa review to find out more.
Features and Benefits
Having been crafted using durable plastic, this foot spa has a good chance of standing the test of time. It features an elegant design and its weight makes it possible for you to carry it with ease, especially when it is already filled with water. The foot spa provides a relaxing experience, but it does lack some features, especially when compared to some of the other models out there.
It's quite affordable, so you are not going to have to break your whole budget to be able to purchase it. However, it does not have a heating element, which basically means that it is incapable of heating up water on its own. The brand does claim that the unit is capable of maintaining the water temperature for a while, but that usually doesn't happen for more than fifteen minutes.
Another thing to keep in mind if you are considering this alternative is that you are allowed to use it with essential oils and epsom salts. This makes it stand out from the crowd since there are many foot spas out there that prohibit the use of these products due to the risk of them getting clogged. For more info on this, we suggest reading the user manual that accompanies the unit.
The model is outfitted with a roller in the center and you can run your feet over it to deliver a focused massage to some specific parts of your foot. This feature seems to be particularly helpful for massaging arches. Additionally, the model comes with a removable pumice stone that you can use for exfoliation. This is a nice extra that increases the value of the product.
The foot massager by Dr. Scholl's produces bubbles for a light and soft massaging sensation. Even though the unit doesn't heat cold water, it is quite safe and reliable. The pedicure functions, the nail brush with a handle that hooks onto the rim of the basin, as well as a set of nail clippers, can be included in the offer depending on the deal that you go for.
Specifications
Size: 13.9 x 16.4 x 7.7 inches
Weight: 4.1 pounds
Voltage: 110V
What to expect from Dr. Scholl's Foot Spa?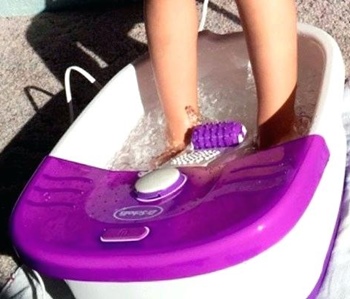 Just like any other basins out there, Dr. Scholl's model has its limitations, so you need to understand that you are not getting an electric foot bath which heats up the water. The unit is also rather shallow, which is why it is recommended that you place a large towel underneath it so that it catches any of the sloshed water.
Also, because of its size, the model doesn't address people with particularly large feet. It also makes a bit of noise, but from what we've noticed, not many consumers are bothered by the sound.
Pros
Easy to clean design
Small enough to be stored anywhere in your home
Can be used with various foot care products
Cons
The bubbles that the unit makes aren't too strong and that seems to bother most users.
Wrap Up
Despite being one of the most budget-friendly options currently available, Dr. Scholl's Foot Spa is also among the most basic ones we've found. It strictly speaks to the needs of people who don't like complicated devices and who would rather get a basin that doesn't heat up water. In the end, we hope that our Dr. Scholl Foot Spa review has given you a clue as to whether it's a good option for your expectations.