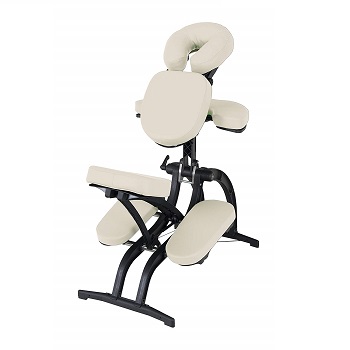 If you are prepared to make an investment and get a highly effective and easy-to-use portable massage chair that stands the test of time, then you should consider this EARTHLITE model. It's one of the most rugged units in this category, so it is likely to stand the test of time.
For more information on how you can make the most of this option, its pros, as well as its cons, we suggest that you take a little time and read our Earthlite Avila II Portable Massage Chair Review below.
Features and Benefits
One of the coolest things about this choice is that it can be used on a variety of clients. Its maximum working weight is 350 pounds, which is realistic. Even though some of this chair's competitors are marketed as having a working weight of more than 350 lbs, the fact of the matter is that they rarely can accommodate bodies larger and heavier than that.
Additionally, you might want to know that this product is highly adjustable. Thanks to its customization features, you can use this massage chair for people with heights between 4'6" and 6'6". Therefore, even if your patient is very short or very tall, you can adjust this chair so as to speak to their physical attributes.
The chest pad slides and tilts and the face cradle is fully adjustable. You can even adjust the armrest so that your clients are as comfortable as possible. The Earthlite chair is generously padded and comes with removable cushions, which means that it can be cleaned with little to no effort.
Another aspect that we would like to note about this product is that it can be folded compactly. Since you will receive a lined ballistic nylon carrying case along with your purchase, you will be able to carry the chair conveniently and easily. The case comes with wheels.
Suggestions
As the user manual might suggest, it is a good idea to avoid exceeding the total weight capacity of the chair. If you do this, you are effectively jeopardizing your clients' health and safety. Pick a sturdier massage chair for your heavier patients.
Maintenance
Thanks to the material that was used for the covering of this massage chair, you are going to be able to clean it with ease. All you need for the task is a damp cloth and some sanitizing solution, provided that it works with synthetic leather. You can also use wet wipes or a sanitizing spray, depending on your personal preferences.
Specifications
Size: 49x20x35 inches
Weight: 22 lbs
Weight capacity: 350 lbs
Material: PU Leather
What to expect from the EARTHLITE Avila II Portable Massage Chair?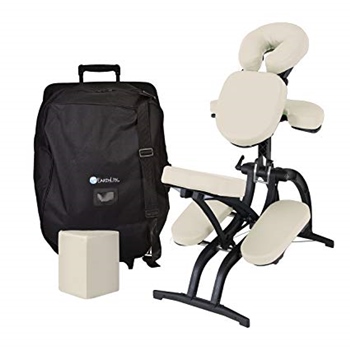 Most of the individuals who were kind enough to provide feedback with regard to this product say that it is reliable, easy to adjust, and quite sturdy. Some have reported some minor setup issues, but fortunately, the unit is accompanied by an instructional DVD where you can actually see how you can put it together.
Some massage therapists have noted that their clients love it and that it is cushiony enough. The frame is durable and stable and the cushions are comfortable.
Pros
Comes with removable pads for convenient cleaning
Weighs in at 22 lbs
Has a decent working weight
Highly adjustable, so it can be used on both short and tall people
Cons
Since it can be adjusted in so many places, it takes a while for you to disassemble it.
Wrap Up
As you could tell from this Earthlite Avila II Portable Massage Chair Review, this is a model recommended for massage therapists who want a portable unit that does what it's supposed to do and does it well. It's durable and rugged and that's why it's also very safe.
Even though it is a little less affordable compared to others in the same line, this massage chair definitely offers great value. After all, you get what you pay for.