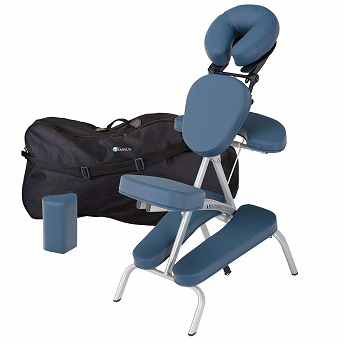 If you have done some research on portable massage chairs in the past, you might have come across this unit by Earthlite. It's one of the highest quality and capable models that we have stumbled upon and it's recommended for anyone who's just starting out in the business.
To find out as much information about the features of this product, we suggest that you take the time to read our in-depth EARTHLITE Portable Massage Chair Review.
Features and Benefits
This particular chair has a somewhat small footprint and it weighs in at around fifteen pounds. This means that it is among the lightest products in its category, therefore allowing you to carry it easily and conveniently from one client's home to the next.
As for weight capacity, this model can support up to 300 pounds of weight, so it's not exactly made for heavier patients. You do have to consider that besides the weight of the client, you also have to add the pressure that you will apply when giving them the massage.
What's really neat about the Earthlite unit is that it is very comfortable. It comes with generous amounts of Pro-Lite foam padding, and even though the upholstery is PU leather, the company has patented a type of covering (called Naturesoft) that stands up better to transport and daily use.
When it comes to adjustability, portable massage chairs need to be as customizable as possible as everyone's body is different. Many of the reviews that this unit has received say that it can be adjusted quickly and with minimal effort. You can adjust the height of the seat, armrest, and that of the sternum pad.
Additionally, it's worth noting that the Earthlite is accompanied by a number of accessories that you wouldn't get when purchasing other models. In this sense, it includes the extra sternum pad, as well as a duffel-style zippered carrying case.
Suggestions
Based on the information that we have found about it, it appears that this unit is wobbly only when it is used on an uneven floor. Otherwise, if it sits on a flat surface, it doesn't wobble at all and is very sturdy. This is what many of the customers have said about it, so you're getting your info straight from the horse's mouth, so to speak.
We advise you to avoid exceeding the weight capacity of this product, as the user manual suggests, as well. Doing so can make it unsafe for your patients, and the last thing you might want would be for them to suffer from an injury due to this issue.
Maintenance
Cleaning this unit requires little to no effort as you are allowed to wipe it clean. However, since it is a little more specific compared to other types of material, the Naturesoft fabric does require a bit more care. Avoid spilling hot liquids on the coverage because it might get stained, even though it is quite durable.
Specifications
Size: 29x19x51 inches
Weight: 15 lbs
Weight capacity: 300 lbs
Material: PU Leather
What to expect from the EARTHLITE Portable Massage Chair?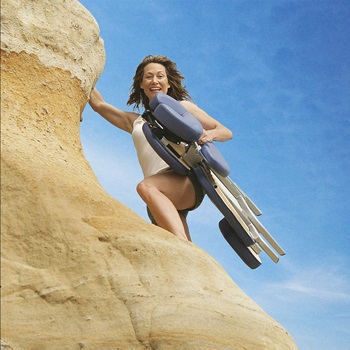 Some of the people who have invested in this alternative say that they have loved that the headrest is adjustable, which means that it's a cinch to accommodate each person for the right angle. The sternum cushion makes the massage experience quite comfortable for the client, too.
Overall, the feedback is favorable and many individuals recommend it for regular chair massages and therapists who don't want a heavier, bigger, and bulkier chair.
Pros
Very easy to use and adjust
It can be assembled and disassembled in a matter of minutes
It weighs in at just 15 pounds, so it's among the lightest options in this line
Lots of cushioning adds to the client's comfort
Cons
The weight capacity isn't something worth writing home about as this product can't be used for heavier individuals
Wrap Up
If you need a lightweight and convenient massage chair, this Earthlite option is definitely worth looking at. It does tend to cost a pretty penny compared to others, though, so it's going to be an investment. Hopefully, this EARTHLITE Portable Massage Chair Review has told you everything you need to know about the model.