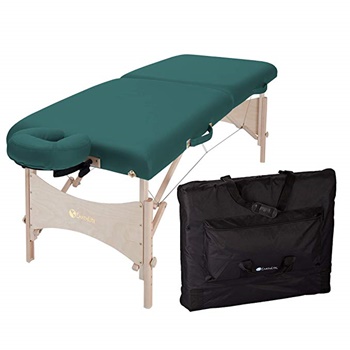 If you would like to invest in a really good-quality massage table that lasts for as long as possible, you probably know that it's likely for it to cost a pretty penny. This is the case with this Earthlite model, but we might argue that the value offered by the unit outweighs its high cost.
Since it is always a good idea to make an informed decision, we suggest that you take some time to go through our EARTHLITE Portable Massage Table Review. We put together this article for your consideration so that you know the most important things about the table's pros, cons, features, and benefits.
Features and Benefits
The most important aspect to take into account when shopping for portable massage tables is their quality. Well, you will be happy to know that this unit has no chance of disappointing you in this respect. It is made with great materials and it's quite likely for it to last for many years to come.
The Earthlite alternative is designed for durability and that can be seen in its non-slip hardwood legs, full-length piano hinge for an extra amount of strength, and even its ergonomic knobs. It's also worth noting that it comes with eye-catching dual maple outlets. So, as you can see, it has almost everything that you might ever wish for in a massage table.
Additionally, the unit is made from sustainably sourced hardwood, which means that you are going to be conscientious about the environment if you decide to go for this option. The brand supports organizations such as Sustainable Harvest International or Trees for the Future, so this massage table definitely speaks to eco-friendly prospective buyers.
On top of everything, the table comes with a patented adjustable face cradle. What does this mean? Well, the massage table package includes this deluxe headrest that's adjustable and that boasts a cloud fill poly-gel blend that cradles the customer's face as comfortably and effectively as possible. Your client will feel at ease all throughout the massage experience thanks to this addition.
Suggestions
Assembling and disassembling this massage table can be done with minimal effort, as attested by the many reviews that the unit has received in this sense. As the user manual suggests, all you have to do is to release two buckles, flip the table open, and then fan the legs out. The cables that the product is equipped with control the leg spread in a perfect way.
Maintenance
One thing we would like to note about this product is that it doesn't come with a surface covered in vinyl or PVC covering. This can be both an advantage and a disadvantage at the same time. With a shiny surface, you have the benefit of wiping it, and you can clean it with ease. On the other hand, it can be cold to the touch, which is off-putting for a patient.
This fabric feels soft and supple to the touch, but since it is not oil-resistant or waterproof, you do have to be careful and cover it appropriately.
Specifications
Size: 73 x 30 x 33 inches
Weight: 33 pounds
Cushioning: 2.5" dual layer
Working weight: 600 lbs
What to expect from the EARTHLITE Portable Massage Table?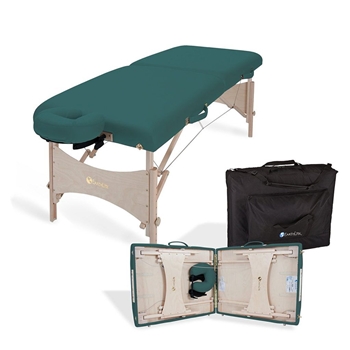 Many of those that have invested in this choice have nice things to say about it. Some customers describe it as easily adjustable, extremely solid, and boasting excellent quality wood and woodworking. The table can take some time to show up at your doorstep, though, since some customers report receiving it about 10 days after placing the order.
In case you run into any issues with the quality of the product, we suggest that you get in touch with the brand as it is really good when it comes to replacing faulty products.
Pros
Stable thanks to the rugged construction
Very comfortable due to the thick padding
Adjustable face cradle
Made to last for a long time
Cons
Since the table weighs in at 33 pounds, it's not the lightest in the category
The carrying bag included in the purchase could be manufactured better — it's definitely not as durable as the table itself
Wrap Up
What we liked the most about this product is that it is well made. It doesn't squeak as you fold and unfold it and it doesn't rattle when it's being set up. We hope that our EARTHLITE Portable Massage Table Review informed you with regard to everything that you have ever wanted to know about it.