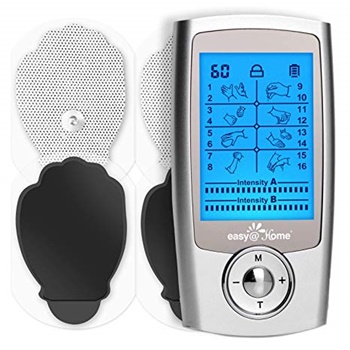 If you've been looking into getting a good TENS unit because you've heard that they are great for relieving pain, this model could be one you might have come across. Like any other consumer, you might have asked yourself whether it is worth considering or if you should look at something different.
Well, you'll find out as much as you can about the device's pros, cons, benefits, and performance in this Easy@Home TENS Unit Review.
Features and Benefits
This product is on the lower side of the pricing scale, especially since it comes with both TENS and EMS features. It is easy to start out of the box and it has a plethora of standard features. It does lack some newer upgrades, though, such as a wireless function.
The battery runtime is estimated at around four hours. Of course, that depends on how often and how long you use the TENS unit. With as many as sixteen modes and twenty power levels, this unit is highly customizable for most individuals, situations, and needs.
You are free to use it along with other members of your family or your partner, for example. The best thing about it is that it is discreet enough to be tucked into your pocket, so if you want to get some pain relief at the office, you can do that, too.
The model's features definitely go beyond pain management. Naturally, both athletes and those who suffer from chronic pain will find benefits in using this portable TENS unit. However, continuous stimulation will help with your muscle firmness and tone, and it will also increase your local circulation.
The model is accompanied by four latex-free electrode pads. What's also worth noting with respect to it is that this is a dual-channel device, so you can control two electrode pads individually from the other two. If you intend to use the product very often or even several times a day, you should get some pad replacements.
Suggestions
As we have noted already, this device is highly customizable. There are as many as eight massage types and sixteen unique modes. The strength level goes up to 20, so it suits most people's needs. As for the timer, it can be adjusted up to 60 minutes of continuous use.
What we would suggest is for you to start with the lowest possible intensity so that you don't risk hurting yourself. For more info, it might be a good idea to read the instruction manual.
Maintenance
If you intend to share this TENS unit with other people, you should use a sanitizing spray or sanitizing wipes. During every session, you might sweat, so wiping the electrode pads clean is absolutely necessary to make sure that you prevent skin disorders.
Specifications
Weight: 14.4 ounces
Battery: Rechargeable
Electrode pads: 4
Backlit screen: Yes
What to expect from the Easy@Home Rechargeable TENS Unit?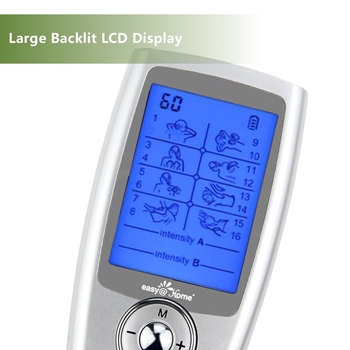 Most of those that have decided to give this model a shot seem to have nothing but favorable things to say about the way it works. Some have even gone as far as to compare its performance with physical therapy, in that it really provides them with excellent pain relief.
It's also very easy to use, which means that it can be a friend in need for people suffering from chronic pain or for seniors.
Pros
User-friendly interface
Dual pads let you customize the modes and intensity per each pair of pads
Portable thanks to the rechargeable battery
Battery runtime is about 4 hours
Cons
Some consumers have noted that there isn't a lot of variety in terms of the settings.
Wrap Up
We hope that this Easy@Home TENS Unit Review was able to tell you what you should know about the features and performance of this unit. For its compact design and the number of functions it comes with, it seems to offer great value for every cent spent.
As a final note, we'd like to add that if you suffer from any cardiac conditions, abnormal blood pressure, or any chronic conditions, you should talk to your physician before starting to use a TENS unit — no matter if it's this one or any other.