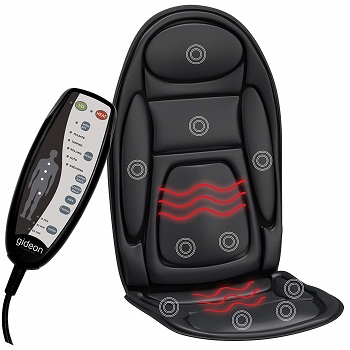 Getting the right massage cushion these days can be a rather tricky endeavor, and that's mostly due to the wide array of products that are currently available for sale. If you have gone through some models by now, you might have noticed that there are some differences in terms of design.
While some massage cushions cover the whole back of a seat, so they need to be put on a chair, others are like this Gideon one, so they're portable and compact. This gives you a lot of freedom, but we'll get more into that in our Gideon Massage Cushion Review below. Check it out if you haven't made up your mind.
Features and Benefits
One of the neatest things about this unit is that it is compact enough to fit in a backpack or even a more sizable handbag. This means that you can effectively take it with you everywhere so that you use it at work or at home. The massage pillow is accompanied by a DC car plug, so you even have the option to utilize it in your car, if that's what you like.
Even though it is so small, the massage cushion comes with as many as eight massage nodes. These are uniquely designed to penetrate your muscles and tissues and reach deep into them. This type of deep-tissue massage is highly efficient in relieving you from pain and tension and also when it comes to untying knots in your muscles.
While the nodes themselves can't change their position, they are able to rotate clockwise and counterclockwise. The rotation changes automatically every two minutes.
The massage modes available on the cushion are designed to imitate the kneading and penetrating hand moves of a massage therapist. Their movement is capable of creating a rather powerful massage that can allow you to say goodbye to aches. You can use this cushion on any of your body regions, which is a benefit in itself.
Moreover, the cushion is outfitted with an adjustable strap that you can use to secure it to a chair, car seat, or even an armchair. Thanks to its compact and lightweight design, you can place the unit anywhere, and you can even use it on your neck.
Suggestions
As the instruction manual that accompanies the main unit will inform you, it is a good idea to avoid using the massage cushion for more than a quarter of an hour. You do have the option to use it for longer since it comes with a timer that can be set to 15, 30, or 60 minutes. To prevent injuring yourself, don't use it for more than 15 minutes on the same body area.
Maintenance
We couldn't find any info about the cover, in the sense that it does appear not to be removable. As such, you can't just take it off and throw it in the washer. However, we advise you to wipe the massage cushion clean using a damp cloth after every massage session.
By doing this, you will remove any sweat or other types of buildup that might have accumulated on its surface.
Specifications
Weight: 3.3 pounds
Voltage: 110V
Heat: Yes
Car Adapter: Yes
What to expect from the Gideon Massage Cushion?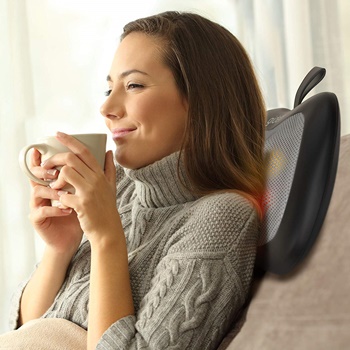 Most of those that have gone for this option seem to have nothing but good things to say about it. It's lightweight, convenient, and easy to utilize, even by those who aren't exactly tech-savvy. You can even take it to work or use it in your car — provided that you aren't driving at the same time, of course.
Many customers have praised the value that it offers for the price, which seems to be one detail that sets it aside from its competitors.
Pros
Strong, deep-kneading massage
Can be used for foot massages
Comes with a car adapter so it can be used on the go
Backed by a three-year warranty
Cons
This massage cushion tends to make a bit of noise when in use
Wrap Up
If what you are in the market for is a basic massage cushion that you can use on a variety of your body regions, the Gideon model might be able to meet your expectations.
It's compact, lightweight, and user-friendly, and it can be used almost anywhere. Hopefully our Gideon Massage Cushion Review has given you a clue as to whether you should try it out or not.