Getting the best massage cushion is the right path towards destressing and relaxing after a day's work. Did you know that just 19 percent of adult Americans get at least one massage a year? Back in the day, people put more emphasis on their well-being, so they went to a massage therapist more often. But, with the technology of today, the whole concept evolved.
If you would like to start to relax and live a healthier and better life overall, you'd have to consider getting massages regularly. Perhaps the massage cushion reviews showcased below will let you know if you need such a device in your life.
See The Quick Comparison Chart
What Do Massage Cushions Actually Do?
1. They Massage Your Neck and Shoulders
Many people experience neck and shoulder pain nowadays. They either work in front of the computer all day or they perform physical work, but they have to constantly bend down. Unfortunately, most of us don't have the correct posture while going about our business. Getting a massage on your neck and shoulders is a good idea if you want to relieve stress, get rid of the pain, and stimulate your local blood flow.
Just using a massage cushion on this body region can help you wind down, but also increase your energy level. We recommend doing this in the morning and in the evening, but with a portable model, there shouldn't be anything stopping you from using it at work, too. The nodes that a massage cushion is equipped with will rub the muscles in your neck – and not just in one direction.
2. They Massage Your Lower Body
Lower back pain is another common issue that many people experience nowadays. Whether you spend most of your time sitting or standing, your lower back is one of the first body regions that are likely to suffer. Using a massage cushion can assist you in dealing with the pain, and doing so regularly can even help eliminate it for good.
The vibration function that some models are outfitted with can help you massage your lower back and also stimulate the local blood circulation. Thanks to the increased blood flow, the muscles, and tissues in your lower back are going to be adequately nourished by nutrients, as well as oxygen. This will also assist with removing toxins that might have accumulated in the area.
Needless to say, the lower body massage ensured by a massage cushion can be particularly helpful for the elderly, as they often have problems with their lumbar region or their hips. Older women often suffer from osteoporosis, which can be rather painful. Using such a device regularly helps them deal with the unpleasant effects of this disease.
3. They Help You Get Rid of Stress
No matter the body region where you will decide to use your massage cushion most often, the truth is that doing so every couple of days can help you relax and start having a positive outlook on your life. We all deal with stress in some way or the other, but it can definitely take a toll on us when we're busy at work.
Take ten or fifteen minutes in the evening for yourself, and use your massage cushion before you begin to wind down and get ready for bed. You are not going to believe how de-stressed you will feel.
4. Use Them to Get a Back Massage
While it might be a little difficult for you to massage your feet with a such a cushion, simply because the nodes are often too powerful for this body area, you can definitely use the device to get a nice back massage. Such a product loosens your muscles, relieves tension, and it can even provide a deep-tissue massage (depending on the specific features it comes with).
As is the case with getting a massage in any other body region, when you are using the massage cushion on your back, you're actively increasing the local circulation. This means that the muscles around your spine are going to receive more nutrients, as well as oxygen. As you can expect, this can be particularly helpful for people who are athletes.
Better and more efficient blood flow in your back means that anti-inflammatory cells are going to be delivered to your joints and muscles a lot faster. People who have arthritis can significantly benefit from using a massage cushion.
Best Massage Cushions Comparison Chart
PRODUCT
DETAILS

Zyllion Shiatsu Cushion Pad with Soothing Heat Function

Price: $$
Customer Rating: 4.0
Car Adapter: No
Weight: 15.5 pounds
Voltage: 110-240V
Seat Vibration: Yes

View On Amazon

HoMedics Quad Shiatsu Pro Massage Cushion with Heat

Price: $$
Customer Rating: 3.8
Car Adapter: No
Weight: 11.73 pounds
Voltage: 110V
Seat Vibration: No

View On Amazon

NURSAL Shiatsu Heated Massage Seat Cushion for Full Back

Price: $
Customer Rating: 4.5
Car Adapter: Yes
Weight: 9.6 pounds
Voltage: 110V
Seat Vibration: Yes

View On Amazon

Gideon Deep Kneading Seat Cushion Dual Motor Design with Heat

Price: $
Customer Rating: 4.0
Car Adapter: Yes
Weight: 3.3 pounds
Voltage: 110V
Seat Vibration: Yes

View On Amazon

NURSAL Shiatsu Massage Seat Cushion Self-Massager with Vibration

Price: $$
Customer Rating: 4.5
Car Adapter: Yes
Weight: 13.7 pounds
Voltage: 110V
Seat Vibration: Yes

View On Amazon

TENKER Shiatsu Massage Cushion with Heat & 3D Deep Kneading

Price: $$
Customer Rating: 4.5
Car Adapter: Yes
Weight: 15 pound
Voltage: 110V
Seat Vibration: Yes

View On Amazon

IDODO Shiatsu Back Massage Cushion with Heat

Price: $
Customer Rating: 4.4
Car Adapter: Yes
Weight: 7.9 pounds
Voltage: 110-220V
Seat Vibration: Yes

View On Amazon
Best Massage Cushion Reviews
1. Zyllion Shiatsu Cushion Pad with Soothing Heat Function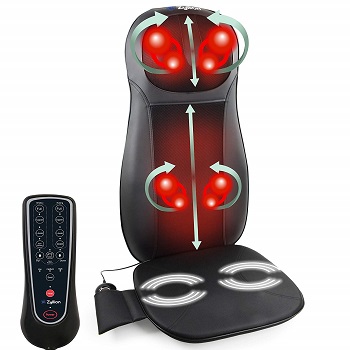 This is a convenient massager as you can use it when you are at home or when you're at the office. It can be fastened on pretty much any chair, so long as it is a little taller. The best thing about the Zyllion model is that it comes with as many as three vibration massage levels, even on the seat cushion.
The elastic strap that the pad is outfitted with eliminates any problems as it is compatible with most dining, office, and car chairs. The unit is equipped with plush leatherette with a smooth and silky mesh.
As for safety, you might want to know that this product is capable of turning itself off after fifteen minutes. While some people might require longer massage sessions, we suggest doing shorter and frequent ones, instead. In the end, the Zyllion alternative ensures a spa-like treatment in the comfort of your home.
Pros
Heat therapy
Rolling massage
Shiatsu massage
Adjustable pad height
Seat vibration
Cons
The massage balls can feel like they're too big and sharp
Read More: Zyllion Shiatsu Cushion Pad
2. HoMedics Quad Shiatsu Pro Massage Cushion with Heat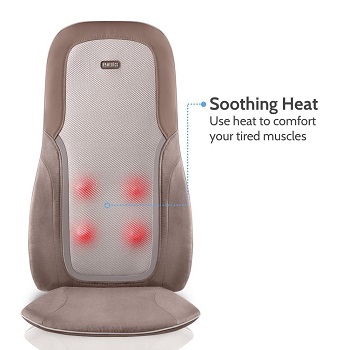 There are three massage styles available with this unit. If you want a deep muscle massage, go for the kneading setting. If you want a gentle one, you should select the rolling setting. For an invigorating one, the percussion setting is there to serve you. As you can see, this unit offers a lot in terms of versatility and convenience, and it allows you to adjust it as per your needs.
The only thing that's lacking, from what we have noticed, is the presence of massage nodes in the seat cushion. There is no heat there, nor any vibration, so your buttocks can't be massaged as your back is. The rest of the features make this model a pretty decent one, however, especially since it also comes with heat.
The product is made with an integrated strapping system, which means that it is compatible with most of the chairs in your home or in your office. The cushion is convenient and it has easy-to-use hand controls which allow you to select the settings and customize the experience.
Pros
Compatible with most chairs thanks to its integrated strapping system
User-friendly controls
Heating function
3 massage styles
Shiatsu massage
Cons
Doesn't massage your lower back or buttocks
Read More: HoMedics Quad Shiatsu
3. NURSAL Shiatsu Heated Massage Seat Cushion for Full Back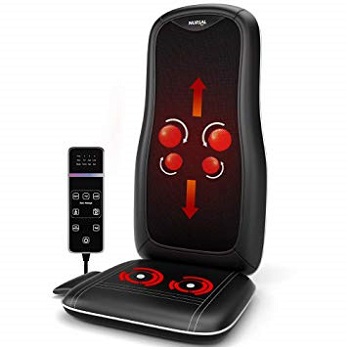 With this Shiatsu alternative, you are going to feel like there is a real massage therapist soothing your muscles. There are four rolling nodes that travel up and down your back, and the pressure point massage can be customized so as to work on your whole back, your lower back, or just your upper back.
The heat function also works, but we've found no information as to whether it is adjustable or not. You'll be happy to know that the seat cushion of the massager also comes with vibration massage, and you can choose between three intensity levels — from high to low.
The control panel that accompanies the main unit is very easy to use and we might go as far as to say that it can be utilized by the elderly without them encountering any issues. You can simply fold and carry this massage cushion whenever you intend to use it somewhere else or when you plan on storing it.
Pros
3D deep-kneading rotating balls
Made of high-quality durable leather
3 levels of vibration massage on the seat cushion
Heat massage therapy
Shiatsu back massage
Cons
The balls can feel a little rough
Read More: NURSAL Shiatsu Heated Massage
4. Gideon Deep Kneading Seat Cushion Dual Motor Design with Heat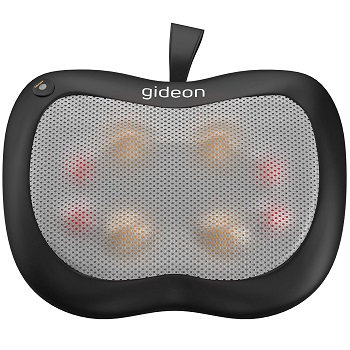 With its three levels of vibration and its deep penetrating nodes, you can rest assured that this massage cushion is going to feel great every time you use it. The Shiatsu massage boasted by this model is fully capable of replicating the movements of a real massage therapists' hands.
Thanks to this unit, your pain will be relieved, and you are going to finally be able to say goodbye to knots and tension. No matter if you are home or at work, you will be able to relax and feel like you calm down and forget about all your worries. The unit comes with as many as four massage nodes that travel up and down your back, therefore massaging as much as possible.
You can select between a lower back, upper back, or full back massage. The Gideon massage cushion also comes with heat therapy. Last, but not least, it's a winner in terms of convenience as it can be strapped on any type of chair.
Pros
Shiatsu massage
3 levels of vibration
4 massaging nodes
Heat therapy
Compatible with most types of chairs
Cons
It's too loud for some customers
Read More: Gideon Deep Kneading Seat Cushion
5. NURSAL Shiatsu Massage Seat Cushion Self-Massager with Vibration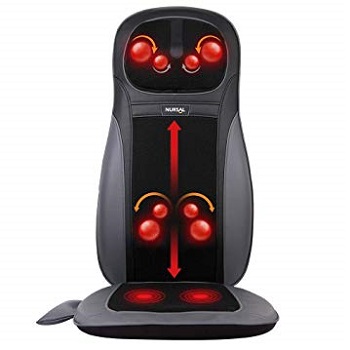 The NURSAL choice is outfitted with as many as four individual deep kneading rolling nodes that massage your neck muscles, therefore relieving any tension present there. The nodes can rotate either clockwise or counterclockwise, so the entire area will be stimulated adequately. Besides, the heating function can be turned on or off as per your specific requirements and preferences.
The backside of the pad comes with Shiatsu and rolling massage. You can allow the nodes to travel up and down your back for total relaxation, or you can choose to have them perform kneading, Shiatsu, and waving massage. The 3D rotating balls boasted by this unit are uniquely designed to go into your muscle tissue.
There is a car adapter included with every purchase, so if you drive for a living, you can rest assured that you will be able to use this device when you take a break. Similarly to other products in the same line, this one comes with a 15-minute automatic shut-off feature.
Pros
Shiatsu and rolling massage
3D rotating balls rotate clockwise or counterclockwise
Car adapter included
15-minute auto shut-off
Heat function
Cons
Less effective on the upper back area
Read More: NURSAL Shiatsu Massage Seat Cushion
6. TENKER Shiatsu Massage Cushion with Heat & 3D Deep Kneading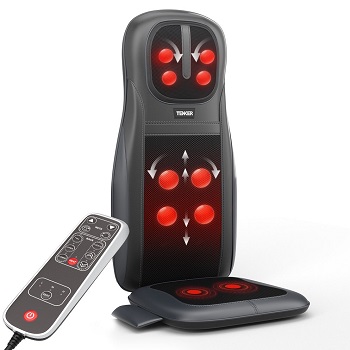 The TENKER model might be another that you should keep in mind since it comes with plenty of helpful features that can assist you in saying goodbye to back pain. There are deep-kneading rolling nodes in the neck and shoulder area, and they are controllable between clockwise and counterclockwise directions.
The Shiatsu back massager boasts as many as eight deep-kneading nodes that are capable of traveling both up and down. They are adjustable at a maximum height so as to fit the curves of your body. One feature you aren't going to encounter in too many other massage cushions is the presence of the seat vibration. You'll find three levels of vibration for this area — from low to high.
It's also worth noting that the massage seat cushion comes with soothing heat. This will allow your muscles to warm up while you're also enjoying a massage. It can be pretty great during the colder months of the year.
Pros
Comes with an easy-to-use corded controller
Foldable design
Heat function
Shiatsu back massage
3D kneading rolling nodes on the neck and shoulder area
Cons
The neck massage is useless if you are too short
Read More: TENKER Shiatsu Massage Cushion
7. IDODO Shiatsu Back Massage Cushion with Heat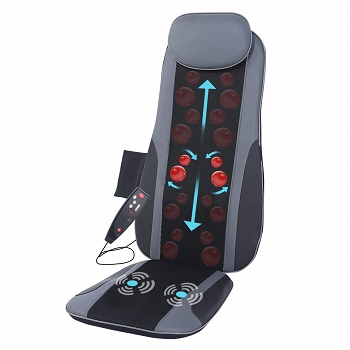 If you are on a budget and you are looking for something a little more affordable, you should definitely check out the specs of this massage cushion. It does come with a series of benefits, but as you might expect, it also has some drawbacks. This unit features three vibration levels, as well as a 15-minute timer, and the fact that it is FDA approved should no doubt reassure you.
There are three programs and four rotation balls, but these provide more pressure and relaxation compared to the eight rolling nodes of similar models. The warming function is completely optional, so you can turn it on and off whenever you feel like it.
What's cool about this unit is that it is compatible with most types of chairs, including car seats. As for the customer feedback, most of those that have given a shot to this model have nothing but good things to say about it.
Pros
FDA-approved
Comes with a 15-minute timer
Four powerful rotation balls
3 programs
Heat function
Cons
The balls can be too hard for some people
Read More: IDODO Shiatsu Back Massage Cushion
Types of Massage Cushions
1. Kneading Massage Cushions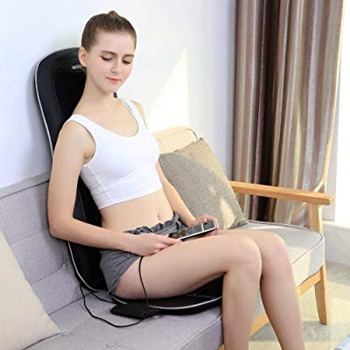 A model boasting this type of massage squeezes and compresses your muscles intermittently. Kneading massage has lots of benefits, from stimulating your nerves and increasing muscle flexibility to treating tightness, getting rid of the pain, and improving your local circulation. It is also capable of promoting muscle relaxation, it gets rid of the toxins stored in your muscles, and it also assists with treating chronic swelling.
Since it is a deep and relaxing massage technique, it also has benefits in your mood. It effectively decreases stress and anxiety levels, and it can be helpful for people suffering from depression, as well.
2. Rolling Massage Cushions
Some models come with a rolling massage. If you were to get a rolling massage from a masseuse, she would lift and roll your skin between her fingers and thumbs. A massage cushion basically imitates these movements. Usually, there are nodes involved in the activity, and they are moved up or down or to the sides of your back so as to relax your muscles.
Rolling massage can help relieve back pain, deal with arthritis and chronic pain, have a positive effect on people who suffer from insomnia, and it can even relax muscle spasms. It also loosens the skin, so it improves the way it looks. As with the other types of massage, it's also capable of improving your local blood circulation.
3. Heated Models
Massage cushions that have heating functions are capable of relaxing your muscles and improving your blood circulation, and they relieve the pain that you might experience in different areas of your body. Heated massage can also assist with decreasing muscle stiffness, can help you recover faster from an injury, and even improve blood pressure. In case you didn't know, it can also help deal with arthritis and enhance your immune system.
Heat should never be utilized on acute injuries, unless the swelling has been under control for a while. Because of its capabilities, heat can draw fluids into tissues and can actually increase inflammation and swelling. It is not recommended in some types of nerve damage. Chronic conditions can be managed with heated massage as they stimulate blood flow and relax and loosen the tissues. You can also use heat treatments for conditions like overuse injuries (before taking part in activities).
4. Vibrating Massage Cushions
Vibration is among the simplest and most basic features boasted by most massage cushions available for sale nowadays. It basically involves jostling and shaking movements. Electronic massage is produced by a motor. It has various effects on your body from relieving pressure and pain to filling you with energy, especially when it's lighter.
Vibration massage can reduce back pain, relax muscle spasms, stimulate your nerves and the production of serotonin and dopamine, which are two hormones in charge of keeping you in a good mood. It can also increase blood and lymphatic flow, allowing your muscles to benefit from an influx of nutrients and oxygen.
Last, but not least, vibration massage can help you fall asleep faster, so its relaxing effects are undeniable, especially on people who suffer from insomnia. However, it is not recommended to pregnant ladies as it is assumed that it can cause premature labor.
5. Shiatsu Models
Shiatsu massage techniques are extremely effective since they're an imitation of the finger movements that a massage therapist would make in real life. The models that come with this feature are usually outfitted with massage nodes that rotate clockwise and counterclockwise so as to replicate the finger pressure of a masseuse as best as possible.
Some of the benefits of Shiatsu massage range from relieving arthritic pain, stress and tension, reduced pain and muscle stiffness to the ability to treat chronic aches, anxiety, insomnia, as well as neck and joint pain. It is also capable of improving your local circulation, and it has a positive effect on your well-being.
Advantages of Having a Massage Cushion
1. Versatility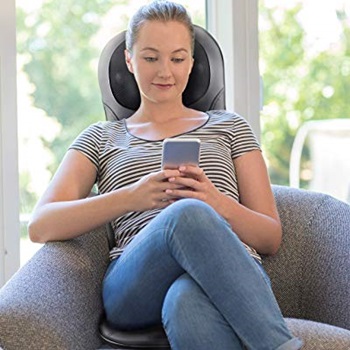 The compact and easy-to-use design of a massage cushion enables you to utilize it on virtually any part of your body. If you have a cramp or pain in the lower part of your legs, you can simply put the massage cushion in-between your legs and get a nice massage. If you suffer from chronic back pain, you can place it between your body and your office chair.
Even though it's not primarily made for this, a massage cushion can even be used to give yourself a foot massage. As you can see, when it comes to versatility, these types of massagers are net winners.
2. Portability
No matter the design of the massage cushion that you're considering, most models are compact and lightweight. Even if you get a massage chair pad instead of a cushion, you'll notice that it's foldable, so you can store it away with little to no effort. Needless to say, that wouldn't be the case with a chair boasting massage features.
The small design of many models, plus the fact that they are often outfitted with handles, makes it possible for you to take your massage cushion with you anywhere. For instance, you could take it with you to work, especially if you work in an office.
3. User-Friendly Interface
The majority of the units that we came across are very straightforward. Even if you don't take the time to read the user manual, you will probably understand how you're supposed to use the device just based on the controls it comes with. Most massage cushions come with a control panel that can be outfitted with buttons or rotary dial. Very few models come with LCD screens, and those that have heating functions almost never have this feature.
The most significant benefit of a user-friendly interface is that it makes the unit usable by anyone, whether they are tech-savvy or not. As you know, seniors are likely to experience pain in many of their joints, so an easy-to-use massage cushion is particularly helpful for them.
4. Safety
So long as the power cord doesn't come in contact with water, since these devices use electricity, they are rather safe to use. Most come with overheating protection, which means that they will turn themselves off after some time, whether that means 15 or 20 minutes.
On the one hand, this increases their life, but it also makes the unit safe to use. You can rest assured that you aren't going to suffer an injury caused by a massage cushion, unless you use it for too long or incorrectly.
5. They're Quiet
While chairs that boast massage features tend to make a little noise, that doesn't happen with massage cushions. They barely make any sound at all. This means that you can use one when you are at work, and you can rest assured that its operating sounds are not going to bother your coworkers.
People who have little children can use a massage cushion even when they are napping, and it isn't going to wake them up. Plus, all of this means that you can get a nice and quiet massage even when you are watching your favorite TV show.
6. Car Compatibility
Naturally, this is a specific benefit that you will get only if you pay attention to the features of the device before purchasing it. But some of the models that we have come across are accompanied by an adapter that makes it possible for you to use them in your car. While we do not recommend using your massage cushion when you drive, you can definitely do so when you take a break.
As you can expect, this advantage comes in handy for people who spend a lot of their time behind the wheel. Professional drivers and truckers enjoy this benefit the most.
Do Massage Cushions Treat Medical Problems?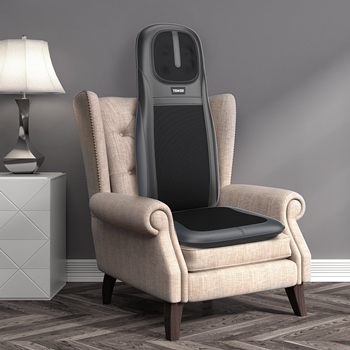 The simple answer to this question is yes. However, as with everything else on the internet, this statement should also be taken with a grain of salt. When we say treatment, we refer mostly to the long-term management of the symptoms of a disease.
If you have osteoporosis, for example, using a massage cushion isn't going to help you get rid of it. Some medical conditions are degenerative, which means that the best you can do is to manage them so that you are not in pain. Let's look at what medical conditions can be improved by using a massage cushion on a regular basis. In another saying, massage cushions have some health benefits.
1. Spondylosis
Spondylosis is a degenerative disease that usually happens in the neck vertebrae. It can be quite painful to the point that it prevents people from tending to their daily activities. Many individuals who suffer from spondylosis typically use anti-inflammatory gels to get some pain relief. Using a massage cushion can also make a difference when it comes to pain relief, especially if it comes with Shiatsu or kneading massage.
2. Arthritis
Arthritis is another painful degenerative disease. It mostly occurs in older people, but in some situations, it can also show up in younger ones. People can get arthritis in their spine, in the joints in their legs, their arms, and even in the joints in their fingers. Once again, massage cushions offer the benefit of pain relief, especially for people who have arthritis in their hip and leg joints.
3. Vascular Disease
We might have mentioned that massage cushions are capable of improving blood circulation. But did you know that they can also lower blood pressure? Some studies have found that getting regular massages will make it easier for people with high blood pressure to manage their condition. Also, diabetics have poor circulation, as well, so using a massage cushion on a regular basis can improve their condition.
4. Osteoporosis
Gentle massage is recommended in cases of osteoporosis, especially for people who have had broken bones in different parts of their body due to the condition. Chronic osteoporosis responds very well to massage. Pain is relieved since the muscles surrounding the joints are relaxed, and a better range of motion is achieved, as well.
5. Depression
Depression has become a very challenging disease in the past decade. We live hectic lives where most of our time is filled with work instead of spending time with friends and family and making the most of the days that we have left on Earth. People who have depression can find it difficult to focus on their daily tasks, and they can sometimes feel overwhelmed to the point that they won't even get out of bed.
Using a massage cushion helps a depressed individual relax and have a more positive outlook on life. Plus, people who experience bouts of depression will often suffer from insomnia or just find it hard to fall asleep. Getting a nice massage before bed has a soothing effect and helps one sleep better.
Massage Cushion Buying Guide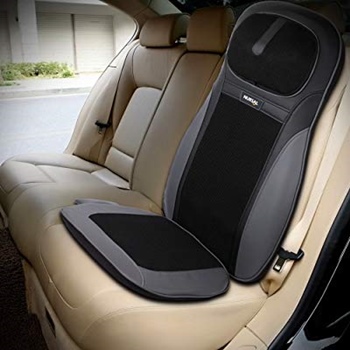 We know that it can be very challenging nowadays to get the right type of massage cushion. That's why we're here to give you a hand and tell you about some of the most important features that you should look at when shopping for such a device. Read our comprehensive guide below.
1. Safety
An automatic shut-off feature can help increase the lifespan of the device, but it can also prevent it from overheating and potentially causing damage on your body. This is a reassuring feature that we believe all massagers should come with. Plus, a model that wouldn't turn itself off after 15 to 20 minutes would essentially keep consuming power if you forget about it.
2. Types of Massage
We aren't going to delve into the types of massage that a massage cushion can come with, at least not in-depth. We have a whole section on them above, and we suggest you refer to that.
In short, the kinds of massage that such a device can come with are some of the following.
Kneading
Shiatsu
Vibration
Rolling
Some models can come with just one, but most of those you're going to stumble upon nowadays will come with at least two. Multifunctional units are to be preferred as each massage has different benefits. Shiatsu is the most complex of all.
3. Adjustability
You want your massage cushion to come with as many customization options as possible. The speed of the nodes, the intensity of the pressure, as well as the heating function, all have to be adjusted in accordance with your specific requirements and preferences. If you don't get a highly customizable unit, you're going to feel disappointed in it in some way or another.
4. Remote Control
Whether it's wireless or wired, the remote control will allow you to adjust the settings of the device without having to perform any extra movements or put in a lot of effort into it. The length of the cord that connects the main unit to the remote control should be factored in, as well. A longer one is better.
5. Convenience
Massage pads aren't extraordinarily versatile, especially those that have to be fitted onto a chair. By contrast, massage cushions can be used on almost any body region from your arms and legs to your shoulders, back, neck, buttocks, and even your thighs and calves. If you mostly experience back pain, you might want to consider a pad, but if you want to be able to massage all of your body areas, get a cushion, instead.
6. Number of Adapters
Most massage cushions come with an AC adapter which allows you to use the device while it's plugged into a typical power outlet. However, some also include car adapters. As we might have noted, you should never use your massage cushion while driving, especially if it is compact and resembles a pillow. It's not the same for the pad design, particularly if the remote is at hand.
Even so, since it's better to be safe than sorry, you should use a massage cushion only when you take a break from driving.  With one that doesn't come with a car adapter, though, you really can't do this.
7. Design
There are basically two types of massage cushions when it comes to their design. One of them actually resembles a pillow and the other is more like a pad that you can place on your bed or your chair, for a full body experience.
The size and weight of the product largely impacts its portability. Some models have built-in handles, which enable you to grab them and go, whether you want to store them or not.
It's definitely easier to carry a lighter massage cushion than a heavier one. While this might not be an important factor for someone with a lot of strength, it can be for someone who hates carrying heavy things. A smaller model is a lot easier to store around your house compared to a bigger one.
8. Heating Functions
Heated massage helps you wind down and relax, but it has its restrictions, too. If you've suffered an injury recently, it's not a good idea to use the heating function of the model. If you are healthy, it can be rather lovely to get a heated massage in those colder winter months when you're desperately trying to warm up.
9. Number of Massage Nodes
It is generally considered that a higher number of massage nodes will make the device better at doing its job. While this might be true in situations where you're looking to get a full back massage, for example, it's not the most important decision-making factor if you're looking for a small device. Massage pads that can be fitted onto a chair can come with many nodes (the highest number being 13 or 14). Small cushions aren't going to be able to accommodate as many.
10. Massage Nodes Movement
If the nodes move in just one direction, not all of your muscles are going to be properly stimulated. Look for models whose nodes move both clockwise and counterclockwise. Some models are even more effective as their nodes aren't shaped as nodes per se, but rather as crescent moons.
11. Ease of Cleaning
Look for a massage cushion that comes with a removable and washable cover. Even if you wear clothes (as it is recommended) while using the product, you might end up being sweaty. This happens especially if the unit is equipped with heating functions. In that case, you should clean it every now and then. Ideally, the cover should be washer-compatible so that you don't have to wash it by hand.
12. Noise
While it is generally acknowledged that most massage cushions don't make a lot of noise, it's still a feature that you should take into account. In some situations, such as you using the product at work with other people around you, or next to a newborn baby who's just fallen asleep, you will want the unit to do its job as quietly as possible.
But how can you make sure that you get a quiet massage cushion? Since most manufacturers will present their products in the best light possible, we suggest reading some consumer reports. If there is any problem in this respect, people are going to detail it in their personal reviews.
How To Use Massage Cushions?
1. Start With The Lowest Intensity
There are two reasons you want to do this. On the one hand, using a too high intensity can hurt your muscles. On the other hand, you might be put off by the power of the massage cushion you've purchased. This will lead to you not wanting to use it again. You will either return it or just leave it somewhere in the house and it will go unused for the remainder of its life. You'll even regret buying it in the first place. That's why you should always start using the massage cushion when it's on the lowest intensity.
2. Place Them Properly
While some models are outfitted with a strap with the help of which you can fasten them onto your chair, for instance, some don't come with this feature. For those that lack the strap, we recommend positioning them properly so that they are both able to do their job, and at the same time, you prevent them from falling. Keep in mind that most units can vibrate vigorously, and they might slip if you are not paying attention.
3. Clean Them Regularly
It is not advised to use a massage cushion directly on your skin. However, even if you wear a shirt, sometimes the heating function might make you sweat. That's why the cover of the massage cushion should be cleaned once in a while.
Make sure that you opt for a model that comes with a removable cover. It would be ideal if it were machine-washable, too, so that you don't have to hand wash it. In any case, a massage cushion can typically be cleaned using mild detergent and warm water. Never clean your massage cushion when it is plugged in. Try to do your best at preventing the power cord or the control panel of the unit from coming in contact with water.
4. Avoid Overuse
These devices can overheat if you utilize them for too long. That's why we recommend using your massage cushion for short and frequent sessions instead of long ones. Whether that means 15 minutes or 20 minutes, you should always avoid overusing the product. If it overheats, some of the safety features might no longer work. You might inadvertently produce damage on the massage cushion, rendering it unusable.
5. Store Them Correctly
There are many things that can go wrong when it comes to storage. For example, you might place your massage cushion in a spot that's exposed to mold or mildew. Worse, if you store it when it is moist (due to you having sweated) it will also collect some of the mold.
Another aspect that you should consider is that storing your device in an unnatural position can lead to its deterioration. Avoid placing anything heavy on top of the massage cushion so as to avoid damage on its massage nodes or motor.
FAQs About Massage Cushions
1. Can you use a massage cushion when pregnant?
Getting almost any type of massage, especially a particularly powerful one, can cause a miscarriage. The further along you are, the greater the risk of the device making you go into labor. Talk with your obstetrician before starting to use a massage pillow, just to be on the safe side of things.
2. How much do massage cushions cost?
The cost of massage cushions varies a lot from one model to the next, and that's because many boast different features. Those that have Shiatsu massage are among the priciest ones. Generally, the price of massage cushions can be within the twenty to one hundred (and more) range.
3. Can a massage cushion hurt your muscles?
Some models, especially those that don't allow you to set the desired intensity and speed, can indeed hurt your muscles. If you notice that you start experiencing pain, stop using the device right away. Moreover, start using the cushion on the lowest setting first, and you can go up from there.
4. How long should I use a massage cushion for?
Short and frequent sessions are better than long ones. On the one hand, you are protecting your investment by preventing it from overheating. Plus, you have zero risks of producing damage on your body if you use the massage cushion for a limited amount of time. So, it's best to do that twice or maybe three times a day in sessions that last for 10 to 15 minutes.
5. Can a massage cushion catch fire?
Since a massage cushion uses electrical wiring to do its job, this is a possible situation. Nevertheless, most models that are currently available come with overheating protection, which means that they automatically turn off after some time. This makes it very difficult for the device to malfunction and catch fire.
6. When should I absolutely avoid using a massage cushion?
If you have recently had surgery, have a pacemaker, or are recovering from a severe injury, you should not use a massage cushion. It's better to be safe than sorry. Therefore, if you are having trouble telling whether using a massage cushion could be dangerous, just have a talk with your physician.
7. Can I use a massage cushion while driving?
While you can use a massage cushion while you are behind the wheel, it's not necessarily recommended. Getting an intense Shiatsu massage while you are driving might not be a good idea. You might end up wanting to turn it off or fiddle with the controls, so that would make you pay less attention to what's happening on the road.
8. Can I use a massage cushion with oils or balms?
It's generally acknowledged that using a massage cushion right against your skin is a no-go. Balms, oils, as well as other fluids and even anti-inflammatory gels can seep through the fabric or mesh that covers a massage cushion. You might have a lot of trouble cleaning it afterward. Just use the device over your clothes and on dry skin. However, do check the instruction manual for any such dilemmas.
Wrap-Up
We hope we have assisted you in finding the best massage cushion for your specific needs. As you might have noticed, there are a lot of differences in terms of the design and features of these units. Therefore, we suggest reading as many massage cushion reviews as your time allows you to.
A final piece of advice is that you should always read the user manual included by every manufacturer. There could be critical information in it that you might have missed, and some of it could refer to types of uses that are not allowed.
Bonus guide: top-rated incense sticks