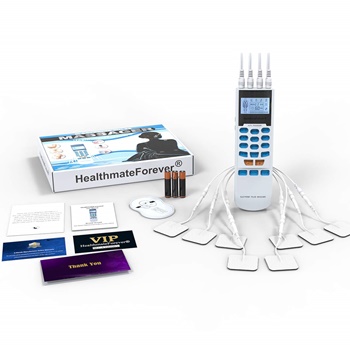 As one of the most popular TENS units currently available, the Healthmateforever option should be jotted down on your list. It's convenient, easy to use, and does precisely what it is supposed to do, which is why it makes a good option for most types of users.
But is the product really worth investing in or should you opt for something different? Find out everything that you should know about the device's pros, cons, and performance by reading the Healthmateforever TENS Unit Review below.
Features and Benefits
One of the first things that make the difference between this model and some of the others that we have come across is that it features four outputs. This means that you can use it with as many as eight electrode pads at the same time. Positioning the pads on various body regions so that you get pain relief and relaxation in various areas is very easy.
No matter how many of the pads you are going to use, the TENS unit is capable of delivering constant and powerful impulses that effectively stimulate your muscles and local tissues.
Additionally, you will be happy to know that the Healthmateforever alternative comes with as many as fifteen unique massage modes. Nine of them are auto-stimulation programs that can produce various massage sequences so as to provide muscle stimulation, but six of them are selectable.
This means that you can benefit from freedom and flexibility thanks to the device as you have complete control over its settings. You can personalize each session as per your needs and preferences.
Another aspect that makes the model stand out is its user-friendly design. The display is sizable and easy to read, and with its assistance, you can track all of the functions that you are utilizing. As for the built-in programs, there are different ones available for various body parts, so all you have to do is position the electrodes on the right body region.
Suggestions
The electrode pads are flexible and made of non-woven material. They're quite easy to clean and can be used with anti-inflammatory creams or gels. Plus, the self-adhesive surface that they are outfitted with is a benefit in itself as you aren't going to have to constantly put them back on your skin.
Maintenance
Cleaning the pads can be done with a moist microfiber cloth or a sanitizing wipe. If you intend to utilize the TENS unit with other members of your family, clean the pads after each massage session. For more info, check out the user manual.
Specifications
Weight: 0.9 lbs
Pads: 8
Technology: TENS, EMS
Massage Modes: 15
Outputs: 4
What to expect from the Healthmateforever YK15AB TENS Unit?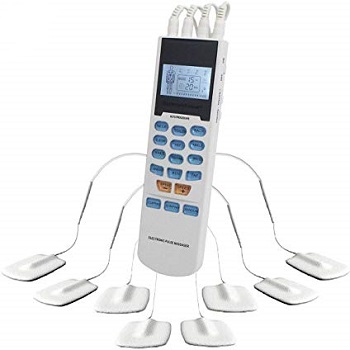 The best thing about this unit is that, even if you are having second thoughts about giving it a shot, it's backed by a lifetime limited warranty. Register the product using the company's website to activate its warranty and then rest assured that it's covered for material and workmanship defects for the remainder of its life.
As for the reviews acquired by the model, we were genuinely surprised by the critical acclaim that it has received. Most customers describe it as easy to use, convenient, and capable of excellent performance. Others note that it offers great value for the money and that it offers better results than a physical therapist.
Pros
Can be used with AAA batteries, so it's a winner in terms of portability
Four outputs and two independent channels
Includes four pairs of inserted pin electrode pads
Easy to read backlit display
Cons
Since the lines of the pads are rather long, they can easily get tangled.
Wrap Up
As you might have noticed from this Healthmateforever TENS Unit Review, this is a pretty affordable and user-friendly device that's worthy of your consideration. It can be used by anyone, regardless of their technical skills, and it comes with an automatic shut-off feature for safety.
In the end, you should look at your specific needs and preferences and see whether this model can address them as best as possible. Given its cost, we say that it might be worth giving a try, especially with a large number of favorable reviews that it has gathered over time.