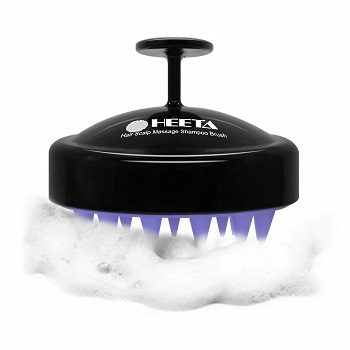 Head massagers come in many shapes and sizes, and as we have already discussed in our bigger guide, they can be manual or electric. For today's article, we have worked on a Heeta Head Massager Review thanks to which you will be able to find out everything there is to know about this manual device's pros and cons.
Keep on reading if you want to find out whether this product speaks to your needs and preferences or you can do without it.
Features and Benefits
The first benefit that stands out when it comes to the Heeta model is that it is extremely affordable, especially if you compare it to some of the electric head massagers available these days. At most online marketplaces, it costs less than ten dollars, and that's to be expected since it is basically a simple brush. Granted, it can do a lot of things, but it doesn't have the performance of any of its electric counterparts.
The purpose of this massager is to help you detox your hair with cleanse it and your scalp in-depth, leaving your locks feeling soft and your scalp clean and dandruff-free. It should alleviate dryness and offer you a quite enjoyable shower experience, and the best thing is that you don't have to worry about getting it damaged. Since it's not electric, it's waterproof.
Hair Types
The brush speaks to the requirements of people with different types of hair, but it might not work for individuals who have extremely thick and curly hair. In those cases, it might cause hair tangling or pulling, so we advise you to take that into account. You are allowed to use the brush under running water.
Since it's rather basic, it doesn't come with a detailed user manual, but it does include several basic instructions on how you can make the most of it. In a nutshell, this brush can be used as a massager that stimulates hair growth and improves your local blood circulation, allowing you to say goodbye to tension and mild headaches at the end of a hard day.
Plus, thanks to its design, it is fully capable of removing any product buildup present in your hair. Unlike some of the other head massagers we've come across, this one doesn't work for massaging other parts of your body since it has no vibration function. Using the brush is pretty much effortless since it doesn't call for any tech-savviness.
The brush is made of silicone that's easy to clean and convenient. In theory, the silicone should have been quite soft against your scalp, but there have been people saying that it can feel too hard against their scalp.
Specifications
Size: 3.2 x 3.2 x 2.8 inches
Weight: 1.8 ounces
Color: Black
Design: Manual
What to expect from the Heeta Scalp Massager?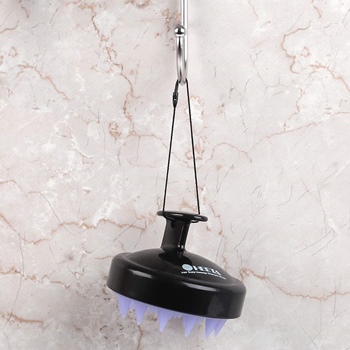 As basic as it might seem, the truth is that the Heeta head massager gets the job done precisely how it is supposed to. It's convenient, easy to use, and it allows you to perform a nice and soothing head massage without running into any technical difficulties whatsoever.
On top of everything, it is backed by a 1-year warranty, which is quite impressive given that many of its competitors don't offer warranties of any kind. If you run into any issues with the product during this time, just get in touch with the seller or manufacturing company to find out how you can get a replacement or fix the problem by yourself.
Pros
Easy to use
Easy to clean
Ergonomic design
Lightweight and portable
Cons
The brush can feel too hard if you have a sensitive scalp. We recommend using as little pressure as possible when you use it for the first time.
Wrap Up
As you might have noticed, this little massager is user-friendly, but also pretty basic. If you aren't looking for something overly complicated or you'd want to get a nice gift for a senior, such as one of your grandparents, for example, it can make a great option.
We hope that our Heeta Head Massager Review was straightforward enough for you to tell whether this product might be worth considering or not.