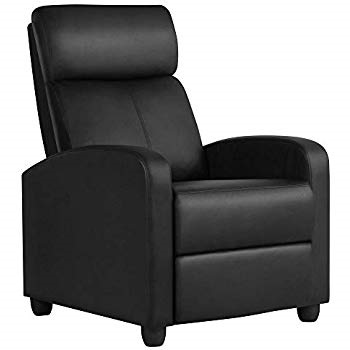 If you have been searching for a basic recliner that gets the job done with as little effort as possible and that also doesn't cost a fortune, this one should fit the bill. It's one of the most popular ones we've come across.
Since the information provided by the manufacturing brands can often be misleading or make a product look too good, we suggest you take the time to read our Homall Recliner Chair Review. It's packed with all the info you need to make the difference between this product and its competitors.
Features and Benefits
First of all, this is a push back recliner. It gives you the opportunity to lean back into 3 individual angles for watching TV, relaxing, or just taking a nap. Unlike some of the other models out there, this one does not recline up to 180 degrees. However, it does go back enough so that you can get a comfortable sleep.
It's also worth noting that the Homall alternative comes with a double-thick footrest that boasts extra padding. Your legs will, therefore, be quite comfortable. The footrest has a metal frame that keeps it durable enough over time.
The modern design boasted by the unit includes more than enough padding, the formerly mentioned upgraded footrest, as well as curved armrests. Additionally, the upholstery is PU leather, which means that it has a good chance of standing the test of time, and it also feels soft to the touch.
The high-density thick sponge that this chair has been padded with will ensure that you always feel at ease, no matter the pastime that you choose. Even though it is probably one of the most affordable models in this line, we couldn't help noticing that the amount of critical acclaim that it has received is unparalleled.
Moreover, the recliner is supported by four durable feet that have been outfitted with non-marking pads. This means that your hard floor is adequately protected. Unfortunately, you aren't going to find any casters in the design of this unit, so moving it from one spot to the next can be challenging.
Suggestions
Since there have been questions about this, we'd like to address it, as well. The weight capacity of this particular recliner is estimated at 265 lbs. Some buyers have asked whether they couldn't use it if they weighed 300 pounds. The short answer to this question is no.
If you're heavier, you need a recliner with bigger weight capacity, for the sole reason that using a lower capacity one can be extremely unsafe. For advice on putting this chair together, we suggest that you check out the assembly instructions provided by the brand.
Maintenance
Since the upholstery is faux leather, you aren't going to come across any difficulties when cleaning the recliner. You can simply wipe it with a microfiber cloth and sometimes even use sanitizing solutions for the purpose. Other than that, the chair is fairly easy to utilize and maintain, so you don't have to put a lot of effort into it.
Specifications
Size: 29.2 x 20.7 x 27.7 inches
Weight: 61 pounds
Weight capacity: 265 pounds
Upholstery: Faux leather
What to expect from the Homall Recliner Chair?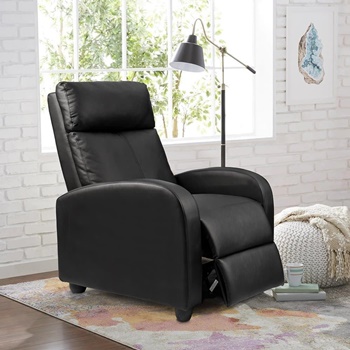 As we have mentioned, the reviews gathered by this unit are widely positive, with people saying that it lives up to the company's claims. It's very comfortable, easy to set up, and it also looks well in most rooms, no matter their design.
We came across favorable reports from taller people, as well, and they say that the chair is solidly built and they have no issues with it even after a longer period of using it.
Pros
Good materials render this recliner capable of standing the test of time
Easy to assemble even by less tech-savvy individuals
Can be used effortlessly
The upholstery is soft to the touch and durable
The push back recline feature is quite convenient
Cons
There is no massage or heat
A lack of dedicated lumbar support has been noted by some individuals
Wrap Up
As you might have been able to tell from this Homall Recliner Chair Review, this is one of the most critically acclaimed units currently available for sale, and for many good reasons, too. It's budget-friendly, comfortable, and easy to use by anyone, no matter if they've ever had a recliner before or not.