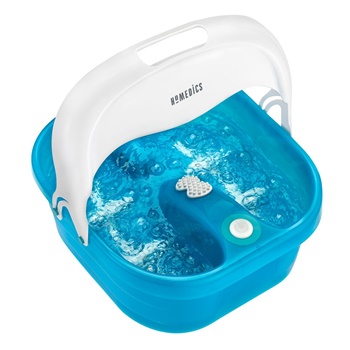 The HoMedics FB-400 is a simply designed foot spa that can help you wind down and relax at the end of a hard day that you have spent working. It can also assist you in getting rid of some of the pain that you might have been experiencing in your feet. The model is equipped with lots of helpful features, especially in the footbath category. Plus, we couldn't help noticing that it is quite budget-friendly, so that also makes it worthy of your consideration. Read our HoMedics Bubble Foot Spa review for more info.
Features and Benefits
The HoMedics alternative has quite an interesting basin design. The floor is covered with all sorts of massage bumps, so you can count on the unit to improve your local blood circulation. Even if you don't roll your feet back and forth while pushing against the massage rollers, you can still achieve better blood flow.
The basin that the HoMedics Bubble Foot Spa comes fitted with isn't too deep, so it doesn't speak to the needs of people who also want to get their calves massaged.
On the other hand, this can also be considered a benefit since it makes it virtually impossible for the unit to become overly heavy when it's filled with water. This will make carrying it to the bathroom a breeze when you have to empty it. On the same note, the model is equipped with a handle, so you can definitely move the foot bath around with as little effort as possible.
It's also worth noting that the model comes with a basin that's sizable enough to accommodate the needs of people with larger feet. Based on the information that we have found about it, it seems that it works best when used by people with shoe sizes no larger than 12.
What's interesting about this product is that it doesn't come with a thermostat, which means that you will have to manually turn the heater either on or off, depending on the water temperature that you prefer. Use hot water to begin with to make the most of the machine, but make sure you read the user guide before anything, just to be on the safe side of things.
Another reason why you should keep this model in mind is that, unlike others out there, it is fully compatible with Epsom salts and essential oils. It also offers the benefits of a bubble massage, which provides a comfortable and soothing experience. Besides, it doesn't even make a lot of noise, so you can utilize it as you are watching your favorite TV show, for example.
Specifications
Size: 14.4 x 5.7 x 14 inches
Voltage: 120V
Power: 300W
Capacity: 3.5L
What to expect from HoMedics' Bubble Foot Spa?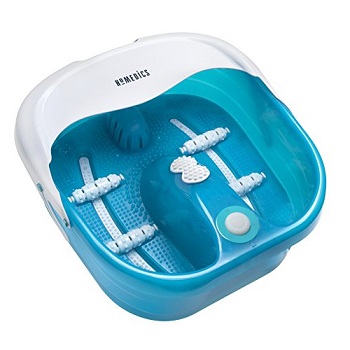 While most of those that have invested in this option seems to have only good things to say about it, there were customers who report wanting several improvements. For example, the heat booster takes about ten minutes to kick in, and if you leave it for as many as thirty minutes, it can actually get the water too hot.
The bubbles aren't particularly strong. In fact, some individuals have compared them to waves. Others note that they wish the model came with temperature control.
Pros
Great foot rollers that offer a comfortable massage
Easy to transport thanks to the handle and compact size
Keeps the water hot enough
Cons
The bubbles could have been stronger
This one doesn't soak or massage your calves
Wrap Up
Given its price and the features it comes with, it definitely seems like this HoMedics model offers good value for every cent spent. It's easy to use and easy to carry around and it can truly allow you to get the benefits of a great foot bath, especially in the evening. Finally, we hope that our HoMedics Bubble Foot Spa review has given you some clues as to whether this unit should be jotted down your list.