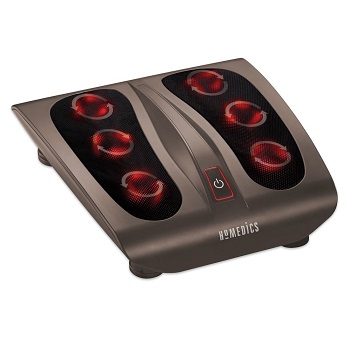 If you would like to enjoy a soothing foot massage every evening when you get back home from work, you might be interested in going to a massage therapist. But doing so can cost a pretty penny, which is not the case with purchasing an actual foot massager that you can use at your convenience.
In this HoMedics Foot Massager Review, we'll try to highlight the features and benefits of this unit and see whether it is actually worth investing in. Read more below.
Features and Benefits
If you have most of your problems in the soles of your feet, you should definitely consider this model. You might have noticed that it doesn't come with the typically closed design boasted by other choices in this category, but it does work great for massaging the soles of your feet. It comes with heat, three rotational rollers, as well as eighteen different massage nodes.
In other words, what the HoMedics alternative is a winner in is giving you a deep foot massage. The rollers that it is outfitted with can provide you with circular kneading with the help of the 3 raised nodes. They effectively reach different parts of your soles.
Thanks to the roller heads and kneading nodes, the HoMedics foot massager is fully capable of offering you a deep Shiatsu massage experience that mimics the one that you'd get from a professional massage therapist.
Heating
Another reason why you should bear this model in mind is the fact that it comes with a built-in heating function. The heat offers you the warmth that your soles need to say goodbye to the tension that might have accumulated in your feet throughout the whole day. It also makes a difference when it comes to enhancing the massage, meaning that you will feel more relaxed and at ease.
The heat also stimulates blood circulation in the area. Better blood flow is effectively synonymous with a greater amount of oxygen and nutrients in your foot area, which means that all the inflammation will be decreased and healing will be promoted, as well. However, if you have diabetes, it is not recommended to use the heating function.
Having been constructed from good-quality materials, you might want to know that this massager is also reasonably lightweight, making it easy to carry and store away when not in use. The surface is flat and it offers good comfort when you are utilizing it. There's a touch control button that you can rely on for adjusting the settings as per your specific preferences.
Using
The user manual that you will find along with the main unit, when it arrives at your doorstep, suggests that you start with the lowest setting first. This will ensure that you don't get scared by the power and deep-kneading capabilities of the massage that this device can offer.
Sit down somewhere you feel comfortable, plug the device into a power source, turn it on using the toe-touch control, place your feet on the intended locations, and let the unit work its magic. Yes, it's that easy!
Specifications
Size: 14.5 x 13.5 x 4.5 inches
Weight: 6.8 pounds
Massage Function: Shiatsu
Timer: No
What to expect from the HoMedics Triple Action Shiatsu Foot Massager?
Based on the consumer reports gathered by this unit, it seems rather capable of doing its job. Some users recommend it for people who have plantar fasciitis or those who work for long hours and stand on their feet for a whole day. The massage action is good and your feet will feel slightly buzzy after you wrap up a massage session.
It's also quite soothing, as attested by the many reviews that the HoMedics model has received in this sense. If you have been searching for a present for your parents or grandparents, this foot massager might fit the bill.
Pros
Lightweight design makes it easy to carry and store
Toe-touch controls make it easy to use
Heating function available
Cons
Not recommended for people who are very ticklish
Can make a little noise while in use
Wrap Up
While it is a little basic when compared to other models in the same line, this HoMedics option is worth considering for someone who wants to lay back and relax at the end of a hard day. It does have its drawbacks, such as the fact that you can't customize the intensity too much. In any case, we hope that our HoMedics Foot Massager Review has helped you understand whether it's a device worth considering for you.