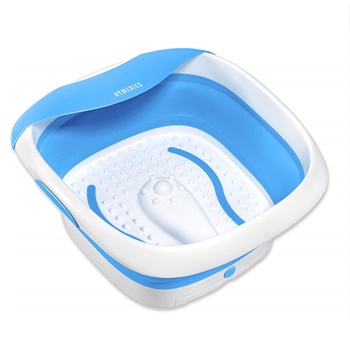 If you have taken the time to browse through some foot spas available for sale nowadays, you might have noticed that they can be quite complicated. Since sometimes, simplifying things can be more effective, we'd like to invite you to read our comprehensive HoMedics Foot Spa review today.
While it might seem to be a rather basic choice, this particular unit is capable of offering you more than enough benefits, especially in the way of alleviating foot pain. Its simple design allows it to be used by anyone, whether they are tech-savvy or not.
Features and Benefits
First of all, this device doesn't cost a fortune, unlike many others that we have come across while doing our research. So, if you're one of those people that don't want to break their budget to get a good foot spa, you should definitely jot it down on your list. For people who sit in front of the computer for a whole day or those that stand for many hours at a time, this unit can be quite helpful.
The collapsible design boasted by this choice makes it very easy to carry and store around your house. We might even say that you can take it with you if you tend to travel a lot for work. Being compact, you can simply place it in the trunk of your car and enjoy its benefits wherever in the country you might be.
Another aspect that is worth noting about this model is that it comes with small and raised nodes on the inside of the water basin. All you have to do to get rid of the pain and tension in your feet is to slide them back and forth over the massaging nodes. Based on the feedback acquired by the model, this can be quite relaxing and can help you soften the soles of your feet.
Although it is less complex compared to some of the other units out there, the product does give you a heated massage. Fill the foot bath with some water but make sure that you have heated it before doing so. Thanks to the heat maintenance technology that it is outfitted with, the HoMedics model makes it difficult for the water to become cold quickly.
What you might not expect from such a basic model is for it to come with vibration massage. Well, you'll be glad to know that this feature is included, as well. The manufacturing brand recommends rubbing your feet over the Acu node surface to make the most of your massage. If you have any trouble telling how you are supposed to utilize this unit, just refer to the brand's user manual.
Specifications
Size: 17.1 x 15.6 x 3.7 inches
Weight: 4.7 pounds
Voltage: 110V
Tub: Collapsible
What to expect from the HoMedics Compact Foot Spa?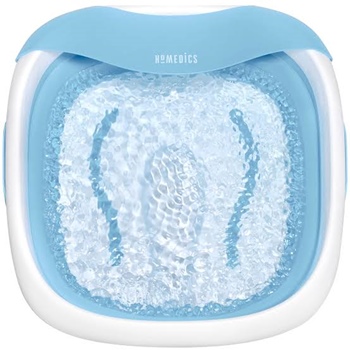 There are many customers who say that this unit meets and even exceeds their expectations, especially given its compact design. The water starts to cool down after around fifteen to twenty minutes, though, so do keep that in mind. Even though it is an electrical option, it doesn't come with a heating element, so be prepared for that so as not to be disappointed.
Pros
Comes with a vibration feature
Portable and convenient
It is a great choice for people who live in motorhomes or small spaces
You can use it with essential oils and Epsom salts
Cons
It doesn't heat up the water. It merely maintains it warm for about a quarter of an hour.
Wrap Up
If you are looking for a budget-friendly option and you also need one that's collapsible and easy to store, you should definitely consider the HoMedics alternative. It is an easy-to-use product that can help you get a nice foot bath at the end of a hard day, and we have written this article in the hopes that this HoMedics Foot Spa review will allow you to tell whether it is the right one for you.