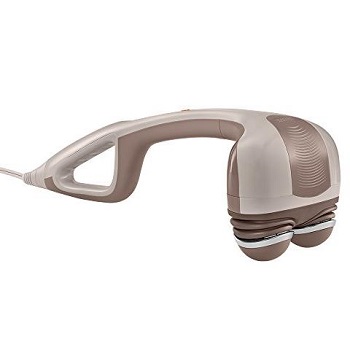 The HoMedics Percussion Massager is a portable and lightweight device that can be used for relieving pain and untying muscle knots and tension points. It comes with a wide array of features that can offer you multiple benefits. To find out more, we suggest that you take some time to read the HoMedics Handheld Massager Review below.
Features and Benefits
One of the most beneficial aspects of this handheld massager is that it comes with a dual pivoting massage head. Furthermore, it has as many as four different speed settings, which allow you to customize the device as per your specific needs and preferences. The speed is quite easy to adjust by pressing the button located at the top of the massager.
Changing the speeds creates unique massage experiences, which is why we might go as far as to say that this unit addresses multiple people. As such, you can get it not just for yourself, but for your other family members, as well. The important thing to keep in mind here is that you can easily go from a gentle massage to a relaxing one or deep and vigorous massage experience.
The massage nodes of the HoMedics alternative move inward and outward, all in a drumming motion. This feature ensures that your muscle tissue is massaged deeply and thoroughly and that you can finally say goodbye to sore and tense muscles. Being capable of mimicking the hand movements of a therapist, the deep kneading nodes boasted by this model can relieve pain and loosen up knots.
Ergonomic Handle
Designed to be handled with as little effort as possible, the HoMedics massager comes with an ergonomic handle. Since it weighs in at less than 2.5 pounds, some customers might find it easy to maneuver it across their whole body, but others might find it to be too heavy. The handle is a benefit in itself since you will be able to massage even hard-to-reach spots.
Another aspect worth writing home about is the fact that this massager comes with a heating feature. It's optional, so you can turn it on or off as per your momentary requirements. Heat can better penetrate tired muscles, which means that the whole massage experience becomes even more relaxing and soothing.
While it's not exactly a feature in itself, it is worth noting that this percussion handheld massager is available for an affordable price. This means that you aren't going to have to ruin your entire budget to be able to purchase it and get its benefits in the comfort of your home.
Specifications
Size: 17.1 x 5.9 x 5.5 inches
Weight: 2.48 pounds
Cordless: No
Voltage: 120V
What to expect from the HoMedics Percussion Action Massager?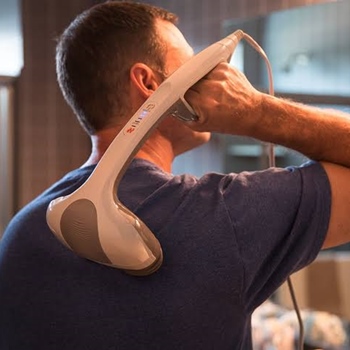 What's interesting about this device is that it has mostly received favorable reviews, despite it being somewhat basic and highly budget-friendly. Many customers say that it helps with sciatica and chronic pain. It's apparently capable of promoting rest and sleep, as well, and it even helps with breaking down stubborn fat.
Since some of the individuals who have invested in this option have had a little trouble telling how they were supposed to use it, we suggest that you have a look at the user manual before utilizing it for the first time. We'd like to note that this is a newer version of another handheld massager made by the same brand, and the upgrade consists of its lower weight (the older one weighed in at around 3.5 pounds) and rubberized handle for a non-slip grip.
Pros
Lightweight and easy to use even on hard-to-reach body areas
The heating feature makes it perfect for people with muscle pain
Promotes relaxation
Is quite affordable when compared to other models out there
Cons
Some owners have reported that it makes a little noise
Wrap Up
Despite not costing a fortune, this model is quite popular among consumers, and for a good reason, too. It has excellent performance, is reliable, and can be used in most situations, whether at home or when traveling. Its user-friendly design is a great feature. In the end, we hope that our HoMedics Handheld Massager Review has assisted you in understanding whether you might get significant benefits from using it.