A lot of people decide to include the best handheld massager into their everyday routines. As long as you're going about your business every day, there's a good chance that you might experience some type of muscle pain at one point or the other. A portable massager like this can even accompany you to the gym or the office.
Most devices can be used every day, but many have different types of massaging techniques. Lastly, having a look at the handheld massager reviews below could be a good starting point when it comes to getting a massager of your own. It is time to finally fix the bothersome pains!
See The Quick Comparison Chart
The Health Benefits of Handheld Massagers
If you're feeling unsure about whether this type of device makes the perfect choice for you or not, check out the benefits of using a handheld massager that we have showcased as a list below. Before you know it, you'll realize that this is the most convenient type of massager that currently exists.
1. Use It Anywhere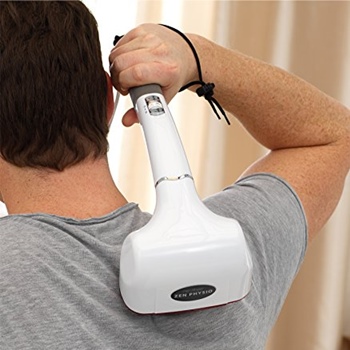 The most important benefit that you will get if you decide to go for this design is the fact that you can take it with you anywhere. Most handheld models are designed to be portable, so you can take them on vacation.
That's not the only reason, though. Unlike other options made specifically for your back or neck and shoulders, handheld massagers can be used anywhere on your body. If you want even more portability, simply opt for a cordless design. Keep in mind that cordless units are usually a lot more expensive compared to their corded counterparts.
2. Lowers Muscle Pain
Handheld units are quite effective when it comes to treating muscle pain. Since they make your muscles relax and disperse the amount of lactic acid present in them, they also do a good job of relieving pain.
3. Improves Your Sleep
Because using a massager on your body has a significant relaxing effect, we recommend doing so around twenty to thirty minutes before you go to bed. Whether you use anti-inflammatory gels or creams along with the device, you'll notice a considerable improvement when it comes to your pain level. As such, you'll be able to fall asleep much faster, and since the pain will go away, you aren't going to wake up in the middle of the night feeling achy. In fact, you'll wake up in the morning feeling refreshed and fully rested.
4. Helps With Back Pain
Athletes can produce a lot of damage on their backs when they train. However, that also applies in the case of people who stand all day long or those that carry heavy things, such as construction workers. Take a warm bath when you get back home from work and then use your massager on your lower back. Since a handheld massager enables your local muscles to receive more nutrients and oxygen, they will heal themselves quicker. You'll also feel pain-free and more flexible.
5. Improves Blood Circulation
Given that handheld massagers are capable of activating your muscles, they also stimulate your local blood circulation. Wherever there's an issue such as muscle tension or some joint pain, they can help supply more oxygen and nutrients into the area so that recovery is faster.
6. Rejuvenates Your Skin
These devices also make a difference when it comes to how your skin appears visually. In case you didn't know, they can be used by women with anti-cellulite gels or creams. The massagers help the active substance in these personal care products to penetrate the skin in a faster and more effective manner. Some even come with special heads (acting as skin scrapers) which can help you remove a layer of the dead epidermis.
7. Relieves Stress and Anxiety
Massage therapy is said to be a means by which stress can be reduced considerably, both on a physical and psychological level. Some studies suggest that getting massages on a regular basis, whether from a masseuse or by using a handheld massager, can lower your blood pressure and trigger a psychological response by improving your emotional state.
One study even showed that massage is a valuable noninvasive method that should be used on people who work in high-stress environments, such as intensive care units. Massages can promote mental health and prevent the quality decrease in a person's work life.
8. You Can Customize The Massage
Most of the handheld massagers that we have come across come with one to three different heads, which can be used for various types of massages and motions. However, you probably didn't know that many of these models are compatible with extra attachments. Therefore, no matter the type of massage you're looking to get, you can do so with the right handheld unit, provided that you look for the right one.
Plus, changing the massage heads usually takes almost no time and effort. On top of everything, most of these devices come with interfaces that allow you to pick the right speed and intensity, thereby enabling you to customize the experience. You benefit from complete freedom with a handheld massager.
Best Handheld Massagers Comparison Chart
PRODUCT
DETAILS

VIKTOR JURGEN Handheld Massager – Double Head

Price: $
Customer Rating: 4.4
Size: 6.7 x 5.5 x 14.6 inches
Weight: 1.7 pounds
Massage Heads: 3
Corded/Cordless: Corded

View On Amazon

Wahl Deep Tissue Percussion Therapeutic Handheld Massager

Price: $
Customer Rating: 4.0
Size: 6.5 x 16 x 10.9 inches
Weight: 1.6 pounds
Massage Heads: 4
Corded/Cordless: Corded

View On Amazon

Naipo Handheld Electric Deep Tissue Massager with Heat

Price: $
Customer Rating: 4.2
Size: 17.5 x 3.7 x 3.7 inches
Weight: 2.65 pounds
Massage Heads: 6
Corded/Cordless: Corded

View On Amazon

Thumper – Sport Handheld Massager

Price: $$$
Customer Rating: 4.1
Size: 10 x 20 x 6 inches
Weight: 3 pounds
Massage Heads: 2
Corded/Cordless: Corded

View On Amazon

HoMedics Percussion Action Massager with Heat

Price: $
Customer Rating: 4.0
Size: 17.1 x 5.9 x 5.5 inches
Weight: 2.5 pounds
Massage Heads: 2
Corded/Cordless: Corded

View On Amazon

PUREWAVE CM-07 Dual Motor Percussion Therapy Massager

Price: $$$
Customer Rating: 4.4
Size: 16.5 x 2.8 x 3.5 inches
Weight: 1.75 pounds
Massage Heads: 6
Corded/Cordless: Cordless

View On Amazon

PADO PUREWAVE CM-05 Percussion Therapy Massager

Price: $$
Customer Rating: 4.5
Size: 14.75 x 2.75 x 4 inches
Weight: 1.65 pounds
Massage Heads: 3
Corded/Cordless: Cordless

View On Amazon
Best Handheld Massager Reviews
1. VIKTOR JURGEN Handheld Massager – Double Head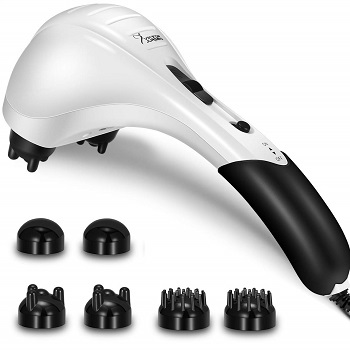 Despite being one of the most budget-friendly options available for sale nowadays, this model's definitely worthy of your consideration. It has a dog head design and it comes with as many as 3 sets of removable massage heads. This gives you a lot of freedom when it comes to massaging options. You can use this device on pretty much any body area.
In terms of performance, you don't have to worry about anything. This unit features a motor that runs up to 3,350 pulses per minute. However, the settings are customizable, and you can also manage the power and intensity of the massager. As such, you can personalize it as per your specific needs.
On top of everything, the Viktor Jurgen alternative comes with a non-slip handle, so it's quite safe to use. The 71-inch cord is another thing you should consider since you don't have to sit right next to the power outlet in order to use it. In case you can't tell just yet, this is a corded choice, so it's less portable than cordless units.
Pros
Customizable settings
Comes with a 71-inch power cord
Is equipped with a powerful motor
3 sets of removable massage heads included
Comes with a non-slip grip
Cons
Nodes are hard plastic; place a towel on your body to soften their feel
It might overheat after 15-20 minutes
Read More: VIKTOR JURGEN
2. Wahl Deep Tissue Percussion Therapeutic Handheld Massager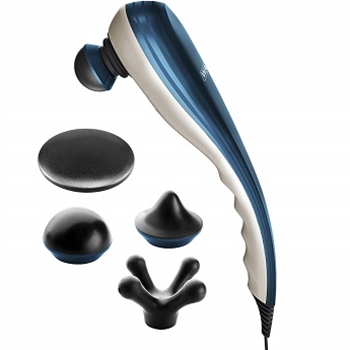 This single-head handheld massager is another that you should bear in mind. It comes with as many as four interchangeable attachments. They consist of an acupoint head for relieving tension, a muscle ball that relaxes your body, a four-finger flex that replicates human fingers, and a flat disc for wide coverage.
The best thing about this unit is that it comes with a variable speed dial. Needless to say, this feature allows you to customize it as per your preferences and requirements. With the assistance of this model, you can reduce pain and fatigue, you can improve your physical condition, and you can get rid of stress and be more flexible.
The handle is long and easy to hold. You can use the Wahl massager on any body region from your legs to your back. You can even utilize it to get rid of cellulite. Since it's user-friendly, it can be used by seniors, too, so it makes a great gift for your grandparents.
Pros
User-friendly controls
Comes with four interchangeable attachments
Features a variable speed dial
Long and easy to hold the handle
Works for a variety of health issues
Cons
Some buyers say that it vibrates too hard for them
Read More: Wahl Deep Tissue Percussion Therapeutic
3. Naipo Handheld Electric Deep Tissue Massager with Heat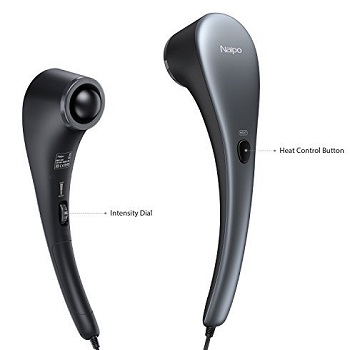 The ergonomic design boasted by this model is one of the first features that will get your attention. It comes with an anti-slip handle and it has a streamlined look. You can hold it and maneuver it with ease and on any body part. The best thing about this unit is that it comes with 6 interchangeable massage nodes. It's handheld, but it's not cordless, so you will need an outlet for this one.
The wide-range speed of the Naipo model is another feature to consider. Plus, it comes with a rotary control that anyone can use, regardless of their being tech-savvy or not. Just set the intensity as per your needs and enjoy the relaxing or invigorating massage you'll get thanks to this device.
As for the performance of the Naipo, you don't have to worry about anything in this respect. Its motor can reach 3800 rpm in a timely fashion. Plus, it's safe and durable, since it comes with a copper-cored design.
Pros
Variable speed control lets you choose the intensity you prefer
Comes with a powerful motor
Rotary dial makes it easy-to-use
Ergonomic design
Non-slip handle
Cons
It should feel like a percussion massager, but it feels like a vibration massager
Read More: Naipo Handheld
4. Thumper – Sport Handheld Massager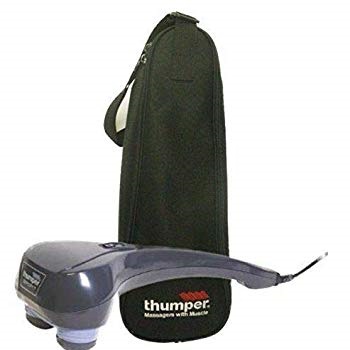 Thumper's heavy-duty DC motor is what makes it stand out from the crowd. It is a percussive massager, so it offers reliable and solid performance. It also comes with an ergonomic handle that can accommodate pretty much all types of hand sizes. The handle length allows you to massage hard-to-reach areas.
This unit comes with variable speed control, so you can customize the intensity of the massage as per your personal requirements. The power cord measures 12 feet, so you don't have to sit close to the power outlet to get this device up and running.
Based on the feedback received by this model over time, it seems that it is an excellent choice if you want a strong massager for your back, your psoas muscle, as well as your other ligaments and muscles. It is quite heavy, but its design makes it appropriate for travel. It comes with two sets of pads.
Pros
Comes with an ergonomic handle
Highly powerful motor
Includes interchangeable massage heads
A carrying case is included
Variable speed control in the range of 20 to 40 pulses per second
Cons
It's quite expensive, so it calls for an investment
Read More: Thumper-Sport
5. HoMedics Percussion Action Massager with Heat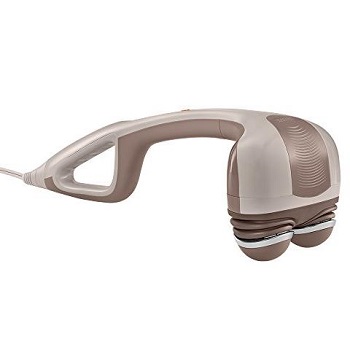 The Homedics alternative is another corded handheld massager that you should bear in mind, especially since this one also comes with a heat function. It is portable and lightweight, weighing in at just 2.5 pounds. It comes with an ergonomic handle with rubber on its surface, so you aren't going to drop it too easily.
Plus, the main unit is accompanied by 2 sets of interchangeable nodes. The deep kneading ones are capable of mimicking the movements of a massage therapist to relieve pain and loosen knots. The heads operate at up to 3,100 pulses per minute, which is impressive, especially compared to other products in this line.
As for ease of use, that's where this unit is truly a winner. To increase the intensity of the massage, all you have to do is to repeatedly press the POWER button until the desired one has been reached. Turn the massager off by pressing the same button past its highest intensity setting. The HEAT button can be found above the intensity bars.
Pros
Comes with two sets of interchangeable massage nodes
Excellent performance up to 3100 pulses per minute
Soothing heat feature
It weighs in at just 2.5 pounds, so it's portable
Variable speed control
Cons
The vibration is rough, not smooth
Read More: HoMedics Percussion
6. PUREWAVE CM-07 Dual Motor Percussion Therapy Massager
This Korea-made percussion massager is recommended by sports trainers, physical therapists, as well as chiropractors. Needless to say, this does not happen with many other models. So, if you want something that can really help with your pain from sciatica, tendinitis, arthritis, plantar fasciitis, or injuries from exercising, this is the one to get.
Another aspect that makes the difference between the CM-07 and the others in this selection is the fact that this one is actually FDA-registered. It is safe for home use, and the professional design it comes with will allow you to rest assured that it's reliable, as well as durable.
With this model, you can treat your body from head to toes. What's rather impressive about it is that it even comes with a special head for giving yourself a micro-vibration massage (which can be used on your face). In case you are feeling unsure about trying this out, consider that it's backed by a 90-day satisfaction guarantee. Just return the product if you are dissatisfied. It's unlikely that will happen, though, given the reviews received by this unit in the past.
Pros
It weighs in at just 1.75 pounds, so it's very lightweight
The cordless design makes it portable
Dual motor percussion
Comes with 6 attachments
It's FDA-registered, so safe to use
Cons
The fact that it's made in Korea might bother some buyers
Some users report that the percussion is too weak to truly get the knots out
Read More: PUREWAVE CM-07
7. PADO PUREWAVE CM-05 Percussion Therapy Massager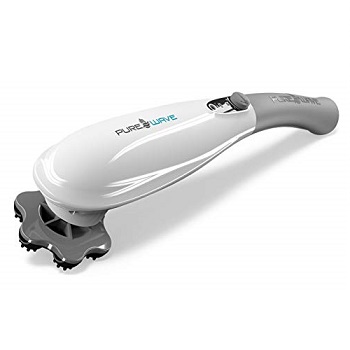 If you are willing to invest in a high-quality handheld massager, the PADO one should definitely make your list. While it is not the cheapest one we have stumbled upon, it is capable of excellent performance and is reliable. It's versatile and it fits multiple lifestyles. The main difference between this unit and some of the others in our selection is that the Pado is battery-operated.
In this sense, it is equipped with a quality Li-Ion battery which has a runtime of 180 minutes on a single charge. If you use it regularly but only in short sessions, one charge could last as long as two weeks. You get three massage tips along with the main unit, and they are made to provide you with Swedish, deep-tissue, and acupressure massages.
The unit is very easy to utilize since it comes with a non-slip handle. You can always rely on the point stick to get relief if you have pain in a localized and specific area. Since it weighs in at 1.65 lbs, it is quite lightweight.
Pros
Comes with a powerful 1500 to 3700 rpm motor
Charges in 1 hour and it has an average runtime of 180 minutes (continuous)
Adjustable speed lets you choose the right intensity
Includes 3 different massage sticks
Both the stand and the charger are included
Cons
Not as affordable as others
Read More: PADO PUREWAVE CM-05
What is a Handheld Massager?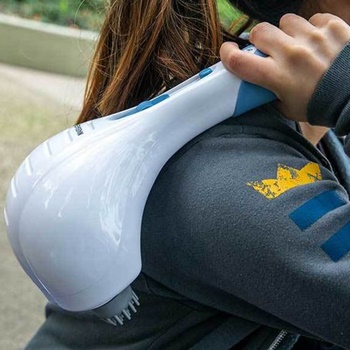 We all know that stress can't do us any good, and that is why it would be ideal if we could get massages at least once a week. But given our busy lifestyles and challenging schedules, that's almost impossible. That's where a handheld massager comes in. As its name suggests, a handheld massager needs to be held by you as you run its massaging head over various body areas.
The greatest benefit that you will get by purchasing this type of device is that you can use it on almost any body region. Sure, it might be a little challenging for you to apply the right amount of pressure on a focus area located right in the middle of your back. However, since most models come with long enough handles, with a handheld massager, you can even do that.
Massage motions
As you can expect, not all handheld massagers are made equal, both in terms of performance, and when it comes to their features. From what we have noticed, there are several massage motions that these products are capable of offering. We tried to do our best at showcasing a few below.
1. Percussion
Technically called 'tapotement', percussion feels like a quick tapping motion on your skin. It is typically used for loosening muscles before you go do your workout. That's why percussion massage therapy is popular with athletes. It also assists with stimulating blood circulation, which is why it's capable of healing sore areas.
2. Kneading
Kneading is defined as a compression of soft tissue. On your skin, it feels like a circular movement where the tissue is lightly squeezed and rolled. This type of massage motion can improve your range of movement, and it can also decrease pain. Kneading also assists with reducing tight muscles.
3. Vibration
Vibrating movements are common in most handheld massagers currently available. The vibration can be used to stimulate blood circulation, loosen ligaments or tight muscles, and provide a soothing experience overall.
4. Rolling
Rolling motions have the purpose of reducing tension and relaxing muscles. They also alleviate pain and improve flexibility.
Handheld Massager Buying Guide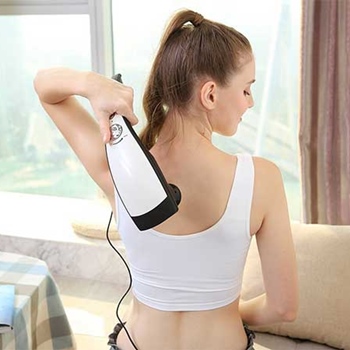 There are many things to take into account when you're in the market for a decent handheld massager. If this is the first one you've ever thought of buying, we'd like to give you a hand. That's why we created a comprehensive guide, and we suggest you check it out. After all, it includes all of the important aspects you need to consider when shopping for such an item.
1. Type
Handheld units come with a variety of massage techniques. Some of the most common ones include tapping, vibration, as well as kneading, but we've also come across others. Let's look at some of the main characteristics of the ones we stumbled upon.
1.1 Thumper handheld massagers
These models are excellent for promoting tissue repair and for those who experience soft tissue pain. The massager head attachments provide rapid and short pulses that go deep into the muscles. Thumper handheld massagers also increase lymphatic and venous circulation, and they also elongate muscle fibers. Plus, they relieve stiff joints, as well as muscle spasms.
1.2 Roller units
Roller units aren't as powerful as their thumper counterparts. They also provide a firm massage, but their intensity is considered medium. They stimulate muscles and relax them, so they are best for relieving tension, eliminating soreness, as well as soothing pain. In addition to this, they promote muscle recovery, so they are amazing for athletes.
1.3 Deep tissue handheld massagers
The massage therapy offered by deep tissue devices revolves around realigning the deeper muscle layers and connective tissues (ligaments and tendons). The purpose of this is alleviating pain and stiffness. These are great for massaging a variety of body regions from your legs to your upper back. Based on our research, they can make a difference for people suffering from sciatica, fibromyalgia, limited mobility, chronic pain, and osteoarthritis. If you are an athlete and have a sports injury, you might also want to consider using one of these devices.
1.4 Shiatsu models
The purpose of getting a Shiatsu massage is to benefit from pain relief and reduced stress. What's different between regular handheld massagers and Shiatsu ones is that the latter replicate the thumbs and fingers of a human being. Similarly to the other types that exist nowadays, Shiatsu handheld massagers also come with different levels of intensity.
1.5 Ultrasound Handheld Massagers
Ultrasound models are considered therapeutic as they are excellent for dealing with chronic inflammation. They increase the local blood flow and reduce swelling. Moreover, they are excellent for joint and muscle injuries, especially since they accelerate healing. They are quite rare since they are typically used in clinics — they aren't primarily made for home consumers.
2. Corded vs. Cordless
When it comes to portability and the power source required by your handheld massager, it is a matter of sacrificing one for the other. Many handheld massagers come with a fixed power cord, and regardless of its length, that means that they have to be plugged into an outlet to be used. However, that means that they are not as portable as you might want them to be.
Battery-operated massagers, on the other hand, can be used anywhere and anytime. You don't have to be next to a power outlet to get the most of such a unit. On the other hand, this design does come with a drawback — it has a limited runtime. Batteries don't last for a long time, so your massage sessions might end up being unstable and interrupted.
You can also choose a massager that comes with a power cord for your car. If you are a trucker or tend to travel a lot, this choice might be the right one for you. We do not advise using your handheld massager while you are driving. You need to have both of your hands on the wheel.
3. Adjustable Speed and Intensity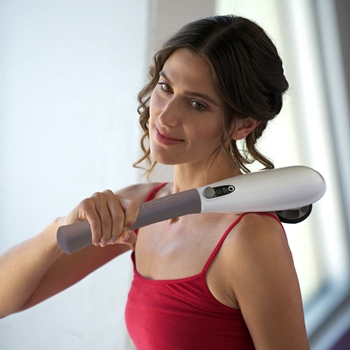 You need to check the speed and intensity settings when choosing a handheld massager. This will allow you to see whether the massage can suit your preferences and personal requirements. The devices that don't have variable speed settings are less versatile and often uncomfortable. Most of the units out there today come with adjustable speed and intensity buttons or rotary dials.
While the lowest speed can provide a soothing and relaxing massage, the highest setting is recommended for people who want to get an invigorating and rather strong massage.
4. Massage Heads
The attachments that accompany the main unit expand its versatility. The heads are designed for different body areas or for specific tasks. It's a good idea to have as many massage heads as possible since not all body areas are the same.
Some models come with narrow attachment heads that you can use on body regions such as under the arm or your lower leg area. Wide heads can cover a bigger area, so you could use them on your back, for example, or your hips.
If you don't get a handheld massager with several different heads right off the bat, you should at least check its compatibility with attachments that can be bought separately.
5. Custom Massage Function
Depending on the unit that you will end up choosing, it might be able to provide just one or several types of massage therapies. For instance, there are models that can provide only percussion massages, whereas others can combine vibration with percussion.
Different functions provide you with unique massage experiences. They can also cater better to different people's needs. Keep in mind that you could get a single handheld massager for you and your partner, or for everyone in your household.
6. Ability to Work On Hard-To-Reach Areas
You might not even know it, but the length of the handle of such a device matters quite a bit. If it's not long enough, it isn't going to reach seemingly unreachable areas such as the center of your back. The size of the attachment head also has something to say in this respect, as you won't be able to massage the area as effectively with a small one.
7. Safety
Unlike other types of massagers, handheld ones don't come with as many safety-related features as you might expect. That's because you have to hold them to get them to do their job, which means that you should always be present when they're plugged in. Even so, we noticed that some models come with automatic shut-off functions that prevent them from overheating. In any case, make sure you read the manual before using the device for the first time.
8. Ease of Use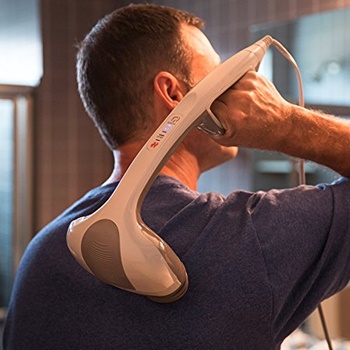 Although it would be great if you could get the most complex and versatile unit in this line, the truth is that if it's too complicated, it might not be the best for the end-user. Seniors have a hard time reading LCD screens or just working with baffling controls. Consider this when picking your handheld massager.
Ease of use also relates to the ergonomic design. To make things easier, the model could come with a non-slip handle, too. Even portability impacts usability, so choosing the right power source can make a significant difference.
9. Weight
Heavier models are usually more stable, especially those that can provide you with a strong massage. If it were to be too lightweight, it would end up shaking all the time, thereby taking control of your hand instead of doing its job. Most heavy handheld massagers also come with several more controls, so you can adjust the speed and intensity. That doesn't really happen with lightweight units.
On the other hand, if you are small and don't have a lot of power and if you know that you hate handling heavy things, getting a heavy model would be counterintuitive.
10. Heating Options
Heated massage can eliminate soreness in your joints and muscles, so it's a nice feature to have in a handheld massager. It also works great for sports injuries. The important thing to keep in mind if you want this function is to make sure that the device comes with heat control. If the unit provides more warmth than you need, it could harm your body. If it doesn't produce enough, it won't feel like it's doing anything.
11. Design
Some models, although they are less popular, are very small and can be held in the palm of your hand. On the flip side, there are others that have a handle, which is usually where the controls are located. Needless to say, the first type of design isn't going to help much with massaging hard to reach areas. However, it is very easy to hold and it can be used on your legs and arms, for example.
FAQ About Handheld Massagers
1. How long should you use a massager for?
The ideal way of using a handheld massager is in short intervals. These intervals can be just 2-minutes long or as long as 15 minutes. In just a quarter of an hour, you get plenty of benefits, relaxation, as well as comfort, provided that you use the unit correctly and on the body areas that bother you the most.
2. Can handheld massagers be used on all body parts?
By far the most important reason to try out a handheld massager is the fact that you can use it in a variety of body regions. This means that you can massage your calves, your thighs, your hips, as well as your lower back. On the other hand, you could also use it to massage your under-arm region, as well as your neck and shoulders. Fortunately, the design of most models currently available makes this possible.
3. Are handheld massagers safe?
These devices are generally considered safe, but there are some adverse effects to keep in mind. Due to their power and speed, some models are better used on adults alone, not on children. Pregnant women should also avoid massaging their lower back when the device is in a high-intensity setting. Last, but not least, never use your electric device in the shower, especially if it is not waterproof. Make sure to read the instructions provided in the manual that almost always accompanies the product.
4. How can I tell if a handheld massager is portable?
There are two ways. If the device also works with batteries (or only with batteries), it is clearly portable. Some corded models have long power cords which can allow you to use them even when you're not right next to an outlet, but these are less portable compared to cordless units. The size of the device also has a say when it comes to portability. If you travel for work all the time, you'll want to look for a small and lightweight handheld massager. This type of unit will be able to fit your luggage with ease. So, portability is determined by weight and the power source.
5. Is it normal to bruise after using a handheld massager?
The short answer to this question is no. If this happens, you have either used your device in a too high setting, or you might have a problem with your blood circulation and you should consult a doctor as soon as possible. The first situation is far more common than the second. Usually, after a massage using such a device, you'll notice that your skin only gets a little red. Avoid putting too much pressure on a particular area, not just for fear of bruising it. You could overwork a muscle and cause a cramp if you do this.
6. Can you use your handheld massager every day?
If you use short sessions, you can definitely use your handheld massager on a day-to-day basis. If you prefer getting a massage that lasts for 30 minutes or more, we'd recommend using it every one to two days. This precaution measure might be necessary to avoid bruising your skin.
Wrap Up
As you can see, using the best handheld massager can help you say goodbye to your achy body parts, no matter if you're an athlete or you just tend to work a lot every day.
It's true that these devices come in a wide array of sizes and types, but since many of them are affordable, easy to operate, as well as convenient, they are great alternatives to expensive medical procedures. We hope that our handheld massager reviews have allowed you to get an idea of what features you should look for in a dependable unit nowadays. Just make sure to find the one that works with your particular requirements.
See also: neck and shoulder massager reviews