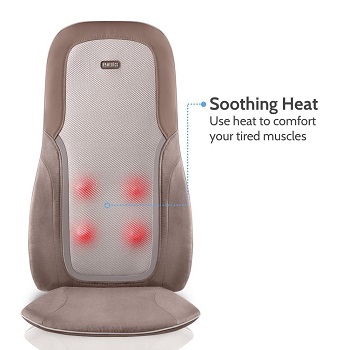 If you want to relieve your back pain with just one touch of a button, getting the right massage cushion might be a good solution to your problem. Most of the models available for sale nowadays are just as effective as a session at a massage therapist's studio.
If you've come across this model before and you're having trouble telling whether it's truly worth investing in, we suggest that you take the time to read our HoMedics Pro Massage Cushion Review. It is packed with all the info you need to know about its performance, pros, and cons.
Features and Benefits
Thanks to this model, you can gain relief from tension, stress, as well as pain. You can also recover from injuries a lot easier and faster, since this massage cushion widely promotes healing.
This particular model comes with three different massage styles. You can rely on the percussion feature for a refreshing and fast massage, you can choose the deep muscle massage boasting a kneading option, or you can simply switch to a gentle massage thanks to the rolling setting. Each of these options can provide you with different levels of relief from sore muscles, tension, or stress.
One thing that makes this unit stand out from the crowd is its ability to massage specific areas on your back. The cushion gives you the freedom to pick a full back massage, a lower back massage, or an upper back massage as per your needs.
Another aspect worth noting about this model is that it comes with a remote. You have complete control over the massage experience thanks to the remote, and you can make the most of it by customizing it to your liking.
Additionally, the HoMedics option features an integrated strapping system that can fit almost any chair that you have in your home. Thanks to this characteristic, you are not going to have to worry about the massage cushion sliding, falling off, or just moving around too much as it gives you the massage.
Suggestions
Unlike other models that we have come across, this HoMedics model is quite portable and lightweight, which gives you the opportunity to use it pretty much anywhere. All you need to do is to place it in the chair of your choice, plug it into the accompanying adapter, and then test out the various settings.
We'll give you the same advice that you'll find in the user manual. Don't start with the highest setting. Work your way up gradually so that you don't get yourself injured or just put off by the too high intensity.
Maintenance
We couldn't find any info according to which the cover of this massage cushion is removable, so we advise you to avoid getting it dirty. You can wipe it clean with a damp cloth once in a while, especially on the mesh sections that ensure the breathability.
Specifications
Size: 29.3 x 17.7 x 7.6 inches
Weight: 11.73 pounds
Car adapter: No
Voltage: 110V
What to expect from the HoMedics Shiatsu Pro Massage Cushion?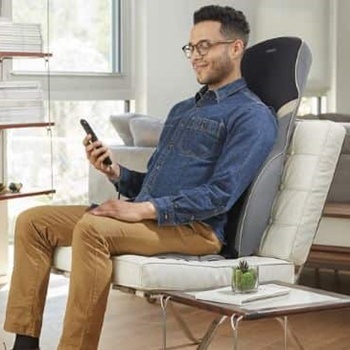 Most of those that have invested in this option seems to have nothing but great things to say about its performance. Due to the design of the product, however, it is only compatible with certain types of chairs.
Based on the reviews that it has received, it seems that it works best with stiff-backed and relatively stiff seated chairs – dining chairs and office chairs included.
Pros
You can customize the back massage in terms of speed, temperature, and desired area
It heats up quickly
You can use it in any place where a power outlet is available
It's quiet, so it doesn't bother other people
Cons
Since the cushion (or its cover) is not machine washable, you have to be a little careful and avoid spilling liquids on it
It doesn't work with 220V outlets
Wrap Up
If you tend to suffer from backaches or muscle pain, this model might be a good choice for you. It's well-made, convenient, and easy to use, and it doesn't raise technical difficulties for people who are less tech-savvy. We hope that our HoMedics Pro Massage Cushion Review has helped you tell whether you should consider it.