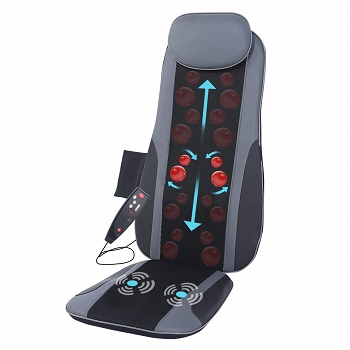 If you've been tossing and turning about getting a reliable massage cushion and you don't seem to have found the right model for your needs, it's a good thing you're reading this article. Based on the info that we came across, it seems that this IDODO option is entirely worthy of your consideration.
However, before you make up your mind, we advise you to have a look at the IDODO Massage Cushion Review that we put together. In it, you'll find all you need to know about the benefits, characteristics, pros, and cons of this unit.
Features and Benefits
One thing that makes the difference between this unit and some of the others we've come across is its versatility. There's a good chance of this model surprising you with its variety of features. It even lets you change the massage spots, but it also gives you the freedom to choose to concentrate the massage on specific areas. Additionally, you can pick from several massage options.
One area where this product is a net winner is its ability to mimic the massage that you'd get from a massage therapist. The chair is capable of accommodating both your whole back and every other curve of your body.
It's worth noting that this massage cushion comes with as many as eight rolling nodes and they do a pretty good job when it comes to massaging different spots on your back – your upper, middle, and lower back, including your lumbar region. You can choose to get the pressure on your whole back or particular spots.
The height of the cushion is another thing worth writing home about as the neck position is adjustable so that there are no nodes hitting your head. In a nutshell, this massage cushion can be used by anyone in your family.
Controlling the features of the unit can be done with ease thanks to the hand controller pad that it is outfitted with. Since this particular model comes with heated massage therapy, as well, your local blood flow will be adequately stimulated and your tissues can receive plenty of nutrients and oxygen.
Suggestions
Since you can use this product to give yourself a bottom massage as well, we would like to advise you to choose between the three available vibration levels, but start with the lowest possible one. This is a bit of info that you are likely to come across in the user manual, as well.
Bear in mind that Shiatsu massage can be pretty rough at times, so if you are very sensitive or you have a hard time putting up with a more intense massage, avoid using this option for more than ten to fifteen minutes.
Maintenance
While we didn't stumble upon any information according to which the massage cushion cover is removable, cleaning it is rather straightforward. All you need for the task is a damp cloth with which you can wipe the massage cushion. It will end up looking like it's brand new in no time.
Specifications
Size: 27 x 16 x 5 inches
Weight: 8.7 pounds
Voltage: 110-220V
Car adapter: Yes
Cordless: No
What to expect from the IDODO Shiatsu Massage Cushion?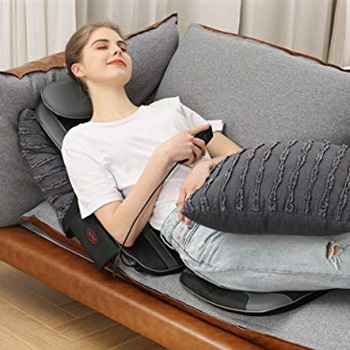 The vast majority of those that have invested in this massage pad say that it is reliable, convenient, and most importantly, very effective. Most consumers say that it is good quality and the heat feature feels very warm, especially in the winter.
It might take several days for it to work and provide you with significant pain relief, at least judging by some of the reviews that the unit has received in this sense. But it does the job, eventually.
Pros
Since it's portable, you can use this massage pad everywhere
It's sizable and versatile
It comes with as many as eight kneading nodes
Plenty of adjustabilities
Cons
You might have to push the buttons on the controller a couple of times to choose the right setting – the remote seems to be very rugged and less sensitive to the touch.
Wrap Up
As you might have noticed, the wide array of features boasted by this massage pad makes it worthy of your consideration. Since it's capable of excellent performance and it is said to be effective when it comes to relieving your pain, you should jot it down on your list.
In the end, we hope that our IDODO Massage Cushion Review informed you with regard to the most important things you should know about it.