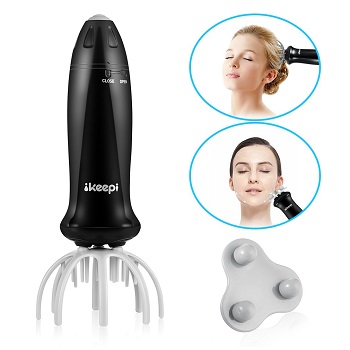 The Ikeepi model is a portable choice that can fulfill your therapeutic needs no matter where you are. It is also a budget-friendly product, especially if you take the time to compare it to some of the others available for sale nowadays.
But is it good enough? If you're having trouble telling whether you should opt for it or not, we suggest that you take some time and read our Ikeepi Head Massager Review. It comes with everything you need to know about this device.
Features and Benefits
Unlike some of its competitors, the Ikeepi model is actually a head massager. What this means is that you aren't going to be able to utilize it in other body areas as it might not feel as good. It does come with two different massage heads, it's true, but it doesn't have the same performance as similar units in this category, which can be used as handheld massagers.
Having been designed to be a portable alternative, this massager is lightweight, easy to carry, and even easier to store around the house. It can be used by anyone, old or young and regardless of their technical abilities. The compact design is an advantage in itself as you will be able to hold it comfortably in your hands.
Since it comes with a user-friendly design, it goes without saying that it speaks to the needs of multiple people, which is why we might go as far as to say that all of your family can make the most of it.
Massage Heads
The model comes with two individual massage heads. There is a finger gripper claw type of massage head and another, 3-point round massage head. Just choose the one that best suits your momentary needs.
Turning the unit on and off can be done easily and conveniently since it comes with a button located on the bottom of the handle. Due to the location of the button, the likelihood of you turning off the massager by accident as you use it is practically null. It's also worth noting that the button is easy to press since it is made of silicone.
We would also like to add that this head massager is cordless, so you can use it on the go. The difference between it and others is that you don't even have to charge it. It can be used with single-use AAA batteries or rechargeable ones, depending on your preferences and needs.
Specifications
Weight: 7.2 ounces
Size: 5.5 x 1.6 x 3.1 inches
Batteries: 2 AAA batteries
Runtime: 3 hours
What to expect from the Ikeepi Scalp Massager?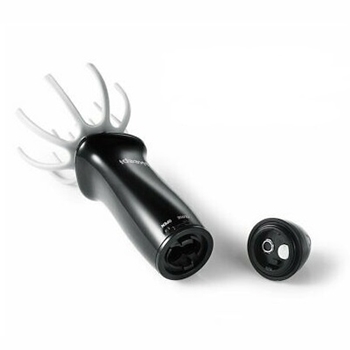 Some of the people who have given this massager a shot say that it is remarkably easy to use. If you have an itchy scalp, this product can mean the world to you, and there are other customers who note that they've used the other massage head for their faces. While the user manual does specify that you can utilize it on other body regions, keep in mind that this one is primarily made for your scalp.
Additionally, you might want to know that some users say that this little massager has helped them get rid of the headaches by finding the right pressure points. However, they have used it consistently every night for at least ten to fifteen minutes.
Pros
Portable and lightweight
Comes with two massage heads
Small enough for travel use
Attachments are easy to change
Cons
The handle vibrates while the unit is in use and this could bother some people
Wrap Up
As you might have noticed, this Ikeepi Head Massager Review has contained information regarding both the pros and the cons of this device. We made sure to include some complaints from customers so as to be as unbiased as possible.
In any case, the conclusion would be that the Ikeepi choice is a budget-friendly alternative that can be used with ease in pretty much any environment. If you're looking for an affordable and user-friendly head massager, this one could fit the bill.