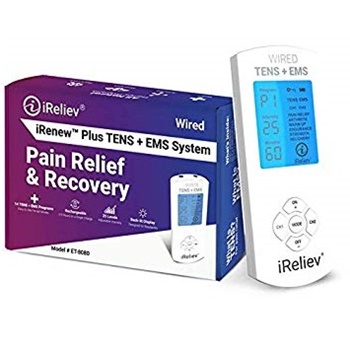 Purchasing the perfect type of TENS unit nowadays can be a little challenging, both because you have so many models to look at and because you need to consider your specific needs. If you have stumbled upon the iReliev model before, you might have wondered whether it can live up to your expectations or not.
Well, you'll be happy to know that this is what we are going to discuss in this iReliev TENS Unit Review. We'll look at the characteristics of this device and see whether it offers excellent performance or whether you should opt for something else.
Features and Benefits
This model comes with as many as fourteen individual programs. Eight of them are for TENS therapy whereas six are for EMS. The TENS programs are capable of providing you relief from acute or chronic pain, and P8 is uniquely designed for the management of intractable pain.
As for the EMS programs, these are designed for exercise preparation, so they are mostly suited to athletes, people who stand on their feet and overexert themselves at work all day long, or individuals who participate in triathlons, for example.
One of the neatest things about this product is that it is medical grade and it comes with as many as twenty-five adjustable strength levels. While you might not make the difference between one intensity setting and the next, at least in the beginning, you'll find it to be more obvious as you get used to the device.
Additionally, the iReliev option comes with a dual-channel technology, so you can use four individual electrode pads at the same time. You can use it with two sizable pads and four smaller ones. In any case, you can use different intensities on both pairs.
Another reason to consider this product would be its compact and lightweight design. You are free to utilize it pretty much anywhere, whether you're at work and typing in front of the computer or tending to your chores around the house. Needless to say, you can also relax with it while you're watching your favorite TV show.
Suggestions
The cordless design boasted by the product is a benefit in itself, and since the battery runtime is estimated at 5 hours of continuous use, you can count on it. However, we would advise charging the device for a whole night when you get the unit delivered at your home so that you give the battery the opportunity to function properly.
As for safety, the product comes with an adjustable timer. There's also a locking function that you can make the most of and what it does is it effectively makes it impossible for the intensity level to be changed by accident. For more info, check out the device help section on the manufacturing company's website.
Maintenance
If you want to share the use of this device, we suggest that you sanitize the electrode pads between every session. The EMS muscle stimulating feature might result in the user sweating a little, so it's not a good idea to forget cleaning the pads before using them once again.
Specifications
Weight: 1 lb
Pads: 4
Technology used: TENS, EMS
Cordless: Yes
Battery: Lithium-Ion
What to expect from the iReliev TENS Unit?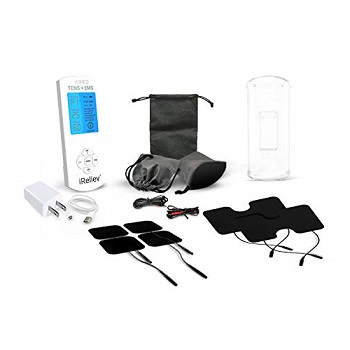 The vast majority of the reviews that we have found with regard to this product speak highly of its performance. It's also quite reassuring that it is backed by a two-year extended warranty, but also by a 45-day satisfaction guarantee.
This means that, should you feel dissatisfied with the way it functions, you can just return it within that time span and get a full refund. It's quite likely that you are going to be happy with the way this unit works, though, since so many other people were.
Pros
The oversized, backlit screen makes it easy for you to visualize the settings
Rechargeable battery renders it portable
Versatile massage programs
The compact design makes it possible for you to use it anywhere
Cons
The cables seem to be a bit on the shorter side of things
You can't use the TENS unit while it's plugged into an outlet
Wrap Up
In the hopes that this iReliev TENS Unit Review allowed you to understand whether this model addresses your needs or not, we say that it's worth considering. Do keep in mind that if you have any chronic disease, you should first talk with your physician or therapist before you invest and use a TENS unit.